Ovens & Ranges
5 affordable gadgets to make your kitchen smarter
These connected gadgets make your kitchen more convenient.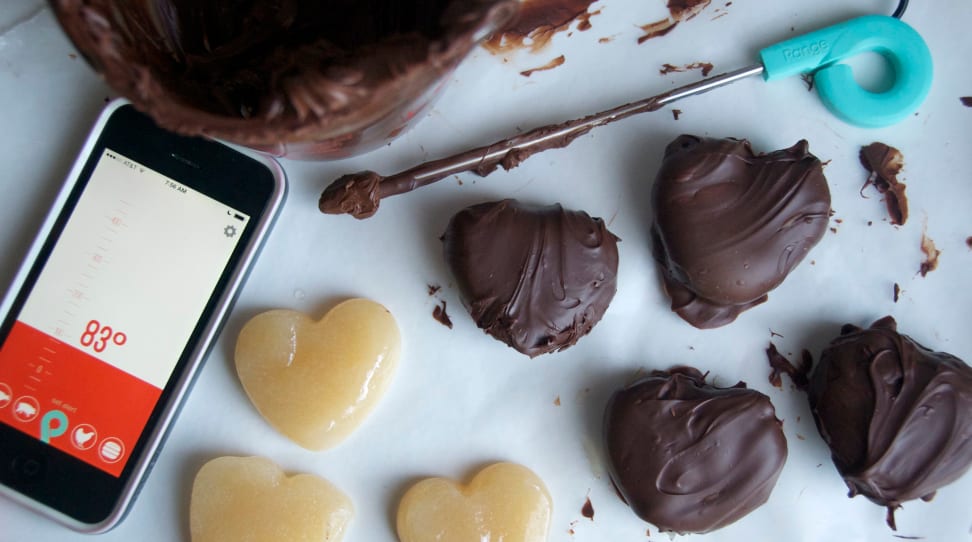 Credit: Supermechanical
You can purchase the latest in stainless steel appliances, but if your kitchen doesn't take advantage of the Internet of Things, you aren't making the most of it.
Don't get us wrong, a solid range, cold fridge, and effective dishwasher go a long way—we've designed our testing around that idea. But as technology advances, so does the nature of what our kitchens are capable of. If your oven can cook well and send notifications when it's done preheating, well, that's a step above an oven that does nothing but cook well, isn't it?
Of course, it's tough to justify tossing a perfectly good large appliance for a pricier smart version. So what's a person to do if they're looking to enter the magical future of the smart kitchen without making any major purchases?
Enter the smart small appliance. We've combed the growing array of options to find some of the most exciting ways to make your kitchen connected. From scales that provide interactive step-by-step recipes to coffeemakers that can brew coffee at prescheduled times, here are seven smart products that will bring your kitchen into the future.
1. Mr. Coffee Smart 10-Cup Optimal Brew Coffeemaker
Making coffee in the morning is a catch-22. On the one hand, you need to drink it in order to function. On the other, you need to be marginally functional in order to get out of bed and make yourself a decent cuppa. But Mr. Coffee's brewed up a decent solution for this common problem.
Using Mr. Coffee's smart coffeemaker and companion WeMo smartphone app, you can tell your 10-cup machine to brew your morning joe from the comfort of your own bed. You can also schedule brew times in advance so that you wake up to the smell of coffee every morning. And the app is smart enough to inform you that the carafe needs to be emptied and replaced if it's scheduled to make coffee in the morning so as to avoid a messy situation.
The only downside? You'll have to actually get out of bed to reach the coffee. Unless, of course, you set it up on your bedside table…
2. Orange Chef Prep Pad
If you're looking to track your calories, fat, protein, and/or carbs, this smart prep pad from Orange Chef will minimize your time spent reading ingredient lists, doing calculations, or manually scribbling down a list of what you're eating.
The prep pad functions as a smart scale, connecting with an app on your iPad or iPhone to access a library of food items and spit out information about any food you place on its surface. This database, combined with the weight of your food, allows the pad to log nutritional information about your food in an easy, cohesive way.
You can set goals, track your progress, and live a more informed and healthy life. Sounds good to us!
3. Crock Pot Smart 6-Quart Slow Cooker
Slow cooking is meant to be a largely hands-off, set-it-and-forget-it style of food prep. Pop some ingredients in your slow cooker and leave it be until dinnertime. Easy. But what you're on your way home and want to switch the cooker to "warm" mode so that pulled pork is the perfect eating temperature by the time you arrive?
That's why the idea of a connected slow cooker makes so much sense. This smart slow cooker from Crock Pot connects to the WeMo app on your phone, allowing you to adjust time and temperature settings, or even shut it off remotely. You can use the manual controls on the machine when you want to, but it's nice to have the option to make adjustments from your phone when you're on the go—or just relaxing in the next room.
4. Cuisinart SmarTrack 12-Piece Food Storage Container Set
Leftovers are great, but only if you manage to eat them before they turn into a rotting mess at the back of your fridge. Cuisinart's brilliant solution to this problem comes in the form of its SmarTrack storage set, which is an ordinary set of plastic food containers—each with its own QR code.
When you're putting food away, you can use the companion app to scan the code and enter information about the type of food it contains. The app alerts you when your food is about to go bad, letting you know that it's time to eat that leftover stir-fry before it goes to waste.
5. Supermechanical Range Smart Thermometer
Don't underestimate the power of a good food thermometer. Knowing the internal temperature of your food as it cooks means you can avoid common pitfalls like over- or under-cooking meat. It makes food prep more consistent and is an essential component of specific tasks, like knowing when your candy syrup has reached the hard ball stage.
Of course, no one likes to wait over a hot stove or babysit the oven, especially when you're hosting a dinner party or trying to zone out in front of the TV. Supermechanical's smart food thermometer plugs into your iPhone and connects to your other iOS devices, notifying you when your steak has reached your desired temperature no matter where you are. The thermometer can also chart temperature through the companion app, and it's worth noting that it's pretty adorable to look at as well.
Related Video