Ovens & Ranges
The top 10 soup recipes on Pinterest
Soup for everyone!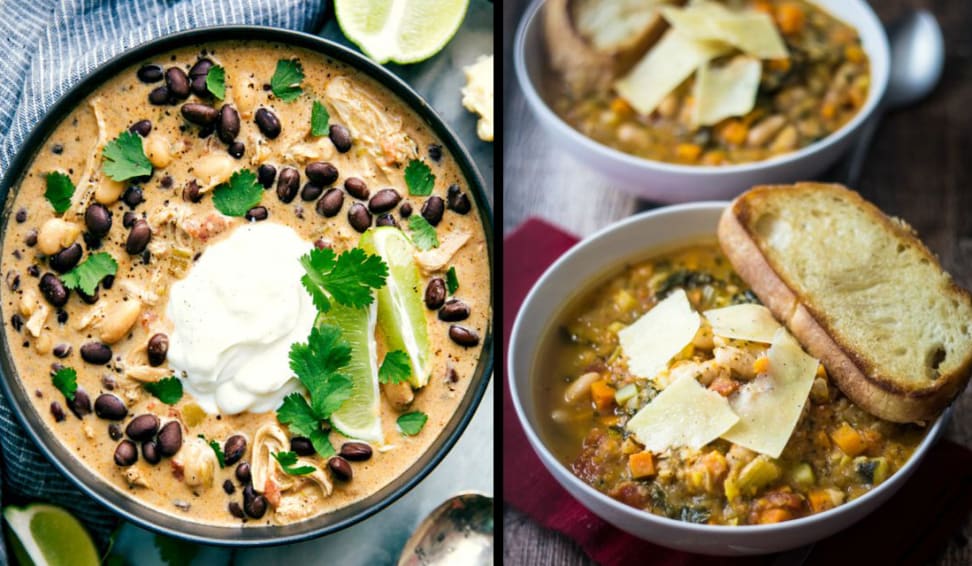 Credit: Pinterest
Well, gang, we did it—We're halfway through winter! Or at least that's what they tell me. Sometimes, when my thickest sweater and coziest blanket aren't enough to keep the cold at bay, it feels like winter will last forever. That's when I pull up Pinterest on my laptop and search for soup recipes that will warm me up from the inside.
It seems like other humans have had the same idea as I did, because the top soup recipes on Pinterest right now are all the perfect mix of hot and hearty to really get us through the second half of winter.
Here they are, in their delicious, delicious glory:
1. Slow Cooker Chicken Tortellini Soup
You know what's better than tortellini? Tortellini in broth loaded with chicken and tons of veggies! Cheesy, healthy, and pasta-inclusive—how could that be bad?
2. Easy Thai Shrimp Soup
The perfect blend of curry paste, coconut milk, lime juice, cilantro, ginger, and—yes—shrimp.
3. Slow Cooker Potato Soup
Creamy and full of flavor, there's nothing quite like a good potato soup.
4. Cheesy Vegetable Chowder
If you like potato soup, you might also want to try this vegetable chowder, which is basically potato soup stuffed full of melted cheese and veggies. Ain't nothing wrong with that!
5. Tomato Basil Soup
Pair this tomato basil soup with grilled cheese for a classic and cozy meal!
6. Enchilada Soup
Like enchiladas, but cozier! Featuring roasted green chiles and chicken. Let me at it!
7. Slow Cooker Chicken Noodle Soup
Throw the ingredients in your Crock Pot in the morning, then come home to the perfect weeknight dinner!
8. Spinach and White Bean Soup
A hearty mixture of white beans, spinach, and orzo means this soup is both delicious and healthy.
9. Wonton Soup
You could just order Chinese takeout, but if you're craving wonton soup and don't want to so much as open the door to the cold, just make it at home!
10. Easy Tuscan Bean Soup
There are so many delicious vegetables in this bean soup that you may want to counteract them by serving it with shaved cheese and crusty bread. Just a suggestion.
Related Video