Ovens & Ranges
These are the kitchen tools celebrity chefs can't live without
From garlic peelers to knives, celebrity chefs swear by these tools.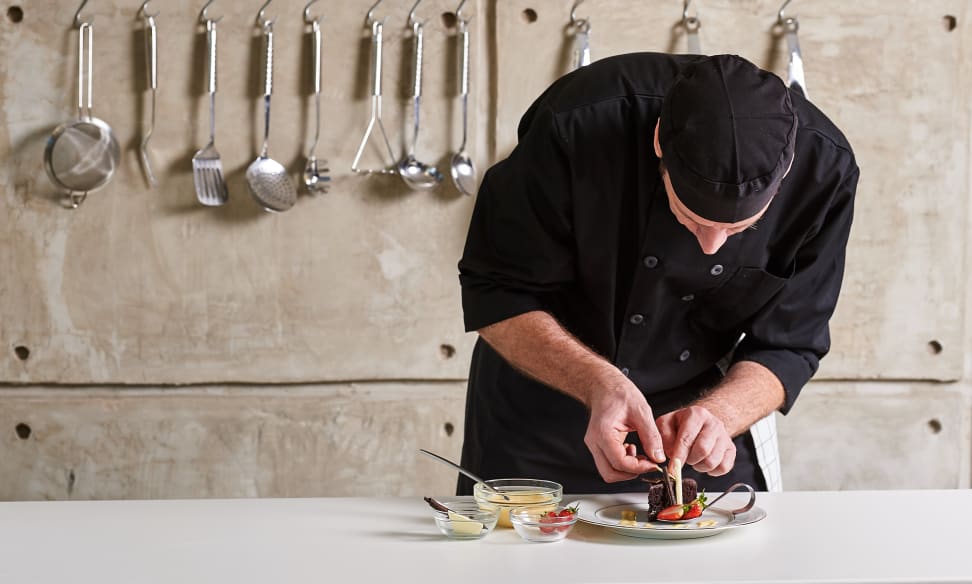 Credit:
Celebrity chefs: They're just like us! Except they know a lot more about cooking, food, and what belongs in a well-stocked kitchen. That's why we found out what gadgets some of the best-known names in food rely on so that you can outfit your own kitchen just like the pros.
Mario Batali—Microplane
Mario Batali told the folks at Food and Wine that the microplane changed his life. Why? A microplane not only grates beautiful shreds of cheese, but is great for zesting citrus, grinding nutmeg, or mincing garlic and ginger. It's a kitchen must-have whether you're the man behind Eataly or someone who barely knows how to boil pasta.
Ina Garten—Sharp knives
The woman behind the Barefoot Contessa is famous for recommending subjectively "good" products and ingredients, so it's no surprise that she told House Beautiful that "a good set of sharp knives" is how she gets her fantastic dinner parties ready in time for Jeffrey's return. She frequently praises the Wüsthof brand and recommends, at the very least, a chef's knife, a paring knife, a slicing knife, and a bread knife.
Rick Bayless—A microwave
Rick Bayless is both a chef and a scholar of Mexican cuisine, so he's the last person you'd expect to share this tip: It's totally okay to use a microwave to cook. Bayless told us that he always uses his microwave for steaming vegetables when entertaining at home. That's because it's a great time-saver when he's cooking alone. "I don't have sous chefs, I don't have dishwashers—I gotta cook it all myself," he said.
Rachael Ray—Garlic peeler
This kitchen gadget is an unconventional recommendation from a professional chef. Ray loves her garlic peeler almost as much as she enjoys creating new acronyms and abbreviations, despite admitting that it's just as easy to peel a clove of garlic by smashing in with the side of a knife. But after more than a decade of use, she still swears by it.
Chrissy Teigen—Silicone spatula
Don't expect a swimsuit model to know about good cooking? Think again. Teigen is a whiz in the kitchen, and her must-have is a heatproof silicone spatula that can withstand up to 900 degrees. The flexibility and shape ensure that the tool gets all edges of the pan, leaving no food behind.
Ming Tsai—An induction burner
Induction burners use magnets to heat a pan directly for faster boiling and better control. While most professional chefs still prefer to cook with gas, Blue Ginger chef and PBS host Ming Tsai thinks there's a place in the kitchen for a portable induction burner. It's great for boiling water in a flash, or "if you just want a couple extra burners because you're entertaining."
Alton Brown—Paper towel holder
Surprised? Brown's explanation about the finest paper towel roll on earth makes a lot of sense: "You can cut a paper towel with one hand, get exactly the amount you want, and the roll doesn't unspool itself. If you have one thing that you use every day that's beautifully made, that beats the tar out of any $10,000 cooktop."
Mindy Segal—An oven thermometer
Mindy Segal, chef and owner of HotChocolate Restaurant and Dessert Bar in Chicago, has a strong tip for amateurs trying to bake like her. "Get to know your oven like you know your partner."
For that, you'll need a good oven thermometer. "That way you can gauge how hot your oven is running, and the different areas" where it might be hot or cool, she said.