Ovens & Ranges
See-Through Toaster Offers Greater "Browning" Control
Magimix's Vision Toaster has glass sides that allow you to watch your toast cook, but it will cost you a lot of bread.

Credit:
Here's something for all you kitchen design geeks: the Magimix Vision Toaster. This stainless steel toaster has glass windows on its sides, allowing users to watch as their bread turns an appetizing brown before their eyes. A sleek array of design options—stainless steel, black, red, and cream—ensures a good fit for most kitchen layouts.
While the Magimix's novelty pretty much stops with the two double-pane glass windows, we imagine this feature would prove useful. Instead of merely hoping that a control setting cooks your food to the desired level, you can literally watch and stop the machine when it reaches the perfect brownness. A perfect Eggo, every time.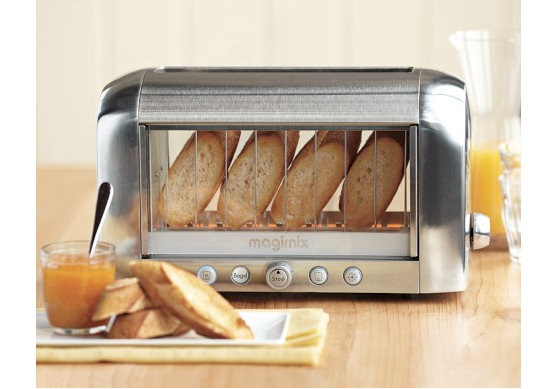 However, such a privilege will cost you. Williams Sonoma is selling it for $249.95 ($195.95 for the colored versions). The quartz elements must cost a pretty penny.
We can't speak for the Magimix's toasting evenness or performance, but it's hard not to be enticed by such a smart, simple solution for getting toast right, every time.
Photo: Williams-Sonoma