Ovens
Americans Give Green Light to Energy Efficiency
A new study finds that energy-efficient tech has broad bipartisan support.
Support among Americans for energy efficiency standards is stronger than you might think, according to a recent survey by the National Electrical Manufacturers Association (NEMA) and the National Association of Manufacturers (NAM).
The study, which questioned 1,000 likely voters across the political spectrum, found 94 percent of respondents support using energy-efficient products, while nearly three-quarters (70 percent) "strongly" support their adoption. A mere 5 percent oppose the use of energy-efficient products.
The fact that these trends seem to cut across demographic and political lines suggests that, at the very least, manufacturers will continue efforts to develop increasingly efficient white goods and electronics in the coming years.
"The results prove that energy efficiency is a winning topic with consumers," said NEMA President and CEO Evan R. Gaddis. "An investment in energy efficiency returns significant cost savings."
Net energy consumption by appliances is projected to drop steadily in coming years.
But even if manufacturers are shipping more energy-efficient appliances, the number of households using them is ever-growing. That puts increased strain on the energy grid. To compensate, gadgets and appliances will need to grow even more efficient in the future—at least so far as consumers are interested in sustainability, and not just the personal savings.
Fortunately, it looks like that's happening. According to a 2011 report by the Edison Foundation, net energy consumption by appliances—as well as the entire residential energy sector—is projected to drop steadily in coming years. Specifically, appliances are likely to contribute between 6 and 12 percent of total savings resulting from efficiency standards by 2025.
The trend will likely be facilitated by the adoption of smart appliances and home automation devices. According to a separate report by the International Energy Agency, greater consumer control and price-responsive functionality in appliances will generate 80 TWh of annual electricity savings by 2020—although that equates to a mere 0.3 percent of total annual U.S. energy consumption.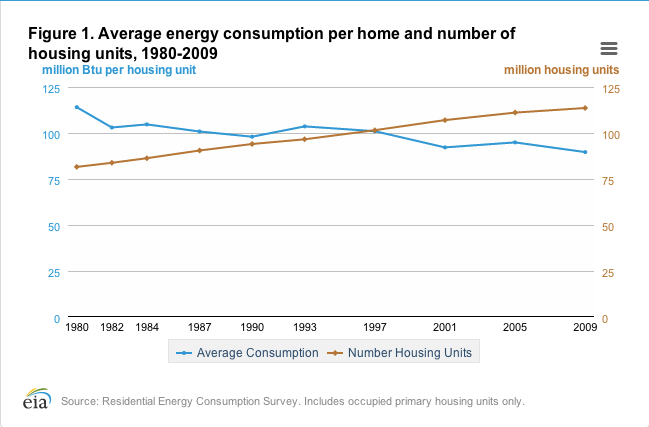 So efficiency standards may not do much for the big picture energy situation, but for consumers—particularly homeowners—the incentive is obvious. Last year, the U.S. Energy Information Administration reported that while homes built since 2000 are on average 30 percent larger than those built before, they consume roughly the same amount of power—another testament to improving efficiency. Meanwhile, total average energy consumption per home has been steadily declining over the past several decades.
This frees up household savings for... well, pretty much anything, and shows why Americans are increasingly in favor of green products. With 2014 set to be a breakout year for the internet of things, it will be interesting to see how manufacturers leverage automated functionality for the purpose of energy efficiency.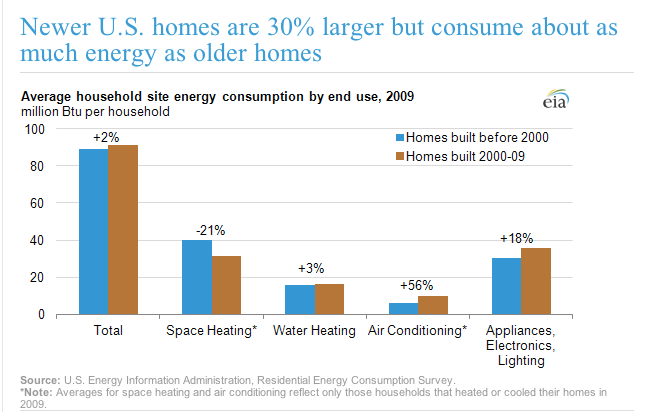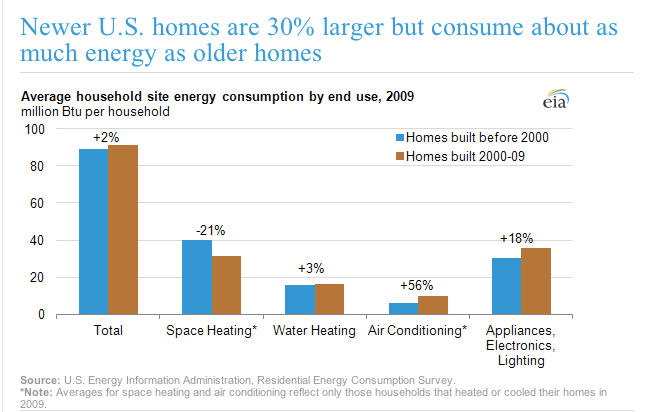 Hero Image: Wikimedia Commons, "Jürgen from Sandesneben, Germany" (CC BY-SA 2.0)
Graphs: U.S. Energy Information Administration
Up next
Get Reviewed email alerts.
Sign up for our newsletter to get real advice from real experts.