Ovens & Ranges
Herbs and Spices: The Solution to the High-Sodium Diet?
Research shows just how important education is to public health.
Credit:
Salt is not just delicious, it's an essential part of the human diet. However, too much sodium can lead to a wide array of documented health problems, including high blood pressure, arterial damage, and heart disease. For that reason, Americans are frequently encouraged to minimize their salt intake.
But easier said than done, right? Well, maybe not.
Research suggests that simple culinary education may inadvertently help people lower their sodium intake. Specifically, a new study finds, teaching people how to flavor dishes with herbs and spices is more effective at lowering salt consumption than simply challenging people to reduce it on their own.
On the surface this seems obvious, but let's look at how the study was conducted.
Scientists first had 55 volunteers consume a standardized, low-sodium diet for four weeks, so as to bring the participants' sodium levels down to a uniform base. In the next phase, half of the subjects participated in a behavioral intervention program that taught them how to properly cook with herbs and spices. The other half was charged with reducing sodium intake on their own. Both groups were encouraged to reduce their salt intake, the only difference being the level of dietary education provided to one of them.
Both groups were encouraged to reduce their salt intake, the only difference being the level of dietary education given to one of them.
Researchers kept track of subjects' sodium intake as it changed over the next 20 weeks. In the first phase, average sodium consumption dropped from 3,450 to 1,656 mg/day.
In the second phase sodium intake increased in both groups (as would be expected given the cessation of the initial low-sodium diet). However, those who received the behavioral intervention consumed an average 966 mg/day of sodium less than the group that didn't receive the intervention.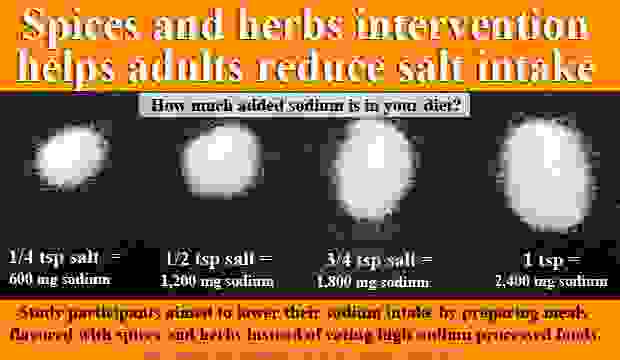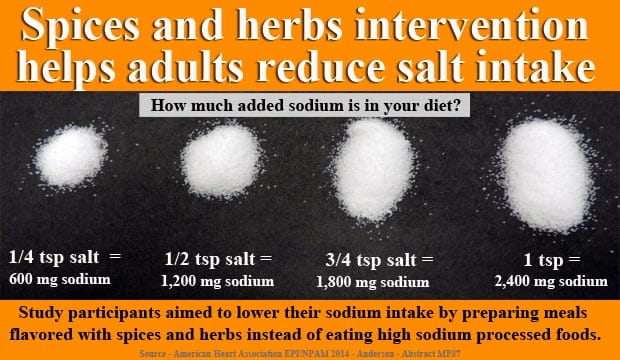 "People in the intervention group learned problem-solving strategies, use of herbs and spices in recipes, how culture influences spice choices, how to monitor diet, overcoming the barriers to making dietary changes, how to choose and order foods when eating out and how to make low-sodium intake permanent," said Cheryl A. M. Anderson, lead author of the study and associate professor at the University of California San Diego.
In short, education is everything.
In short, education is everything. Providing people with the knowledge and resources to improve their dietary habits actually seems to work, particularly with regards to sodium intake.
It's not merely that learning how to cook can help cut back salt consumption, it's that education in general—including nutrition, dietary practices, and culinary basics—helps people make better choices about what they eat—whether they're conscious of it or not.
"Given the challenges of lowering salt in the American diet, we need a public health approach aimed at making it possible for consumers to adhere to an eating pattern with less salt, Anderson added. "This intervention using education and tasty alternatives to sodium could be one solution."