Ovens
Tell this cooking gadget how you like your steak—and it will obey
Alexa can now help you cook sous vide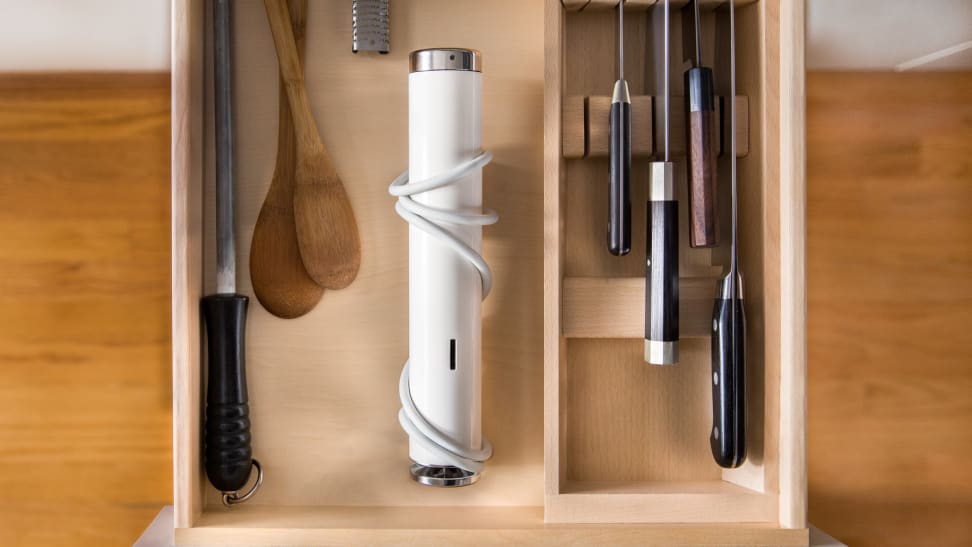 Credit: ChefSteps
Do you have an Amazon Echo or Echo Dot? Good news: you can now use it to cook the perfect steak!
When I tried out the ChefSteps Joule immersion circulator earlier this year, I found the gadget to be a sleek, precise way to cook the perfect meat or veggies. However, my fellow testers and I had a complaint: The Joule is controlled via smartphone app, which is a great learning tool for sous vide newbies, but also requires you to touch your phone with messy, food-covered fingers.
The solution to that is surprisingly elegant: ChefSteps has announced that you can now control your Joule with Alexa. Now, if your hands are dirty from prepping dinner, you can ask Alexa to set the temperature on your Joule, update you on its current temperature, or turn off. Perfect.
Voice control is my favorite direction that connected cooking devices are headed, purely because having what amounts to a second set of hands in the kitchen is priceless. Having the ability to start a preheat and chop veggies at the same time is no small thing. And if it helps keep my smartphone clean, that's even better.
ChefSteps plans to add more to Alexa's Joule skillset. Soon, you'll be able to tell Alexa what size your steak is and how you'd like it cooked, and Alexa will set the right temperature and cook time for the Joule. Alexa will remember cooking instructions you've given so that you can repeat them easily.
Yes, in order to take advantage of this cool function, you'll need both a Joule and an Echo or Echo Dot, but Joule's Alexa skillset promises to be a great introduction into the smart cooking category. Plus, as more and more devices are designed to work with Alexa, it's easy to justify adding something as multifunctional as the Echo to your connected home lineup.
Related Video
Up next
Get Reviewed email alerts.
Sign up for our newsletter to get real advice from real experts.