Pros
Leaves limbs free

Relaxing

Not hot
The Nodpod Body helped me relax and nod off more easily.
What is the Nodpod Body?
Nodpod began as a company selling strap-free weighted sleep masks filled with glass beads, made of a double-sided fabric of jersey cotton and microfiber. Its product line now includes the Nodpod Body, a mini weighted blanket filled with glass beads that costs $88. Both products come in an assortment of vibrant, rainbow-hued colors. The Nodpod Body measures 29 inches by 24 inches, and weighs 6.5 pounds. The blanket is machine-washable and safe to put in the dryer. It can also be put in your freezer (if you have the space) to cool you down on sweltering nights or for use after a workout, but it can't be microwaved to make you feel warmer. Important safety note: This blanket is not for little kids. The company warns that because of its weight, it could be a suffocation hazard for small children.

What I like about the Nodpod Body
It made me feel relaxed and sleepy
I try to begin every product review—particularly those for products that claim to help you relax—with a healthy dose of skepticism, and this was no different. I thought the concept of a tiny weighted blanket seemed a tad bizarre, but Nodpod soon proved me wrong.
My first test was in Reviewed's lab for an afternoon meditation session. I draped the blanket over my torso for about 20 minutes while lying on my back. It felt like getting a warm, comforting hug and helped heighten my relaxation during the meditation. I then took it home and used the Nodpod Body while lounging in the evenings. It was easiest to position when I was sitting upright or lying on my back, but I also found it comfortable when I was on my side or stomach. I felt I was able to drift off more easily at night due to its weight, as well as on mornings when I was awakened before my alarm by outside noises. Each time it felt like I was being gently lulled out of anxiety-induced alertness and back into dreamland.
Although it's difficult to speak objectively about it, I felt that the NodPod made me more relaxed and therefore ready to retire. It provided warm, gentle pressure on my body that made me feel snug and secure. I enjoyed placing it over my torso and thighs while reading and watching TV at night, and using it under my covers in bed to help me drift off more easily.

It isn't hot
A huge bonus about the Nodpod Body is that it's small enough that it doesn't retain a lot of heat during use. I wouldn't want it on me during peak summer weather, but I generally found its temperature tolerable. Plus it can always be frozen if you want to really cool down.

It left my limbs free
The Nodpod Body is a good fit for anyone who wants a little extra weight in their blanket but doesn't want to feel like their whole body is being constrained. I also liked being able to control the location of additional pressure on my body rather than feeling it everywhere.

It has two textures
One side of the NodPod is made of cotton while the other is a soft, fuzzy, polyester material. I liked having a choice of which surface to have against my skin, depending on which tactile sensation I wanted in a given moment. Most of the time, I opted for cotton.
What I didn't like about the NodPod Body
It isn't really a blanket

Before you purchase a Nodpod Body, you should be well aware of the fact that this isn't a functional blanket. It can only cover a portion of your body—say, your legs excluding your feet or your torso from armpits to waist—and won't keep you warm at night without another layer. It won't even keep you warm during the day; my limbs were cold when I reached for the NodPod for lounging on a chilly day.

It falls off easily
I tend to move around while I sleep. Because the Nodpod Body is so small, it didn't stay put on my body throughout the night. Even if I fell asleep with it draped over me, I would wake up to find it on one side of the bed. This won't be an issue if you just want something that will help you get to sleep. But if you're hoping to feel snug all night long, opt for a larger sized weighted blanket.

What are other people saying about the Nodpod Body?
The Nodpod Body has 4.5 stars on Amazon from 58 customers. People say it's easy to travel with, and some like the fact that it provides concentrated weight more effectively than a heavier blanket spread out over more area.

"I often rely on a weighted blanket to help me sleep, but it's frustrating when most of that weight ends up on the bed and not on me," writes one customer. "Instead of 15 or 20 pounds spread out over the entirety of my bed, the Nodpod Body concentrates 6.5 pounds on me."

Is it worth it?
Yes, if the size and price are right for you
The Nodpod Body fit seamlessly into my evening routine. Its tiny size means it's portable and easy to move. It kept weight where I wanted it (on my torso) without making me feel squished or constrained. I also felt that it made me relax more easily at bedtime. Though it didn't stay put if I used it overnight, I didn't really care, as it helped me wind down and get to bed.
At just over 5 feet tall, I'm fairly small in stature. The Nodpod Body's surface area may not be adequate to accomodate all body types and sizes.
What I don't love about the Nodpod Body is its price. Spending $88 on something with so little material and no practical functionality as a blanket seems like an indulgence that might not be worth it to some customers. But still, its price isn't that high in the brand-name weighted blanket marketplace. Gravity's 15-pound blanket, its smallest size, costs $250, so the Nodpod looks like a bargain in that context—except it won't cover your full body. That said, our best value YnM Weighted Blanket costs just $59 and is twin-sized.
What I couldn't find online was a mini blanket exactly like the Nodbod Body for a cheaper price. Although there are some small blankets available for a fraction of the cost, they're either significantly smaller (such as lap-sized ones for kids) or larger than the Nodpod Body. There was nothing with exactly the same dimensions as this blanket. I haven't bought one yet, but it's definitely tempting. If you have the money available to invest in a weighted blanket for travel and lounging, I say go for it.


Get deals and shopping advice delivered straight to your phone. Sign up for text message alerts from the experts at Reviewed.
The product experts at Reviewed have all your shopping needs covered. Follow Reviewed on Facebook, Twitter, Instagram, TikTok, or Flipboard for the latest deals, product reviews, and more.
Prices were accurate at the time this article was published but may change over time.
Meet the tester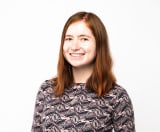 Sara Tabin
Sleep Writer
Sara Tabin is a sleep writer at Reviewed.
Checking our work.
Our team is here for one purpose: to help you buy the best stuff and love what you own. Our writers, editors, and lab technicians obsess over the products we cover to make sure you're confident and satisfied. Have a different opinion about something we recommend? Email us and we'll compare notes.
Shoot us an email