Sleep
Don't worry—it isn't weird for adults to sleep with stuffed animals
Sleep experts say it's normal and fine to cuddle up with a teddy bear.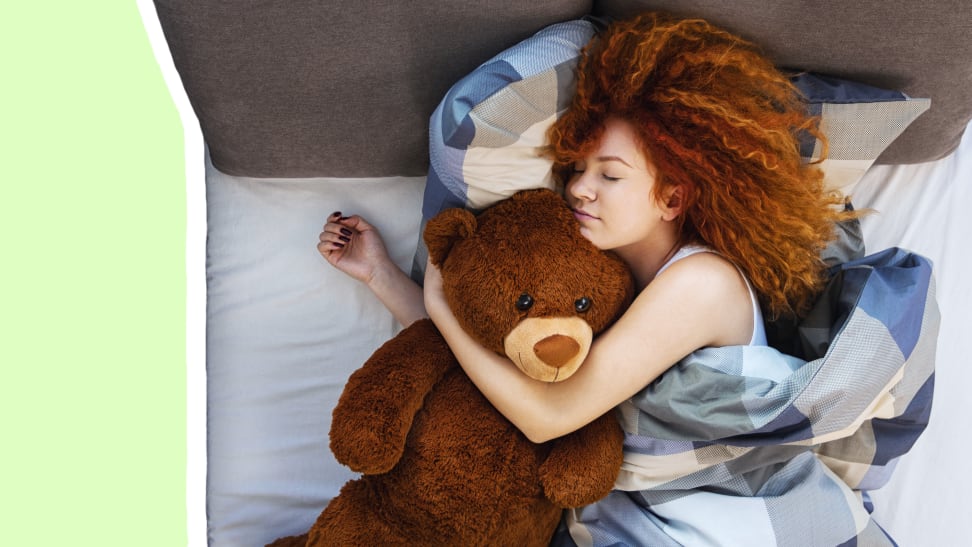 Credit: Reviewed / Getty Images / Kajakiki
Teddy bears and toy bunnies were once thought of as kids' lovies to snuggle at night, but it turns out a lot of adults sleep with stuffed animals, too. People have written about their personal experiences sleeping with stuffies on social media sites and in online op-eds, too. "I've tried to sleep without them, but no matter how tired I am, sleep just doesn't happen unless I'm cuddling my teddy bears," writes one Reddit user. "I don't really know why I do it...as a kid I always slept with a stuffed animal and I never stopped."
We spoke with sleep and psychology experts about why so many adults sleep with stuffed animals and whether it's something to be concerned about or to, ahem, fully embrace.
Why do adults sleep with stuffed animals?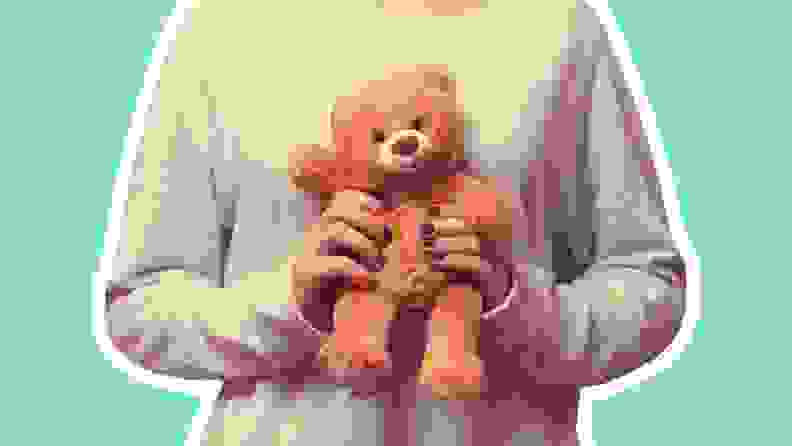 Teddy bears are associated with sleep
To understand why some adults prefer sleeping with stuffed animals, it's important to understand why kids sleep with them, says Jennifer Martin, a sleep researcher and professor at the Geffen School of Medicine at the University of California Los Angeles. "A lot of times children sleep with a special stuffed animal or blanket because it's part of the environmental cues to get their brain ready for sleep," she says. "When an adult does that, it's probably for the same reasons. The presence of that soft cuddly little bear that they're sleeping with is a cue to their brain that it's time for sleep." Imagery in society, such as movies and shows that depict people sleeping with teddy bears, might also play into this association.
Stuffed animals are also soft and warm, sensations that make people feel relaxed, says Martin. But there's no reason the comfort object needs to be a stuffed animal, she says. Some people may have a favorite pillow or blanket they like that fulfills the same purpose.
Stuffed animals can stand in for a companion
Stuffed animals can help people feel less alone at night, says Wendy Troxel, a senior behavioral and social scientist at the nonprofit RAND Corporation and author of Sharing the Covers; Every Couple's Guide to Better Sleep. Sleep is a vulnerable time from an evolutionary standpoint because you're lying down, semi-conscious, in the dark. As social beings, we rely on our connection to other people for protection during unsafe times. "A cute, cuddly teddy bear may provide that sense of warmth and comfort," she says. Children often cuddle with stuffed toys or blankets when they sleep away from their parents. Likewise, adults who're single or apart from their partners or pets can use stuffed animals to satisfy the need for social companionship at night.
People in the U.S. frequently anthropomorphize objects beyond stuffed toys, says Amy Wachholtz, clinical health psychology director at the University of Colorado Denver. We often name our cars or phones and we spend lots of time talking to Siri and Alexa. Such behaviors, along with sleeping with stuffed animals, may help people feel connected to the world, which can provide an element of comfort when people feel isolated or alone.
Is it a problem when adults sleep with stuffed animals?
Our experts agree there's nothing weird or wrong with adults sleeping with stuffed animals, although researchers haven't extensively examined how stuffed animals impact sleep quality, says Wachholtz. "If someone feels more comfortable and relaxed by sleeping with a stuffed animal, it's likely helping them sleep better," she says, adding that she's seen adult patients bring stuffed animals for overnight stays in the hospital. The toys make the patients feel more comfortable away from home.
One possible snafu: If you're used to sleeping with a stuffed animal and get separated from it on vacation, for example, you might find it harder to sleep, says Martin. People usually sleep best when their bedtime routine stays consistent, she says.
If you have sleep issues, tucking in with a stuffed animal might not improve them. People with chronic insomnia should see a doctor who can refer them to a sleep therapist because simple fixes like a teddy bear might not work, says Martin.
But if you're sleeping with one now, there's no reason to stop. "I'm a big proponent of telling people to do what works for them in terms of being comfortable at night," she says. "If anybody is sleeping with a stuffed animal [now] and they enjoy it and they sleep well, I wouldn't worry about it."
The product experts at Reviewed have all your shopping needs covered. Follow Reviewed on Facebook, Twitter, Instagram, TikTok, or Flipboard for the latest deals, product reviews, and more.
Prices were accurate at the time this article was published but may change over time.