Smart Home
The Best Baby Audio Monitors
There are tons of baby monitors on the market. These are the best.
Credit: UnSplash / Dakota Corbin
If you're in the market for a baby monitor, an audio-only solution is an affordable, simple way to get the job done. After testing all the top models on the market, we highly recommend the VTech Safe & Sound DM221 (available at Amazon for $27.99). It's available with either one or two parent units, the parent unit runs off either a wall outlet or rechargeable batteries, and it has the best combination of build quality, features, and range that we tested.
As a parent myself, I know just how crucial having some kind of baby monitor can be. Even with all of us on the same floor, it can be difficult to hear from room to room—especially at night with things like fans or air conditioners going. While I personally use and recommend a video monitor, even a half-decent one will run you at least $100.
These are the best baby audio monitors we tested ranked, in order:
VTech Safe & Sound DM221
VTech Safe & Sound DM111
Motorola Comfort 10
VTech Safe & Sound DM221-2
Summer Infant Babble Band
Safety 1st Sure Glow
Best Overall
VTech Safe & Sound DM22
Though it's only slightly more expensive than the cheapest monitors we tested, the VTech DM221 had by far the best combination of design, build quality, features, and range. It excels as a traditional monitor, and easily covered a 4-story home in our range tests, with no drop-offs anywhere.
For extra features, the parent unit has a rechargeable battery, a helpful LCD display, and a belt clip, while the baby unit has a night light. But our favorite feature was the vibrate function; with this setting, the parent unit will vibrate when the baby starts crying, rather than broadcast the audio. This way one parent can handle the 4 a.m. feeding while the other (hopefully) gets some much-needed shuteye.
Best Value
VTech Safe & Sound DM111
If you just need a no-nonsense baby monitor without all the bells and whistles, the entry-level VTech DM111 is the way to go. It did as well as the higher-end DM221 in our range tests, and you can find it most places for $20 and under.
The biggest knock here is the parent unit does not come with rechargeable batteries, instead relying on either a wall outlet or AAAs for portability. But if you just need something to keep tabs on your baby in the middle of the night and don't mind picking up your own rechargeable AAAs, this is the best, cheapest option.
Helpful Things To Know About Baby Monitors
All baby monitors work in (more or less) the same way: a stationary "baby unit" in your child's room sends audio or video to a "parent unit" that you keep by your bed or with you. When your baby moves or makes noise, you are alerted via the parent unit so you can deal with it.
Most baby units plug into a wall outlet, while most parent units can plug into a wall or run off a rechargeable battery.
Though there are tons of other features to consider, the core function of a baby monitor is to help you—wait for it—monitor your baby. When we pick our favorites, we focused on that first and foremost.
Audio monitors are affordable and effective at letting you know if your kid is awake and making lots of noise, but having video can have huge benefits.
Modern baby monitors go far beyond just streaming audio or video, and many can do all sorts of neat tricks. Some feature ambient temperature sensors, some feature air quality sensors, and many offer things like included lullabies that you can activate remotely. Many of these also have two-way talk functionality so you can talk to your baby through the baby unit.
---
Other Audio Baby Monitors We Tested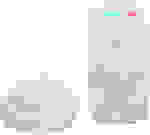 Motorola Comfort 10
The Motorola Comfort10 performed well in all of our tests. Though it doesn't have nearly as many features as our top pick, it does come with a rechargeable battery in the parent unit.
In addition to a few spotty user reviews that we saw, the main issue here is the price. At $34.99 it just doesn't do nearly enough to justify the cost when you can get the equally good VTech DM111 for $15 less and pick up some rechargeable AAAs on the side.
VTech Safe & Sound DM221-2
The VTech DM221-2 is identical to our best overall monitor, the DM221, except that it comes with two parent units. That's the only difference. While most people will be just fine with the single-unit model we recommend above, this is the best choice if you need two.
It's also worth noting that the price on the DM221-2 fluctuates independently of the single-unit model, and sometimes it's only $5-10 more expensive. If you're thinking about getting two but are worried about cost, then keep an eye on this price.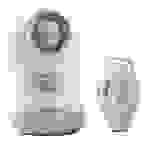 Summer Infant Babble Band
Summer Infant's babble band is a unique take on the baby audio monitor, with a parent unit that is housed in a rubberized watch band. This theoretically lets you wear the monitor on your wrist without needing to hook it to your belt or carry it around.
The problem? The watch relies on wireless charging, magnetically attaching to the charger built into the baby unit. Our watch simply wouldn't charge, so we couldn't test it. While the user reviews are generally positive, we have to give this one an incomplete for this round of testing.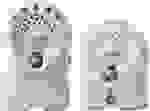 Safety 1st Sure Glow
While we tried to give the Safety 1st Sure Glow the benefit of the doubt, the moment we took it out of the box it made a poor impression. The units feel incredibly cheap, the instructions were unclear, and the design is just plain bad.
Though it performed well enough in our range tests and everything seemed to be working, we just can't imagine trusting this in the middle of the night. User reviews back that up, with a whopping 6 percent one-star reviews on Amazon. Stay away.
More Articles You Might Enjoy
Up next
Get Reviewed email alerts.
Sign up for our newsletter to get real advice from real experts.