Smart Home
7 useful gadgets that can do even more with Apple HomeKit
If you're using HomeKit, you need to try these easy customizations.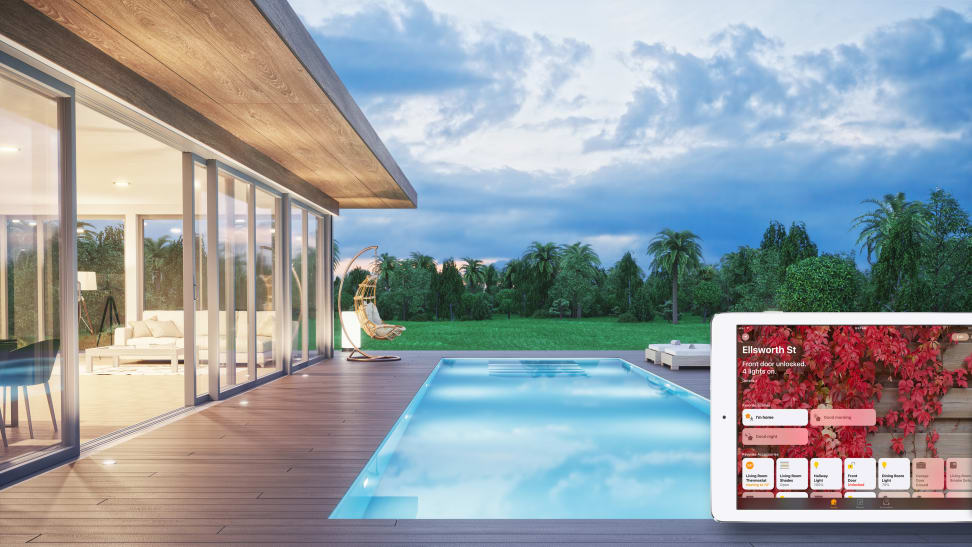 Credit: Apple / imaginima via Getty Images
I was already an Apple junkie when HomeKit came out, and its easy setup and Siri control made it a natural fit for my home. But sometimes HomeKit can't do everything you want it to, or you'll find a cool product or service you'd love to use but it doesn't support HomeKit natively. Thankfully, there's an easy way to get better control of your HomeKit.
The answer to your smart home customization prayers
IFTTT, which stands for If This Then That, is an easy automation platform for connected devices and social media services. IFTTT uses these things called "applets" to perform an action based on a trigger, which gives you new ways to connect to your devices.
You can find hundreds of already-made applets on the IFTTT website or in the mobile app, and you can even create your own. For example, if you add a photo to Instagram, there's an applet that will automatically tweet it for you. Apple fans even get some iOS-specific channels of supported triggers and actions to use, such as actions that happen when your iPhone is in a certain location.
And if you own smart home devices like security cameras, smart locks, lights, and more, you may be able to create custom iOS-based applets that help you get even more out of your tech. Here are 7 fun ideas to get you started.

1. Turn an old iPhone or iPad into a security camera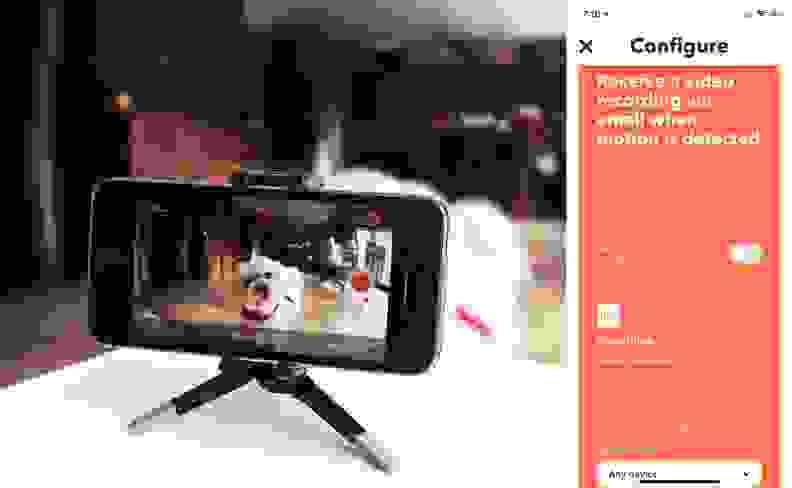 If you have an old iPhone or iPad that still works but is just collecting dust, you can make it useful by transforming it into a security camera. Just install the Manything app on it, and leave it recording. Then, you'll want to set up this IFTTT applet, which will email you a video clip when motion is detected.
If you don't want to leave it on all the time, there are also IFTTT applets that can even start a recording when you leave home, and then stop the recording when you return.
2. Tell Alexa to create new Reminders in iOS
Lord knows I do not need more to-do lists. Apple's Reminders app can be a good place for everything to go, because it's so accessible. You can view and manage reminders on a Mac, iPhone, iPad, and Apple Watch, and add them by speaking to Siri on any of those devices or the fancy new HomePod speaker, and even send copied text and links to reminders via the iOS Share Sheet.
So if you're a mostly iOS house but you have some Echo or other Alexa-compatible devices around—and you might, Alexa is everywhere these days—you can speak your reminders to Alexa and have them dumped into your iOS Reminders too. Just use this IFTTT applet to send Alexa's reminders to iOS reminders, and this one for Alexa's shopping list.
3. Find your phone without asking for help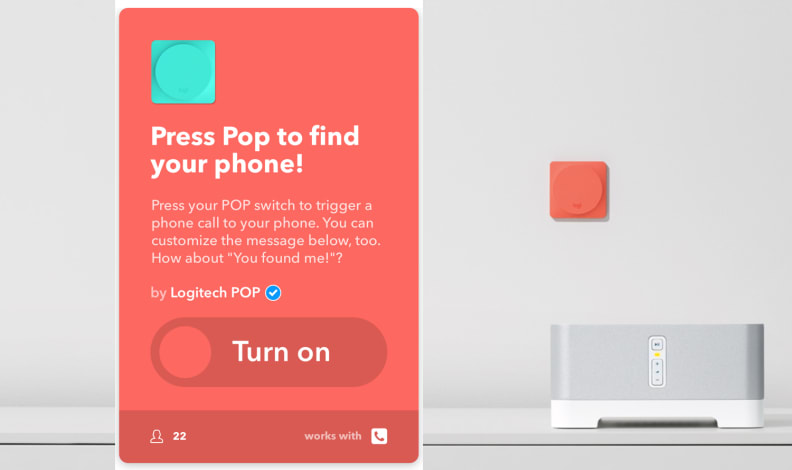 I have a huge, embarrassing problem with losing my iPhone inside my own home. The Apple Watch has a button in the control center that can page the paired iPhone, and after fitness tracking it's probably the feature I use most. Of course if someone else is home, you could sheepishly ask them to call your phone so you can find it.
But what if no one's home and you don't have an Apple Watch? The inexpensive, HomeKit-friendly Logitech POP can be your backup, because it supports an IFTTT applet that calls your phone when you press the POP button. Now only if it could locate the Apple TV remote...
4. Welcome home family members with August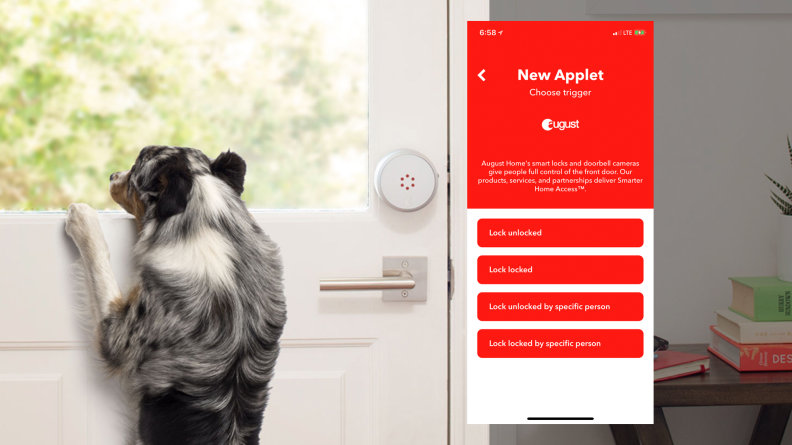 August's Smart Lock Pro (one of our favorites) has HomeKit support to let you lock and unlock the door by voice. And you can have Siri check that it's locked as part of a nighttime routine. Plus, August has an IFTTT channel, and applets can be triggered by specific people unlocking the lock, either with their smartphone or by using the optional August Smart Keypad.
That means different things can be programmed to happen when different people unlock the door, even if they haven't programmed their own HomeKit scenes and automations. For example, I could have IFTTT turn on my LIFX lights when the dogwalker pops in, while family members coming home from work or school get both lights and climate control.
5. Keep an eye on your home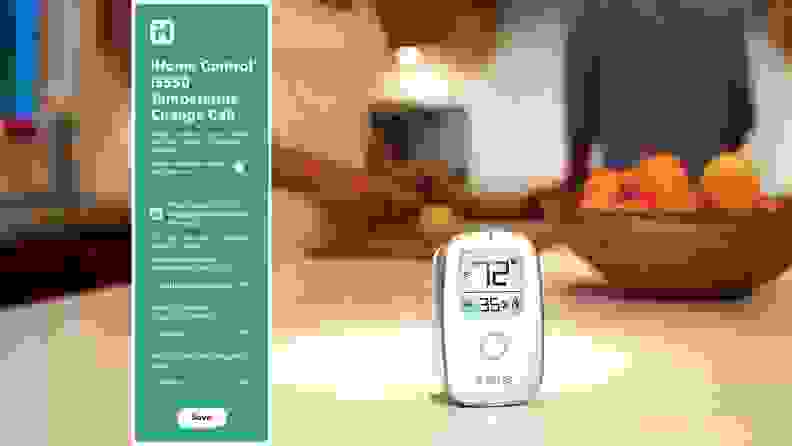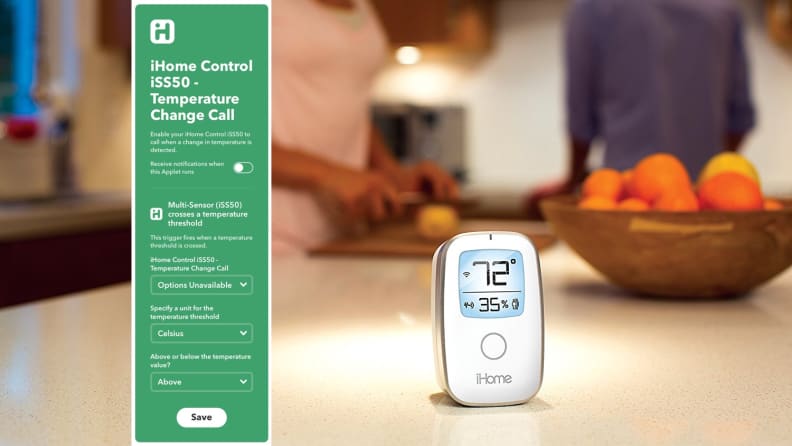 This handy little iHome monitor ($49.95 from Apple) has five sensors—motion, temperature, light, sound, and humidity—that can trigger notifications or HomeKit automations. The iHome app can send you push notifications, but if certain people in the house would rather get an SMS text message, email, or even a phone call about a drastic change in temperature, motion being detected, and so on, IFTTT has applets for that.
6. Use Siri to log meals in Apple Health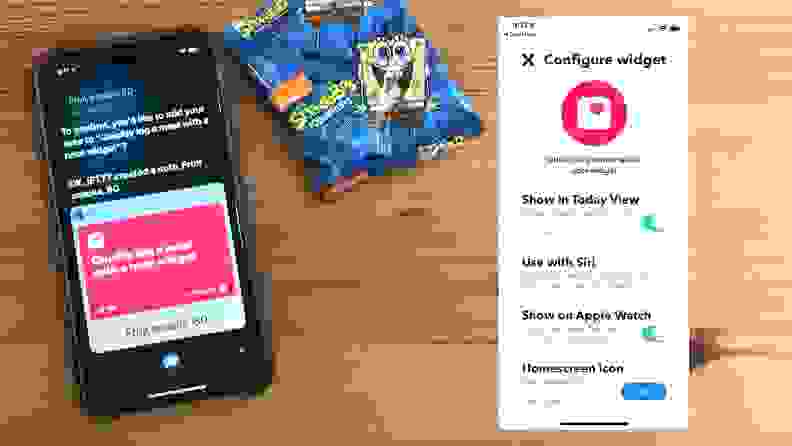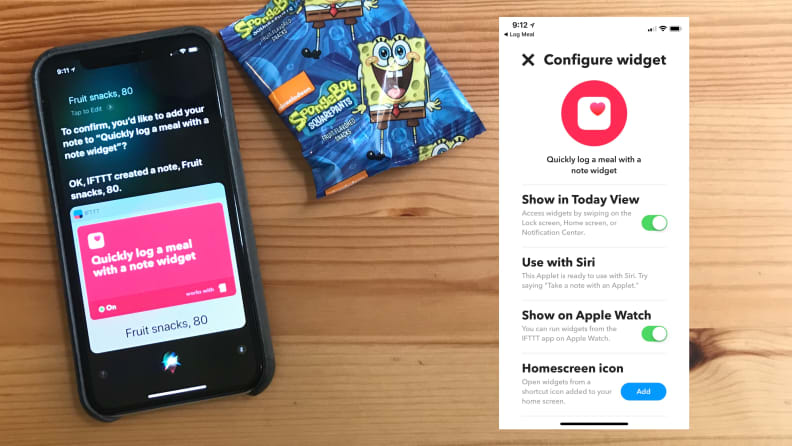 This IFTTT applet lets you log meals into Apple's Health app by just quickly typing the name of the food and the calories (or just the calories) into IFTTT's own Note Widget. Better yet, you can do this with Siri, for a hands-free way to add up the day's calorie count.
You'll need to download the IFTTT app and grant the applet access to the Health app before you can use this service. You can activate the applet on IFTTT's website, but to customize it, switch to the mobile app. There, you'll find the option to enable Siri, and you can even add a button to your iOS device's home screen.
You can also add a shortcut to your device's home screen. When you tap that icon, a window pops up where you can type in the name of each food item and the calorie count, separated by commas, or even just the calorie counts. That data will be synced to the Health app as calories consumed.
For Siri control, say, "Take a note with an applet," and then pause. Siri will ask what the note should say, and you tell it the name of the food, say the word comma, and then the number of calories: "meatloaf comma 200." Unfortunately, Siri does get confused if you have too many Siri-enabled IFTTT applets, so don't go crazy.
7. Remember to keep your Arlo cameras charged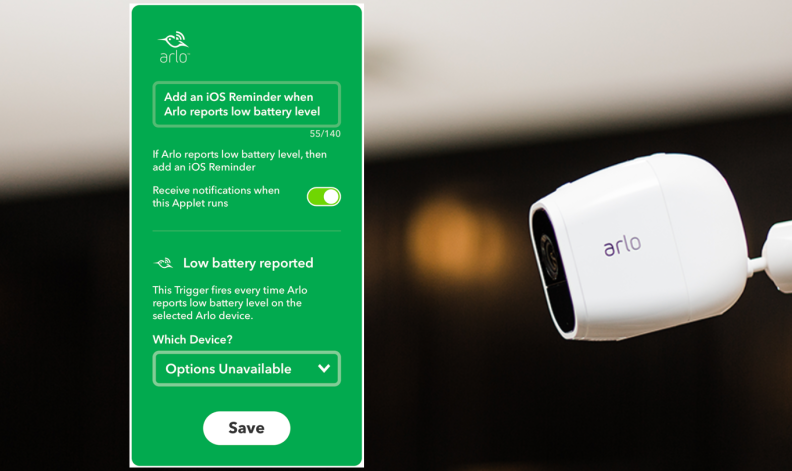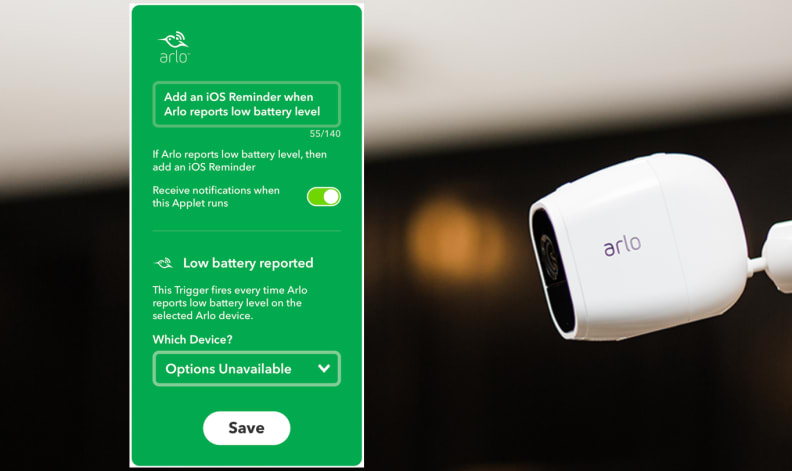 Arlo, our favorite indoor security cameras, support HomeKit, and like most battery-powered connected devices, they send you a notification on your iPhone when the camera's battery needs to be charged. But the last mile—from seeing the notification to taking action on it—is up to you.
Luckily, IFTTT has an Arlo channel, and its most useful applet adds a to-do to your iPhone's Reminders app to help you remember to actually do it.
If you don't use Reminders, don't worry—it has its own IFTTT channel. The right applet will automatically sync new Reminders to another IFTTT-supported list, like Todoist, Toodledo, Remember the Milk, Trello, and more.
Located-based IFTTT applets can also arm your Arlo cameras when you leave the area, and disarm them when you come back.
Prices are accurate at the time of publication, but may change over time.