Do I really want a mirror to tell me I'm getting older? Do I need a computer to point out my emerging fine lines, the dark splotches I gained during my last pregnancy, the dark circles under my eyes?
While it may seem like a painful way to start the day, I have actually enjoyed my time using a smart mirror that does all of these things—but so much more. The Alexa-enabled HiMirror Mini doesn't just point out my flaws: it shows me whether the beauty products I use to diminish those flaws are actually working or not.
How the HiMirror Mini works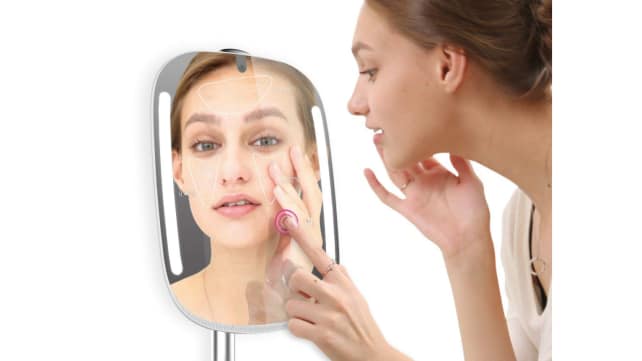 The HiMirror Mini looks like any other lighted makeup mirror—until you press the power button. When it's powered on, a tablet screen lights up, and it's as if you're looking at an Android tablet pressed against the other side of a two-way mirror. You can easily see your reflection along with the tablet's display.
The mirror's surface is touch-sensitive to allow interaction with the interface beneath, and has a built in microphone that allows for Alexa usage (to check your packages, set reminders, re-order your favorite moisturizer as you muscle out the last drop, and do everything else Alexa does).
You can input the beauty products in your existing regimen so the mirror can remind you when they expire, and you can also scan the SkinSafe database to see what allergens and health-risk ingredients your beauty products may pose. You can access Facebook and YouTube via the mirror's display, while still being able to see your reflection, which is great for trying out techniques from makeup tutorials.
One of the coolest features of the HiMirror is its ability to scan your face with its built-in camera and give you hard numbers to monitor your skin over time and in comparison to the average user's.
My new beauty regimen, as decided by a smart mirror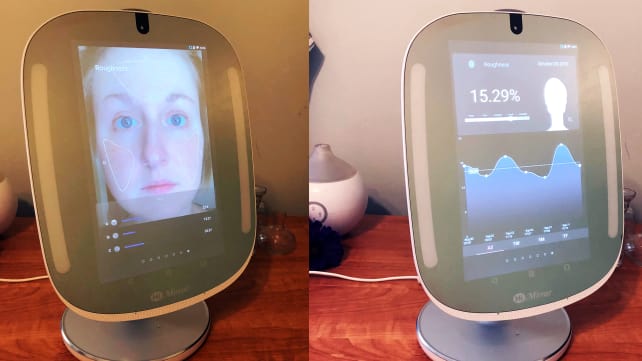 When I first tried the mirror, it scanned my face and to diagnose any skin issues and recommend products that will help improve them. I've never had a terrible complexion, but over time I've developed melasma (dark splotches on my cheekbones that showed up in response to pregnancy hormones), enlarged pores, and dark circles under my eyes (thanks, kids).
The data from HiMirror's scans jumped around quite a bit from day to day (it had trouble if the lighting wasn't just so), but some patterns became apparent despite some obvious outlier readings. It gave me measurements in the form of increased/decreased percentage for pore size, red spots, dark spots, wrinkles, fine lines, roughness, and dark circles.
The scan's reports on my pores, wrinkles, and skin roughness were a little more consistent than the rest, and. I saw some progress in my skin's appearance over the months when I focused on improving those readings.
HiMirror's recommendation: The mirror recommended La Roche-Posay's Pigmentclar Dark Spot Cream Face Serum to help shrink my pores, even out my skin tone, and diminish the few fine lines I am beginning to get. Usually, I wouldn't spend more than $25 on a beauty product, but there are few things I won't do for science, so I bit the bullet and ordered the $53 serum. The HiMirror team vets each product in their database, and recommends products for specific skin issues based on the product's packaging and claims.
After a day or two of using the serum, I began to notice a difference in my pore size and the brightness of my skin. The interesting thing is that the mirror couldn't really seem to tell a huge difference even though I could see it with my own eyes. By the end of my testing, however, the HiMirror "saw" a 5 percent improvement in my skin's roughness, which I'd say is about right.
Is the HiMirror worth it?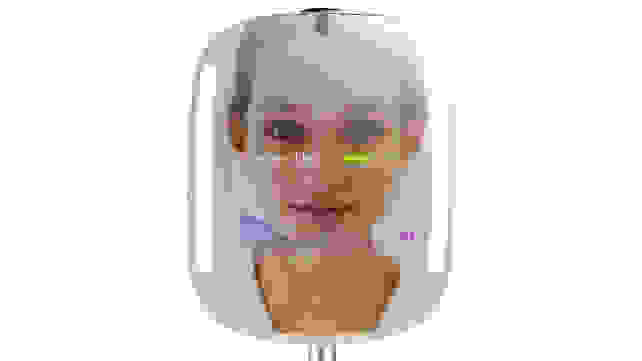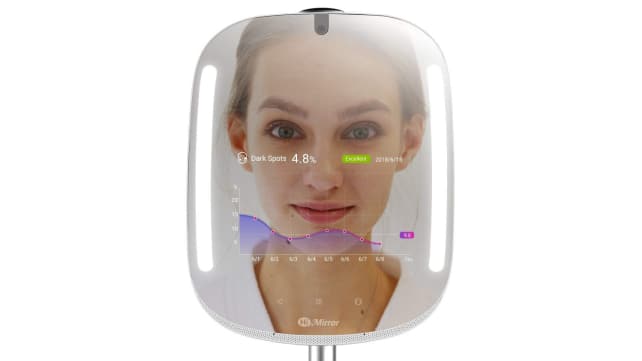 If you're looking to add an Alexa device to your vanity to remind you when it's time to leave, play your morning Spotify playlist, or do any of the other helpful things Alexa can do in the bathroom, HiMirror packs a lot of smart features into a small footprint. It may even help you to find the perfect skin products for your complexion.
However, the way that I ended up using this mirror isn't exactly what I expected—and probably not what they intended, but I have found it very useful. Every few days, I take pictures of my skin and I use the time-lapse function to see any differences in dark spots and circles etc.
The hardest part about using this mirror, and perhaps its biggest flaw, is that it is very picky about the room's lighting during a face scan. My mirror is close to a window, and that light—even with the curtains closed—seems to throw off the scan depending on the time of day and the weather.
The mirror's biggest flaw is that lighting can completely throw off a scan's accuracy.
In the mirror's recommendations list, there are no references to reviews or ratings anywhere, and you can't buy any of the products through the mirror itself, so while the scans and recommendations are pretty informative, you'll still need to do some research and bargain hunting on your own to find the best products.
HiMirror works really well as a lighted mirror and Alexa device without taking up much room. If you don't have a lot of sunlight in the room, the face scanning feature will work well. But even if the lighting varies, the mirror's time lapse feature will allow you to see your skin's changes even if the scan readings aren't super accurate.
HiMirror has enough useful features that it's hard to imagine anyone who wears makeup wouldn't find it a helpful addition to their morning routine. I'm hopeful that future updates will make the scan feature more forgiving of changes in light from day to day, as that was my only complaint about this very cool smart mirror.
Our editors review and recommend products to help you buy the stuff you need. If you make a purchase by clicking one of our links, we may earn a small share of the revenue. Our picks and opinions are independent from any business incentives.