Smart Home
I tried Nest's new face-detecting security camera—here's what I thought
Nest made its security camera smarter, and more expensive.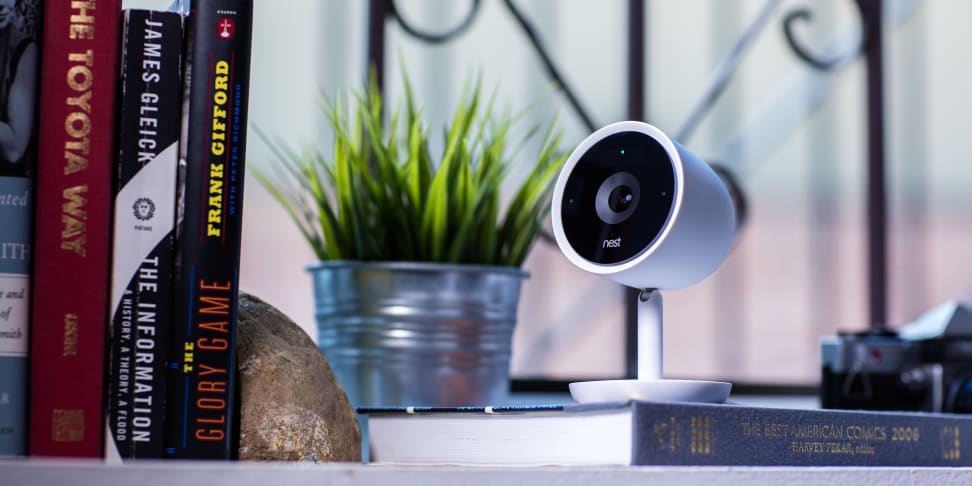 Credit: Reviewed.com / Jackson Ruckar
Picture a security camera, and you'll probably think of bulky, ugly cameras that save video to a memory card. They don't look good in our homes, which means we often try to hide them away in a corner. But the Nest Cam IQ is different.
As security cameras go, the Nest Cam IQ looks beautiful. It comes in a crisp, clean white color with a very minimalist package. It's held up by a narrow stem and only has one lone power cable. Heck, even the charger looks gorgeous.
But for as pretty as this camera is, it costs $299 and doesn't seem to raise the bar as high above other cameras as Nest claims it does. That's especially true when compared to Nest's $199 Cam Indoor and $199 Cam Outdoor.
It still offers a lot of features: 1080p video, person alerts, familiar face alerts, night vision, a CSI-style zoom and enhance feature, two-way audio dubbed "HD Talk and Listen", activity zones you can create to focus or block alerts on a specific area, and more. There's also "Supersight," which Nest dubs the combination of a 4K sensor, HDR, and close-up tracking, where the camera zooms in on and follows people moving through the frame.


The thing is, most of these features are also available on the more affordable Nest Cam and Nest Cam Outdoor. All three cameras take 1080p video and offer night vision, alerts, and two-way audio. The difference is that the Nest Cam IQ offers HD two-way audio and can process person alerts without a Nest Aware subscription (more on that below), thanks to its more-powerful on-board processor.
The Cam IQ also works with the Nest app, naturally, allowing you to view the Cam IQ's "Sightline" video feed in concert with other Nest devices (if you own them). The app packs a lot of features, but most of them are buried in settings—which helps simplify the experience by focusing on the camera feed. If you have a Nest Aware subscription, you can scroll back in time through your camera feed and see what you missed.

You have to subscribe to Nest Aware—it costs $10/month or $100/year for 10-day continuous cloud backups, or $30/month (or $300/year) for 30-day continuous cloud backups—to get person alerts for the older Nest cams, which use the cloud to process the person alerts. As for familiar face alerts, they require a Nest Aware subscription
and
a Nest Cam IQ.
It's still a very powerful security camera, but with a $300 price tag, it might not be for everyone.
What I liked…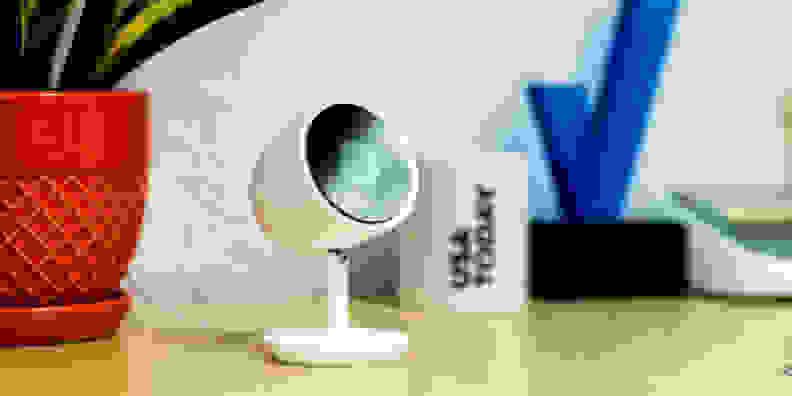 "Supersight" and CSI-style zoom and enhance
These two features are what really sets the Nest Cam IQ apart from its older siblings. "Supersight" is Nest's name for the new 4K HDR sensor and close-up tracking this cam offers. The camera shoots in 1080p (streaming 4K footage to the cloud would eat up a lot of bandwidth), but can zoom in on movement and people that it detects, even following them as they walk through the frame.
And thanks to the 4K sensor, you can zoom in on an area of the frame you'd like to watch and enhance it to get a clearer picture, just like on CSI! You can't do this after the fact since the camera only records in 1080p, but it's handy if you have to place the camera far away from the area you'd like to monitor.
Familiar face alerts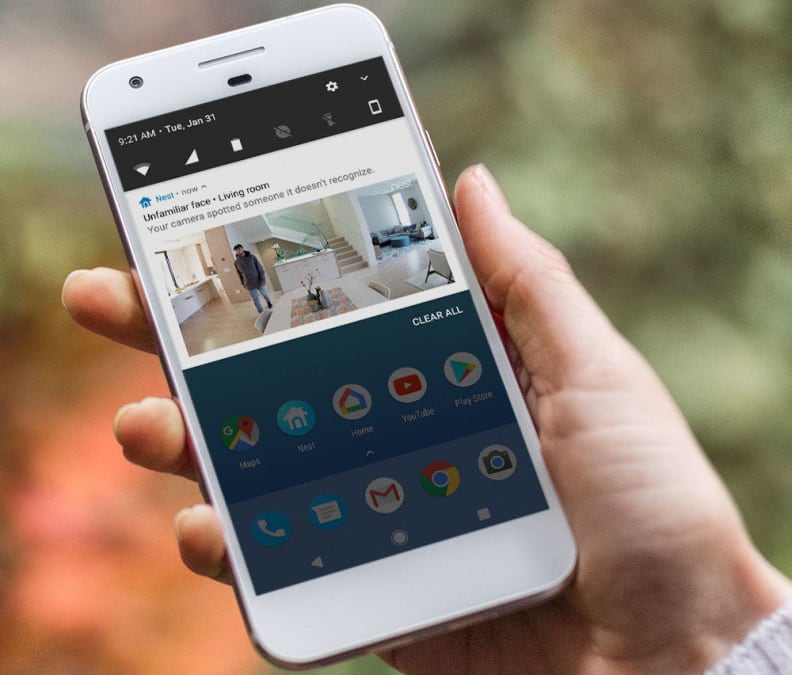 You might find this feature a bit creepy (many of my colleagues did), but the Cam IQ has a unique feature called "familiar faces" that you can use if you subscribe to Nest Aware. It will collect and group screenshots of faces, allowing you to name the people that the cam sees. It will also send a notification with a screenshot to your phone when it detects an unfamiliar face.
It's an interesting, if creepy, feature, but outside of being a way to be extra vigilant about who is in your home(perhaps if you're the parent of teenagers?), I can't seem to find a real purpose for it. However if it's a feature that interests you, it is available with a Nest Aware subscription.
What I didn't like…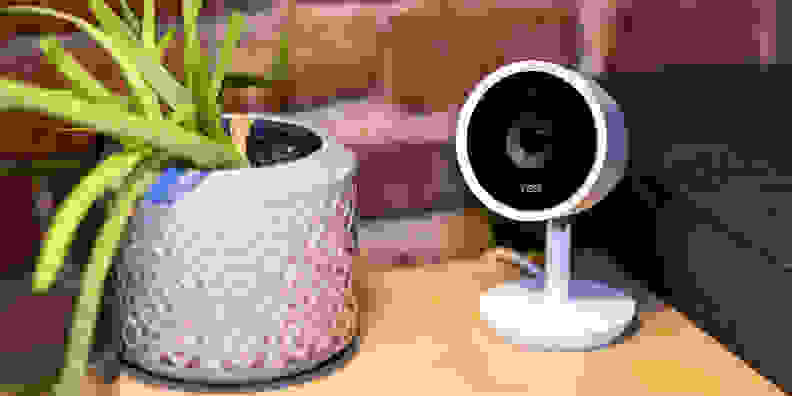 "HD Talk and Listen" needs improvement
The HD Talk and Listen (or two-way audio) feature seems to offer somewhat improved audio over competing cameras, with a speaker that Nest claims is seven times more powerful than the Nest Cam Indoor. But on the mobile app, the feature only allows you hear people when you aren't speaking through the microphone.
On the Nest website, you are able to leave the mic on and still hear people, which makes it much easier to have a conversation. Nest tells me that this will be fixed later this summer, but at launch it just seems like a weird bug to leave in place.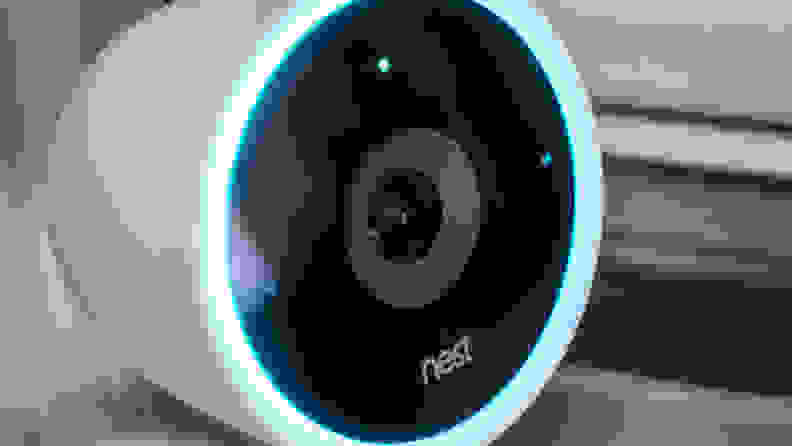 Siloing of basic features in Nest Aware
Perhaps the thing I disliked the most about the Nest Cam IQ is that so many features are tied to a Nest Aware subscription. I will admit, the subscription service works well, and you might think it's worth the money. But there are a few features—like the ability to save and download video clips—that most competing cams offer for free.
For example, the Logi Circle, our favorite indoor cam, offers 24 hours cloud storage and the ability to save clips for free. And Netgear's Arlo Pro, our Best Value pick for outdoor cams, offers seven days of free cloud storage. Without Nest Aware, you'll only get still snapshots from your cam for the past three hours of use.
Despite the competition, Nest keeps charging a premium for its cloud features. And perhaps you're okay paying for them. But given the high initial cost of the Nest Cam IQ, I'd expect to get a bit more for the money.
Should you buy it?
The Nest Cam IQ is a beautiful and well-designed product. It also offers great software features that others cams can't compete with. But Nest's other two cams are almost just as good, offer almost identical features (especially with a Nest Aware subscription), and cost $100 less.
I think it's a great security camera, but I'd personally rather get a regular Nest Cam or a competitor with free cloud storage. If you've invested in the Nest ecosystem or find the 4K "Supersight" and "zoom and enhance" features very compelling, I have no doubt you'll love this camera. But in its current form, I don't think it does enough to differentiate itself from its siblings and make it worth the extra money.
Related Video