Smart Home
Samsung Put a SmartThings Home in Its CES Booth
Home smart home...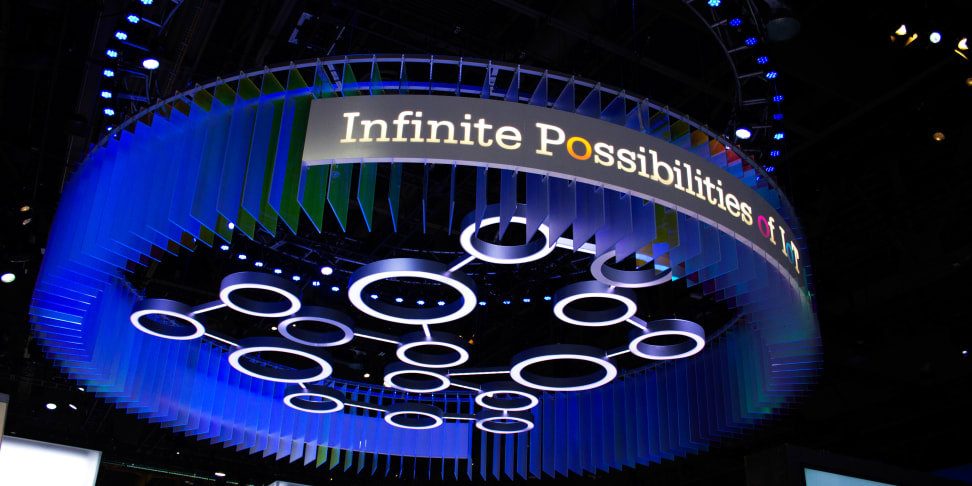 Credit: Reviewed.com / Daniel Wroclawski
Samsung is known for many things—smartphones, TVs, tablets, washers... the list goes on. But unless you go to a lot of electronics trade shows, you probably aren't aware that Samsung is also known for putting together some of the craziest booths you can imagine.
This year was no exception, with the company putting together a giant wall of curved TVs. At the center of the booth was one of Samsung's newest areas of focus: the smart home.
In his CES keynote, Samsung CEO B.K. Yoon said that soon every Samsung product would be connected. So it makes sense that SmartThings, the company's connected home system, was at the heart of the booth.
The smart home mockup was broken into four areas: the living room, kitchen, garage, and bedroom. Each room demoed different smart products—all connected to Samsung smartphones and wearables, of course.
Read on for a tour through Samsung's smart home wonderland:
---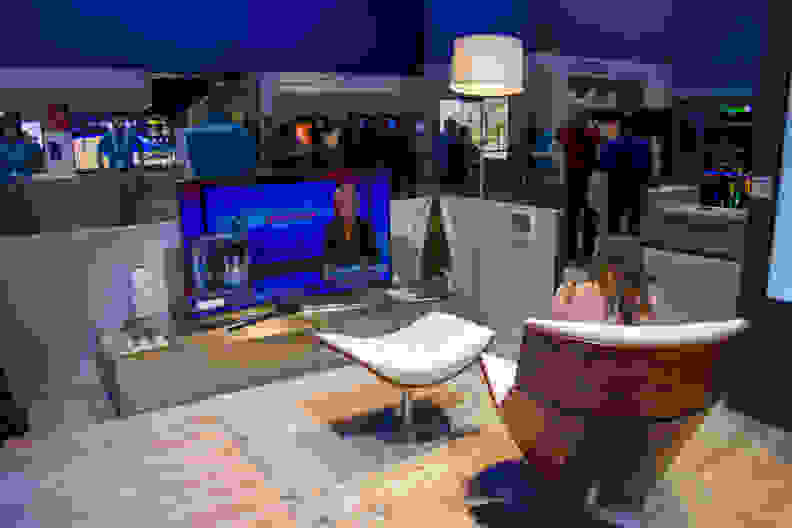 The Living Room
In Samsung's living room, futuristic furniture was set up in front of a Samsung smart TV. The TV screen displayed a picture-in-picture of a video feed from a Samsung security camera attached to the front door. There was also a lamp connected through SmartThings, as well as a smart lock on the front door.
With all of these devices, Samsung showed off the promise of a connected home: Unlock your door when you get home and have your living room lamp turn on in response, all with the help of your phone and SmartThings.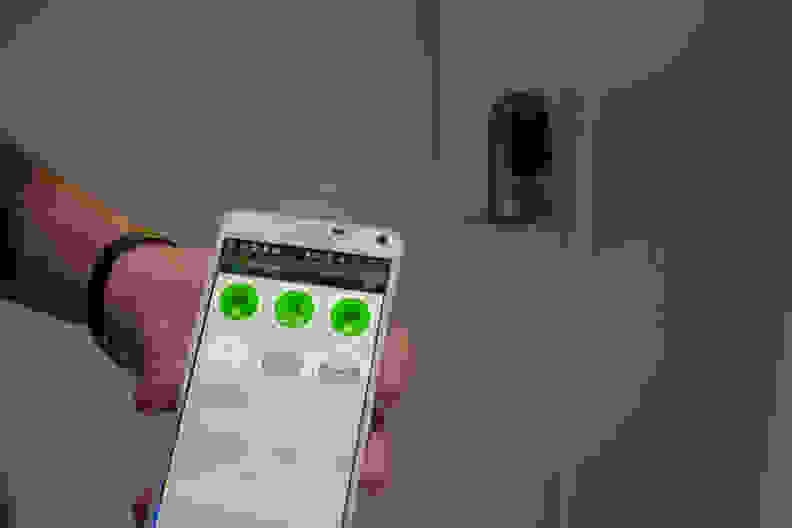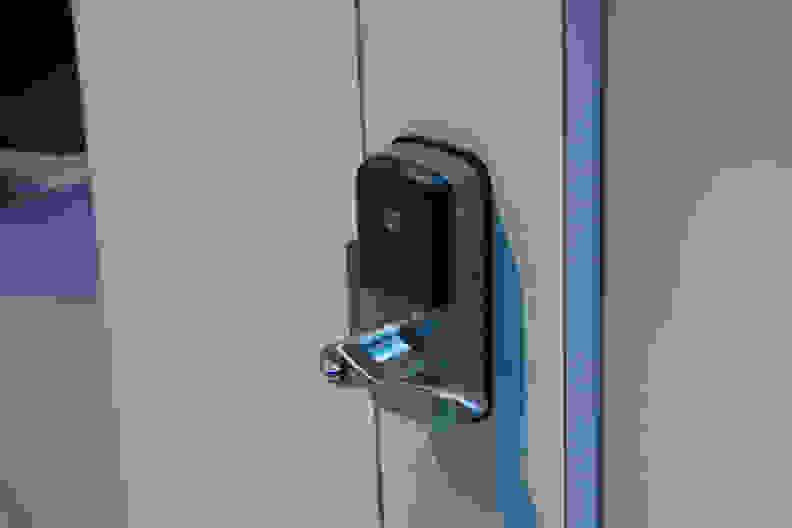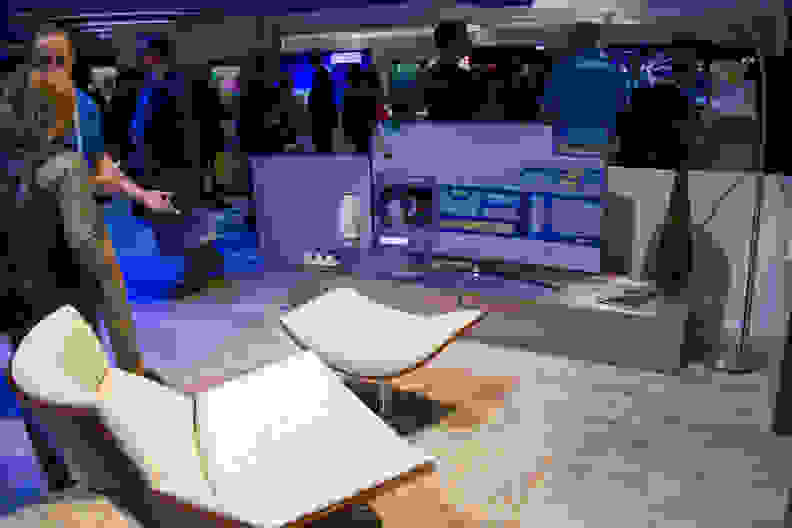 ---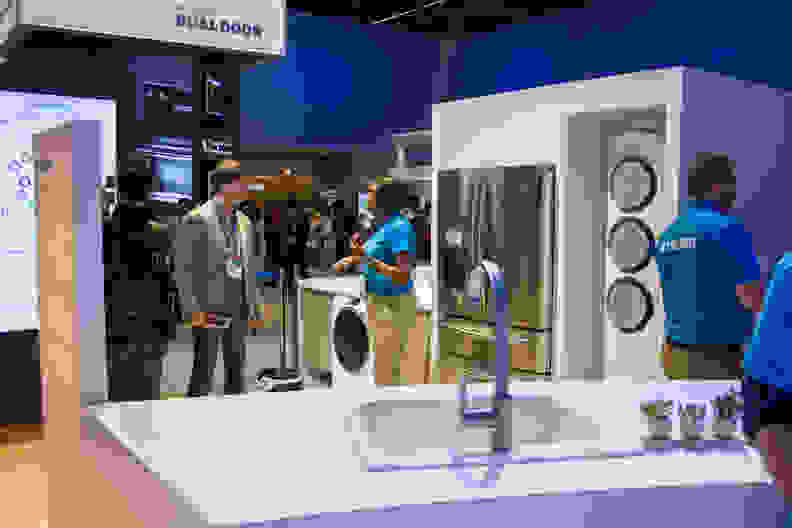 The Kitchen
The kitchen focused on four devices: a refrigerator, air conditioner, washer, and Philips Hue light. The air conditioner could be powered on and off from the SmartThings app. The app could also be used to control the Philips Hue light.
The refrigerator could not be controlled from the app, but was set up to alert you if the refrigerator door was left open. The app also monitored the refrigerator's temperature changes.
The washer was unfortunately not functioning during our visit, but it appeared to also be monitored through the SmartThings app, which is able to perform functions like sending notifications upon completion of a wash cycle—when the washer is functional, of course.
The sink didn't sport a smart faucet, but there was a water sensor underneath that could, in theory, alert users if it detected a leak.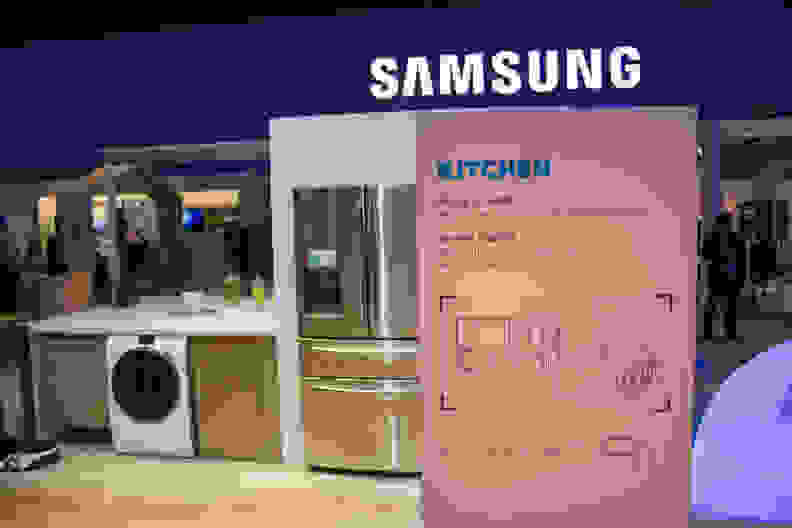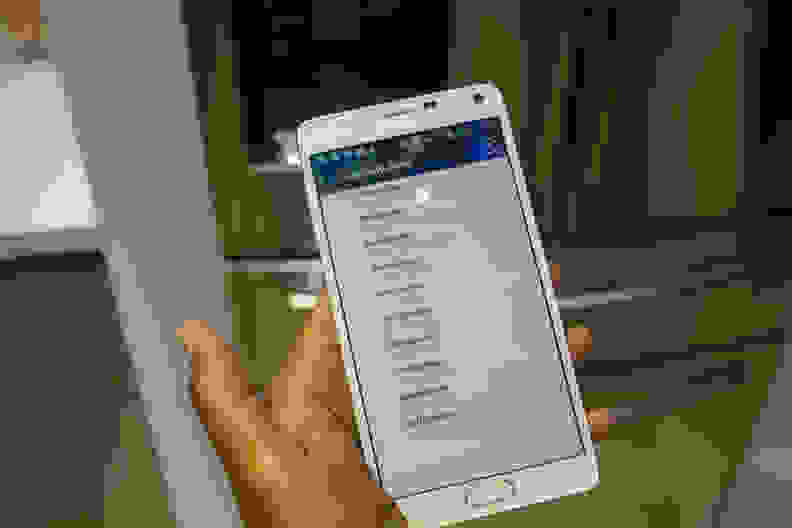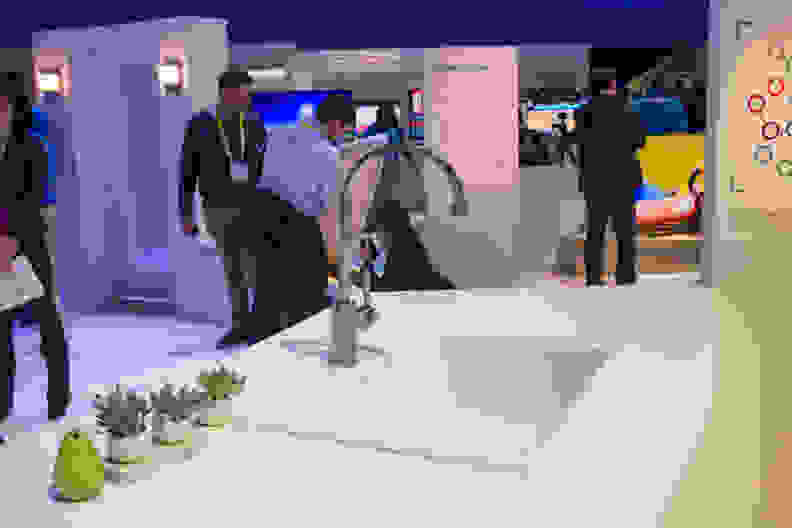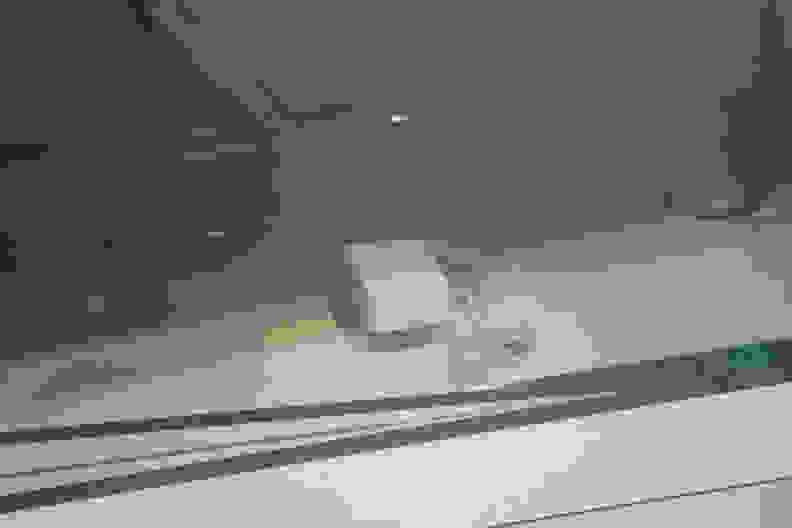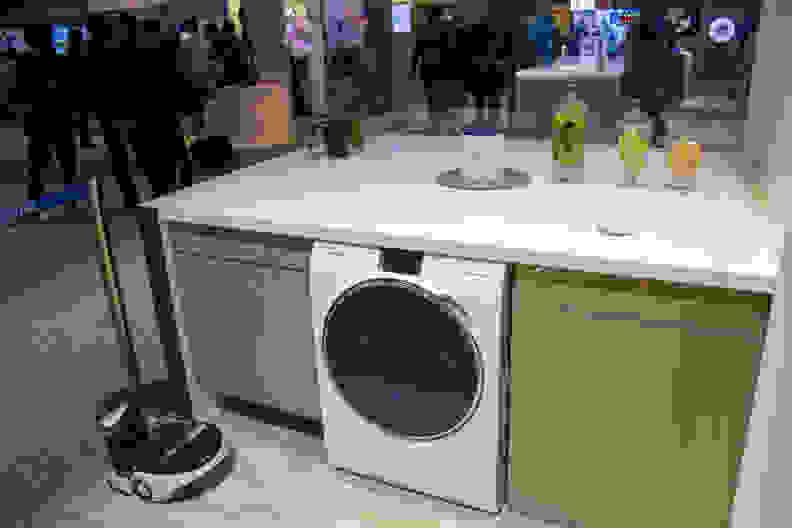 ---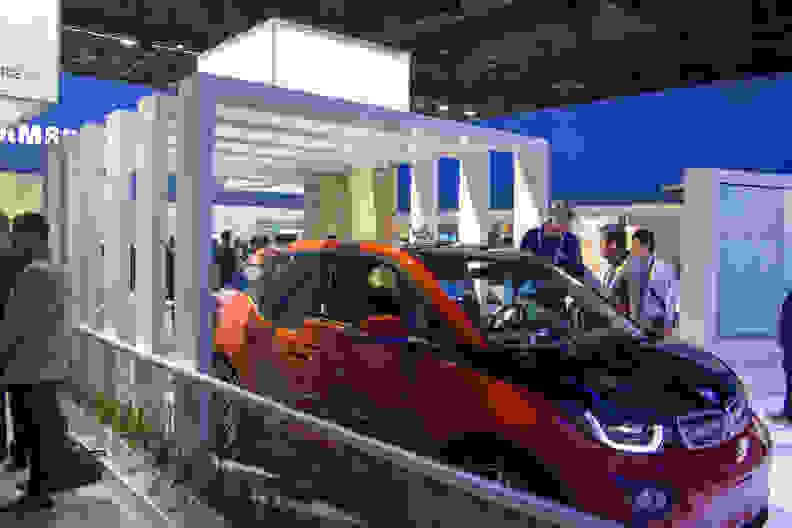 The Garage
The garage housed a BMW i3, one of BMW's new connected cars that users will be able to control via Samsung smartwatch. The garage also contained a security camera.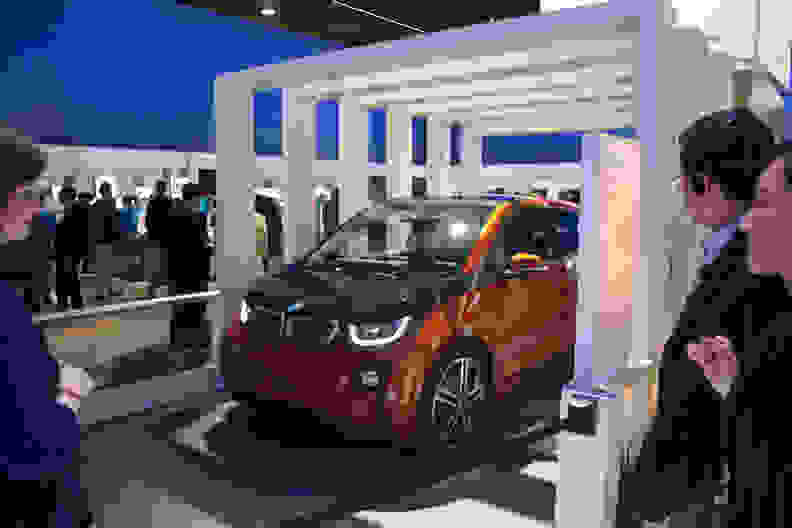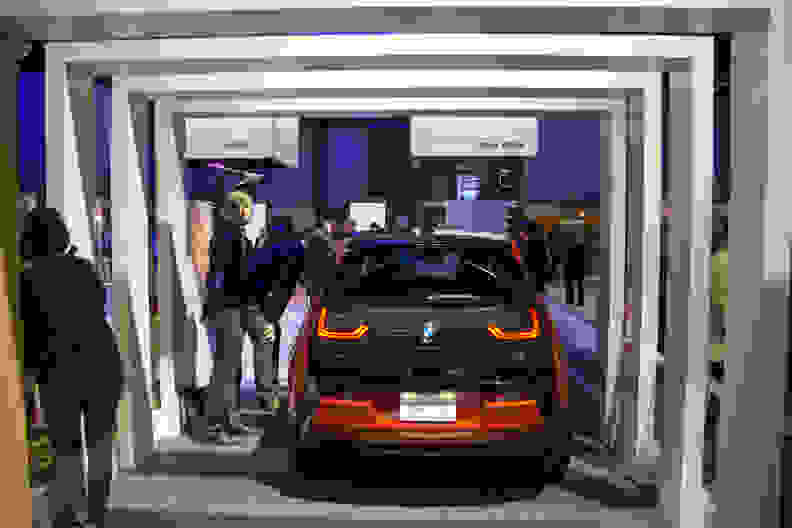 ---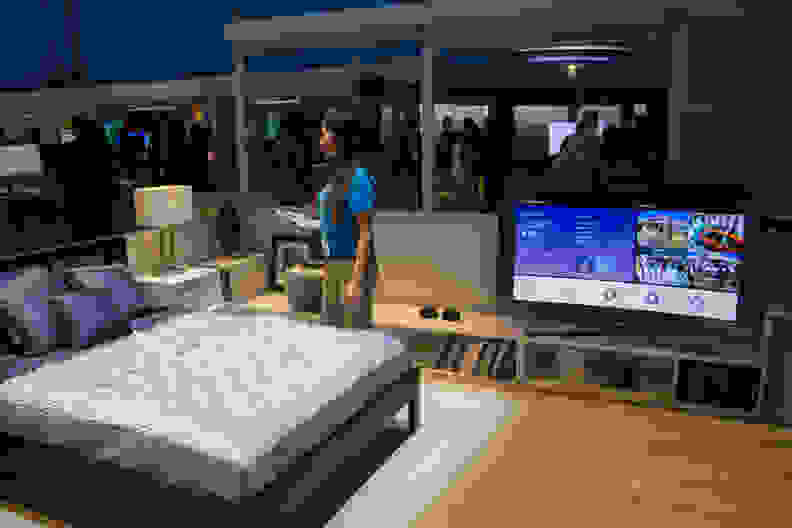 The Bedroom
If Samsung has anything to do with it, your morning will start in your bedroom as you wake to the smell of fresh brewed coffee from a bedside coffee maker. Samsung's bedroom display also had a smart light, speaker, and TV with a live dashboard with the functionality to allow users to monitor their homes.
This room had perhaps the coolest integration of Samsung's entire smart home setup. A "Good Morning" command turned on a lamp, started playing music on a nearby speaker, and had the coffee maker start brewing. A Samsung booth attendant claimed the command would also open and close the window shades, but she was having difficulties getting it work properly during our visit.
The bedroom TV displayed a dashboard full of interesting information. It tracked the house's energy usage in kilowatts and showed a live feed of all of the house's security cameras. Sadly, the attendant said this new functionality was still in the works and not yet available.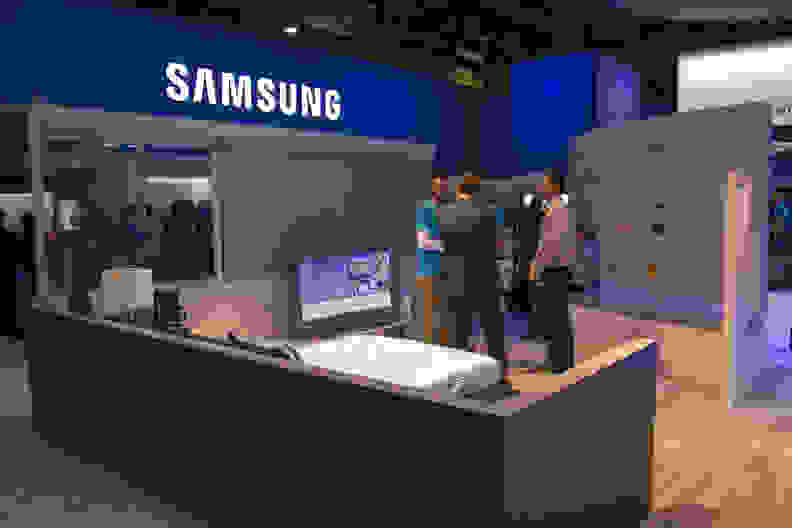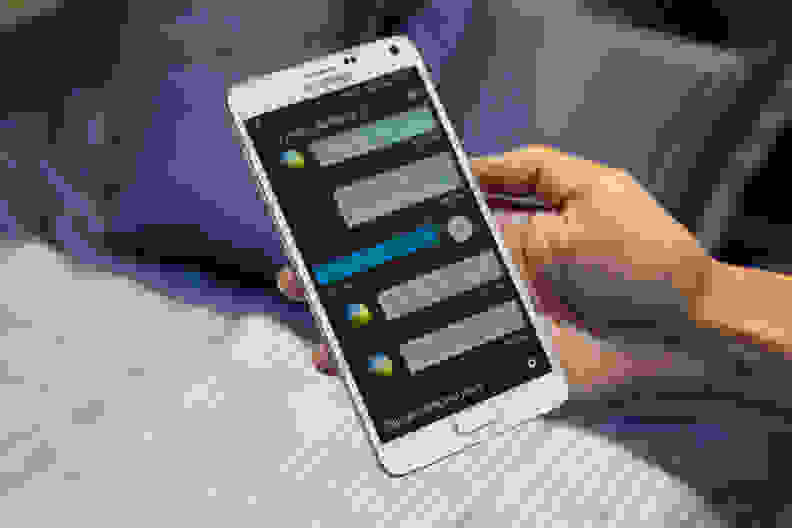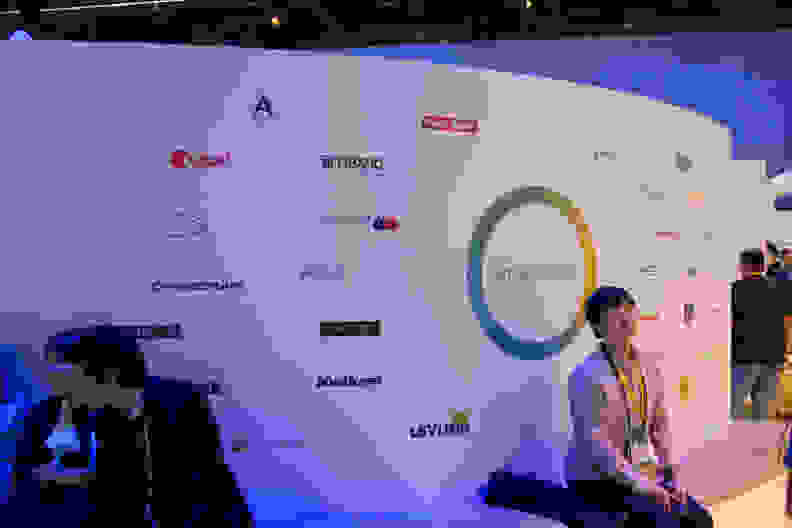 ---
While most people don't own BMW i3's or dozens of Samsung devices, Samsung's display really showed the possibilities that smart homes can create. And with SmartThings working on a new hub, sensors, and partnerships, it's only a matter of months until Samsung's smart home becomes more expansive.