Smart Home
Your Amazon Echo works with Ring Doorbell—here's how
Follow these steps to sync your Ring Doorbell with Amazon Echo.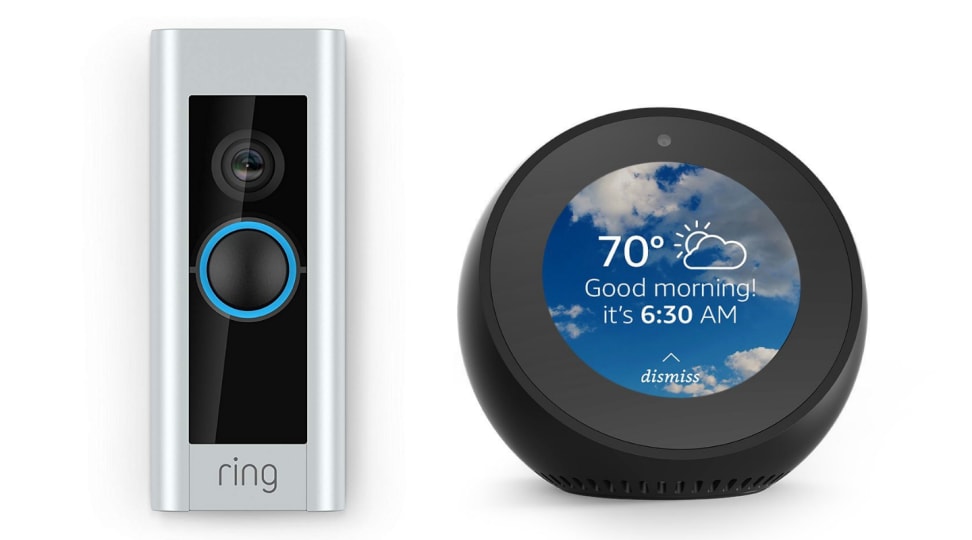 Credit: Amazon
The Ring Doorbell makes it easy to know who is at your door at any given time. And if you don't have your mobile device nearby to check for alerts, you can easily ask Alexa to let you know. All models of the Ring Video Doorbell are compatible with both the Amazon Echo Show and the Amazon Echo Spot—the two smart displays made by Amazon. The Ring Doorbell is also compatible with Amazon Echo Dot. If someone rings the doorbell, Alexa will make an announcement. However, since the Dot is a speaker with no video screen, you will not be able to view the Ring Doorbell camera on your Dot. Once connected, you can see, hear, and talk to visitors through one of your compatible Echo devices.
Read more: 10 accessories that will make your Amazon Echo even better
The setup process may sound daunting, but even someone who is new to the world of smart home tech can easily integrate a Ring Doorbell with Amazon Echo. Overall, the setup process only takes a few minutes. Ready to get started? Here's how you can set up Ring Doorbell chime notifications with Amazon Echo.
1. Install the Amazon Alexa app
The Amazon Alexa app is available for download on iOS and Android devices. If you already have the app, make sure it's the latest version. If not, run the update to ensure that the app is current. (Pro tip: Many mobile devices offer automatic app updates so that you never miss a beat. You should be able to find this option in the Settings folder on your phone or tablet.)
Once the Amazon Alexa app is installed, open it and log in with your Amazon credentials. From there, click the three white lines (hamburger-looking menu button) in the upper left-hand corner of the screen. This opens up a menu of options. About halfway down the list is a section titled Skills & Games. Tap the text to open up an entire library of fun and useful features that can be added to your Amazon Echo.
2. Find the Ring skill in the Amazon Alexa app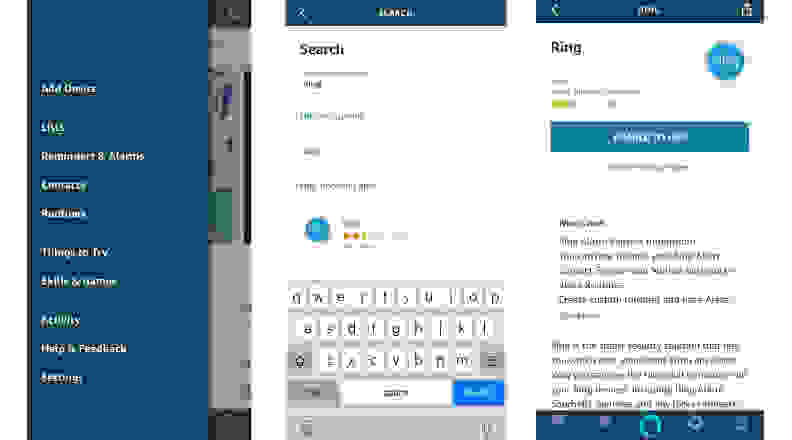 Next, tap the magnifying glass icon in the upper righthand corner to open up the search function. In the search bar, enter in "Ring" and click Search. The first result that comes up should be the Ring skill. (You're looking for a blue circular icon with the word "Ring" in the middle.) Tap on the Ring skill. This will open up a new page where you can learn more about the skill, as well as install it on your Amazon Echo. To begin the setup process, tap on Enable Skill on the screen.
3. Enable the Ring skill and sync the two devices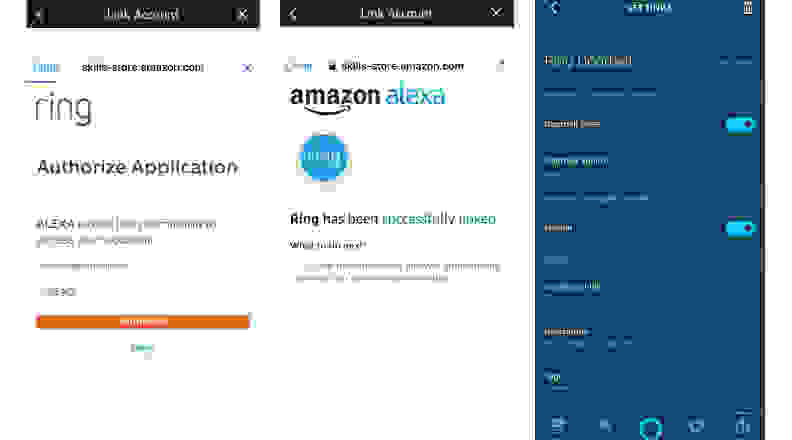 When you click on Enable Skill, you will be redirected to the Ring login page. You must enter the email address and password associated with your Ring account to finish linking your Amazon Echo with your smart doorbell. After you've logged into Ring via the Amazon Alexa app, you'll see a page prompting you to allow Alexa to access your Ring Doorbell. Click Authorize to give it the green light. The next page should confirm that your Ring Doorbell is now successfully linked to your Amazon Echo.
Upon a successful sign in, the app will then prompt you to discover your Ring devices. Click the Discover Devices button to make your Ring Doorbell is discoverable. Your doorbell should automatically connect to your Echo. However, it can take 20 seconds or longer for the Ring to show up in the Amazon Alexa app. If you later want to disconnect your smart doorbell from Alexa, click Forget on the right side of your screen.
4. Set up doorbell chime notifications on your Echo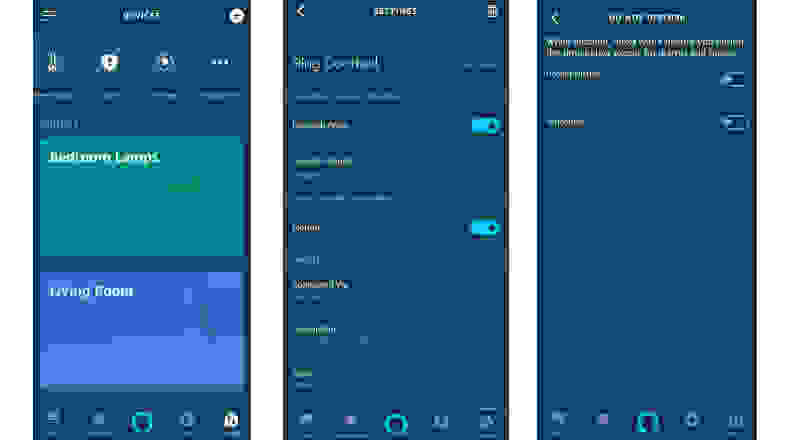 Open the Amazon Alexa app again and tap on Devices in the lower right-hand corner. The icon looks similar to a house. At the top of your screen, click on All Devices. (If you already have several things connected to your Amazon Echo, you may need to swipe to the left of the carousel to find the All Devices tab.) Once you're on the All Devices page within the Amazon Alexa app, scroll until you see your Ring Doorbell camera listed and click on it. There should be a small camera icon next to the doorbell.
The next screen contains notification options that you can turn on or off. For example, if you want your Amazon Echo to alert you anytime there's movement at your door, turn on Motion announcements. For doorbell alerts, turn on Doorbell Press.
For example, if you want your Amazon Echo to alert you anytime there's movement at your door, turn on Motion announcements.
One of the last steps is to turn on the communication setting for each of your Amazon Echo devices. Open the Amazon Alexa app and tap on the Devices icon in the lower right-hand corner of the screen. You will need to do this for each Echo device that you would like to receive Ring Doorbell alerts on. Once you've located the Echo that you'd like to receive notifications on, tap on it to open up the device's settings. From there, navigate to the Communications tab located under the General section. This is where you will enable announcements so that a chime sound plays when someone is at your front door.
Finally, tap the arrow in the upper left-hand corner to navigate back to the Device Settings page for your Echo. Scroll back down to the General section and tap on Do Not Disturb. Make sure this feature is turned off for your particular Echo device, otherwise you won't get the alerts. Now, you should be good to go.
Troubleshooting
If your Ring devices don't appear using the connection method listed above, you can ask Alexa to help with that by saying, "Alexa, discover my devices." While in the Amazon Alexa app, tap Devices and then click on Discover to automatically sync your Ring Doorbell to Amazon Alexa. If you're having trouble connecting or are experiencing long connection times, you may want to consider buying the Ring Chime Pro. The product, which plugs into any standard outlet, functions as a WiFi extender for your Ring Doorbell to help eliminate slow connection times. However, it also works with Ring's line of security cameras.
On occasion, your Ring Doorbell may need some time to wake up if it has not been in use recently. So, give it a chance to rouse itself before further troubleshooting any connectivity issues. You also may run into connection issues if the batteries are running low in your Ring Video Doorbell or Ring Video Doorbell 2. Per Ring, it can take 30 seconds or longer for your battery-powered doorbell to connect. To fix this particular issue, just replace the batteries.
Here's how to use your Ring Doorbell with Amazon Echo
Now that you've successfully connected your Ring Doorbell device to your Amazon Echo, you may be wondering what exactly you can do with it. For those who have the Echo Show or Echo Spot, you can say, "Alexa, show my front door" to get an instant view of the entry to your home. To remove the feed from the screen, say, "Alexa, hide my front door." You can also say "Alexa, stop." And, since you've enabled chime notifications, your Echo will alert you whenever someone rings your doorbell. If you have the Echo Dot, Alexa will make an announcement when the doorbell is rung. Just remember that you won't be able to view the doorbell's camera when using the Echo Dot.
More articles you may like