Smart Home
This dinosaur toy is an Amazon Echo for kids
It's a smart toy that grows with your child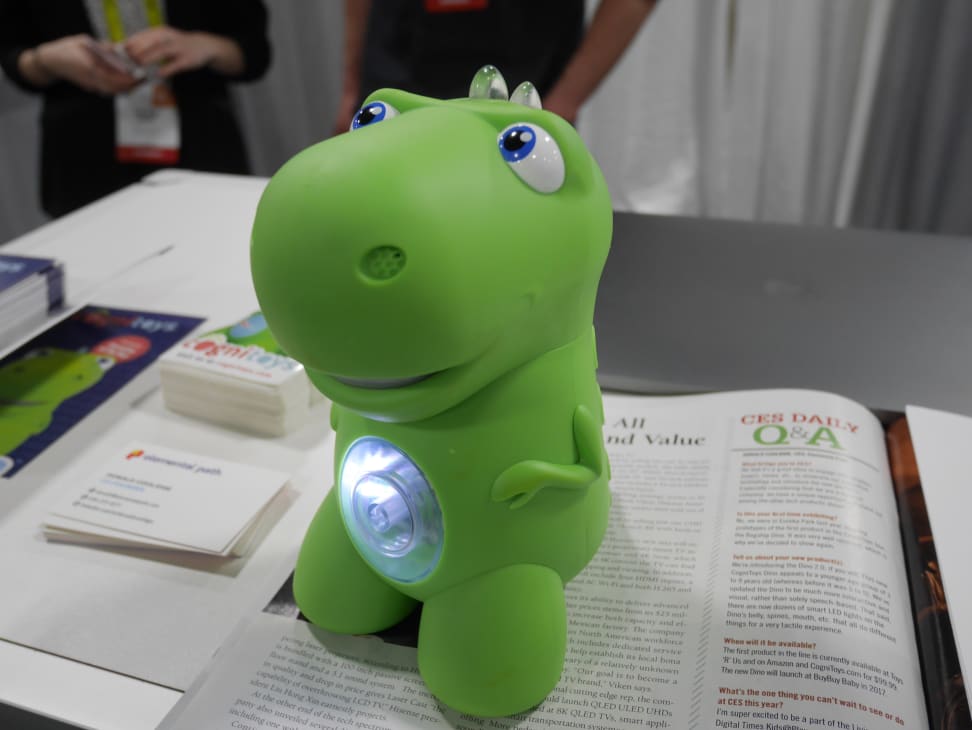 Credit: Reviewed.com / Ashley Barry
Toddlers love chatting it up with Alexa, Amazon's digital assistant, but sometimes they tap into things they shouldn't. Every now and then, Alexa mishears toddler speak. Sometimes, in the attempt to comprehend garbled words, she ends up rattling off a list of adult movies or playing inappropriate music. She's not always kid-friendly. Thankfully, Cognitoys has the solution. This dinosaur toy is an Amazon Echo for children.
Dino answers questions, plays music, tells fart jokes, holds conversations, and more. Like the Amazon Echo, you have to press a button to talk to it. Just press the circular button on Dino's belly and fire away! It's an educational smart toy, so it answers questions about the solar system and stuff, but it's emotionally intelligent too. If your child says they're angry, Dino will take them through a guided meditation with soft music. Also, this smart toy responds with filtered answers. So, if Jimmy Junior asks where babies come from, the toy is designed to say "Dinosaur eggs. At least that's what I've been told. You may want to speak to an adult."
I saw the new prototype Dino at CES. The toy needs a stable Wi-Fi signal to work, though, so I didn't interact with it. This model has lights, sensors, and a slew of new games. It can even detect speed and movement. The toy feels pretty durable too. Well, at least I hope it is. We all know how destructive younger children can be.
The second generation model will be available in the fall for the same price as the first model. The first generation Dino retails at $99 on Amazon. You'll also need to download the companion app, which is compatible with iPhones and Android phones. The app lets you see how your kid is using the smart toy.
Related Video