Smartphones
The Best Lightning Cables of 2019
You don't have to buy Lightning cables through Apple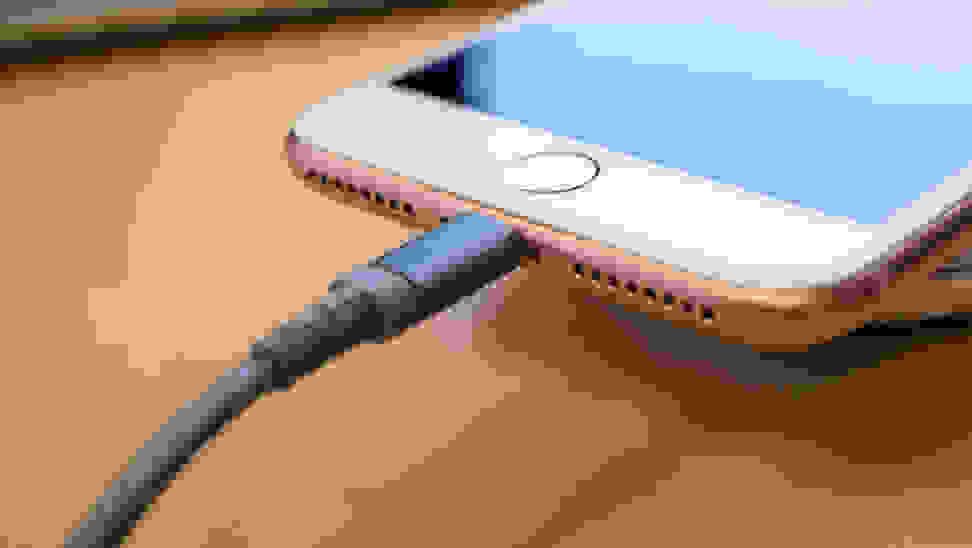 Credit: Reviewed.com / TJ Donegan
Lightning cables—if you've ever owned an iPhone, you've probably gone through a couple of these in your time. If you've owned more than one iPhone, you've probably gone through several. We tested some of the most popular Lightning cables you can buy and determined that the AmazonBasics Nylon Braided Lightning Cable (available at Amazon for $12.99) is the best choice for most people.
To settle on a winner, we looked at price, durability, and overall charging performance, but due to the fact that most people travel with their Lightning cables, we were particularly interested in durability. After all, no one enjoys having a frayed cable that won't hold a charge.
These are the best lightning cables we tested ranked, in order:
AmazonBasics Nylon Braided Lightning Cable (6 feet)
Apple USB-C to Lightning Cable (1 meter)
AmazonBasics Lightning Cable (6 feet)
Syncwire Lightning Cable (1 meter)
Anker PowerLine+ Lightning Cable (6 feet)
Best Overall
AmazonBasics Nylon Braided Lightning Cable (6 feet)
Our pick for the overall best Lightning cable you can buy right now is from Amazon's own brand: AmazonBasics. The Nylon Braided Lightning cable features everything we want in a Lightning Cable—it's long, built to last, and charges your phone without any hiccups.
The nylon braided casing is much sturdier than the standard rubber or plastic material you're likely to find on most Lightning cables, making it much less likely to split open and fray over time. Around the midsection of the cable is a velcro strap, which helps keep the cable comfortably coiled when the time comes to stow it away.
The cable itself is available in a 3-foot variant, but we recommend paying a little extra and getting the 6-foot variant, unless a shorter length is what you seek.
Best Cable for Fast-Charging
Apple USB-C to Lightning Cable (1 meter)
For folks who want to fast-charge their phone, Apple offers an official USB-C to Lightning cable that gets the job done, albeit with a few drawbacks.
First, let's talk about what works: If your iPhone or iPad supports fast-charging and you've got an accompanying wall adapter that supports it as well, the USB-C to Lightning cable will serve you well.
Being a first-party Apple cable, you'll also just as likely to encounter cable degradation (particularly at the cable's weak points) as you are with their standard USB-A to Lightning cables, which have a nasty habit of breaking down over time.
Other Lightning Cables We Tested
AmazonBasics Lightning Cable (6 feet)
If fancy-shmancy nylon braiding isn't as important to you as saving money, you could opt for a cable with no frills whatsoever. This 6-foot-long, 8-dollar Lightning cable from AmazonBasics is about as no-frills as you can get.
Sure, you might be tempting fate with an inexpensive cable made from materials that typically degrade with extended use, but perhaps you can get in front of this problem by buying a two-pack. Additionally, this basic cable can be purchased in additional lengths, making it a suitable option regardless of where you intend to do your charging.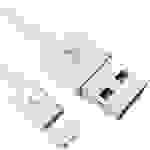 Syncwire Lightning Cable (1 meter)
This 3.3-foot Lightning cable from Syncwire is a decent option for iPhone users on a budget (though we still recommend AmazonBasics' standard Lightning cable for people looking to spend as little as possible on a reliable cable).
Although the cable held up well over the course of testing, the cable's casing doesn't seem to be well protected for years' worth of use. You can, however, spring for the rose gold or gray variants, which use a more durable nylon casing.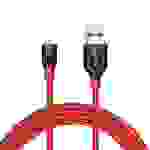 Anker PowerLine+ Lightning Cable (6 feet)
Hardware manufacturer Anker frequently finds its way into our product coverage due to the company's penchant for making affordably priced, reliable devices that don't sacrifice quality for cost. The Anker PowerLine+ Lightning cable is no different.
Several people in our editorial office swear by this sturdy, nylon-braided cable that offers both durability and six feet of length for a moderately low cost.
A nifty feature of the PowerLine+ Lightning cable is the included pouch, which harbors a sturdy, velcro strap so users can keep the ideal amount of slack unraveled depending on setting and situation.
Although it's around $5 more than the nylon-braided AmazonBasics cable of the same length, the Anker PowerLine+ is a fantastic option for folks who're looking for a long cable with a built-to-last design.
More Articles You Might Enjoy
Up next
Get Reviewed email alerts.
Sign up for our newsletter to get real advice from real experts.