Style
Bombas Gripper Slippers Review
The Bombas Gripper Slippers are the best slippers I've ever worn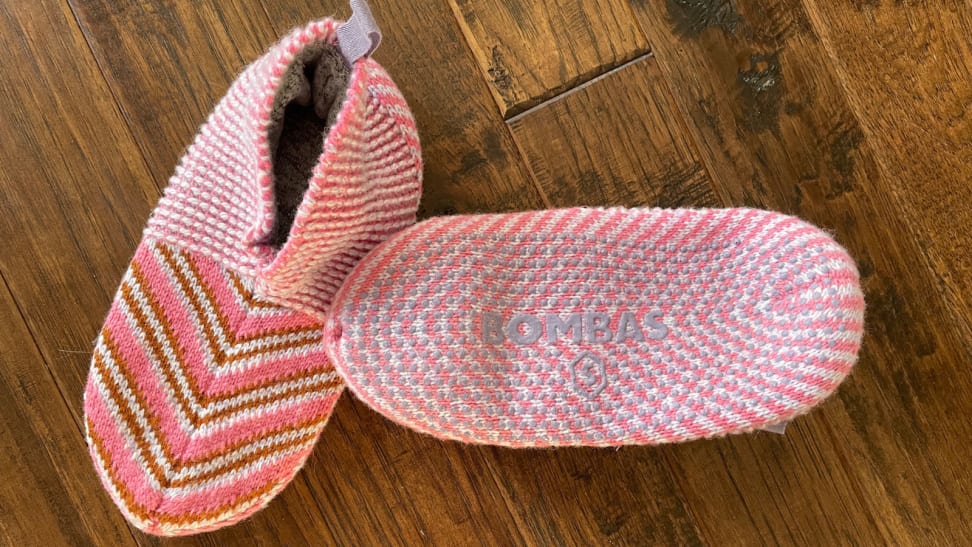 Credit: Reviewed / Kate Tully Ellsworth
Bombas Women's Gripper Slipper

Pros

Ultra comfy

Affordable

Strong grip

Cons

Strings fall off

Styles aren't consistent
Everyone loves a good pair of slippers. There's something lovely about walking around in plush comfort on those chilly fall and winter mornings. There are literally hundreds of great slippers to choose from, whether you're shopping for Uggs or looking at affordable Amazon dupes. But if you're anything like me, it doesn't get better than the Bombas Gripper Slippers—here's why.
Unlike traditional slippers, the Bombas Gripper Slippers fit more like socks, providing full coverage and preventing you from slipping out of them while walking (please tell me it's not just me). There are three varieties to choose from—the traditional Gripper Slippers, Cable Knit Slippers, and Sherpa-Lined Slippers.
I tested the classic Women's Gripper Slipper, wearing them each day for three weeks. Here's what I learned about them.
What are we wearing?
Sign up for the Style Check newsletter for advice, reviews, Q&As with our stylish friends, and more.
What is Bombas?
Bombas is known for its exceptional socks that thousands of reviewers—and our testers—swear by. The brand also makes underwear, t-shirts, and slippers for men, women, and kids. Bombas is a certified B-Corp, meaning it's dedicated to sustainable and ethical business practices. For every item you purchase at Bombas, the brand donates an item to those experiencing homelessness.
Bombas socks have a near-cult following. Our Managing Editor Jennifer Beaudry, who formerly served as Editor in Chief at Footwear News, said that owning Bombas socks will ruin all other socks for you— that's how great they are. You can purchase individual pairs of socks for around $13 or opt for a 6-pack for $78. They're not cheap, but our editors say they're well worth the price.
What are the Bombas Gripper Slippers?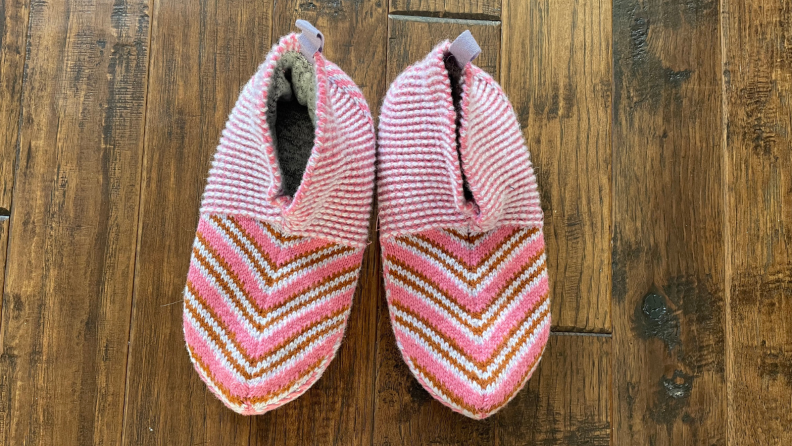 Bombas Gripper Slippers are the plush version of Bombas socks. Designed to cover the entirety of your foot and ankle, they feature a soft brush lining that keeps your feet warm, and stay-put grips on the bottom to prevent slippage. Think of them as a slipper-sock hybrid—they fit like socks but feel like slippers.
While Bombas socks are a bit more expensive than their competitors, the slippers are reasonably priced at just $45. Uggs run from $65-$100, while L.L. Bean slippers retail around $50-$70.
What I like about the Bombas Gripper Slippers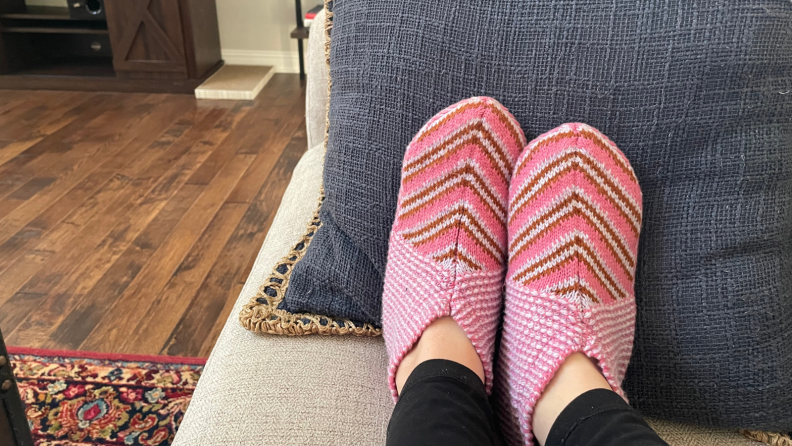 They're incredibly comfortable.
Bombas promised super cozy slippers—and they delivered. The Bombas Gripper Slippers were incredibly plush. They didn't have the feel of a cheap slipper, but instead felt like an extra-soft version of sturdy wool socks (like Smartwool). I was concerned I'd be able to feel the non-stick grips on the bottom of the slippers since the material was thinner than standard slippers, but I barely noticed them.
The Bombas Gripper Slippers don't feel like shoes—I was able to walk around my house (and prop my feet on the couch) without feeling like I was wearing a traditional pair of slippers. I was even able to walk to the mailbox and back without discomfort (like I would feel if I were just wearing socks).
They don't make me slide around.
I love the idea of a slipper—who doesn't want their feet surrounded in cloud-like comfort? However, I don't own a single pair of slippers. I've yet to find a slipper that I don't slip out of and eventually hate. That is—until I discovered the Bombas Gripper Slippers, which eliminate my one major issue with slippers. My feet stayed put the entire time I wore these slippers, and the non-stick grips provided a much sturdier walk than traditional socks.
They provide full coverage.
Another problem I have with traditional slippers—especially the Ugg Fluff Yeah slippers—is that they don't cover your entire foot. At least half of your foot is exposed to the elements, or you're forced to rock a slipper/sock combo, which defeats the whole purpose of the slipper. But the Gripper Slippers keep your entire foot, including the ankle and heel, completely covered. I wore them primarily with leggings, which came down to my ankle, so I was able to have full calf-and-ankle coverage throughout the duration of my testing. And I loved every second of it.
They're only $45.
Bombas socks are on the more expensive side, but the Gripper Slippers fall right in the mid-to-lower field on the pricing scale. They're priced competitively with Skims, Madewell, and J. Crew slippers, but they're much cheaper than Uggs, Allbirds, and Birkenstocks. The price point also makes them an excellent gift for just about anyone on your list this season.
What I don't like about the Bombas Gripper Slippers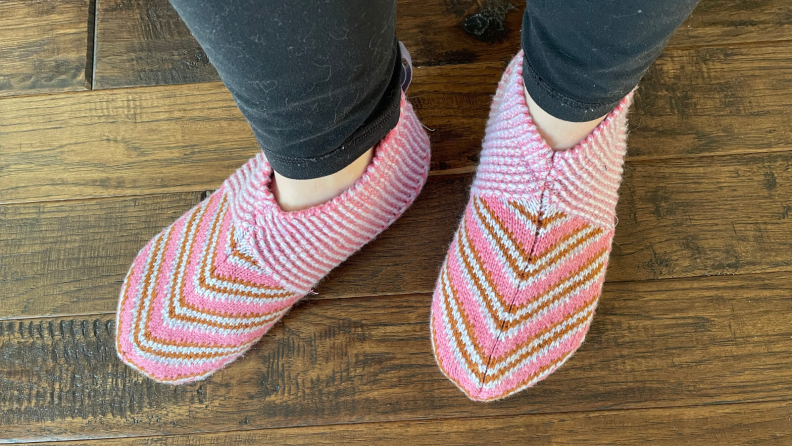 Strings started falling off after a few days.
After a few days of wear, I started noticing small threads hanging off my slippers. This isn't uncommon with any knitwear, but I prefer my footwear to be a bit sturdier. I was able to clip small strings as the days went on, but it became slightly annoying to have to maintain them every few days. Losing threads didn't cause the slippers to lose any functionality or appearance, but I have to imagine that if the threads keep peeling off with time, it could become a bigger issue down the road.
The colors aren't consistent across styles.
There are a variety of designs to choose from when you shop the Bombas Gripper Slippers, but they're not consistent. For example, when I first shopped, I was able to purchase a design featuring pink, brown, and beige hues—that design is currently missing from the site. The men's styles also featured designs I found more visually appealing, like blue and green combos or a blue and orange combo. Now, both are available in the women's selection.
The men's and women's sherpa-lined slippers feature far more visually appealing designs, in my opinion. You can shop festive designs and more eye-catching patterns in this variety that I'd prefer to see in the standard Gripper Slipper lineup.
Are the Bombas Gripper Slippers worth it?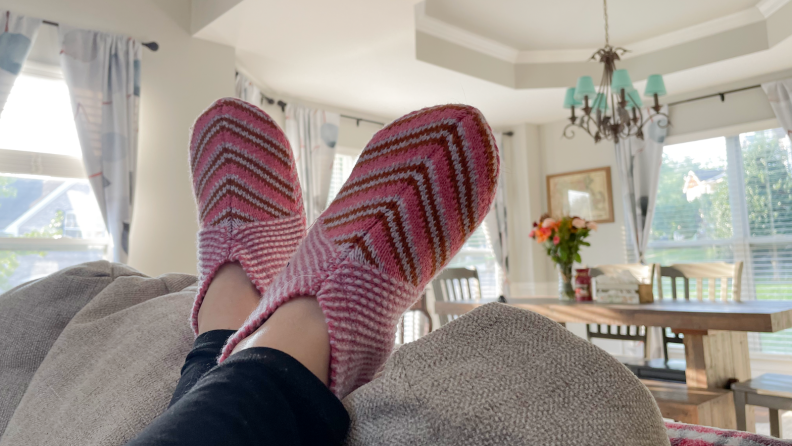 Absolutely.
In fact, they're on my Christmas list this year. I had such a fun time testing this pair that I can't wait to have my own after the holidays. The slippers were cozy, kept my feet warm, and held their shape throughout weeks of testing. I'd recommend them to anyone who wants a slipper that feels more like a sock and less like an Olympic event while walking.
The product experts at Reviewed have all your shopping needs covered. Follow Reviewed on Facebook, Twitter, Instagram, TikTok, or Flipboard for the latest deals, product reviews, and more.
Prices were accurate at the time this article was published but may change over time.
Bombas Women's Gripper Slipper

Pros

Ultra comfy

Affordable

Strong grip

Cons

Strings fall off

Styles aren't consistent