Canon fleshed out its line of Cinema EOS cameras today with the new entry-level EOS C100. The C100 is expected to retail for just under $8,000, which is half the MSRP of the step-up EOS C300. Canon's flagship cinema camera, the EOS C500 with 4K video capability, will be available next month for $30,000. Read our hands-on review of the EOS C500 here.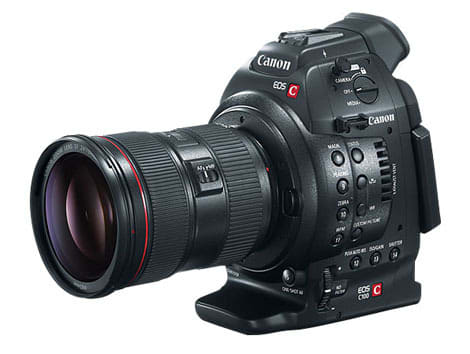 The EOS C100 is designed to be a compact, affordable cinema camera option for professional videographers. In addition to the lower price tag, the C100 is 15% smaller than the C300, but it retains a robust set of manual controls and professional recording options. The C100 utilizes an EF-mount lens system that makes the camera available to a wide variety of lenses in Canon's EF, EF-S, and EF-Cinema lineups. Unlike the C300 and C500, however, the C100 will not be available in a PL-mount version.
Making use of its Super 35mm 16:9 CMOS sensor, the EOS C100 records 1080p Full HD video at a top bitrate of 24Mbps and a 4:2:0 color space. The camera utilizes the AVCHD compression system, which happens to be the same system used on Canon's Vixia line of consumer camcorders. This choice to go with AVCHD compression is one of the stark differences between the C100 and the rest of Canon's Cinema EOS line.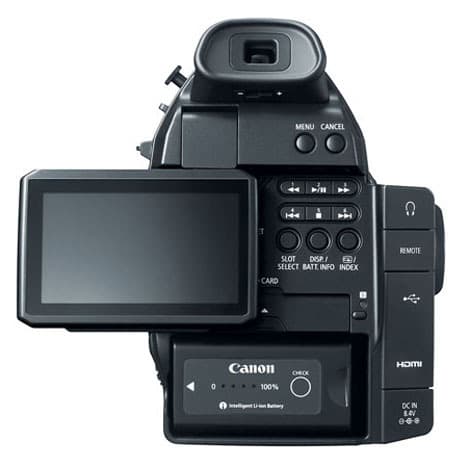 The C100 stores video to dual SD card slots, or you can output uncompressed HD video via the C100's HDMI connector. The HDMI terminal features a locking mechanism to ensure the connection remains secure, and the camera offers superimposed timecode information, as well as 2:3 pulldown information, via the uncompressed HDMI output. Additional connectivity options include a detachable handlebar that includes two XLR connectors, a built-in stereo mic, and audio level adjustment dials. The camera does not include an HD-SDI terminal.
The C100 offers a mix of automatic and manual controls, with Canon certainly putting emphasis on professional-grade options. The ISO range for the camera goes from ISO 320 to ISO 20,000, and the camera has the ability to record using 60i, PF30, PF24, 24p, 50i, and 25p frame rates. The C100 includes both an electronic viewfinder and a 3.5-inch color LCD.
Canon plans to sell the EOS C100 starting November 2012. The camera is expected to retail for $7999, with its main rivals being the Sony NEX-FS700 interchangeable lens camera and the cheaper Panasonic AG-AF100.
In addition to announcing the EOS C100, Canon also finalized the release date and pricing for the flagship EOS C500 cinema camera. The C500, which can output 4K video, will be available for purchase in October for $30,000. You can read our hands-on review of the EOS C500 here.