This year at CES Canon announced just four new members of its Vixia camcorder line: three completely revamped entry-level models—the HF R400 ($299), HF R40 ($399), and HF R42 ($499)—as well as a new flagship HF G20 ($1099), which contains only minor updates to the previous HF G10. Noticeably absent are any new camcorders in the $500 – $900 price range, as Canon announced no updates to its HF M series of mid-range Vixias.
Canon certainly put the bulk of its energy behind improving its entry-level camcorders for 2013. The three HF R models contain a vast array of new features: they're the first Canon VIxia models to offer AVCHD progressive recording, which enables the three camcorders to shoot 1080/60p video, and they each have the ability to use MP4 compression as well, recording at bitrates of up to 35Mbps. To handle these new record modes, Canon equipped its HF R camcorders with a new Digic DV image processor, although the 3.28-megapixel CMOS sensors inside each camcorder appear to have been carried straight over from last year's models. The optical image stabilization and battery life on the camcorders have been improved (doubled, according to Canon), and each HF R camcorder offers a new 3-inch capacitive-touch LCD.
The HF R40 (specs) and HF R42 (specs) models both include built-in WiFi, a feature Canon debuted last year at CES with limited success. In addition to offering the ability to wirelessly upload video to the web, the new WiFi functions also allow for live-streaming video using the free CameraAcess app for Android or iOS devices, as well as preview or download files to a smartphone, tablet, or PC using a web browser function. You can also turn your smartphone into a remote control for operating the WiFi-connected camcorders. The $299 HF R400 (specs) camcorder does not have WiFi, nor does it have any internal memory. The HF R40 comes with 8GB of internal memory, while the leader-of-the-pack HF R42 comes with 32GB of built-in memory.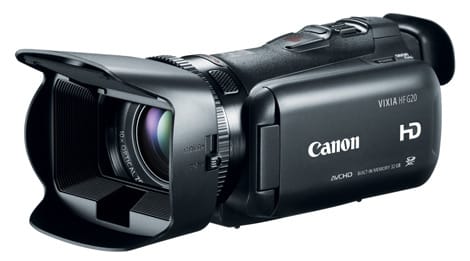 Compared to the complete retooling of the HF R line, Canon's updates to the flagship HF G20 (specs) are far less impressive. Other than an enhanced image sensor, a beefier lens hood, and improved viewfinder eye-cup, the HF G20 is a near-identical replica of the HF G10 that has been Canon's flagship Vixia since 2011. According to Canon, the image sensor has been enhanced, so the G20 may show a slight boost in image quality, but the camcorder includes none of the new record modes (no 1080/60p, no MP4) and none of the WiFi functions that make the HF R camcorders so unique. In fact, the HF G20's most notable trait is the camcorder's $1099 MSRP—a price that is $400 less than the original cost of the HF G10.
The HF G20 will start shipping in February 2012, but the three HF R camcorders won't hit stores until March.