JVC announced today the release of a new high-end camcorder specifically designed for capturing fast-moving action. The manufacturer also announced the imminent release of eight new camcorders, adding to its extensive line of Everio-branded mid-range handhelds; two of these cams are available this month, with the rest arriving in February and March.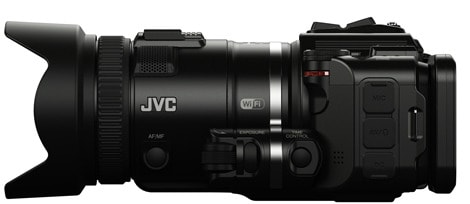 The GC-PX100 (specs) is described as an ideal camcorder for motion analysis and special effects. It features full-HD 1080/60p video at a bitrate 36Mbps, plus WiFi connectivity and free specialized apps. The GC-PX100's Zoom Position Memory allows users to quickly switch between three different viewing angles—Full Wide, Full Tele, and a user-set position somewhere in between. JVC explains that this feature is perfect for capturing sports, as it allows users to change from "team formation analysis" to "a tight shot of a goal being scored," without having to worry about quickly modifying focus, zoom, and exposure settings.
JVC plans to launch the GC-PX100 in March for $999.95.
Additional specs include:
• 12.8 megapixel backside-illuminated CMOS sensor
• Five additional shooting speeds, ranging from 120fps to 600fps
• 3.0-inch tiltable LCD monitor with monitor hood
• High-speed digital still recording (up to 60 fps)
In addition to the high-end GC-PX100, JVC announced the release of eight new Everio cameras, all featuring a range of new or enhanced features. These models range in price from $229.95 (GZ-E100) to $499.95 (GZ-VX815).
Each camcorder in the new batch features a 2.5-megapixel backside-illuminated CMOS image sensor, while the flagship model, the GZ-VX815 (specs, includes an impressive 12.8-megapixel sensor. Seven of the cams include either 40x or 38x optical zoom. Many of the models include new live streaming WiFi features. The Pan Cradle allows remote control and tilting of the camera via smartphone or tablet—a feature increasingly common in mid-rage models. Depending on the specific camera, the Everios may include Auto Wind Cut (wind noise reduction), an improved WiFi antenna, additional playback functions, iFrame compatibility, and LoiLoFit software, among other features.
The new Everio line is priced as follows:
GZ-E100 - $229.95 (specs)
GZ-E300 - $249.95 (specs)
GZ-EX310 - $299.95 (specs)
GZ-EX355 - $349.95 (specs)
GZ-E505 - $349.95 (specs)
GZ-EX515 - $399.95 (specs)
GZ-EX555 - $449.95 (specs)
GZ-VX815 - $499.95 (specs)