Samsung has announced three new camcorders today at CES for their 2012 lineup: the entry-level F80 and the mid-range Q20 and QF20. The camcorders come with an array of features, but most notable is the QF20, which packs built-in WiFi functionality in line with Samsung's overall 2012 product strategy.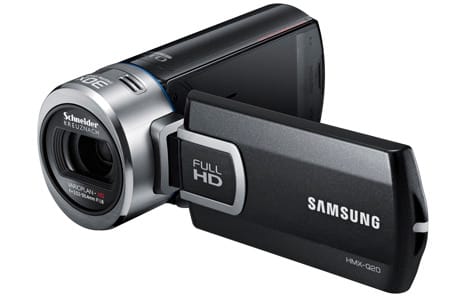 The two Q-series camcorders are nearly identical save the wireless functionality, offering 20x optical zoom range, enhanced user interfaces, and five-megapixel backside-illuminated CMOS image sensors. The sensors will feature on-chip analog to digital conversion, allowing for simultaneous capture of stills and video.
Samsung have included some smart touches with the Q-series camcorders, including the ability to auto-orient videos when the user turns the camera horizontally. The result is a video taken by cropping the sensor, but playback will be available without having a living room full of people with sore necks.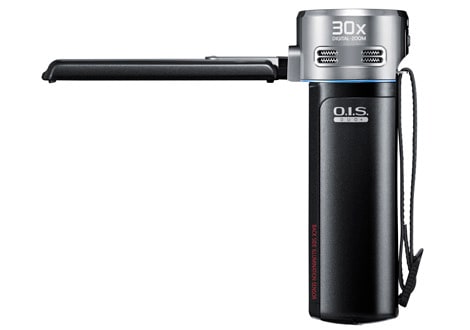 The QF20's WiFi functionality will allow automatic PC backup, as well as the ability to push content directly to social media sharing websites such as Youtube, Facebook, and Picasa. The camera will also offer remote viewfinder functionality with mobile devices and an in-camera browser for getting around public WiFi authentication pages.
This is similar to the WiFi-enabled still cameras we've seen from Samsung at CES so far, so it's no surprise that they've brought WiFi touches to their camcorder lineup for 2012.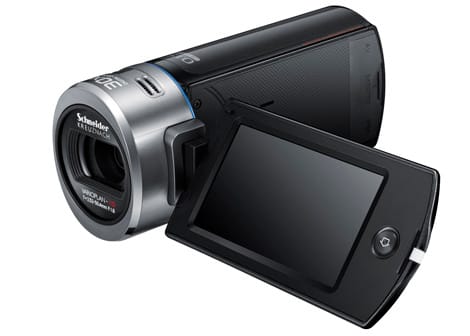 Samsung will also include a variety of in-camera software updates, including greater background music options during playback and a "My Clip" feature that will allow users to flag clips as important for quick uploading and editing later on.
This is accomplished with a dedicated "My Clip" button on the camera itself, which can be pushed during or immediately after video capture to flag a clip as something the user wants to save.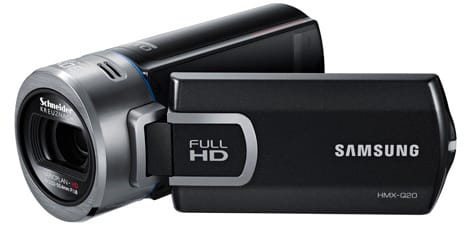 Like the most of the 2012 lineup for Samsung, the Q20 and QF20 will offer a number of user interface enhancements, including more playback options (including loading your own background music) and in-camera timelapse controls in addition to the aforementioned "my clips" feature.
The two cameras will be available early this March, with the Q20 debuting at an MSRP of $299.99, with the WiFi-enabled QF20 costing $349.99 at launch.
Samsung will also launch a more affordable entry-level HD option, the F80, which will feature a 52x optical zoom and 720p recording capability for a launch price of $199.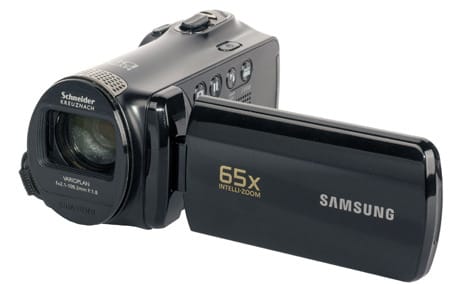 The F80 will offer a 2.7-inch screen, the same "My Clip" tagging feature available on the Q20/QF20, and will also sport a five-megapixel CMOS sensor. The camera can also produce 1080i video, but it is an upscaled version of the native 720p output.
The F80 will also pack "smart background music II," allowing users a wider choice of music options during playback, along with the ability to import their own. Interested parties can pick up the F80 in February at the aforementioned price, with their choice of black or silver models.
For the full press announcement and more details on these two cameras, please visit Samsung's press website here.
{:{PhotoGallery article.attachments}:}