In addition to looking awesome, the LA8600 also produces a terrific picture. Aside from a slight color temperature error, this is a great TV. The real question is whether that greatness is worth $2,099.99. That all depends on what you want this TV for.
Captain Kirk would love this space-age beauty.
Cinema Screen describes LG's bezel-less design scheme for 2013; it also describes the LA8600, which possesses those thin and stylish borders. Marketing aside, this LG is one incredible looking TV—yes, we're fans of narrow bezels. Coupled with its thin profile, this is a display that just begs to be wall-mounted, although its modern stand is might also appeal to some. For the record, I'm a fan, but the space-age base might be a sore thumb if your idea of futuristic is the lava lamp.
This is a display that just begs to be wall-mounted.
Speaking of space-age—LG's updated Magic Remote looks more and more like something from Star Trek. The phaser-styled remote is still motion-controlled, and fits very comfortably in your hand. Unfortunately, adjusting settings using just motion gets very annoying. True, you can use the directional buttons around the remote's scroll wheel, but you still need to use motion in order to reach the settings page. Talk about a first-world problem.
LG's aesthetically pleasing menu can't make up for annoying motion controls.
We mentioned in the design section how annoying it can be to use the motion-controlled Magic Remote for accessing the menu. As much as we like the remote, LG needs to include a dedicated menu button. The quickest way to access the menu interface is to point the remote at the bottom-left corner of the screen, which brings up the "My Apps" icon. Click it, and then click on the settings icon. We're nitpicking, but that is way too much work.
LG needs to include a dedicated menu button on its Magic Remote.
Fortunately, accessing LG's smart platform is much easier—it actually has a dedicated button on the remote! Not too much has changed since last year's smart offering, although things seem to be much quicker this time around because of the LA8600's increased processing prowess.
While there aren't any cable interface features on LG's smart platform (like Samsung's Smart Hub or Google TV), it does have a host of "smart" options. Controlling your cable box or Blu-ray player with the Magic Remote is nifty, as are the included video streaming apps (Netflix, Hulu, YouTube, Crackle).
If you want to get really in-depth with LG's smart platform, check out our guide here.
Despite a lackluster contrast, content looks great on this TV.
Let's cut to the chase: If you own the LG LA8600, you will be more than happy with the picture it produces. We spent some time watching The Hobbit on it (sometimes work is unbearably difficult) and were treated to a terrific image. Colors were accurate and vibrant, and while it has a color temperature error that produces more bluish whites and greys, it wasn't very noticeable while watching actual content.
This TV's scorching whites make up for its lackluster black levels.
Motion performance is another area the LA8600 excels in. Intense scenes with a panning camera caused some slight blurring, but aside from that, we didn't notice any faults with this LG. We should note that the motion performance options on it are overkill: Applying a small amount of it still produces a jarring Soap Opera Effect.
As far as contrast is concerned, this TV's scorching whites make up for its lackluster black levels. Yes, contrast junkies: This LG does not produce very deep blacks. LG displays typically don't get very dark, but usually produce incredibly bright whites. While you won't get the same jaw-dropping picture as the Panasonic VT60, you will get a delightful image that has enough detail for all but the most ardent of A/V nerds.
Yes, it's an awesome TV, but it could benefit from a price drop.
We really enjoyed the LA8600, even with its slight color temperature issue and yawn-worthy black levels. And while we easily say this is a terrific display, its asking price of $2,099.99 for a 55-inch model is a bit steep. Yes, you get a beautiful TV that will make your in-laws jealous, but you can also do that with Panasonic's DT60 and Samsung's F7100 for less. If supermodel-thin bezels are your thing, definitely consider the LA8600 if you find it on sale. Otherwise, do some comparison shopping.
The LA8600 is stronger in terms of features than anything else, unfortunately. The picture quality proved decent, but it just isn't the main selling point of this television. Like many LGs before it, the LA8600 fosters a weak contrast ratio, above-average color accuracy, and a relatively narrow viewing angle. There were no major performance drawbacks, but picture quality is still not this TV's strong suit. With that said, Blu-rays still look great when played on this TV.
Plenty bright, but so are the black levels
Even after industry-guided calibration, the LA8600's contrast performance is a far cry from studio monitor integrity. The black levels we tested averaged 0.21 cd/m2 , which is simply too bright to pass as convincing shadow. This "floor" is contrasted against a very bright peak luminance of 290.60 cd/m2 , which is probably too much for any room except a greenhouse.
Granted, you could turn the Backlight and Contrast settings down to get a more natural, comfortable picture, but the contrast ratio (1403:1) is not going to improve. At a more palatable 120 cd/m2 , you're going to get black levels around 0.08 cd/m2 , which is decent, but is nothing to write home about. Like many LG LCDs, the LA8600 is simply not engineered for maximum contrast results.
An average viewing angle, completely yawn-worthy
Like most LCDs, horizontal viewing angle is not the LA8600's strong point. Despite its incessantly bright picture level, watching from even modest off-angles results in severe contrast degradation; in other words, this TV makes attempted group watching a rather risky endeavor.
We tested a total viewing angle of 53°, or ±26.53° from the center of the screen to either side. That's not a lot of degrees—really, three people would have to cram together in order to see a perfect picture. Of course, picture quality is not this TV's claim to fame, so this may be a flaw you can overlook.
Color is the LA8600's best area of performance.
To determine a television's colorimetry, we test three areas related to proper digital color production: color gamut, color temperature, and color curves. The LA8600 is fairly well-suited for reproducing content accurately and in good detail. Color integrity is especially important for a smart TV like this, as it must render a wide array of streaming sources, web pages, and apps throughout regular use.
The LA8600's color gamut was decently matched to the Rec. 709 HDTV ideal, which dictates the placement of peak red, green, blue, and white when produced by a television. These colors are incredibly accurate, meaning that red, green, and blue will appear as they should. The LA8600's white point was not as accurate as its colors, however, tending to favor a cyan shade over pure white.
We can especially see this cyan tendency when examining the TV's color temperature consistency. Color temperature is measured in Kelvins; digital displays will ideally hit 6500K, or within ±200° of that mark. The LA8600 tends to sit a little higher, however—its cyan-tinged whites seep down through its greyscale, rendering shades with more of a cool, blue tint than they should have. This is not terribly obvious during normal viewing, but might be apparent during scenes with heavy amounts of brightness.
Color curves show us how evenly and smoothly a television transitions from darker to brighter hues and shades—namely, red, green, blue, and the greyscale. The LA8600 handles its intensity transitions well, though its colors and greyscale do tend to peak a little early, especially red. This means there will be a slight lack of definition between the highest rendered steps, resulting in some banding within the picture's content.
Meet the tester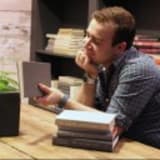 Josh Fields
Staff Writer
@reviewedtech
An enthusiast of all things tech, Josh is one of Reviewed.com's resident television experts. When he's not looking at bright TV screens in a dark room, he's probably reviewing a laptop or finding a new snack at 7-11.
Checking our work.
Our team is here for one purpose: to help you buy the best stuff and love what you own. Our writers, editors, and lab technicians obsess over the products we cover to make sure you're confident and satisfied. Have a different opinion about something we recommend? Email us and we'll compare notes.
Shoot us an email