Televisions
Sony's 2013 Smart Platform: Explained
Sony's latest smart platform is simple, but lacks features to make it "smart."
Credit:
Overview
2012 was supposed to be the year that it ended—you know, putting up with mediocre smart platforms. Sony obviously didn't get the memo, and we had to put up with its schizophrenic platform last year, which had multiple interfaces for the same content.
Did Sony finally get the memo this year? While its current internet platform is far from the smartest entry on the market, it is a slight improvement (design-wise) over what we saw last year. Still, Sony lags behind Samsung and LG when it comes to actually being smart—things like voice recognition and a "smart" remote are currently absent. Aside from the major content streamers (Netflix and friends), there isn't much to see here.
Hands-On Video
Getting Started
Accessing this smart platform couldn't be easier.
Like most current smart TVs, accessing Sony's smart content is as simple as pressing a button. The SEN button, which stands for Sony Entertainment Network, is located on the bundled Sony remote. Press it, and you will be taken to a screen filled with a plethora of apps, represented by large icons. This is the majority of Sony's actual smart platform: just apps, nothing more, nothing less.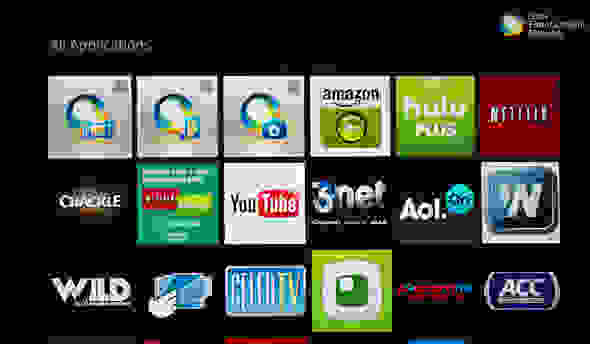 It's worth noting that Sony has updated its basic menu interface—it's now much easier to navigate, and much easier on the eyes. Pressing the Home button will get you started. Once here, there is a section called Applications which gives you quick access to top-tier content: Netflix, Amazon, Hulu, and Sony's own video and music stores.
You can also access USB photos, music, and videos in the new menu. A section called Connected Devices will have an icon for a connected USB drive. The interface is much like the main app screen: a bunch of large icons, this time representing files instead of apps.
Content & Apps
Good for streaming junkies, not so much for anyone else
Content is king, right? If this were 2012, we would've agreed with that statement, but in 2013, a smart platform needs to do more than give you apps. Unfortunately, Sony's latest doesn't go beyond that.
If you have a subscription to Netflix, Amazon, and Hulu, you'll never leave your couch
Let's start with the good: If you have a subscription to Netflix, Amazon, Hulu, or all three, you'll never leave your couch—Sony provides apps for most of the big content streamers. Unfortunately, HBO Go remains a Samsung-exclusive for the time being. If you have an Xbox 360, this is an easy fix.
Crackle is another worthy app—it allows you to stream select movies and TV shows for free, although you'll have to put up with ads. The updated YouTube app is also included, which is so much better than last year's pitiful iteration. This current-gen YouTube app allows you to look up a video on your smartphone, then send it to your TV. No more dealing with that clunky remote, especially since Sony didn't include a smart remote. Yes, we mentioned that previously, but we're still upset.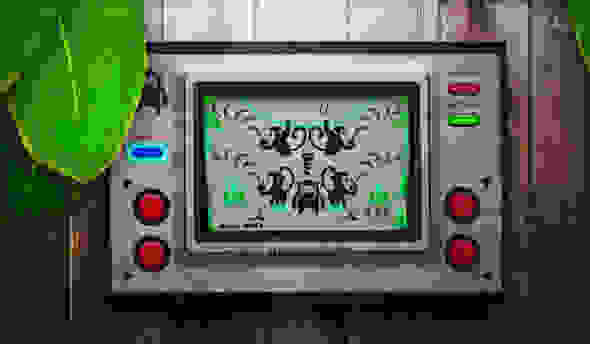 Aside from content-streaming apps, there is really nothing worth seeing. If you want, you can play one of the included games, like Bananonkey. While I truly appreciate a portmanteau of three words—seriously, what a killer name—this game is garbage: You can't expect consumers to be satisfied with any game played using a TV remote.
Aside from content-streaming apps, there is really nothing worth seeing.
There are plenty of news apps that offer short video clips. CelebTV is one of those, complete with a clunky interface and outdated content. Beyoncé isn't pregnant with baby #2—this story has been debunked already. You could look up the news on Sony's internet browser, but... just don't. It's your typical TV web browser, which means it's slow, unintuitive, and useless.
One thing we need to point out: If you're going to offer an app-heavy smart platform, at least include an app store. Sony does not do this. Still, we can't be too mad since most of the major content providers—the useful apps—are accounted for.
Social Media
Stick to your smartphones—this is social media done wrong.
Social media has yet to be done right on any smart platform, and Sony's is no different. Samsung tried its hardest, and did a decent job, but your smartphone is still your go-to device when you need a Facebook or Twitter fix.
Your smartphone is still your go-to device when you need a Facebook or Twitter fix.
Sony's Facebook app started out on the wrong foot: It had us use Sony's clunky web browser to input our credentials. After painstakingly entering my email and password—again, a smart remote would be great right about now—I was logged in… sort of. There was a Facebook screen, but a weird message popped up: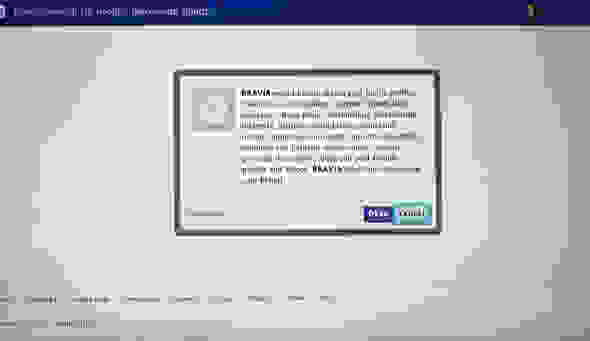 "Bravia would like to post on your behalf." Are you serious? And my only two options are "Okay" and "Cancel?" Looks like "Cancel" wins.
Twitter actually let us log in without the TV tweeting on our behalf. Unfortunately, there is nothing special about this app. You can check your timeline and even tweet using your remote... which doesn't have a keyboard. In other words, stick to your smartphone.
There is a Skype app, but since we did not have a camera attachment for our Sony TV, we couldn't use it. Bummer.
Last Words
Not nearly smart enough
Sony does a lot of things right in the TV industry: It crafts beautiful displays that consumers want in their living rooms; it includes tons of options for tweaking picture details; and it generally engineers a solid TV panel. For those reasons, it's hard to accept that Sony makes a mediocre smart platform, but that's the hard truth.
While other companies are incorporating voice commands, cable channel interfaces, and intuitive remotes, Sony has lagged behind. Here's hoping that 2014 is the year Sony finally catches up and makes a smart platform worthy of its TVs.