In many ways, the folks at Red tend to see themselves as the underdog, which is funny considering their products are hugely expensive and they have one of the most popular booths at NAB. There's a lot to love about Red. The products are proudly "Made in the USA." They're rebels. They're alternative. They've got an industrial design that's both alluring and ugly. And they have a dedicated community of users that spend a ridiculous amount of time teaching and helping each other figure out everything from workflow solutions to the best way to accessorize your Red camera.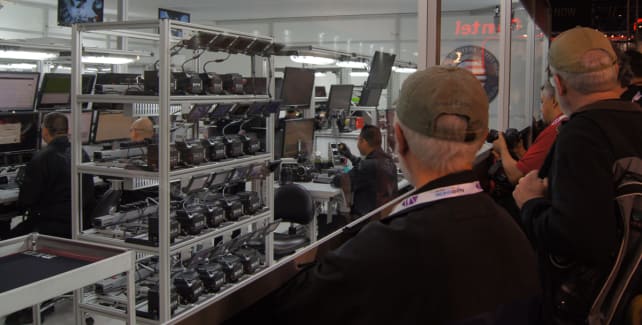 We've never tested a Red camera, but the products are certainly good at capturing video. Filmmakers from across the globe have come to embrace Red cameras, as evidenced by the dozens of movie production posters hanging in Red's booth at NAB. But for years, Red has had a minor PR issue with delayed shipments, ever-changing release dates, and backorders. It's a problem that every new company has when a product becomes more popular than expected.
Red knows this. It's something we've critiqued them for in the past, and it's something Red has been open about with its users. Just check out this "Mother Of All Backorder Updates" thread on the Red User forum to get an idea of what we're talking about.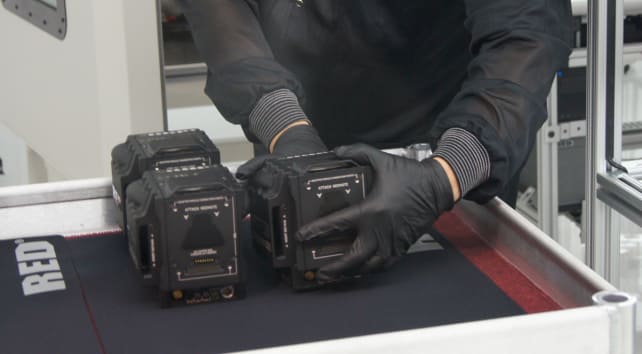 Yeah, that's right, Red brought a little piece of its manufacturing plant straight to the Las Vegas Convention Center.
Tweet It
I can't help but imagine that this past critique was the motivation behind Red's latest stunt: The company is performing Dragon Sensor upgrades live on the show floor at NAB. Yeah, that's right, Red brought a little piece of its manufacturing plant straight to the Las Vegas Convention Center. So, for all of those wondering when exactly those Red Dragon Sensor updates would actually take place... well, you can watch it happen in real time. It's unclear how many upgrades Red is planning to get through at NAB—and the reps I spoke with didn't have a clue—but it's undoubtedly one of the most creative uses of a convention booth space we've ever seen. Will there still be people waiting for a Dragon upgrade after NAB? No doubt. But it's still cool for Red to show us first-hand that the process has already begun. Engadget has a great article detailing the entire upgrade process at NAB—including behind-the-scenes videos.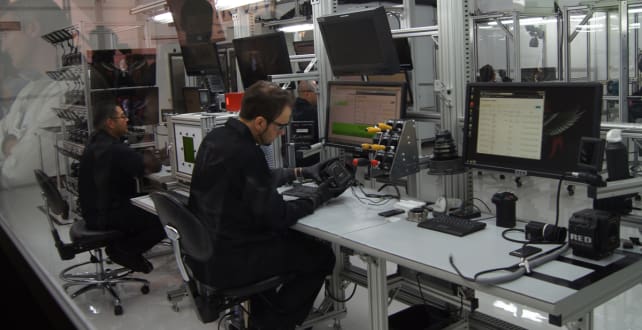 For those who want (or dream) of owning a Red with a Dragon Sensor, here are the details. Red began taking Epic-M Dragon pre-orders yesterday for $29,000. These new cameras won't ship until existing Epic-M owners have already had the chance to upgrade. Epic-X upgrades will go for pre-order tomorrow. Oh, and those cameras that are being updated on the show floor, they're all from early-adopters of the Epic.
The new Dragon Sensor enables the Epic to shoot 6K video (6144 x 3160) at up to 100fps. It also touts three additional stops of dynamic range over the original Epic.
Owners of a Red Scarlet have the option of trading in their camera for an Epic-X ($9,500). Once you do that, you can then follow the same path outlined above to upgrade the Epic-X to an Epic Dragon. Or you can get your Scarlet camera itself upgraded to a Scarlet Dragon for $9,500. The Scarlet Dragon will not support full 6K resolution, but will instead top out at 5K and 60fps. Pre-orders start tomorrow, but it will be a while before you get to play with the fancy new sensor. Red plans to start the Scarlet upgrades in July.
Our editors review and recommend products to help you buy the stuff you need. If you make a purchase by clicking one of our links, we may earn a small share of the revenue. Our picks and opinions are independent from any business incentives.