With its first blatantly rangefinder-styled M43 camera, Panasonic has taken everything that we've liked about its previous models and done it up in a premium package. With a new 16-megapixel sensor, in-body image stabilization (a first for Panasonic), and a built-in electronic viewfinder, it sure seems like Panasonic wasn't satisfied serving up more warmed-over features. They've brought their A-game, and for the first time in a while, Olympus fans have every right to be envious.
We were impressed by how the GX7 performed both out in the real world and under laboratory conditions. Not only is it a feature-rich camera, but it's also one with a really excellent image sensor and intelligent image processing as well. As it turns out, this ranks with the top M43 cameras we've tested for good reason. Read on for more.
Panasonic's done a great job placing its most accurate mode as the default. We measured a ∆C 00 Corrected color error of 2.65 from Standard. Additionally, there are Vivid, Scenery and Portrait color modes. Each color mode has custom sharpness, noise reduction, contrast and saturation adjustment, each with a total of 11 levels.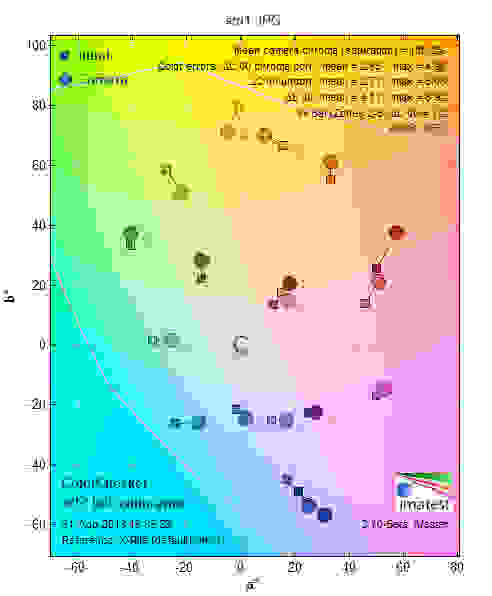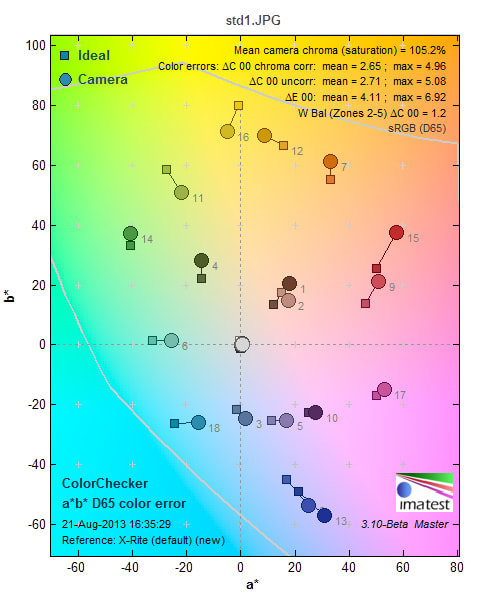 Like recent Panasonic Micro Four Thirds cameras, the GX7 bested our white balance test. Both in automatic and custom white balance modes, this camera ranked among the best we've ever seen. The only lighting source it struggled with was Incandescent when set to auto WB. We only really saw what could be described as an average score here, whereas with every other type of light, it was an absolute rock star.
It's so much more than just eye candy.
When we first laid eyes on the GX7, we did a bit of a double-take. Despite prominent Lumix branding, the camera looks more like a Fujifilm X-series model than anything we've seen from Panasonic. This model, in particular, evokes the look of the Fujifilm X-E1. Our unit, the silver-and-black version of the GX7—in particular gives off an undeniable retro vibe, but under the hood, it's a thoroughly modern camera.
We have nothing but praise for the GX7's grip. It begs to be held, providing not only a luxuriously shaped hand-hold, but also a comfy, rubbery texture that brings traction to the equation. We've seen Olympus make token nods to ergonomics with the PEN-series' petite, squared-off bits of plastic on the PEN E-P5 and E-PL5. But it's like Panasonic is channeling Crocodile Dundee: "That's not a grip, the GX7—now that's a grip!"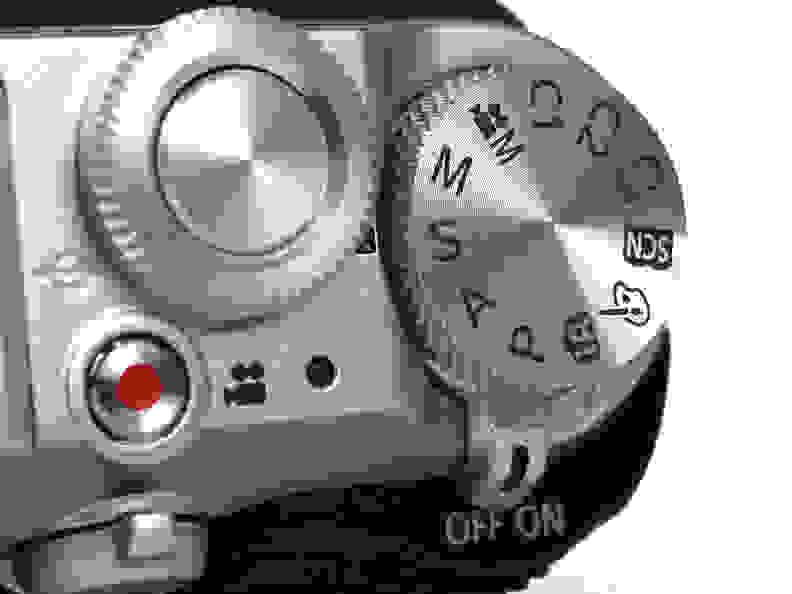 A nicely knurled mode dial on the top doesn't lock, but has enough resistance to put up a fight before moving. It's very tough to move with one finger, requiring use of both your thumb and forefinger, but at least you don't have to worry about it switching behind your back when the camera gets put away in a bag.
The GX7's buttons are a little user-friendly than what we've seen on other Panasonic M43 cameras. The D-pad buttons' outside edges flare up, making them relatively easy to find without looking. The dual control wheels have good tactile feedback, clicking assuredly when changing settings. While the control dial around the shutter button isn't the easiest to move, it's more than serviceable and isn't too stiff to move with your pointer finger. In all, there are four customizable Fn buttons and three custom settings on the mode dial—quite a feat for such a compact camera.
Panasonic made an astoundingly well-thought out design choice with the GX7's AF/MF toggle. Whatever engineer was in charge of this feature deserves a bonus. It's a switch that's hard to hit accidentally, but is easy to find and push when you need it. It moves positions with a solid click, and there's no slop whatsoever. It's nothing short of pure switch bliss.
Even though we think that the GX7's design is a huge step in the right direction for Panasonic, we're still a little annoyed by the overabundance of plastic. Even though the beltline of the camera is metal, the top and bottom plates appear to be painted plastic. And even though the camera has a nice heft to it, it still somehow feels a little hollow. Minor squabbles, to be sure, but worth noting. This is a $1,000 camera, after all.
There might even be a kitchen sink in there somewhere.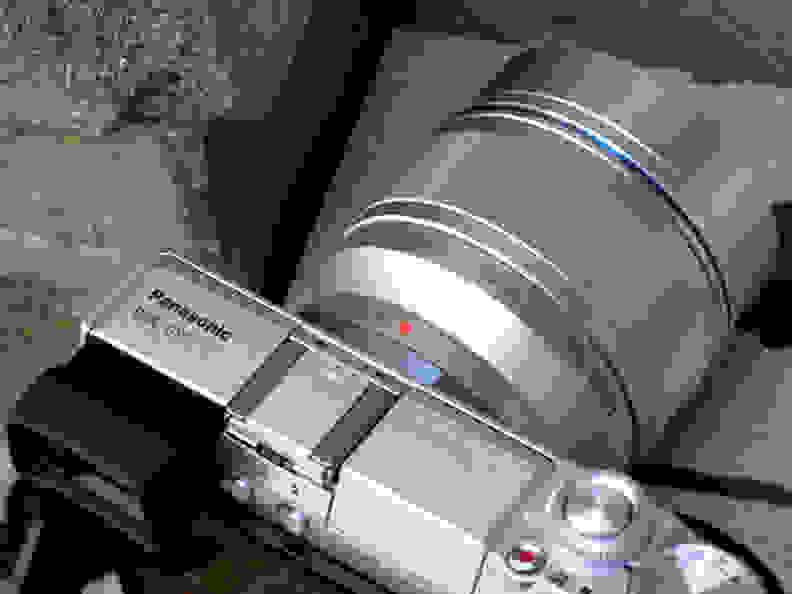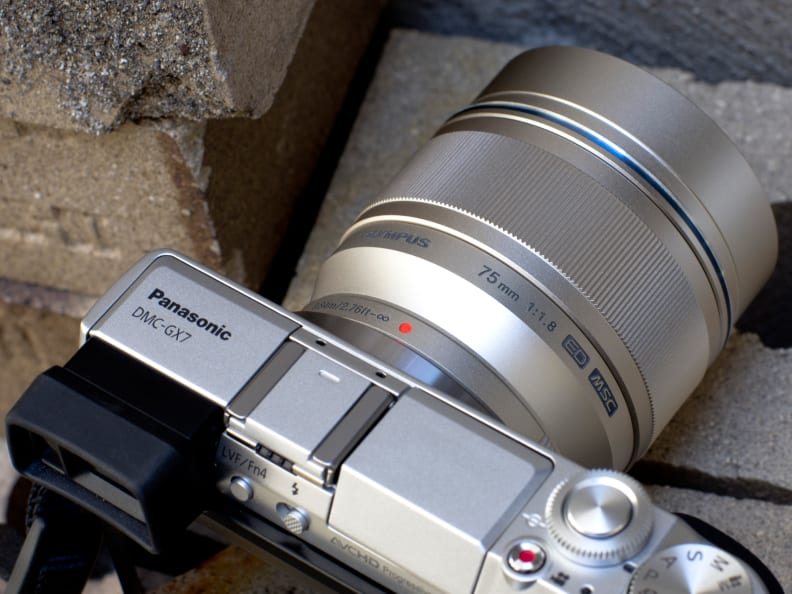 The GX7 marks not only the first retro-inspired design from Panasonic (at least on their M43 system cameras), but also the first time a Panasonic camera has included in-body image stabilization.
While the Lumix M43 cameras previously employed in-lens stabilization, Olympus has always relied on in-body IS—a situation that's created a slight compatibility issue between the two makes. Panasonic lenses were stabilized no matter what camera they were mounted on, while Olympus lenses had to make do without shake correction on Panasonic bodies. With the GX7, you can finally have it all. This might make the leap from Olympus to Panasonic easier for people with a cache of M. Zuiko Digital glass—a smart move on Panasonic's part.
Panasonic has done a great job with its electronic viewfinders lately, and the GX7's is another step forward.
That new sensor-shift IS will go well with adapted lenses, too. Using adapted lenses is arguably one of the best perks of M43 ownership, and Panasonic's strong suite of focus helpers really completes the experience. Not only does the GX7 offer focus peaking, but it also has an excellent focus assist mode. Using the touchscreen, it's easy to select which part of the image you want to see close-up, assuring your desired subject is in focus.
Panasonic has done a great job with its electronic viewfinders lately, and the GX7's is another step forward. The last EVF we saw from Panasonic was the G6's terrific OLED 'finder. The LCD finder in the GX7 sounds pedestrian in comparison, but its contrast ratio and impossibly high pixel density (nearly 3,000,000 of the little suckers!) more than make up for its lack of OLED tech. And it tilts! We're not sure how often you'll actually want to shoot with the finder tilted up, but it's a neat option to have.
The screen has a natural-looking refresh rate, and we rarely noted any lag when panning. Informational text around the picture is crisp and easy to read, as well. Finally, Panasonic's eye sensor focus tech is another innovation, speeding up the time between seeing a subject and shooting, since the camera focuses as soon as the EVF turns on.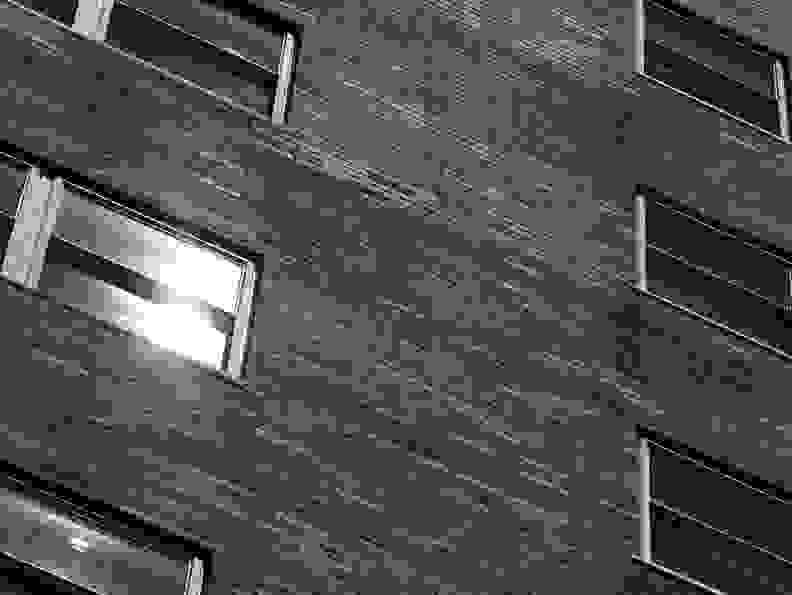 Panasonic has also included NFC and WiFi for remote control and image transfer. While Panasonic's app is still a little rough, it does the trick—once you manage to get connected. The GX7 continues Panasonic's tradition of offering some excellent Art Filters, now with a new Rough Monochrome option that creates a filmic look. The Art Filters now total 22, and are highly customizable and easy to access via the mode dial. Similarly, scene modes are well-organized, and each is depicted with a sample photo.
As expected from a Lumix, there's a full suite of video features—one area where Panasonic continues to have a leg-up on Olympus.
As expected from a Lumix, there's a full suite of video features—one area where Panasonic continues to have a leg-up on Olympus. You get a dedicated movie mode on the mode dial, and a top video recording mode of 1080/60p at 28 Mbps bit rate. There's also a 1080/24p mode for those who want a cinematic-looking frame rate. There are nearly as many video scene modes as still ones, making this a good video choice, even for average users.
Panasonic has really gotten video controls right, offering a ton of adjustments—shutter speed, ISO, aperture and exposure compensation are all easily changed. Keep in mind that there isn't a mic jack, and there's no super-high bit rate video mode so don't expect the GX7 to be a GH3 killer.
The GX7 offers default ISO ranges from 200 all the way up to 25600, with an extension mode adding a low ISO 120 option. The standard range ought to be decent enough to cover all realistic shooting scenarios. If noise is an issue, setting the camera's auto ISO mode to cap out at ISO 1600 is probably a good idea.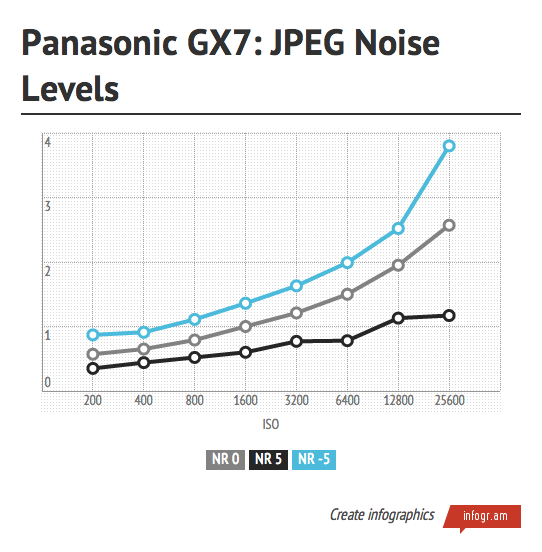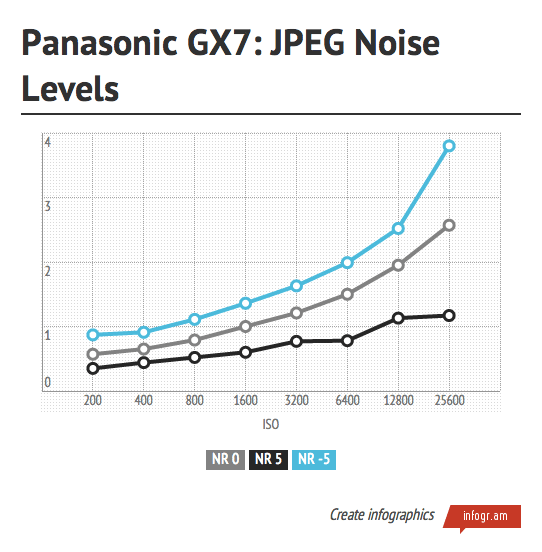 We found that the noise reduction at work in the GX7 does a good job controlling noise at the default setting, only getting a little out of hand once it's turned all the way down. As previously mentioned, Panasonic's NR control has a whopping 11 settings, allowing users to really fine-tune how much NR they want applied to their JPEG images. When left alone, the default setting applies a smooth curve of NR across the ISO spectrum, only barely crossing the 2% mark at the maximum 25600 sensitivity.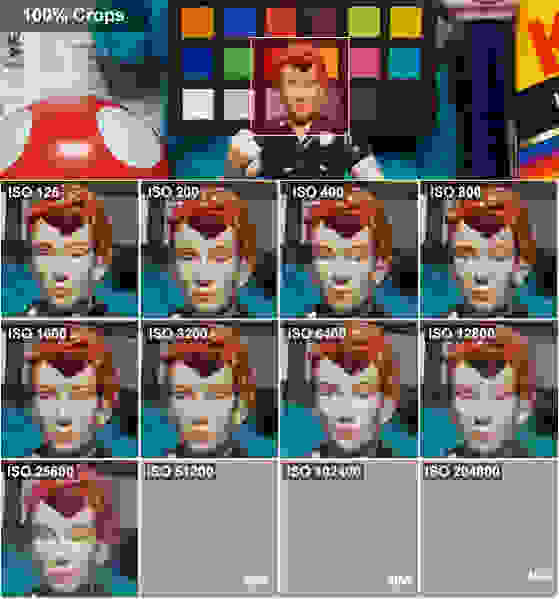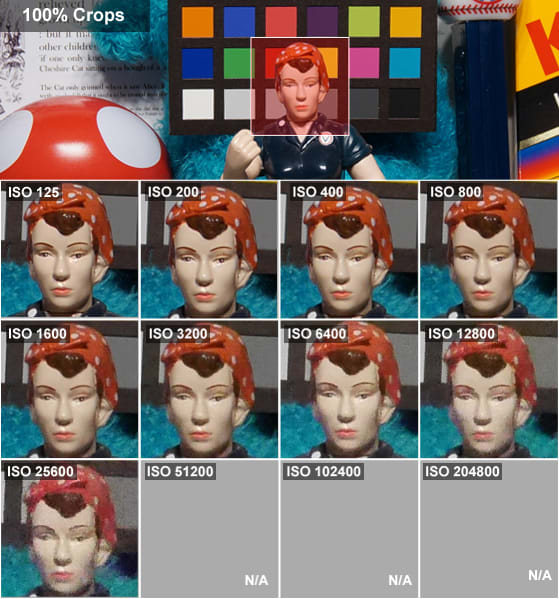 The new sensor pays dividends.
The GX7 is built around a new 16-megapixel sensor. Last year's GH3 also sported a new design, but all of the other recent Lumix M43 models have used the same sensor (albeit tweaked) from 2010's GH2). While that sensor wasn't bad, it left us wondering what the G5, G6 and GF6 would have been like with a fresh bit of silicon inside. And in light of Olympus's brilliant move to bring its lauded OM-D E-M5 sensor downmarket to all its PEN cameras, it's high time that Panasonic aggressively start refreshing its imaging technology.
But, how does the GX7's sensor stack up? As it turns out, pretty darn well. Although we noticed some aggressive massaging of images by the JPEG engine, the overall look is excellent. Colors were accurate enough, noise is well-controlled at default settings, and video looks sharp and lifelike.
The 14-42mm kit lens fits the GX7 like a glove
We fell in love with the new, more compact 14-42mm 3.5-5.6 Panasonic kit lens earlier this year, and it fits the GX7 like a glove. It's a surprisingly sharp optical design, it's lightweight, and its effective 28-84mm range is just flexible enough. If you're new to the system, the kit option we tested is a great way to get into M43 without breaking the bank.
For more detailed test results, visit the Science Page of this review.
The GX7's ability to shoot 60p full-HD video does it a lot of favors. Panasonic's HD pedigree means the GX7 is a mean snapshot and it shoots excellent video, too. Not only are videos taken with the GX7 sharp, but motion looks smooth and without much motion trailing or blur. See for yourself in the clip below.
The GX7 shoots natively in both AVCHD and MP4. While you don't get as many frame rate options in MP4, the top 1080/60p is available, and the format is just so much easier to work with.
As far as numbers go, the GX7 required 17 lux in order to reach 50 IRE. We saw bright light sharpness figures of 800 lp/ph horizontal and 625 lp/ph vertical. In low light, those numbers dropped to 630 lp/ph horizontal and 600 lp/ph vertical.
Olympus had better watch its back.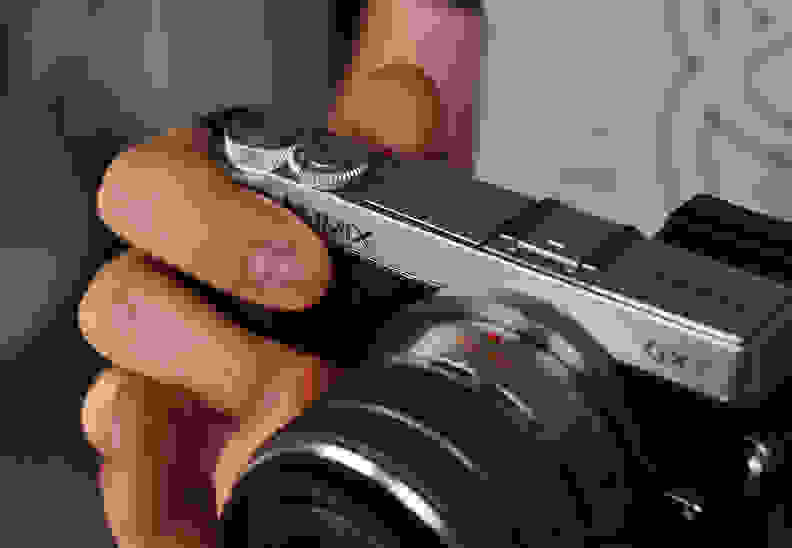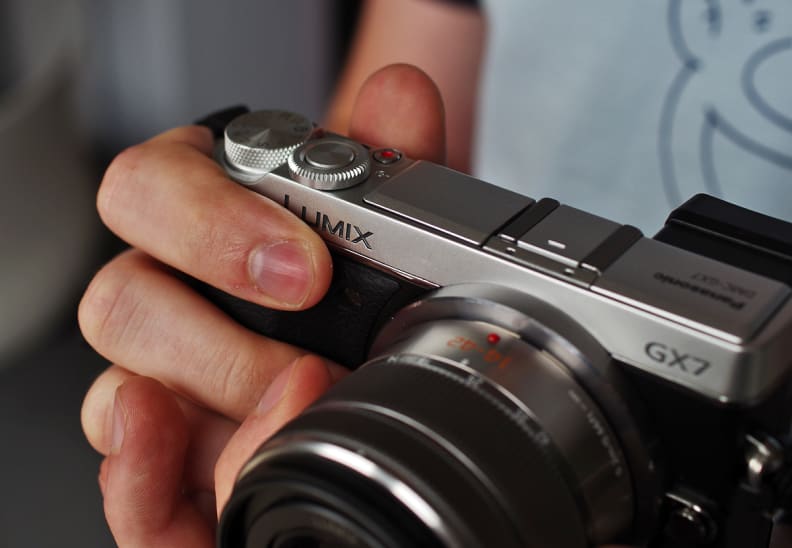 The GX7 is a handsome camera, and it hits a lot of sweet spots. In many ways, this is the camera that Olympus should have made instead of the E-P5. While the E-P5 is a fantastic performer, you'd have to buy the $1,449 kit in order to match the GX7 spec-for-spec. Granted, that kit also nets you Olympus's excellent 17mm prime, 5-axis image stabilization, and optionally removable EVF, but it's still $250 more expensive than the GX7 kit we tested (body-only, they're the same price).
So, in that respect, the GX7 is a big win over the E-P5. You don't have to worry about carrying around a bulky EVF attachment—which, in our opinion, ruins the classic good looks of the E-P5—and you can't misplace what's built into the camera. Ergonomically, the GX7 is significantly more comfortable to hold for long periods of shooting.
Where the comparison gets interesting is when we pit the GX7 against the OM-D E-M5. The OM-D kit is only $1,299.99 these days, and that camera has both 5-axis IS and weather sealing.
Even Panasonic's own top-end GH3 is starting to creep underneath the $1,000 mark body-only. So if you're an enthusiast looking for a Micro Four Thirds camera hovering around the one-grand mark, you'll have a lot of thinking to do.
One thing's for certain—the GX7 is a terrific camera.
But one thing's for certain—the GX7 is a terrific camera. There's a lot to love here and between the GX7 and the GH3, Panasonic is making a strong argument for M43's continued presence in the market. We're hoping that the GX7 lights a fire underneath Olympus's design team and pushes them to make the company's next-gen rangefinder-style bodies even better. As long as these two camera makers keep challenging each other, consumers are the ones who stand to profit.
Meet the tester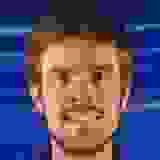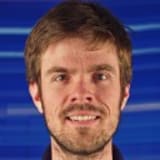 Brendan Nystedt
Contributor
@bnystedt
Brendan is originally from California. Prior to writing for Reviewed.com, he graduated from UC Santa Cruz and did IT support and wrote for a technology blog in the mythical Silicon Valley. Brendan enjoys history, Marx Brothers films, Vietnamese food, cars, and laughing loudly.
Checking our work.
Our team is here for one purpose: to help you buy the best stuff and love what you own. Our writers, editors, and lab technicians obsess over the products we cover to make sure you're confident and satisfied. Have a different opinion about something we recommend? Email us and we'll compare notes.
Shoot us an email