Kitchen & Cooking
The Best Cookie and Baking Sheets
A good baking sheet is a solid foundation for any kitchen.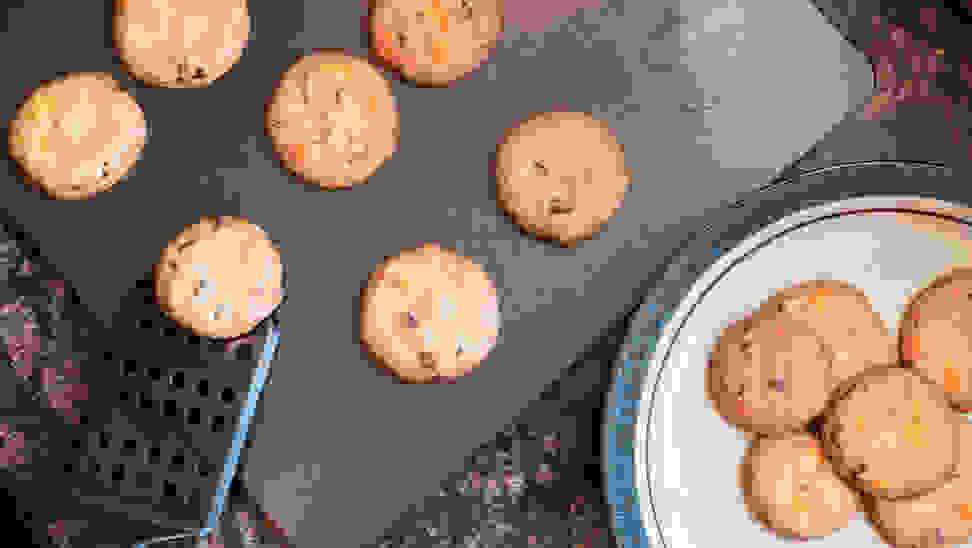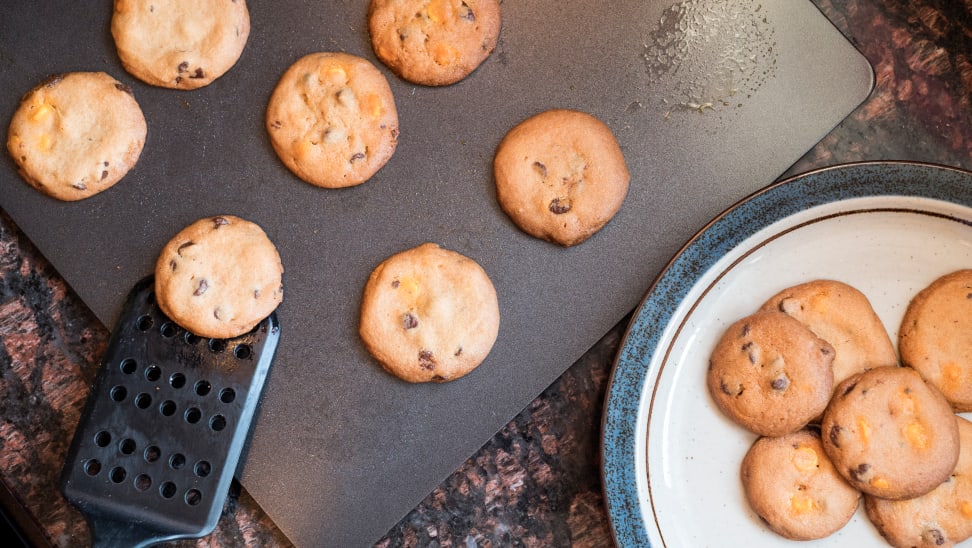 Credit: Reviewed.com / Jackson Ruckar
Whether you're a practiced home cook with rimmed baking sheets or an utter beginner, you need a dependable baking sheet like our favorite Nordic Ware Baker's Half Sheet (available at Amazon for $17.26). It's a vital tool for baking cookies, roasting vegetables, and avoiding cooking that frozen pizza you bought out of sheer hunger and laziness on oven racks.
But no matter how frequently you use your baking sheet, you'll want something that can stand up to high heat and won't stick to your oven fries. But which baking sheets are up for the task, and which are just not worth the money?
To find out, we enlisted an avid baker and frequent easy-meals home cook (that's me!) to put seven of the top rated baking sheets through their paces. I made endless cookies, roasted oodles of vegetables, and baked enough frozen pizzas to scare me back to Seamless. I also washed everything, taking note of what was an easy clean and what required some elbow grease. By the end, I knew which baking sheet I wanted in my own kitchen.
Here are the best cookie and baking sheets we tested ranked, in order:
Nordic Ware Natural Aluminum Commercial Baker's Half Sheet
AirBake Nonstick Cookie Sheet
Farberware Nonstick Bakeware 11-Inch x 17-Inch Cookie Pan
USA Pan Half Sheet Pan
Chicago Metallic Professional Non-Stick Cookie/Jelly-Roll Pan
Artisan Professional Classic Aluminum Baking Half Sheet Pan with Lip
Best Overall
Nordic Ware Natural Aluminum Commercial Baker's Half Sheet
There's a reason this American-made baking sheet tops charts around the internet. It's lightweight, large enough to fit more than a dozen cookies, and distributes heat like a dream. Measuring 12 by 17 inches, I'm confident I can use it to cook enough vegetables for a small crowd—or for myself with plenty of leftovers. Even covered with goodies, this tray is light enough to hold with one hand while you scoop whatever you're making onto a waiting plate.
My biggest concern was cleaning. While the pizza slid off easily, cookies and vegetables took a bit more work and left a bit of residue. However, everything heavy duty came off with a few minutes of soaking. Personally, I'd use parchment paper or a Silpat mat under my cookies to ensure that nothing sticks.
Given the high-quality construction, if you take care of this pan—wash it by hand and don't even think about touching it with a metal spatula or fork—there's no reason why it shouldn't last for ages.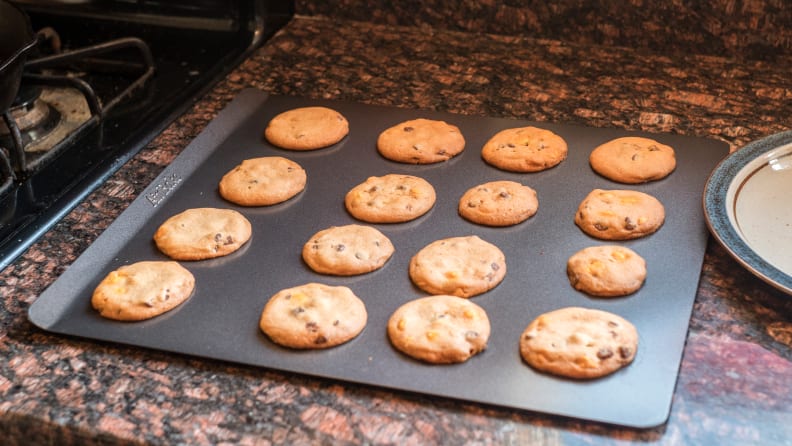 How We Tested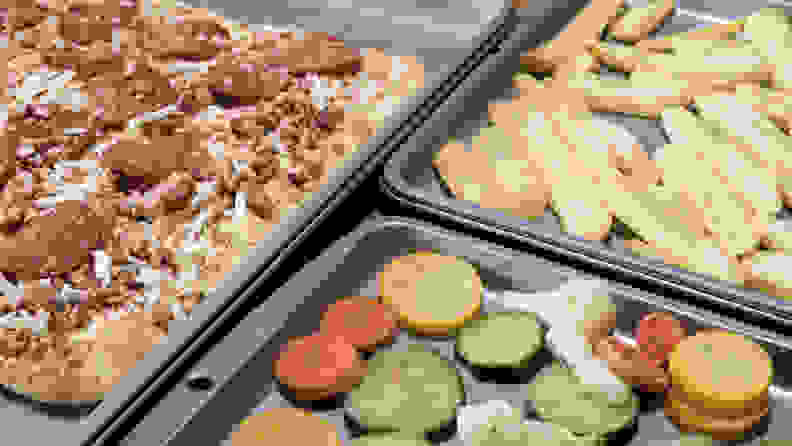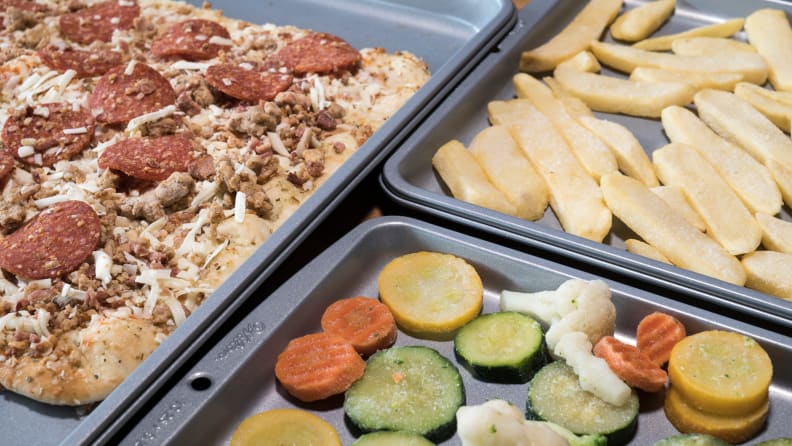 The Tester
Hello! My name is Bethany, and I've been terrorizing my mother in the kitchen since I was too small to hold a baking sheet straight. Now an adult, I regularly bake too many cookies, and weekly roast vegetables and other delights for dinner.
I've been baking for years, adventures that run the gamut from elaborate wedding cakes to tasty flatbreads. I've become a harsh judge of baking equipment in particular, as nothing scares someone away from the kitchen more than burned cookies or messy baking trays. I want everyone to love baking as much as I do, so I've learned a lot about what makes a great baking sheet that will serve at-home bakers and cooks like myself.
The Tests
To find our winner, we tested seven baking sheets of various styles (rimmed, rimless, AirBake, nonstick), materials (aluminum, aluminized steel, carbon steel, steel), and sizes. We used each pan to cook various baked goods, including frozen pizzas, sugar cookies, and mixed veggies and scored each based on size, weight, warp resistance, ease of food removal, how much effort it took to clean, and the overall experience of using the pan.
Size is an important factor in a baking sheet, particularly if you're only planning to own one. So we judged the baking sheets on how many cookies comfortably fit, whether or not a frozen pizza would squeeze in, and of course whether or not they would fit in a standard oven.
While I don't mind a baking sheet with a bit of weight—solid construction means it's less likely to warp—a heavy sheet is tough to hold on to. We tested how easy it was to handle each tray with one hand, and whether you could hold the sheet comfortably while also removing your food to settle on the cooling rack.
We also judged the nonstick factors after cooking. Specifically, how easy was it to remove things from the tray? And how easy was it to clean?
Through it all, we paid close attention to the overall experience of using each pan. Was it easy to grab? Did it hold food securely? Was baking even? The worst thing you can do for your kitchen is stock it with equipment that you don't like, so I asked the above questions with an eye towards which pan I would be happy to use every day.
How Do You Clean Baking Sheets?
First, measure 1/4 cup of baking soda and 1/4 cup of vinegar. Then, evenly spread the baking soda on the baking sheet and pour vinegar on the baking sheet and let the ingredients react to each other. In a sink, submerge the baking sheet in hot water and let it sit for half an hour to 45 minutes. Drain the sink and scrub away the grime or dirt with steel wool. Finally, wash the sheet with regular soap and water and let dry.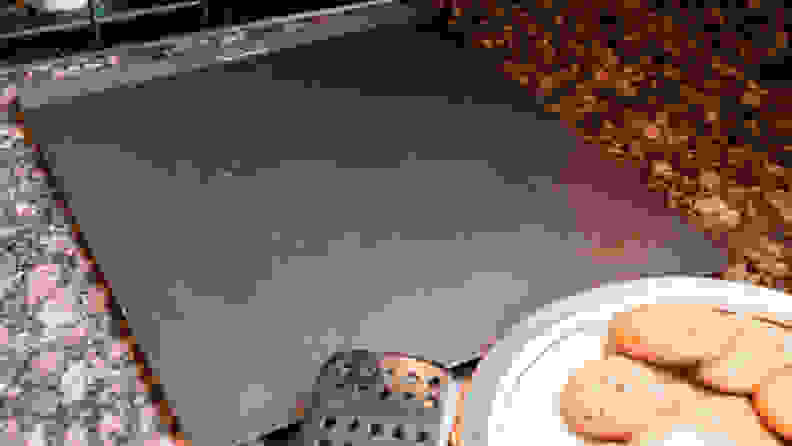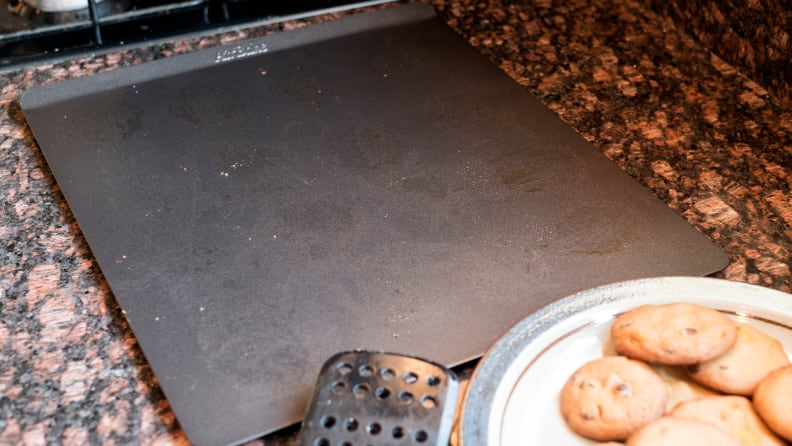 Other Baking Sheets We Tested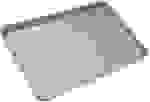 USA Pan Half Sheet Pan
Unlike the other smooth-bottomed sheets, this pan had some curves. Specifically, the bottom was corrugated. While this didn't cause things to cook any differently, it made it trickier to clean, as there were more corners where grease could hide. Luckily the nonstick coating works well.
The pan bakes well and offers lots of space for your meal, but is also on the heavier side. For that reason, it's solidly in the middle of our list.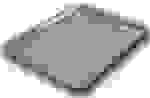 Artisan Professional Classic Aluminum Baking Half Sheet Pan with Lip
This sheet looked almost exactly like the Nordic Ware, but warped at 400°F and made hilarious popping noises after I took it out of the oven to cool. It also fell victim to a classic aluminum pan pitfall, which is looking not-quite-clean after washing. I worry about how easily it seemed to pick up scratches just from sliding in and out of my oven.
If you buy this one, treat it carefully, with a plastic or silicon spatula rather than a metal one (which I recommend with all pans, anyway). And while I wouldn't warn you to avoid this sheet altogether, I would caution you to only use it with parchment paper and at lower oven temperatures.
More Articles You Might Enjoy
Up next
Get Reviewed email alerts.
Sign up for our newsletter to get real advice from real experts.