Kitchen & Cooking
7 meal kits that don't require you to turn on your oven
Minimize heat this summer by keeping your kitchen cool.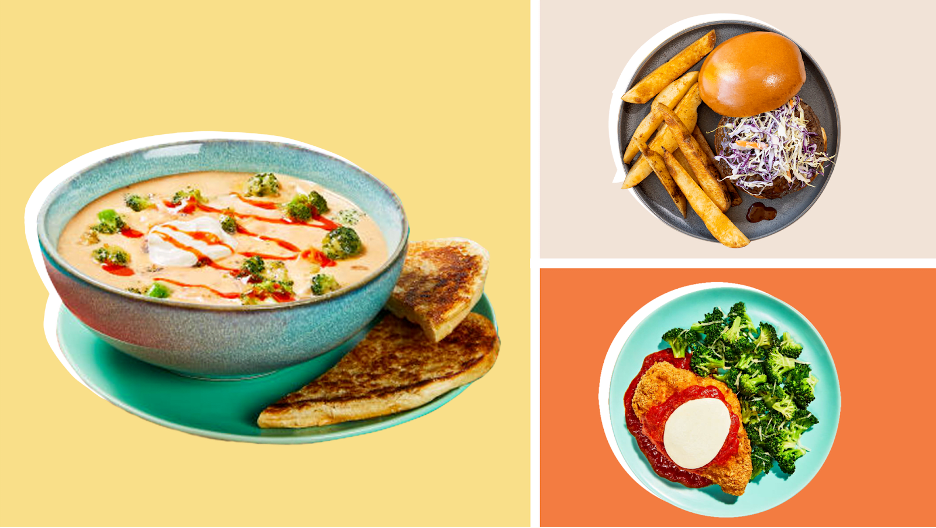 Credit: Home Chef / Freshlyfit / Every Plate / Reviewed
Editor's Note: June 22, 2022
Daily Harvest has recalled its French lentil and leek crumbles—see more details here.
When it comes to intense heat waves and record-high temperatures, we'll be doing everything we can to keep our homes cool this summer. And that effort can start in the kitchen.
Turning on your oven can emit unnecessary heat throughout your house, which can cause your AC and other cooling equipment to work overtime (and run up your energy bill).
The good news? There are plenty of meal kit delivery services offering oven-free recipes that can be prepared without cranking up the heat (in some cases, even from your stove) so that you can enjoy a home cooked meal without breaking a sweat…literally.
1. Freshly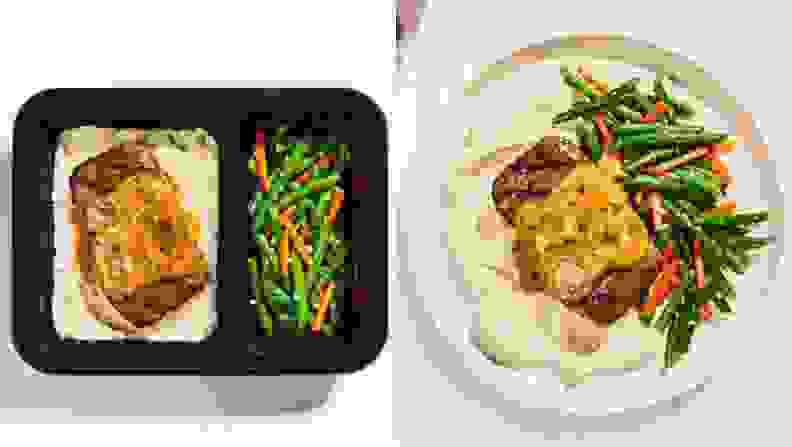 The first no-brainer option? A meal kit that requires zero cooking. We rated Freshly as our favorite pre-made meal delivery service after being so impressed with its meals that we couldn't believe they had just come out of the microwave.
Each ingredient tastes fresh, high quality, and delicious—from the surprisingly tender steak peppercorn to the vegan-friendly buffalo cauliflower mac and cheeze.
We also found that serving sizes are large and satisfying—even after a workout. And since summertime schedules can get busy, having a healthy and satiating meal ready in a few minutes can be a godsend.
2. HelloFresh
We already know HelloFresh is a great choice for busy home cooks, thanks to features like 20-minute meals and family-friendly options. But it's an especially great choice for folks looking for variety in their weekly meal prep.
HelloFresh offers some of the widest selections in the industry—over 40 different recipe options every week—including plenty that are oven-free.
Pro tip: When you're browsing the menu, skim each recipe card for details like "utensils needed" (tools like baking sheets and dishes are clear indicators of oven usage) and labels like "easy cleanup" (which is always welcome in the summer heat).
You can also browse for 5- or 10-minute lunch options, which typically consist of meals like sandwiches, salads, and bowls that can be prepared heat-free. Or, if grilling is more your forte, take the heat outdoors and keep an eye out for HelloFresh's "Cookout Collections".
3. EveryPlate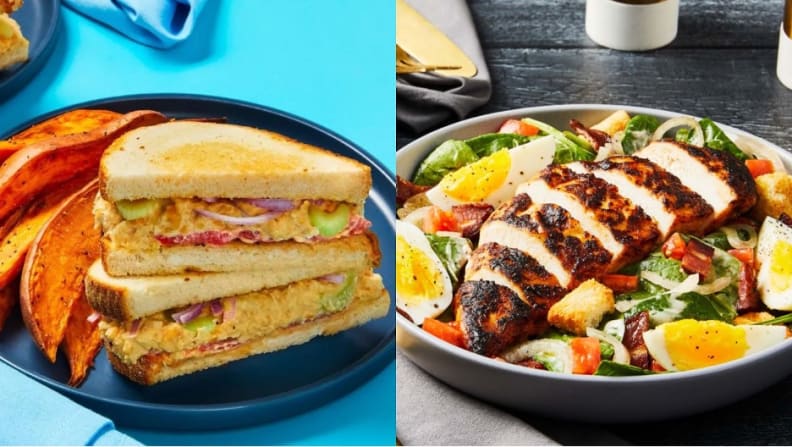 Folks looking for a cheaper alternative to brands like HelloFresh: Allow us to introduce you to EveryPlate. This affordable service offers meals starting at just $4.99 per serving, and each recipe we tried during testing was delicious—with generous portions and crowd-pleasing flavors.
Part of the same company as HelloFresh, there are similar labels to look out for when picking your meals, like "Easy Cleanup" or "30 Minutes or Less," which typically require less heat than other recipes.
You can also peek at each recipe's step-by-step directions before adding it to your cart to gauge how much heat will be needed. (Another pro tip: When it comes to making something like a side of fries for a no-fuss recipe, like this Chickpea Salad Sandwich, use your air fryer instead of firing up the oven.)
4. Home Chef
Our favorite meal kit company does not disappoint when it comes to oven-free meal options.
Home Chef offers seven major categories of meal types to choose from, and among them are the microwave-friendly Fast & Fresh meals. Now, these aren't your typical prepared meals that get eaten in the same tray they arrive in. They require some minimal prep work—so you can feel like you really did put dinner together—but they only require microwave cooking and come together in just 10 minutes.
Feeling brave enough to turn on the stove? Home Chef also offers plenty of one-pan, stovetop-only options every week. The 15-minute meals are particularly great for minimizing heat while still benefiting from a freshly cooked dish.
5. Sunbasket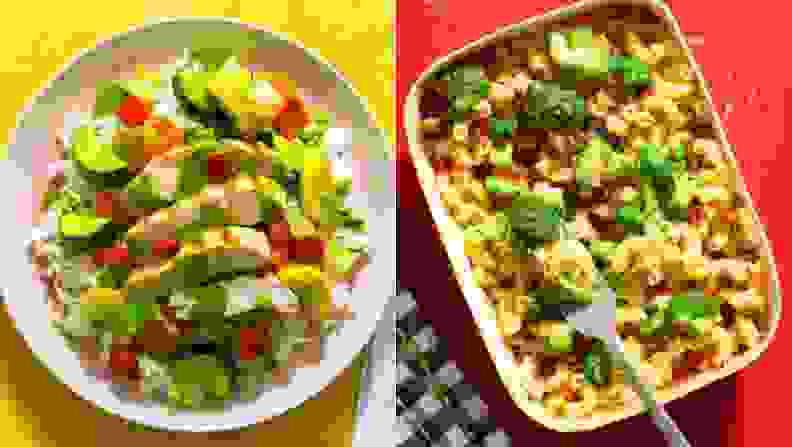 Our favorite meal kit for vegetarians offers a line of pre-made Fresh & Ready meals that conveniently call for a quick four minutes in the microwave before digging in.
When we tested these meals, we found that each dish was tasty and full of fresh ingredients, with options for vegans and omnivores alike. We were also pleasantly surprised that the meals were decently priced, with portions big enough to satisfy two people.
Earlier this year, Sunbasket also expanded its Fresh & Ready lineup to include lifestyle bowls—grain bowls, noodle bowls, and burrito bowls—that are single-serve and perfect for a no-sweat, work-from-home lunch.
6. Snap Kitchen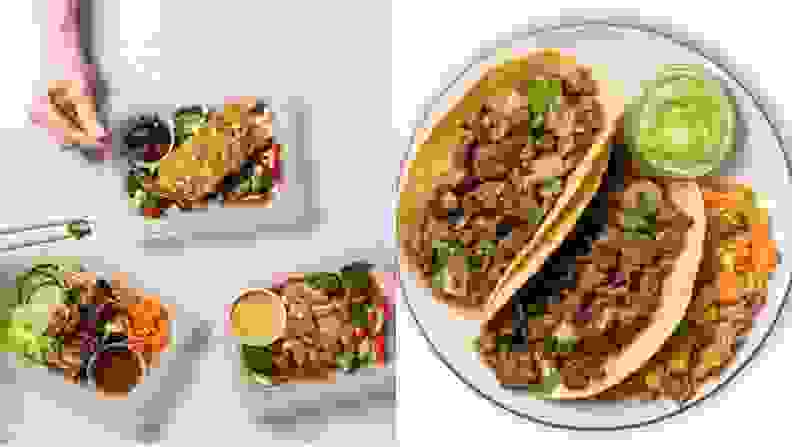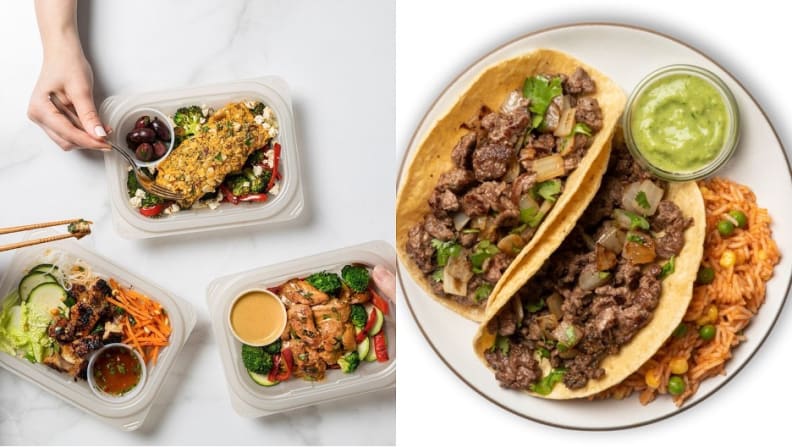 Breakfast, lunch, and dinner are ready in a snap with this pre-made meal service. Each dish arrives fresh (not frozen!) to your door every week, ready to heat up in the microwave and enjoy within the next few days.
This service offers options for several dietary needs, like gluten-free, keto, paleo, and whole 30—so it's especially great for anyone on a restrictive meal plan.
And these aren't your run-of-the-mill health foods: Menu items include dishes like lemon poppy seed pancakes, steak street tacos, and cacio e pepe with rosemary chicken—all packed with protein. After trying it out for ourselves, we were impressed by Snap Kitchen's variety of recipes, and how tasty (and filling) each serving was. And the fact that no cooking is involved was definitely a plus.
7. Daily Harvest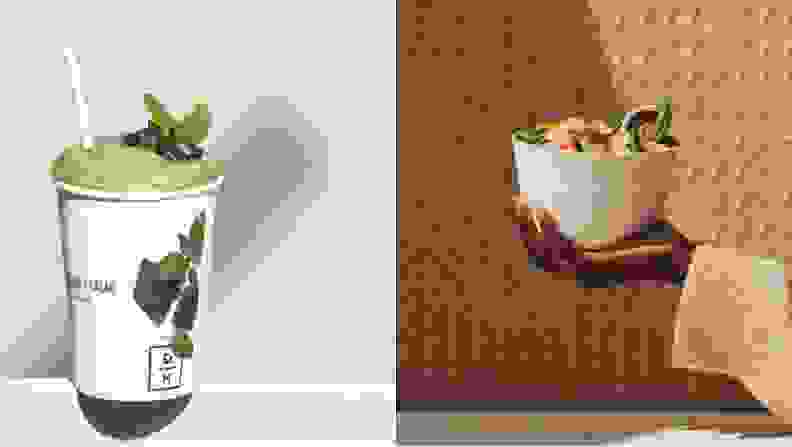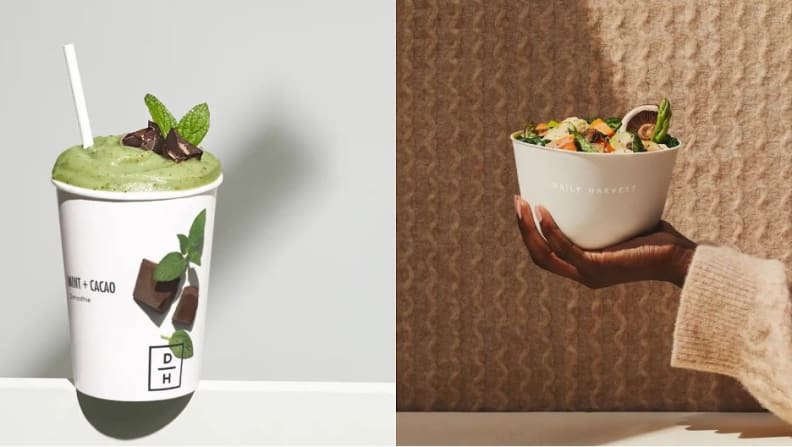 There's nothing like an ice-cold smoothie to cool you off in the summertime—am I right?
Daily Harvest is known for its healthy, ready-to-eat meals that are plant-based, organic, and really tasty. In addition to its ever-expanding list of ready-to-blend smoothies (the chocolate blueberry is out of this world), the service also offers hearty meals that can come together in the microwave.
The Harvest Bowls and Forager Bowls can be prepared in the microwave and on the stove top with little to no prep required. Plus, you know you're getting the most high quality ingredients to keep you feeling your best all summer long.
The product experts at Reviewed have all your shopping needs covered. Follow Reviewed on Facebook, Twitter, Instagram, TikTok, or Flipboard for the latest deals, product reviews, and more.
Prices were accurate at the time this article was published but may change over time.