Dishwashers
12 Quirky Glasses for Beer Fanatics
Have you ever drunk a beer... from an ox horn?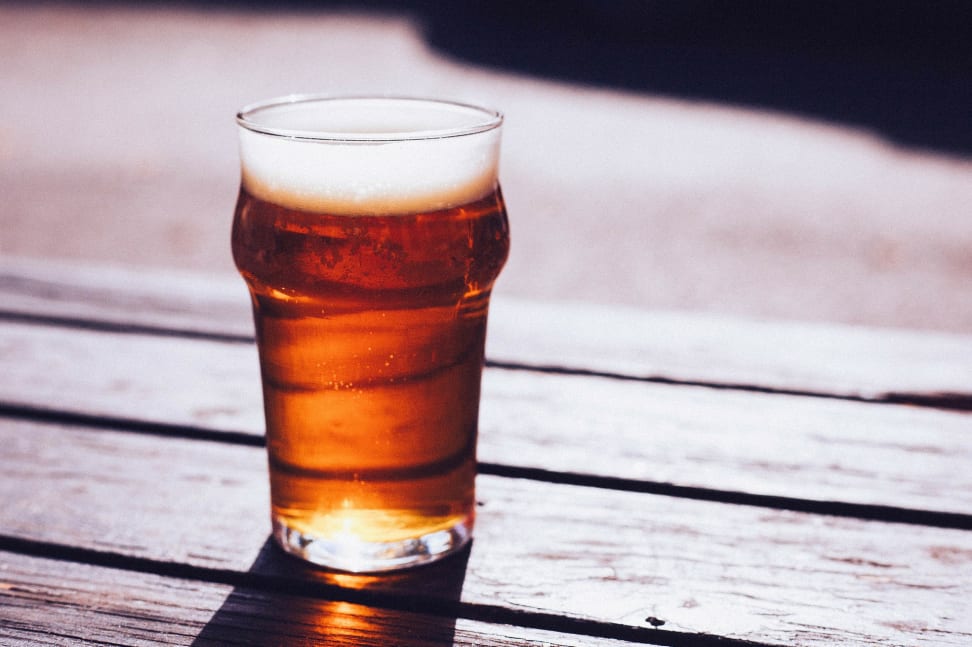 Credit:
You may love beer, but how often do you take a moment to truly appreciate the vessel that delivers it to your lips?
I'm not talking about merely choosing the right type of glass for your beer. I'm talking about the art and innovation of glasses, mugs, and goblets—from glass-blown boots and stoneware steins to vacuum insulation and bottle openers.
If you're a beer fanatic, chances are you have at least a modest collection of pint glasses, mugs, and snifters. But maybe it's time to liven up your glassware with some... unusual alternatives. I mean, haven't you always wanted your own stein or glass beer boot? Here are a few uncommon schooners and chalices for your beer-drinking lifestyle.
Here's a nifty little idea from Lily's Home that turns the familiar beer glass, quite literally, on its head. It features lightweight, double-walled design that keeps beer colder, longer. And hey, it just plain looks cool. It only holds 12 ounces (standard beer can or bottle), which isn't much when you factor in the inevitable foam, but it's nifty nonetheless.
Do you like your beer cold? Of course you do, so why not help keep it cool with a vacuum-insulated stainless-steel mug? Okay, steel isn't often used to hold beer, but there's little doubt this thing will keep your brew—or whatever beverage you choose to pour in it—frosty cold. It comes in five different colors: black, orange, blue, silver, and brown. Just don't toss this one in your dishwasher.
Every beer drinker needs at least one old-school mug—stouts, porters, and brown ales just aren't the same without one. But who ever said your mug has to be made of glass? Why not, say, stainless steel? It's better than glass at holding temperatures, and the handle will keep your hands from warming the liquid inside. This one should also be kept out of the dishwasher.
There are specific glasses for Belgian tripels, hefeweizens, and pilsners—why not IPAs? That was the thinking behind the Spiegelau IPA Glass, which is the result of a collaboration between Dogfish Head, Sierra Nevada, and veteran glassmaker Spiegelau. It's specifically designed to enhance the aromatic quality of American-style IPAs, and to preserve a frothy head in each pour.
Remember those old Guinness ads—"My Goodness, My Guinness!" Of course you don't, because they're from the 1930s. But maybe you've seen a few of these iconic ads in your local Irish pub. Either way, it's a good idea for a label on a pint glass. And don't feel bad if you pour something other than Guinness into it.
Just in time for Halloween! These silly pilsner glasses are hand-painted and look vaguely like the villains from an old Spiderman comic. They're a bit pricey, but the package includes four different designs: Jack O Lantern, Zombie, Dracula, and Skeleton... oh my! If you're too old for trick-or-treating but just old enough to get drunk on Halloween, maybe this is for you. Or maybe you should stay home and rethink your priorities.
The most famous beer-drinking country in the word also produces some of the most famous mugs in the world. Except they're not mugs—they're steins. These artful, decorative beer vessels are as impressive as they are functional, part of a tradition going back hundreds of years. Even if you don't drink, these nifty cups can even serve decorative purposes in your kitchen. Prost!
Another German drinking tradition: drinking beer out of a glass boot, because... why not? The tradition goes back more than a century, with some dubious claims about some general somewhere asking a glassblower to fashion a boot-shaped chalice to fulfill a promise to his troops. Whatever the true origin story, it's just plain fun. Who wouldn't want to drink beer out of a glass boot?
Perfect for the start of football season, this tumbler glass can handle 23 ounces of beer. (A pint is 16 ounces, in case you forgot, or are too drunk to remember.) The appeal here is more or less the same as the beer boot: It's just a nifty shape for a beer glass. Just don't try to throw a spiral with it.
This may be one of the most absurd items on our list. For years, designers have been trying to fit bottle openers in all kinds of places: keychains, hats, sandals, even phone cases. But no one ever thought to put one... on the glass itself! It's a clever idea, but there are some limitations, of course. Most notably, the glass needs to be empty if you're going to pop a cap. There's also the questionable decision to fasten a piece of metal to a glass. But hey, if it works, it works!
Do I really need to sell this one to you? Apart from sounding like the name of an awesome death metal band, this "Medieval Viking AleHorn" is made from 100 percent red ox horn, and is sure to summon your inner marauder. You can deliver a rousing toast while stroking your long grey beard, fully assured that your beer receptacle is the manliest of all.
Simpsons fans, this one's for you. Duff, the show's iconic beer brand, may have found a new home in your kitchen cabinet. While actual Duff Beer may be impossible to find in the real world (at least legally), you can certainly pretend. As a mass-market beer serving the residents of Springfield, Duff would probably taste like flavorless, watered-down lawnmower swill. So pour some Coors, Bud, or Miller into that thing. Maybe have a donut on the side?
Related Video