Dishwashers
Use the Right Champagne Glass This New Year's
If you're drinking from a coupe, you're doing it wrong.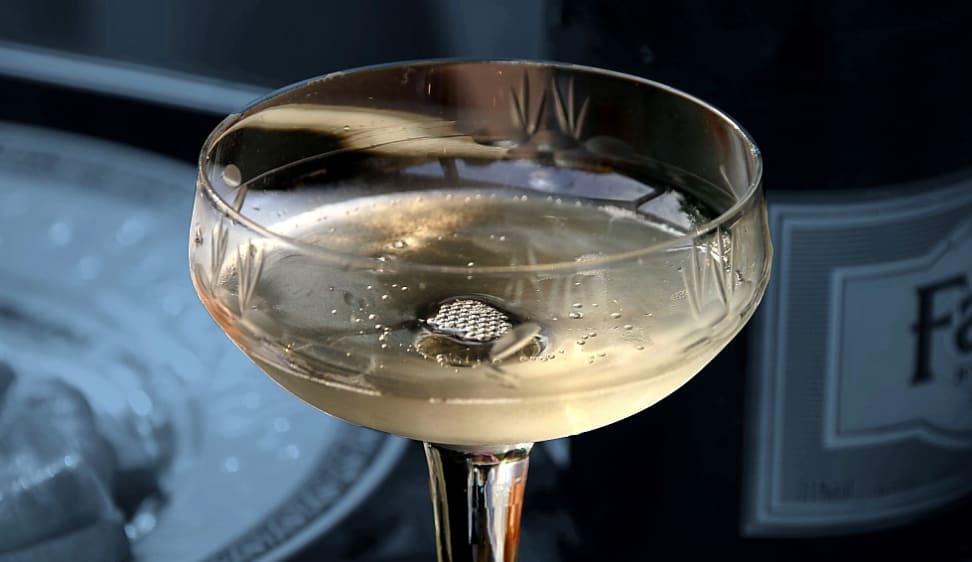 Credit: Flickr user "DIVA007"
Untitled Page
Marilyn Monroe had it wrong, but she looked good doing it. Same goes for Humphrey Bogart, Elizabeth Taylor, and Leonardo DiCaprio. Even James Bond, the man who knows exactly how he wants bartenders to make his martinis, is in over his head when it comes time to order his Bollinger.
All of them, alas, have been depicted at one time or another drinking Champagne from a coupe glass—the elegant saucer-shaped bowl on a stem. While trendspotters tell us it's time to dust off these relics and splash in a sparkler, wine experts say don't do it!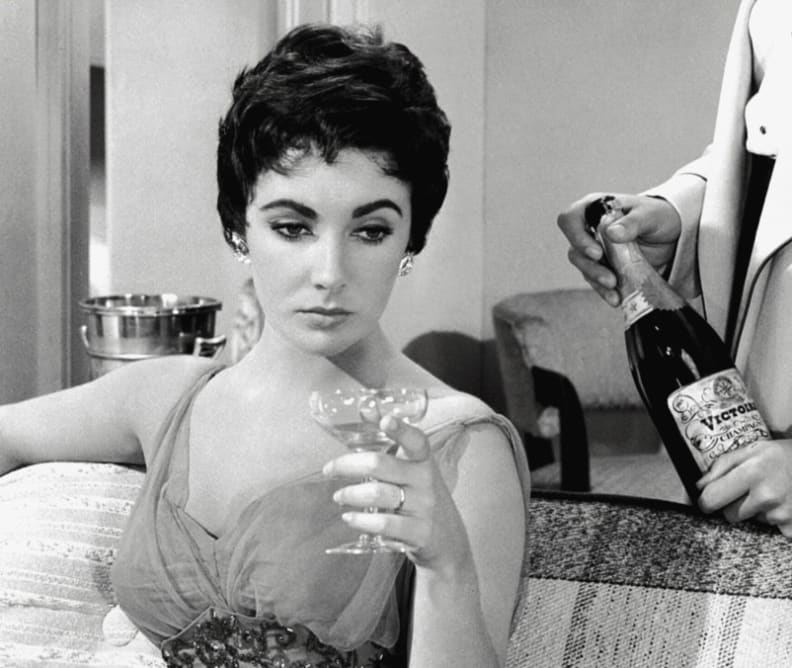 The coupe was always a lousy marriage: the right liquid in the wrong vessel. Though it admittedly embodies luxury, glamour and wealth in a sumptuous shape, the broad rim of a coupe encourages Champagne bubbles to dissipate far too quickly, a travesty we suspect led to the toast "bottom's up."
Even Patsy and Eddie know better than to flatten their Bolly with a coupe.
The Go-To Glass for the Upper Class
An oft-told story says that the coupe's round, shallow bowl was modeled after the bosoms of Marie Antoinette. While it's good cocktail chitchat (and, deftly executed, might even be a decent pickup line), the tale is almost definitely apocryphal. The coupe was designed in England in 1663; Queen Marie's bust didn't come onto the scene for another century.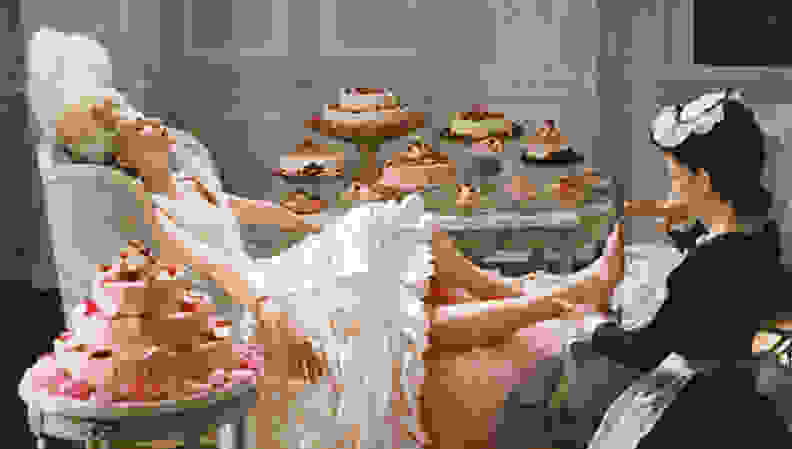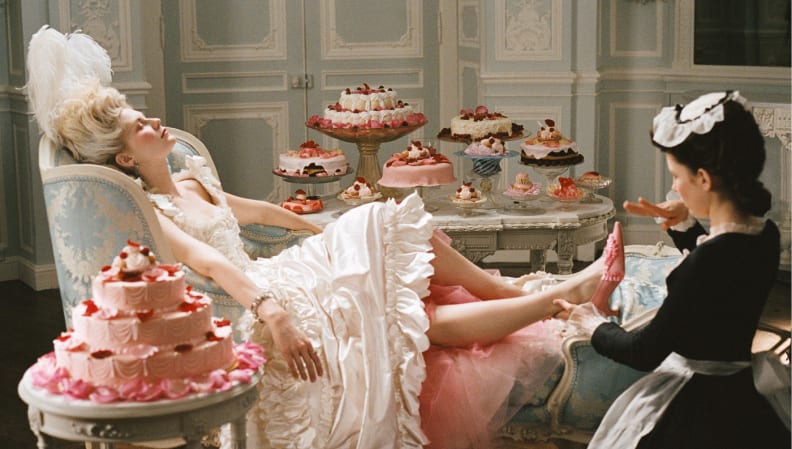 Nonetheless, the legend took hold in ways that continue to enchant boob-and-bubbly aficionados.
In 2008, Claudia Schiffer's left breast served as the outline for a Karl Lagerfeld-designed coupe for Moët & Chandon's Dom Pérignon. Last year, for her 40th birthday, Kate Moss immortalized her assets with a crystal coupe at London's 34 restaurant (you can still buy a pair today for the bargain price of £340).
Better yet, for Eater, writer Claire Carusillo beautifully nailed the awkward truth about casting her frontal lobes in glass:
"I found a willing mold-maker and glassblower, and had a wine glass cast from my own left breast. The glass did not come out looking anything like Marie Antoinette's breast, or my own breast, or even a coupe. The crystalline, ridged, lopsided impression of my breast sitting atop an elegant stem more resembled an ancient, melting glacier than it did the result of a vanity project to immortalize my youthful assets. My possession of this glass now makes cocktail banter a hell of a lot easier for me: Did you know that at least one champagne coupe has been modeled after my own left breast?"
Feminine mystique aside, coupes are best used for daiquiris, or maybe a creamy dessert. Yes, they're also suitable for a quicky toasting occasion, when guests might toss back a cheap asti for a modest celebratory moment.
Otherwise, if you're spending on actual Champagne—or even a decent Prosecco or quality California sparkling wine—it's time to ditch grandma's glassware and invest in proper equipment.
Trade Your Coupe for a Flute
For sparkling wines, a fluted tulip glass is ideal. The best examples look every bit as sumptuous as a classic coupe if a little more masculine.
More importantly, because the fizz originates at the bottom of the glass, a tulip shape actually limits the production of bubbles, meaning it takes longer for your bubbly to go flat. Also, fancier Champagne flutes often have a nearly invisible etching at the bottom of the flute—that rough spot further concentrates the flow of bubbles.
A good Champagne flute artfully balances several traits:
• Crafted from lightweight, thin glass that enhances the effervescence
• Not so light that the glass becomes imbalanced when filled, making the glass tipsy
• A long stem that can be held with a few fingers, keeping body warmth away from the wine
Before pouring, rinse glasses in hot water and air dry. Avoid using soap, as any residue can contaminate the carbonation.
The only drawback for flutes is that a wine's aromas might be held back by the tight rim. Elise Losfelt, winemaker for the Champagne house Moët & Chandon, says the larger bowl of a white wine glass opens up the aromas and complexities in fine Champagne. In fact, most French winemakers prefer a voluptuous Burgundy stem for proper enjoyment of their bubbly.
But these folks are regularly churning out wines that easily sell for three figures—Champagnes that deserve careful consideration. For everyday sipping, or sparklers from outside the Champagne region, a simple, elegant flute will do.
Related video