If years of reviewing and testing both traditional headphones and gaming headsets have taught us anything, it's that a high-quality gaming headset needs to do a heck of a lot more than be a good pair of headphones with a microphone attached. Whether you like to play pensive indie titles from the comfort of your couch or engage in high-octane eSports competition in front of a mouse and keyboard, you're looking for a very particular set of skills.
The best gaming headset doesn't just sound great. It renders your voice with crystal clarity, and clamps firmly but gently over your ears while feeling as light as possible—ensuring it doesn't create excess heat or discomfort during longer sessions. More than just producing balanced audio, it emphasizes the frequencies within the aural spectrum that are most important in competitive gaming: footsteps, object-based sound orientation, and so on. The best gaming headset puts the game in the forefront, and is content to let you forget all about it.
Case in point, after testing a bunch of 'em, our favorites are the SteelSeries Arctis Pro (available at Amazon for $176.98). These high-price gaming cans knocked it out of the park during our testing process, offering a combination of great features, long-term comfort, and excellent sound fidelity where games were concerned. However, you don't have to shell out a bundle of money to get a great set of gaming headphones. We tested a bunch of the best around to make for smart recommendations in every budget.
These are the best gaming headsets we tested, ranked in order:
SteelSeries Arctis Pro
HyperX Cloud II
SteelSeries Arctis 9X
Razer Kraken Pro V2
Audeze Mobius
HyperX Cloud Revolver
Razer Nari Ultimate
HyperX Cloud Alpha
Logitech G635
Turtle Beach Stealth 700
Razer Kraken X
Logitech G533
SteelSeries Arctis 5
Advertisement - Continue Reading Below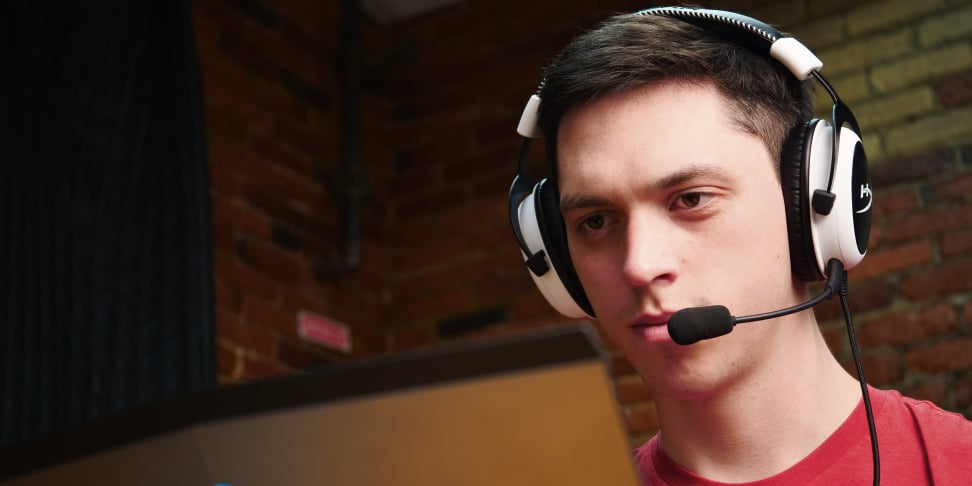 How We Tested
The Tester
I'm Nicole Carpenter, a freelance video game and tech reporter from Massachusetts. By nature of my job, I play a lot of video games—but it's a perk of the gig that I love. I've been working in the industry for nearly four years, both covering the video game industry and reviewing the technology that goes along with it. But I was playing games well before that—competitive ones—and was always looking for a headset that could provide me with the sound I needed and comfort that lasts a long time.
The Tests
Primarily, I'm playing Blizzard Entertainment's Overwatch, a first-person shooter with an emphasis on team play. (In particular, I'm trying to level up my alternate account to get a new in-game rating.) I'm a support main. I primarily play Zenyatta, and it's important to me to have a clear view of what's going on around me. I listen for ultimate cues from the enemy team so I know when to protect or fight.
But I also like playing indie games, quieter games with emotional soundtracks. During testing, I played Jo-Mei Games' Sea of Solitude and a bit of Team Atma's Atma. In all three games, sound is important in creating an atmosphere. In Overwatch, that atmosphere can mean winning or losing. But in story-based games, that sound is essential in the emotional drive of the game.
Sound is super important, but a big part of competitive video games is communication. One of my biggest gaming pet peeves is being able to hear people breathing into the microphone — and it's even worse when it's someone complaining that it's me. During testing, it was important to me to ensure that game sound works just as well as the communication system.
Things to Consider When Buying Gaming Headphones
While gaming headphones are still headphones, gamers typically have a different set of priorities than audiophiles listening to music on the go. Even within the gamer population, different gaming headsets will be more or less useful, depending on their preferred gaming genre. Once you've decided that regular headphones are no longer adequate for an hours-long session of Red Dead Redemption 2, here are a few features that can help you make your decision.
• Sound Quality—Are you playing games that are mainly soundtrack music? Or can your headphones' transmission of audio cues make or break your ability to level up? If you're playing online with friends, can you hear their instructions and comments? If you're constantly listening for gunshots or footsteps, you may want to invest in a pair of headphones that emphasize bass tones; otherwise, if you need to hear more than audio cues, it's best to get headphones that have a more expansive sound profile.
• Microphone—Having a high-quality mic is key, especially if you're playing with teammates. The best microphones should cut out any electric humming or ambient noise, and have voice clarity that is comparable to talking to someone on a cell phone when you both have great reception. Ideally, the microphone is also adjustable so that you can get it at just the right distance from your mouth so that it doesn't transmit your breathing more than your voice.
• Comfort—Listen, we've all gone on gaming binges before, but you can't really enjoy a gaming marathon if your headset starts squishing your head and ears after only a couple of hours. The headphones themselves should be adjustable so that you're not stuck with ill-fitting headphones. Thick ear pads, a padded headband, and a relatively light weight are necessities for a pair of gaming headphones if you're going to be spending quality time in front of your TV or computer.
• Isolation—Gaming can be a form of escapism; to ensure that you're really escaping, your headphones should really block out ambient noise, both so you can better hear what's going on in the game, and so that the outside world doesn't distract you from your task. Granted, in an emergency, it's best to be able to hear some of the outside world, but gaming headphones should ideally be able to block out humming from air conditioners, refrigerators, and other appliances.
• Cable/Wireless—If your gaming headphones have a cable, it should be a long cable (ideally, longer than 10 feet). While it's easier when you're gaming on your computer, when you're gaming on TV screen, you're typically not sitting right up in front of it, like you would with a computer. Having a long cable allows you to sit at a comfortable distance from your gaming system. If, on the other hand, you prefer to be cable-free, then you may prefer wireless gaming headphones. Wireless gaming headphones usually have either a USB connector that you plug in, or are connected over Bluetooth. Keep in mind that wireless gaming headphones have a battery life, and that you may want to keep an eye on said battery life, lest they cut out at a key point in your gaming experience.
• Platform—Before you lay down cash for a pair of gaming headphones, make sure they're compatible with your game system. Some brands have different products for different platforms, and others just have a regular headphone jack that can be plugged into any system. Additionally, some features may not work equally well across all platforms.
---
Other Gaming Headsets We Tested
More Articles You Might Enjoy
Advertisement - Continue Reading Below