UPDATE: August 7, 2019
We've updated this guide with a new pick for Best Overall: the Napoleon NK22L-LEG-2.
If you're shopping for a new backyard grill, you're probably asking yourself an age-old question: gas or charcoal? Gas grills are convenient, boasting instant, even heat, and precise temperature control, but you can't beat a charcoal grill when it comes to taste. The briquettes that fuel a charcoal grill infuse each bite with a smoky flavor, and their high heat achieves a better sear on foods like steak and burgers.
That might be a simplified answer to the gas versus charcoal debate, but things get more complicated when it comes to choosing a specific charcoal grill. Other than the obvious choice of design style (the classic kettle-style grill like our favorite Napoleon NK22L-LEG-2 Charcoal Kettle Grill (available at Amazon) or barrel-style options), you may wonder what really sets one charcoal grill apart from another. After all, by arranging the briquettes into a mound, ring, two-zone or three-zone fire, you're in full control of the amount of heat applied to your food.
To find out, we took a close look at eight top-rated charcoal grills, putting each one through a grueling set of grilling tests. While every grill was successful at producing smoke-infused, delicious tasting burgers and chicken (over both direct and indirect heat), the design and layout of each grill were huge factors in our ratings.
Here are the best charcoal grills we tested ranked, in order.
Napoleon NK22L-LEG-2 Charcoal Kettle Grill
Big Green Egg Large Egg Kamado Cooker
RiverGrille Stampede Charcoal Grill
Weber Original Kettle Grill
Dyna-Glo Heavy-Duty Charcoal Grill
PK Grills Original Outdoor Charcoal Grill & Smoker
Char-Griller Patio Pro Charcoal Grill
Char-Broil TRU-Infrared Kettleman Charcoal Grill
Advertisement - Continue Reading Below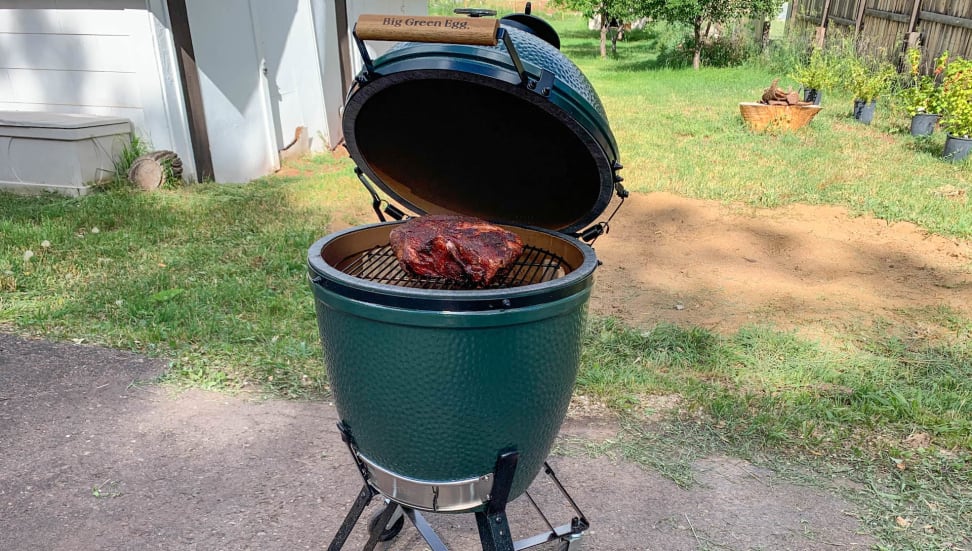 How We Tested
The Tester
Hi, I'm Lindsay Mattison, a trained professional chef, and outdoor enthusiast. During the summertime, you'll find me outside grilling burgers on the patio, cooking a pork shoulder on the smoker, or building a yakitori grill on my fire pit. If I can cook it outside, I will!
One thing I've learned over the years is the importance of having a reliable grill; it's absolutely key to building confidence in your grilling game. I'd love to help you find the right one for you!
The Tests
Using my training and years of grilling experience as a starting point, I spent hours researching the latest, greatest and most popular charcoal grills available online and in stores. Using price, quality and brand reputation to narrow the field, I chose seven highly-rated gas grills available from popular shopping outlets like Amazon, Home Depot, and Lowes to call in for testing. After receiving the test candidates, I set about building each one.
After putting together each of the grills (and seeing if each was easy to assemble), my goal was to find out if factors, such as whether it had a kettle or barrel design, the location of its vents and what material its cooking grate was made from, affected the grill's overall performance. I started off by testing the grills at the hottest possible heat level. Then, I arranged the briquettes into an indirect heat pattern and continued testing.
For our high-temperature cooking tests, I poured the coals out across the entire grilling area and covered the grill with the lid to let it build up to a temperature of over 600°F. Most of the grills topped out close to 700°F! Then, I grilled burgers on the uncovered grill, spaced 2-inches apart, cooking them for 5 minutes a side. When the timer expired, I measure the internal temperature of each burger in hopes that they were all within 5 to 10 degrees of each other. I assessed the char pattern and grill marks of each burger to assess how the grill grate's material contributed to the test. To round out the high-heat test, I also tossed thin-stemmed asparagus onto the grates to see if they fell through.
Next up, I rearranged the coals into an indirect heat pattern, moving all the briquettes to one side of the grill. This cooking style is perfect for grilling items that take longer than 30 minutes to finish–like chicken, a rack of ribs, or a pork shoulder–cooking them through without burning the exterior. Chicken drumsticks were the perfect option for this test, and the best grills created perfectly even, golden brown skin and cooked-through chicken in about 30 minutes.
I finished our assessment by looking at each grill's aesthetics and build quality. Do the grills rattle and shake when you roll them around? Do they have side tables, and are they sturdy enough to hold heavy food items? Was there a place to hang the lid while you're cooking on an open grill, and do the handles get too hot to touch? Was the ash pan accessible (and, more importantly, easy to clean out)? After compiling the scores, some of these design choices made a huge difference in the grill's overall ranking.
Gas or Charcoal—How Do You Choose?
In the eternal debate over whether a gas grill or a charcoal grill is better for outdoor cooking, there is no wrong answer. If you're cooking your food on the grill instead of inside the house, it will capture that beautiful charred essence and smoky flavor from cooking over open flames. You likely already have strong opinions on the topic of gas versus charcoal and we're not here to change your mind. If you're still on the fence on the subject, however, here are the pros and cons of using each type of grill to help you choose the right one for you. Let's talk gas grills, first.
Gas grills are more convenient than even the best charcoal grills. That they don't use charcoal as fuel not only makes a gas grill easier to clean (no ash!), but it also cuts down its initial heating time. That gas grills come equipped with electric starters or a spark wheel to ignite its gas burner helps to get you cooking faster than charcoal users can manage, as well. It's easy to easier to control the heat while you're grilling with gas than it is when using charcoal; to adjust the heat up and down, simply twist a knob instead of fiddling around with hot coals. It is a bummer when you run out of propane, though, so we love these newer grills that have a handy meter right on the side of the grill.
Charcoal grills, on the other hand, are significantly less expensive than their gas counterparts. Many people prefer the flavor of cooking over a charcoal grill, as the briquettes they use for fuel infuse smoky elements into the food. The coals created by burning those briquettes can burn hotter than propane or natural gas, which can be a pro or a con: you'll get a serious sear on your food if that's what you're going for, but it's also easy to burn your food over 700° F temperatures.
How Charcoal Grills Work
While gas grills have a BTU—British Thermal Units—rating to measure the amount of heat each grill can produce, you get full control of how much heat your charcoal grill produces. It takes a little practice to get the hang of it, but it's all about controlling the airflow, the coal patterns, and the food's proximity to the hot coals. You'll learn to allow oxygen in by opening up the bottom vents, fueling the coals and creating intense heat. Close 'em up to choke off the oxygen and lower the temps. The top vents give you some control of the heat, too, but they also change the flavor of the food by venting the hot exhaust or keeping the smoke inside the dome. You can also control heat by managing your coal bed and rearranging their placement inside the grill. Some grills allow you to raise and lower the coal bed itself, but most grills have a set location that determines how close the grates are to the coals. It's important to learn how to make a two-zone fire, which moves the food off the flames to a cooler area for indirect cooking.
The other thing you'll notice about charcoal grills is that most of them have flimsy wire grates as opposed to gas grill's heavy cast iron grates. Before you bemoan the loss of grill marks, know that they're entirely overrated. Sure, they look great, but wire grates give your food better overall browning, crusting your burgers and steaks with extra caramelized flavor. Plus, the wire grates are lightweight and easy to move around when you want to rearrange the coals underneath.
Kettle or Barrel: Know Your Charcoal Grill Shapes
When it comes to the best charcoal grills, there are two iconic shapes: round or oval kettle-style grills and barrel-shaped grills. The former was invented by Weber back in the 1950s when Weber's founder, George Stephen, cut a buoy in half. It created a grill with a half circle on the bottom to hold the coals and a circular, removable lid to seal in the barbecue flavor and protect the food from the elements. Today, you'll find round- and oval-shaped kettle grills made from enameled steel or heavy ceramic. These types of grills are generally lightweight and easy to transport, but they have a smaller grilling area than barrel grills. The original barrel grill, on the other hand, began as old oil drums which were cut in half and welded together to create long, hinged-lid grills. These grills are usually heavy and difficult to transport, but they have a larger grilling surface area, making them ideal for cooking for a crowd. Many barrel grills also have add-on features, like adjustable coal beds or side-mounted charcoal boxes.
---
Other Charcoal Grills We Tested
How to Start a Charcoal Grill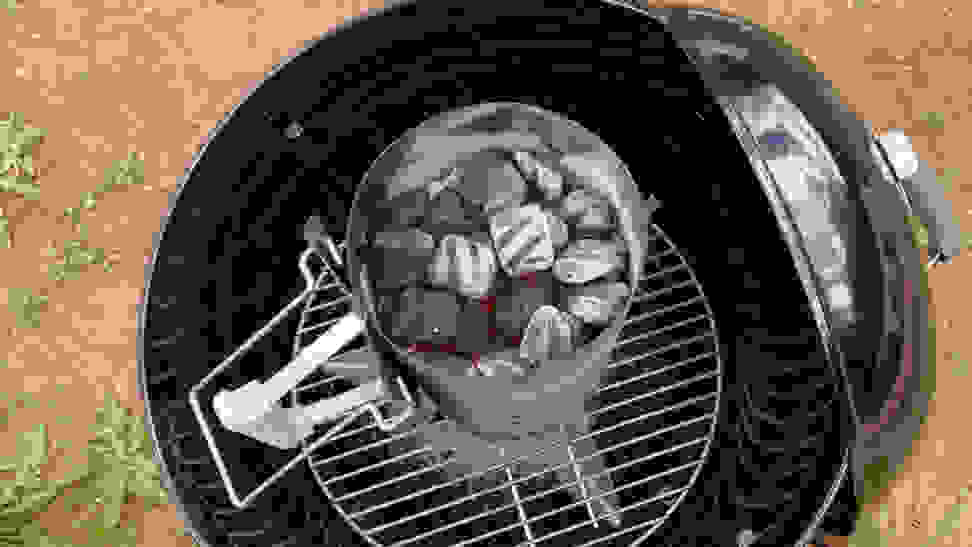 There are several ways to start a charcoal fire, but using lighter fluid should be last on the list. I don't know about you, but I can totally taste the lighter fluid in the finished product. No, thank you! You can stack your coals in a pyramid, but it's easier to use a chimney starter, like the Weber 7429. Simply place some wadded up newspaper underneath the chimney, add your coals, and light the newspaper on fire. They'll be ready to dump into the grill base about 15 to 20 minutes later when the coals in the middle glow bright red and the ones on top become white and ashy. Using a chimney is also a good way to know how many briquettes you need: a full chimney will produce temperatures in excess of 550°F. For cooler grilling temps, fire a half chimney (about 400°F) or a quarter chimney (about 300°F).
What About Pellet Grills?
We eliminated pellet grills from our testing group because they're more akin to smokers than grills. They cook over indirect heat instead of exposing your food directly to the flames. Those types of grills are in a category of their own, so we saved them for another roundup.
---
Other Stories You May Enjoy
Advertisement - Continue Reading Below