The Best Disposable Gloves of 2019
By Kyle Hamilton, July 31, 2018, Updated February 05, 2019
Disposable gloves are used widely by many professions—nurses, doctors, dentists, people that service or process food, cleaners, mechanics, you name it. However, us nonprofessionals have just as many uses for disposable gloves as the pros do.
Whether it's working outdoors to garden, using harsh chemicals to clean the house, or applying hair dye, disposable gloves can protect you and keep your hands clean. Our top pick—the Curad Powder-Free Textured Latex Exam Gloves (available at Amazon for $8.99)—can help you with a wide variety of general tasks around the house and are durable, flexible, and comfortable.
For those that are allergic to latex, don't worry, we have you covered. Our roundup also includes gloves that are made of vinyl and nitrile, giving the option to choose which is the perfect fit for you.
(However, one note: If you're looking for gloves with specific medical grading or for professional food handling, this roundup isn't for you. The gloves we tested were aimed at general-use cases only.)
Here are the best disposable gloves we tested, ranked in order:
Curad Powder-Free Textured Latex Exam Gloves
The Safety Zone Powder-Free Nitrile Examination Gloves
Vivid AdvanceTouch Nitrile Powder-Free Gloves
GlovePlus Textured Black Nitrile Powder-Free Gloves
Comfitwear The Latex Pro-Tection Glove
Ammex Professional Series Black Nitrile Gloves
Green Direct Powder-Free Extra Strength Latex Gloves
GlovePlus Vinyl Powder-Free Gloves
Ammex Vinyl Powder-Free Exam Gloves
Updated February 05, 2019
Advertisement - Continue Reading Below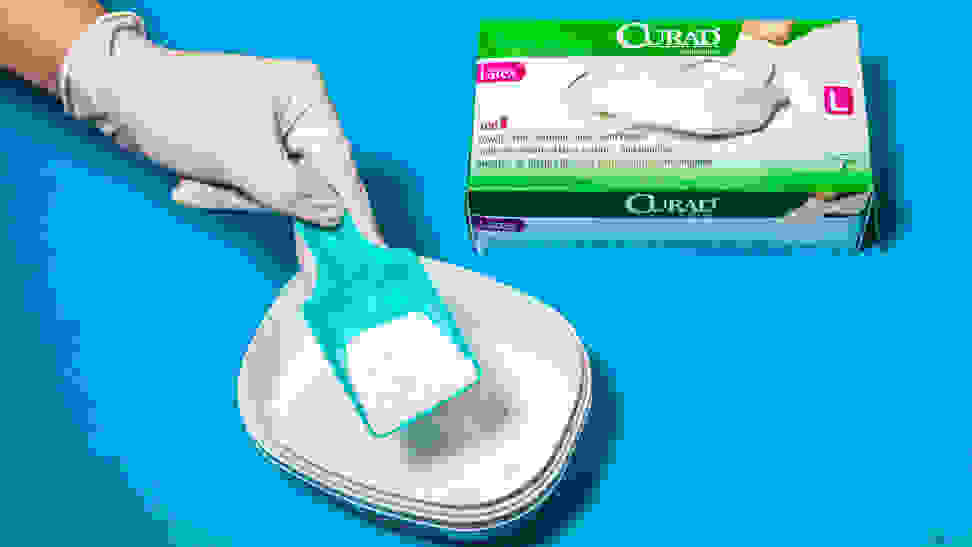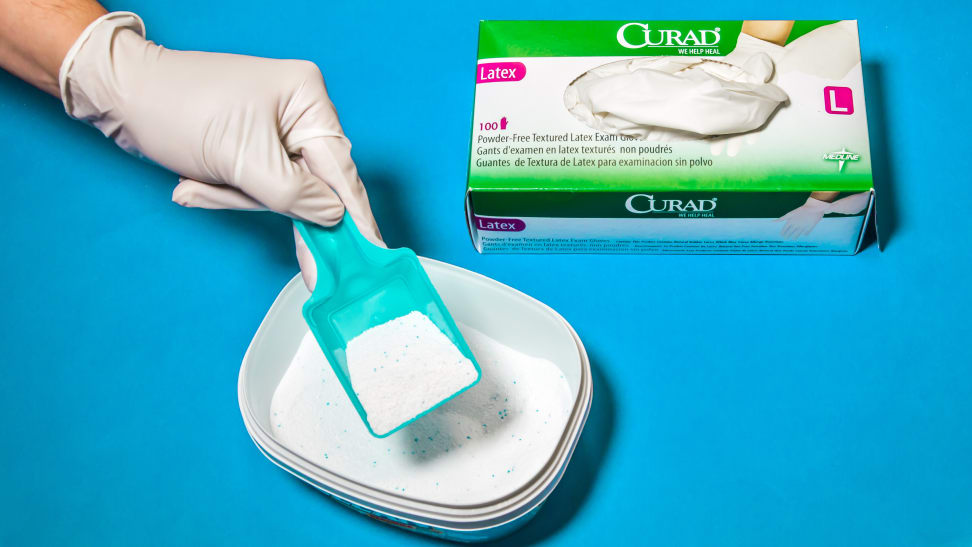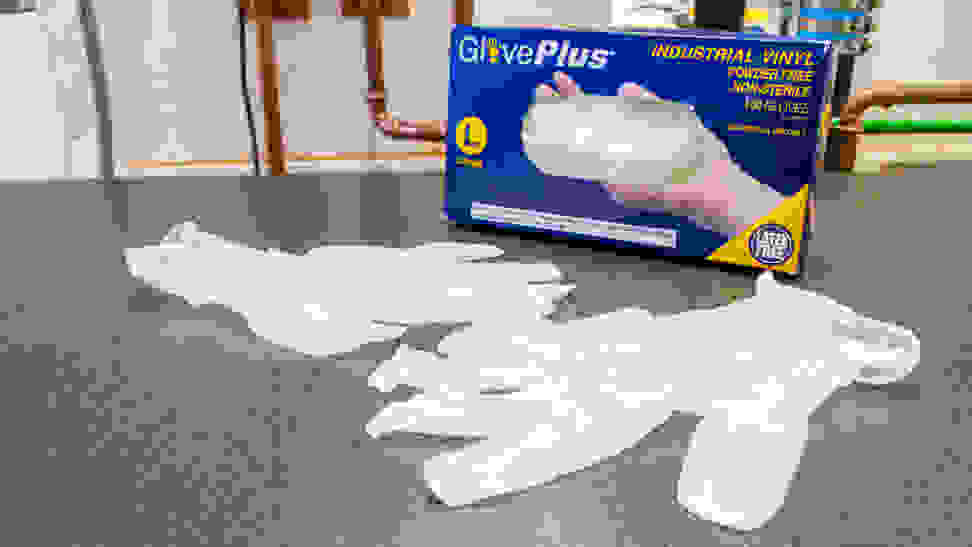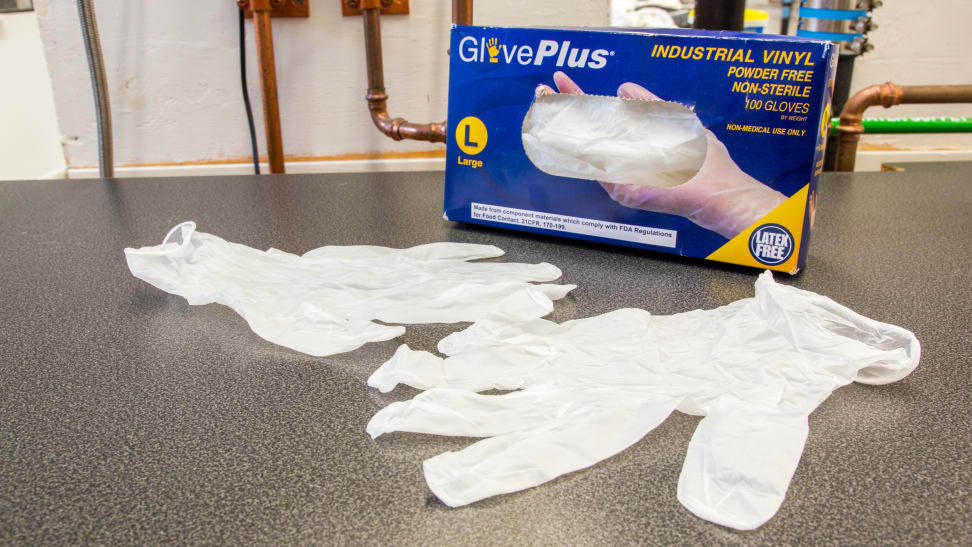 How We Tested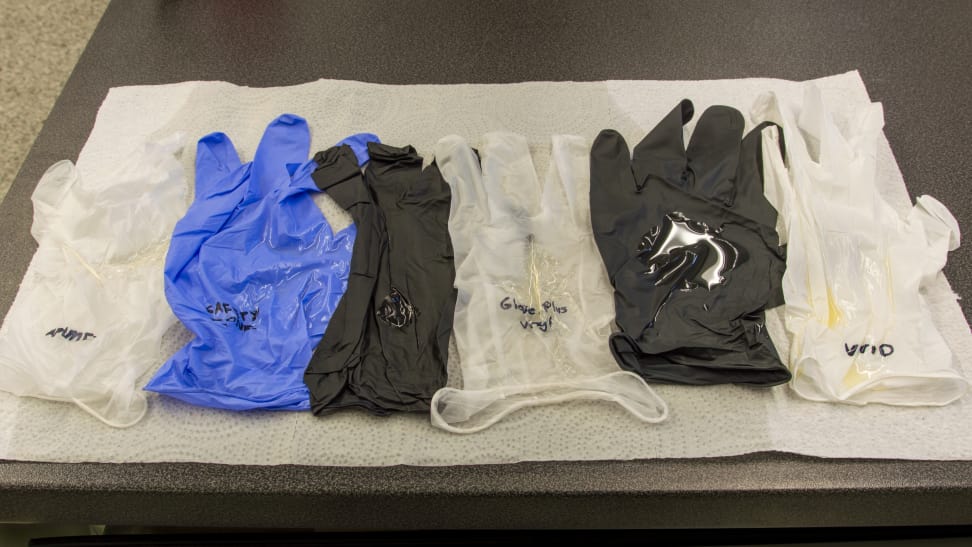 The Tester
Hey there, my name is Kyle Hamilton, product test technician for Reviewed. Here at our labs, we constantly experiment and test products to make sure we give the best reviews possible. Sometimes, these tasks require handling hazardous chemicals. Making sure we have the best protection is extremely important to us, which is why we always use great quality disposable gloves.
Our Testing Methods
While disposable gloves are often used in a medical or industrial setting, they also have many uses around the home and workplace that don't involve touching a patient in an exam room or a specimen in a lab. Our tests were meant to help us discern the best disposable gloves for those more casual use cases, rather than anything that goes down in a doctor's office. If you require gloves with a specific medical grading or for professional food handling, be sure to familiarize yourself with local and federal requirements. The gloves in this roundup were tested for general use only.
In order to see which gloves performed the best, we put them through a series of experiments.
• Durability —We took a box cutter to each glove, and determined its durability by rating how easy it was to slice through the glove material.
• Resistance to tearing —One the glove had a slice in it, we added weights that hung from the torn glove to see how much weight it would take for the glove to be torn apart when it was already damaged.
• Temperature resistance —After setting the water temperature to "uncomfortably hot", we stuck our glove-covered hands under the water to see how long it took for us to actually feel the burn.
• Chemical resistance —With most disposable gloves, if you get some sort of chemical (like a heavy-duty cleaning agent) on them, after a while, the glove can become brittle and crack, which naturally provides no protection for your hands. We applied some Goo Gone and common vinegar to the gloves and left them to dry out overnight to see which gloves could hold up when it comes to chemicals. Note: We did not do this test with the latex gloves, as they are not rated to deal with chemicals.
• Usability — In addition to the tests listed above, we also just used the gloves in a more casual setting as well. This helped us to determine how comfortable and flexible each set of gloves was, as well as how easy a glove was to put on or take off.
What You Should Know About Disposable Gloves
Disposable gloves are usually rated for some combination of industrial, medical, or food usage. Be sure to select the right gloves based on your use case, and read the specifications carefully. For food preparation, make sure that the gloves meet the requirements laid down by the FDA.
In our roundup, we included three types of disposable gloves: latex, nitrile, and vinyl. Latex gloves are made out of rubber. The primary reason you might choose an alternative to latex is that some people suffer from latex allergies. Nitrile gloves are made out of a synthetic rubber, making it an ideal alternative when latex allergies are of concern. The synthetic rubber makes the gloves more durable, making it a top pick for medical use. Vinyl gloves are a popular choice for the food industry and situations where high levels of durability and protection are less of a priority. While they may be less durable, they are also a less expensive option.
In addition, some gloves come advertised as "powdered." These gloves have cornstarch powdered in the interior of the glove, making it easier to put on and take off. It will also help with moisture build-up and to help keep up flexibility for prolonged use. However, most gloves are powder-free since powdered gloves can increase the chances of contracting a bacterial infection if it comes in contact of an open wound.
Disposable gloves also come in a variety of thicknesses; the trade-off is that thicker gloves usually mean better temperature or chemical protection, but there can be a corresponding loss in dexterity and flexibility that might be needed for undertaking small-scale or delicate tasks.
Before gloves can be marketed to hospitals and medical institutions, they must undergo a series of tests conducted by the Food and Drug Administration (FDA) to ensure their durability.
---
Other Disposable Gloves We Tested
Related Articles
• The Best Work Gloves and Leather Gloves
Advertisement - Continue Reading Below