The Best Rechargeable AA Batteries of 2019
By Seamus Bellamy, Updated June 13, 2019
Investing in rechargeable batteries to use in your universal remote and other household gadgets is an enviromentally-friendly choice which, in the long run, will save you a ton of cash and help to keep a mountain disposable single-use batteries out of landfills and recycling centers. But choosing the right batteries to buy isn't easy. Lucky for you, we're here to help.
(If you're looking for a quick way to charge your Nintendo Switch on the go, be sure to check out our article on the Best Portable Batteries for the Nintendo Switch.)
After hours of research and a week of preparation and testing, we can tell you with certainty that the best reusable AA batteries are Panasonic's Eneloop Pro (available at Amazon for $26.30), as they outperformed similar rechargeables from seven other top brands. While they are more expensive than anything else we tested, the Enloop Pro will more than pay for themselves with over several years of exceptional service.
Here are the best AA batteries, in order of their performance:
Panasonic Eneloop Pro Batteries
AmazonBasics High Capacity Batteries
Duracell Rechargeable Batteries
AmazonBasics Rechargeable Batteries
Energizer Recharge Universal
Panasonic Eneloop Batteries
EBL Rechargeable Batteries
RayHom Rechargeable Batteries
Note: For this roundup, we focused on AA batteries because they are the most commonly used, but it's a fairly safe bet that if you're looking for other sizes, these brands will also be your top choices (we'll address that more in our What You Should Know section at the bottom of this report).
Advertisement - Continue Reading Below
How We Tested
The Tester
My name's Seamus Bellamy. I've been working as a hardware journalist and reviewer for close to a decade. During my career, I've tested breathalyzers, tomahawks, space heaters and everything in between. I've been using rechargeable batteries in my work and for the gadgets I use in my personal life for years. I know how to gauge which ones will give you the most bang for your buck.
The Tests
The easiest way to test reusable batteries is to put them to work, head-to-head. So, after a little bit of prep work, that's what I did.
All of the rechargeable AA NiMH batteries in this guide came pre-charged and ready to use. However, there was no way to know how long they were sitting in a warehouse before being sent to me and, as such, no way to tell what state of charge they were in without running a few tests.
I tested each set of batteries twice: once with a multimeter and again with the meter built into La Crosse's BC700-CBP Alpha Power Battery Charger. As a way to spot any duds ahead of testing, I measured the mAh rating to see if they were consistent with what the labeling of each battery advertised.
Then, I used the La Crosse battery charger to completely discharge and recharge each set of batteries three times to ensure the batteries would be fully charged and to make sure they were also capable of taking a consistent charge after they drained.
Once confident the batteries were in good shape, I ran each set into the ground by using them to power the same device—a battery-powered personal fan (four identical Honeywell HTF090B Turbo on the Go Personal Fans). Noting the time that each fan was turned on, I let them run until the batteries inside were completely depleted.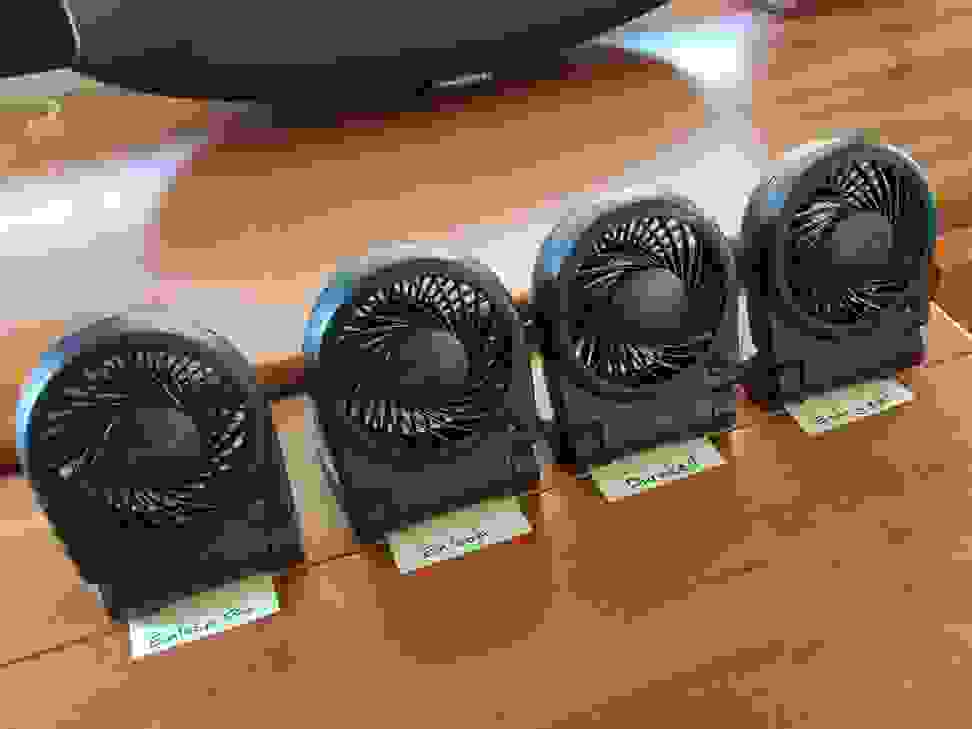 When the blades stopped turning, the time was noted and the test was stopped. In instances where I had to step away from observing the test, I set up a GoPro camera to record the operation of the fans, just in case one stopped running before I got back.
---
Other Rechargeable AA Batteries We Tested
What you should know when buying batteries
Battery terminology can get pretty complicated, so here's what it all means
You're gonna need a charger: Without a charger, any rechargeable batteries that you buy will be, well, just batteries. While it's possible to get a deal on a set of batteries and a charger (in one package), I recommend picking up this BC700-CBP Alpha Power Battery Charger from La Crosse. It'll provide you with all of the options you'll need to get the best performance out of your rechargeable AA and AAA batteries.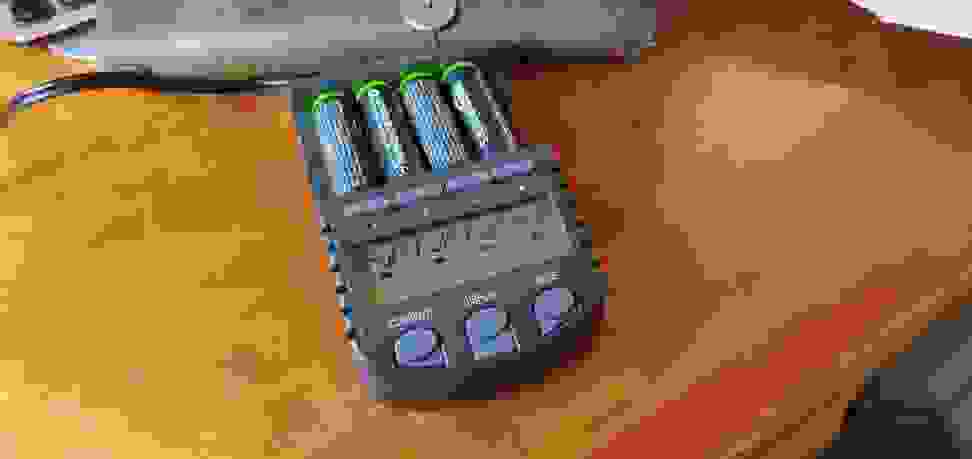 High Capacity: A high capacity rechargeable battery is simply one that boasts a higher-than-typical mAh rating. Theoretically, a high capacity battery should last longer in use than a standard battery will. However, as our tests illustrated, this isn't always the case. Using high capacity batteries means not having to swap them out for another set or recharging them as often as you would with regular capacity batteries. High capacity batteries also have fewer recharge cycles than regular capacity batteries.
NiHM: Nickel Metal Hydride (NiMH, or Ni-MH) batteries are the most common kind of rechargeable batteries in AA, AAA, C and D sizes. Unlike older Nickel Cadmium (also know as Ni-Cad or nicd batteries) rechargeable batteries, NiMH batteries don't have a "memory." This means that they won't lose any capacity if you opt to charge them before they are fully discharged. Modern NiMH batteries are capable of maintaining up to 85 percent of their full charge over the course of a year.
mAh: mAh, or milliampere hours, is a measurement of electrical discharge. The higher the discharge amount, the longer the battery should last. But here's the thing: not all devices use the same amount of power. This is the main reason why we've tested all the batteries in this roundup rather than relying on their labeled mAh rating, as we wouldn't get the whole story otherwise. What's more, the mAH rating on the label of some batteries may not reflect their actual mAh range.
Recharge Cycles: The number of times a battery can be completely discharged and recharged before its capacity falls below 85 percent of the number of milliampere hours it was able to provide when it was new. This means that should you exceed the number of recharge cycles, you'll still be able to use them, they just won't provide as much runtime as they once did. Batteries with higher mAh ratings tend to have shorter recharge cycles compared to cells with lower mAh ratings.
Other sizes and adapters: I focused on rechargeable AA batteries for this guide as they are, by far, the most commonly used battery size. They can also be used to power devices that require C- and D-size batteries, too. All you have to do is pop them into an appropriately-sized adapter and you're in business. This adapter set from Eneloop is a great option for anyone interested in doing this.
---
Related Articles
• The Best Portable Batteries for the Nintendo Switch
Advertisement - Continue Reading Below