The Best Survival Kits of 2019
By Seamus Bellamy, March 04, 2019, Updated March 11, 2019
Investing in a pre-packed 72-hour emergency preparedness kit, also known as a go-bag or bug-out bag, is a smart way to help ensure that, should you need to leave home during an emergency—such as an earthquake, flood, fire, or hurricane—you'll have most of what's needed to stay safe and healthy for up to three days. Seventy-two hours is the amount of time that many emergency management planners and government agencies say it could take for local and federal authorities to begin lending aid to people in the aftermath of a significant disaster. While it's better in almost all circumstances to create your own survival kit, buying a pre-packed go-bag is a great way to set you on the path to staying safe and healthy when things go very, very wrong.
Relying on years of experience and after days of research and testing, we feel that the Urban Survival Bug Out Bag from Emergency Zone (available at Amazon) is the best 3-day survival kit for most people to invest in. Despite the fact that this kit is said to be suitable for two people, we feel that, based on our research, it is better suited for use by a single individual. You should know that this kit is far from perfect: All of the kits that we explored for this guide were lacking in one way or another. However, it offers the best balance of price, quality, and necessity of any pre-packaged 72-hour survival kit that we could find.
Here are the best 72-hour survival kits, in order:
Emergency Zone Urban Survival Bug Out Bag
Survival Prep Warehouse 2 Person Deluxe Survival Kit
Sustain Supply Company Essential 2
Red Cross Basic 3-Day Emergency Kit
Sustain Supply Company Comfort 2
Survive Outdoors Longer Urban Survivor
Uncharted Supply Company Seventy2 Survival System
Updated March 11, 2019
Advertisement - Continue Reading Below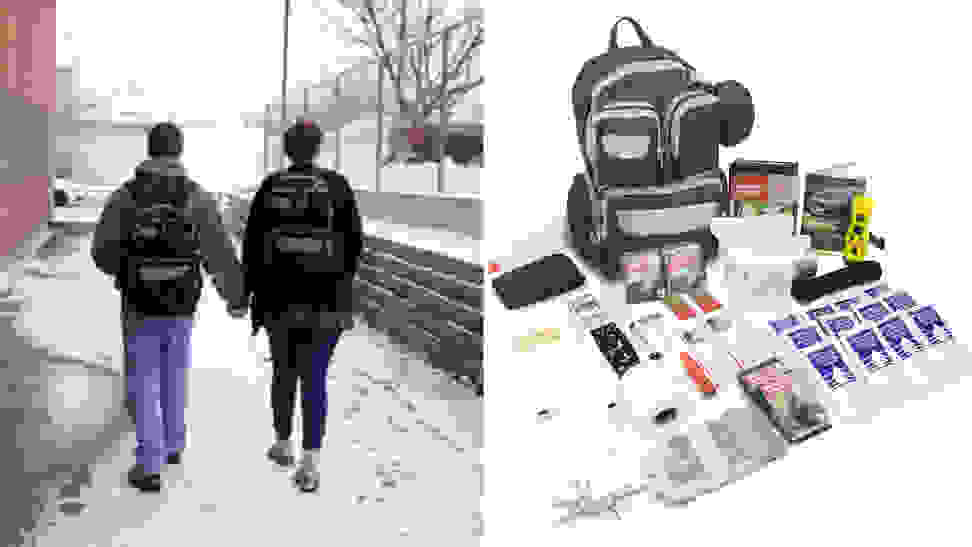 How We Tested
The Tester
My name's Seamus Bellamy. Before I moved into my career as a journalist, I spent years working as an industrial first-aid practitioner, writing and enforcing workplace safety policy and helping corporations plan for emergencies that, thankfully, never came to pass. I've used this knowledge to write about travel and roadside safety for Reviewed. Now, I'm here to help you keep yourself and your family safe at home.
The Tests
Before we could research or test anything, we made a decision to focus on emergency kits designed for when you need to leave home. This is because, in many emergency situations, where staying at home is an option, you can still rely upon the goods in your freezer, fridge, and pantry. The supplies in a portable emergency kit can be used at home, as well as at times when you're forced to evacuate. There are kits out there that are designed for groups of four people or more, often packed into duffel bags or wheeled containers. They look like they could be a smart buy for someone trying to protect all of the people in their home, but we don't like them. These kits can be heavy and awkward to haul around. If leaving home means having to traverse uneven terrain, flood waters, heavy snow or mud, you could be forced to leave an awkward, family-sized kit behind. With each person carrying their own supplies, the going will be easier. With this in mind, we decided that a backpack-sized kit was the way to go.
Next, we turned our attention to what should be inside of each bag. For hydration and nutrition, we looked to the guidelines suggested by FEMA and other government agencies for what a healthy individual, between the ages of 36 and 40 years old, who are engaging in vigorous activity, requires to stay relatively healthy over a three-day period. This age group requires a lot of calories (2,600 for men and 2000 women, per day) compared to individuals at other stages of their life. Keep folks from this group from losing weight over 72 hours and you can do the same for most everyone else as well. For this purpose, shelf-stable, calorie-rich food and pre-packaged drinking water with expiry dates that span years into the future, are best. When someone is cold, sick or injured, they tend to burn through calories faster and need more liquids in order to stay hydrated. As such, we made sure to hunt down kits that contained mylar blankets or sleeping bags and the materials that one might need to hang a shelter and keep warm in bad weather or if they're under the weather if they're forced to spend a night out in the elements. Because some emergencies, such as an earthquake where ruptured gas lines could pose a hazard, make lighting a fire a bad idea, we noted when the materials to start a fire were included in a kit, but gave extra appreciation to go-bags that came packing extras like chemical hand warmers and warm gloves.
During an emergency, you can expect that the first responders may not be able help us when we're injured—the number of calls for assistance they receive could be overwhelming. Infrastructure, such as highways and public transit may make driving to the a hospital temporarily impossible. Calling 911? That might be out of the question as well if cellphone and landline services fail. So ensuring these kits included a first-aid kit was a must. We also put a priority on finding kits that ship with an AM/FM radio that, ideally, can tune in broadcasts from the National Oceanic and Atmospheric Administration (NOAA) to stay on top of breaking news. We looked for kits that provide important extras related to hygiene, like hand sanitizer, sunscreen, wet wipes, toilet paper or tissues, a toothbrush, toothpaste and feminine hygiene products. Finally, we wanted to ensure that the kits we called in came with important extras, such as N95 filtration masks, work gloves for cleaning debris, knives, and tools for the thousand things you might require them for and other thoughtful add-ons that could make a harrowing experience a little bit easier to deal with.
All of this, of course, needs to fit into a backpack. It's our belief that, since you'll very likely be using this kit in adverse conditions, the backpack that comes with a portable emergency preparedness kit should be rugged and, if not waterproof, highly water-resistant. We looked for bags that appeared to fit this description that we thought would still have additional space left over to pack extras, such as prescription medication or a change of clothing or even a reliable hatchet for gathering fire-making materials and clearing debris. into. Additionally, we gave bonus points to packs that don't advertise that they're full of supplies which, during an emergency, could be in short supply.
Once we had the kits on hand, we tested each to see how comfortable the backpacks were to wear, whether they were durable and easy to organize. We tried samples of each of the emergency food rations inside to see if they were at all palatable—all were. None will knock you off of your feet—and whether there was enough food and water to suffice for three days. All other supplies, and lack thereof, were scrutinized for quality and usability.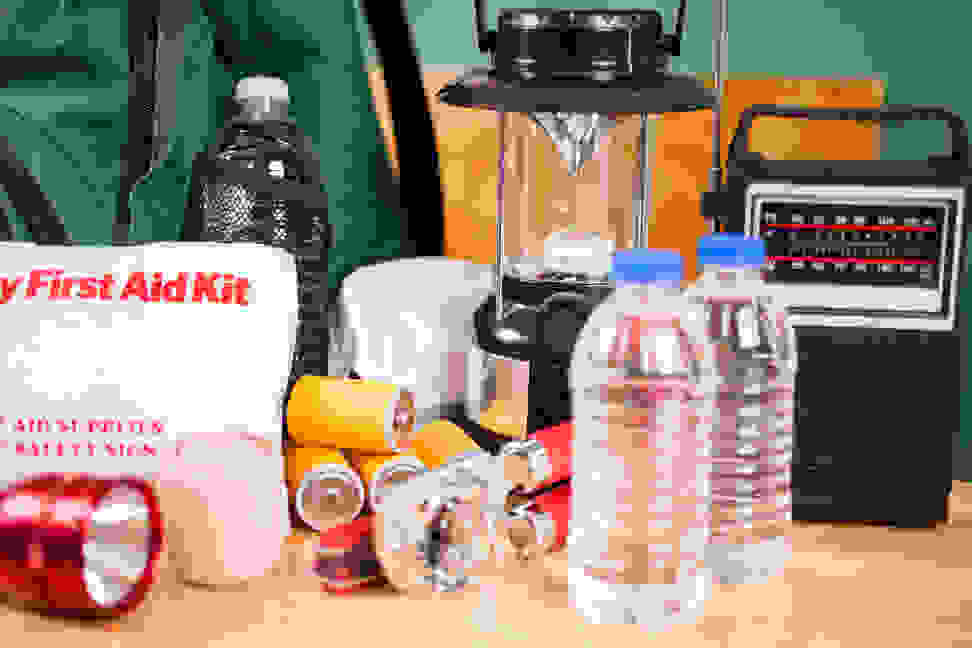 What You Should Know About 72-Hour Survival Kits
Because some emergencies may require you leave your home in order to remain safe, owning a pre-packed cache of supplies, sometimes called a go bag, that can easily be transported on foot could mean the difference between being comfortable or miserable in an emergency.
Where should I keep my go-bag?
Before investing, consider where you might need one and where you'll have the space to store it. You might want to keep one in the trunk of your car if you drive to work, every day. If you commute on public transit, keeping one under your desk and having another at home could be a good solution. For remote workers, like me, having a single bag that you can grab at home and hit the road with when things get hairy is the way to go.
Who should own an emergency preparedness kit?
Everyone. Unfortunately, during a major emergency, such as an earthquake, the aftermath of a tornado or civil unrest, first responders, utility personnel and other essential services workers can't be everywhere at once. By ensuring that everyone in your household has their own emergency bag, in addition to the preparations that you've made at home, you and yours will be better prepared to take care of one another when no one else can.
These kits are designed for one person, what about the rest of my family?
We recommend purchasing a kit for each member of your family capable of carrying their own supplies. For those with young children or other individuals in their care that might have difficulty carrying their own kits, adding the food and water and extras required to see them through three days is a great way to maintain mobility. When you run out of room in your kit bag, consider investing in a larger, backpack. Allowing kids to carry some of their own supplies in a pack that's sized for them is also a fine way to share the burden.
Where there are multiple bags in play for your family group, develop a plan to ensure that everyone is carrying what they need before leaving your home in an emergency.
I bought the survival kit you recommend, is there anything else I need?
None of the kits we found online are perfect. In fact, we uncovered many deficiencies among the very best survival kits. To help shore up what's missing from your 72-hour survival kit, augment it with some useful extras or build your own survival kit instead. If you feel that a larger backpack to carry all of your supplies is in order, don't worry, we have your back there as well.
On top of all of this, you should consider including these personal items:
Prescription medications
Non-prescription medications you use on a regular basis
A complete change of clothing, appropriate to your environment
Printed or electronic copies of important documents, such as copies of your government ID, bank account records and insurance policies
A list of contact information for friends and loved ones
Feminine hygiene supplies, if required
Prescription glasses, contact lenses, and lens solution, if required
A minimum of $20 to $100 in small bills (if there's no power, there are no ATMs or credit card readers) to make emergency purchases
If you've taken responsibility for someone that's unable to pack and carry their own supplies, you'll also need food, water, and other basic supplies that they'll need. Babies need baby food. The infirm require medication and, in some cases, additional batteries to run medical devices.
We also strongly recommend taking the most comprehensive first aid course that you have the time and money to afford. Additionally, if the city or county you live in offers emergency management training courses, take the time to enroll in one and learn what you can. The more knowledge you have, the better you'll be prepared when things go wrong.
---
Other Survival Kits We Tested
Almost all the kits we tested for this guide suffer from similar deficiencies: For example, they don't include enough water, and often add unhelpful tools. The following reviews only draw attention to the most glaring issues discovered in each.
More Articles You Might Enjoy
Advertisement - Continue Reading Below