Home & Garden
Yes, there's a subscription box for home décor—and we tried it
Super cute stuff for some people's styles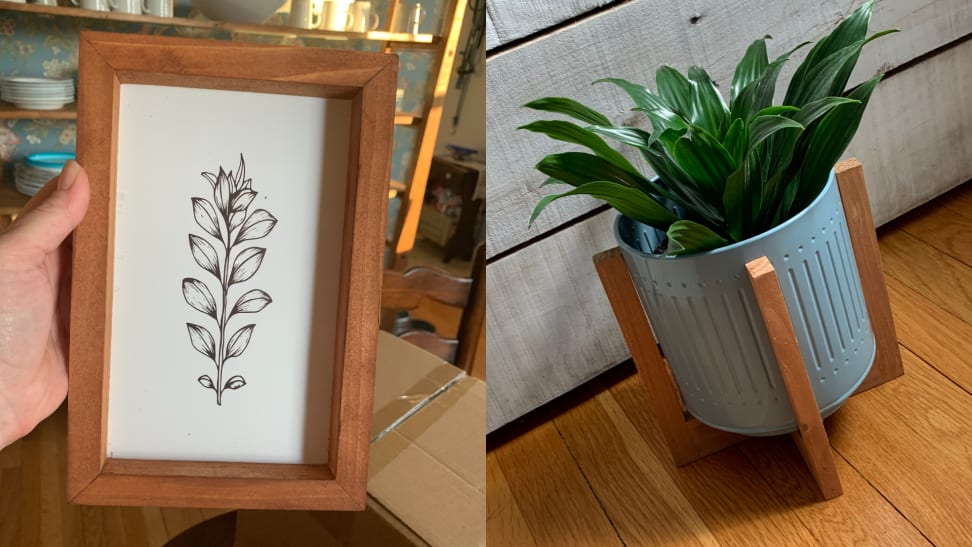 Credit: Reviewed / Leigh Harrington
During a year that put the kibosh on any activity considered remotely social, from dining out to working out to shopping at the mall, it's no surprise that e-commerce has solidified its footing in our daily experience.
Shopping for essentials at Amazon is one way to do it, but some consumers are adapting to retail subscription services, whether it's having Chewy deliver your dog's food or toys every five weeks, or having Stitch Fix select and style your wardrobe every season.
This is where Decocrated, a four-times-a-year, curated home décor subscription service, fits. And it struck my fancy because home décor seems like a novelty among a sea of meal kits, wine delivery services, plant subscriptions, and clothing and beauty offerings.
Decocrated says that it delivers on-trend, seasonal, interchangeable, affordable items. So, we tried it to find out.
How it works
The ordering process couldn't be easier. Since everyone gets the same shipment, there are no quizzes and you don't have to make any choices. You simply go to the Decocrated website, click on either the quarterly or annual plan option, and then enter your credit card information. You can also use Google Pay.
What we got
The Decocrated Spring 2021 box includes seven pieces of home décor: a reversible art postcard, a spring floral pillow, a set of two wood-framed black and white metal floral prints, a stack of three faux wooden books, a metal planter, a wooden clip frame, and a wooden table runner.
A quarterly subscription costs $79.99, and an annual one offers a 10% discount at $287.99 for the year.
What we like
Home décor pieces coordinate well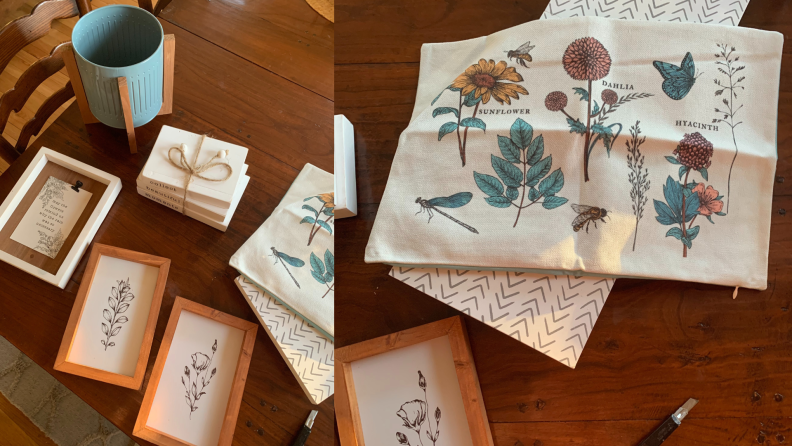 All of the items in the box coordinate with each other, from the robin's egg blue planter to the botanical pillow with robin's egg blue backing, without being overly matchy matchy.
As a grouping, there's a strong nod to spring flowers without channeling a regretful floral dress from the mid-90s. At the same time, the items are not so overwhelmingly spring themed—like bunnies and chicks—that you can't keep them out all year long if you so choose.
There's enough charm and diversity to spread the items around your home or use them in the same open-space room. Gotta love options.
Variety of items included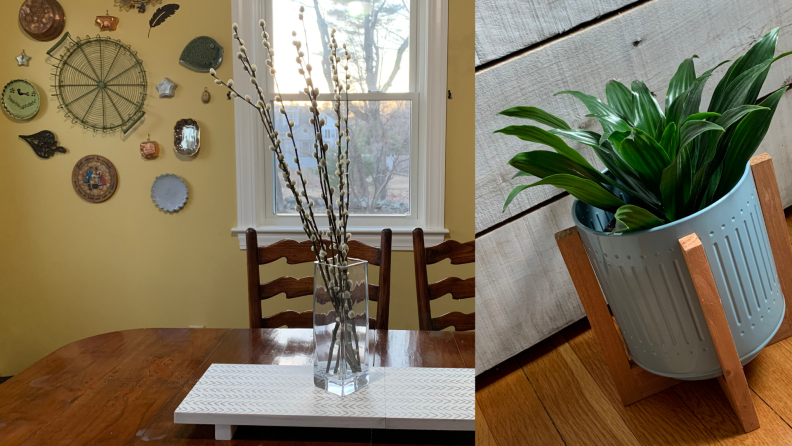 As a consumer, I really appreciate the variety of home décor pieces included in the Spring box. From a pillow and a planter to three wall hangings and a table runner, I was able to spread the items out around my house, while creating cohesion.
I also appreciated that I didn't have to put 17 holes in my walls to accommodate an overabundance of prints and photo frames.
Quality seems decent despite one minor scratch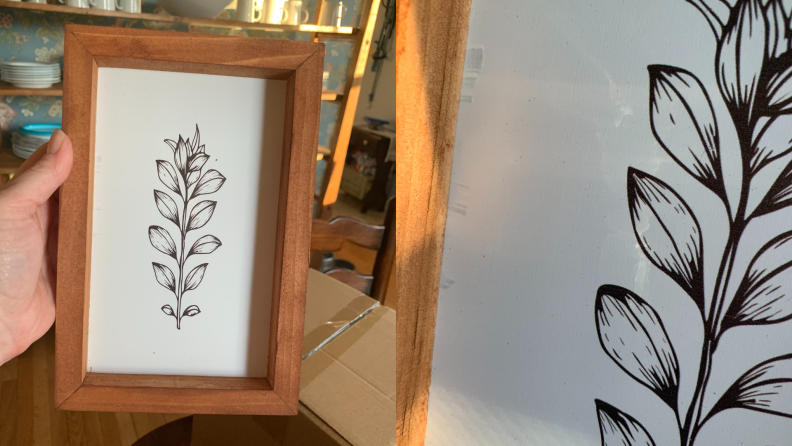 I'm typically a reluctant buyer of subscription boxes, whether it's wine or clothing, because you just don't know what you're going to get when it comes to quality, especially when you're getting a "value" buy.
At $79.99 for a quarterly subscription, Decocrated values its pricing "well below their retail value."
After unboxing the Spring box's items, I was pleasantly surprised by the heft and quality of the items included. First off, none were dented, bent, or broken. One of the wood-framed, metal floral prints did show some scratching near the frame, but it is minor, and I only caught it because I was really looking.
The table runner is so sturdy you could—but shouldn't—use it as a weapon. The planter feels smooth and well made, and it won't leak water all over your floors or table. The floral pillow's printed front seems durable, but I don't love its velvety back—it's not really velvet—which feels like it may not wear well over time.
My husband did take one look at the stack of faux wood books and claim he could replicate it with lumber scraps and paint from the basement, but at approximately $11.50 per item, is the effort really worth it? And would "his" outcome really be as pretty? Doubtful.
What we don't like
You can't pick your style
From mid-century modern to cottagecore, there are many vastly different design styles that are "on trend." While I personally absolutely loved the items that got sent out in the spring Decocrated box, some of them just can't cross different aesthetics. For example, the faux stack of wooden books tied with twine make a cutesy addition to my more rustic-style living room side table, but it wouldn't really work in the Gropius House.
Based on the items in the Spring box, you'll be a fan if you're into the boho, rustic, or farmhouse look. If you're more into clean lines, art deco, mid-century modern, or an ultra contemporary schema, Decocrated is not for you.
Too much packaging for unbreakable items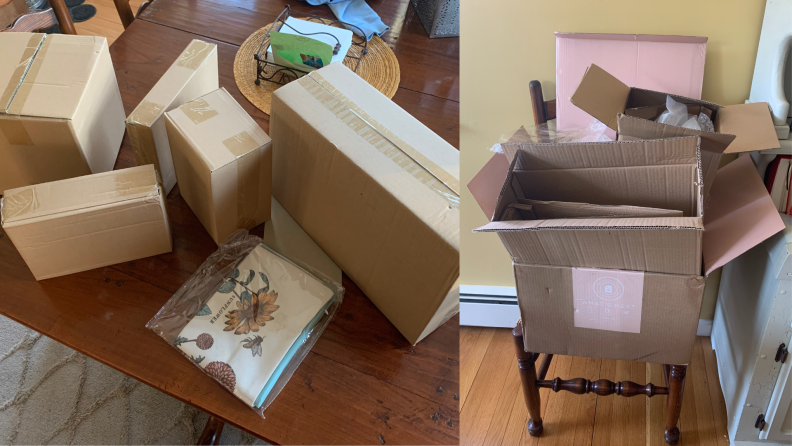 When I first picked up my Decocrated box, I was impressed with the way it was so tightly packed up. Each individual item was wrapped in cardboard within the larger, well padded Decocrated box.
But, then, I thought about it. If there had been glass or ceramic pieces within, the ample packaging made sure they'd have been hard to break. But, every single décor piece in the box is made of wood, metal, or fabric—in other words, unbreakable. Considering this—and the amount of space in my recycling bin—there simply is too much packaging. I'd rather risk a scratch and save a tree.
There's no stuffing for the pillow
What the heck! Decocrated advertises all over its curated home style book that the spring box includes a spring pillow. Only, there's no pillow, just a pillowcase.
At my house, I've got the square throw pillows that came with my couches and that's about it. So, I didn't have any old pillows to fit the empty 12-inch by 18-inch pillowcase, which means I couldn't use it until I went to a craft store to buy a plain stuffed pillow for it.
If Decocrated eliminated some of their packing materials, I think a small stuffed pillow could easily fit into the box. Problem solved.
Should you buy it?
Yes.
If you feel a little lost when it comes to decorating your home, a subscription box like Decocrated is a smart way to freshen things up with minimal effort. You don't have to be on top of what's on trend, and you don't have to worry about whether the style of the vase you bought at Target goes with the candy dish you inherited from Grandma.
If you do have a strong sense of design, and it doesn't fit the rustic, boho chic, eclectic aesthetic, then Decocrated may not work for you.
To be clear, Decocrated's pieces are not high-end, but I don't think that's what the company is going for. You're getting on-trend, seasonal, interchangeable, affordable items. And for this, it hits the mark.
The product experts at Reviewed have all your shopping needs covered. Follow Reviewed on Facebook, Twitter, and Instagram for the latest deals, product reviews, and more.
Prices were accurate at the time this article was published but may change over time.