Home & Garden
Should you buy a comforter from Home Depot?
Home Depot offers hundreds of comforters, but are they any good?
Credit: Getty Images / PeopleImages
Well, friends, it's happening—fall is officially turning into winter. My windows frosted over last night, and this morning I woke to a sheet of snow on the ground. I'm remaking my bed in flannel, putting my softest cover on my comforter, and getting ready to semi-hibernate.
It's no joke when I say I need a good comforter to survive the winter. Comforters are pretty magical. With the right one, you won't have to filch extra blankets from the couch even one time this year. The ideal comforter is soft, strong, evenly weighted, and warm.
Home Depot might not be on your radar when it comes to comforters, but it definitely should be. Home Depot is one of my favorite places to get affordable, high-quality household goods, and they've got an impressive range of popular, long-lasting bed linens. But every blanket is a little different, and not every Home Depot-sold comforter is created equal. If you're thinking about getting a comforter from Home Depot, here's what you should know.
What kind of comforters does Home Depot sell?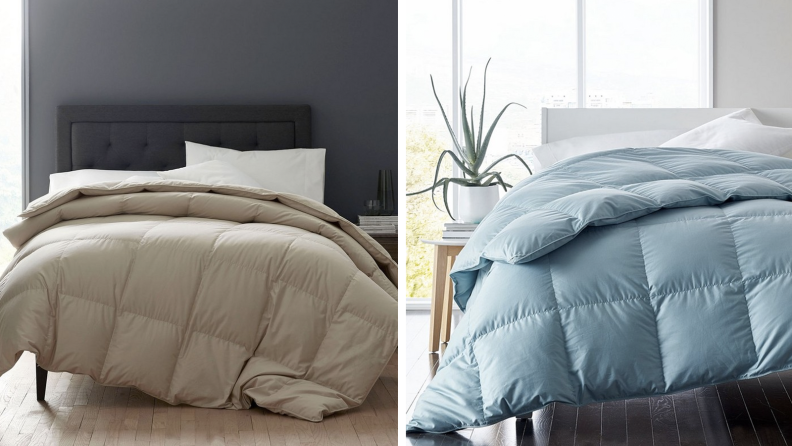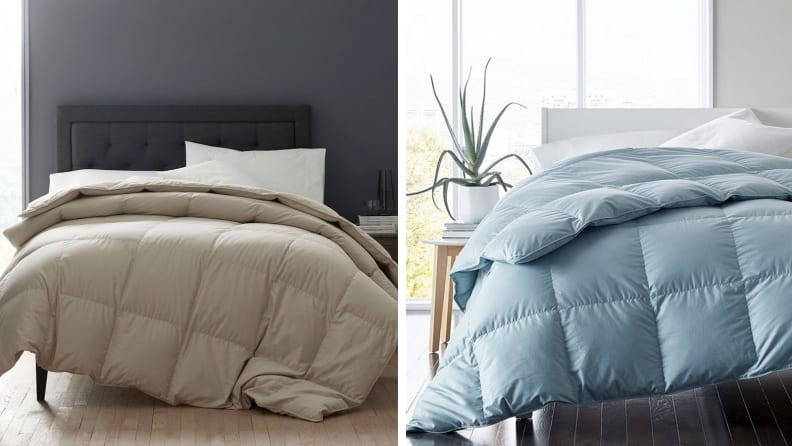 Home Depot has lots of comforters. Comforters in bright colors, comforters in classic white, comforters filled with down, hypoallergenic comforters with alternative stuffing, comforters from small brands and popular ones—if you know exactly what you're looking for, you're likely to find it here.
These options are directed at a huge range of budgets, from high-end comforters stuffed with premium Hungarian goose down that go for almost $1,050, to lightweight, 100% polyester comforters that promise year-round warmth for just over $20. The most popular brands that Home Depot carries are StyleWell and Home Decorators Collection, which is also responsible for a set of sheets we've been loving recently. But no comforter is a perfect match for every sleepy shopper. With a little more information about the strengths and weaknesses of different brands, you can make savvy decisions about whether a new comforter from Home Depot is right for you.
Are comforters from Home Depot any good?
With so much variety in design, material, and price, it's probably obvious that some of these comforters are better investments than others. We've tried out four of the most popular comforters Home Depot sells, and we've found both winners and duds.
Alberta from The Company Store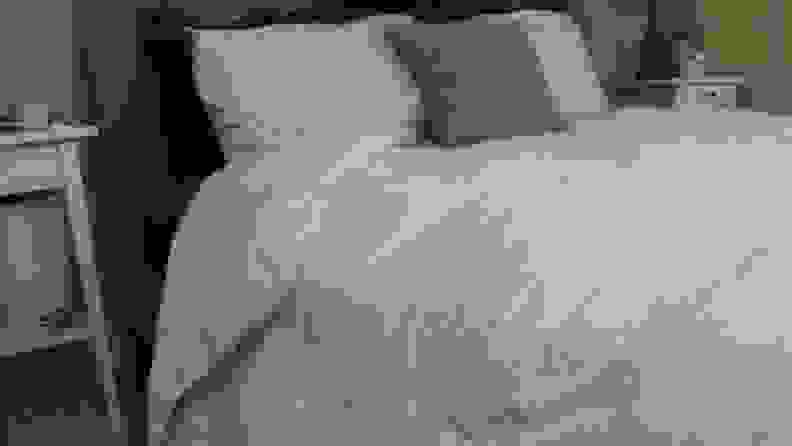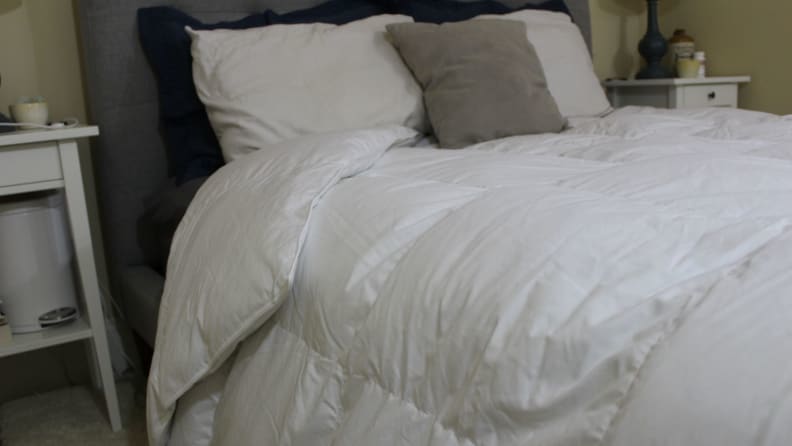 The Alberta comforter from The Company Store is one of our absolute favorite comforters right now, and our number one pick when it comes to down-filled options. We found that this comforter is incredibly fluffy and comfortable, and curling up with it is a seriously luxurious experience. It comes in three different weights, each one stuffed with toasty warm duck down. The down stays evenly distributed inside the shell, and the medium-warmth option feels like it will work all year round. It also has the pretty remarkable distinction of being machine-washable despite its genuine down stuffing, which makes it an unusual find. We only have two pieces of criticism: the exterior isn't as soft as some competitors, and it is prone to wrinkling. If you, like me, prefer to use a duvet cover anyway, there's really nothing bad to say about this comforter.
Get the Alberta Comforter from Home Depot for $319.20
Larkspur from The Home Decorators Collection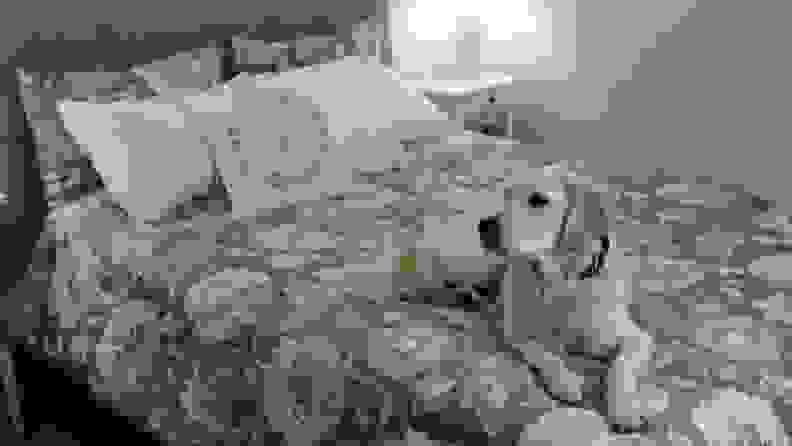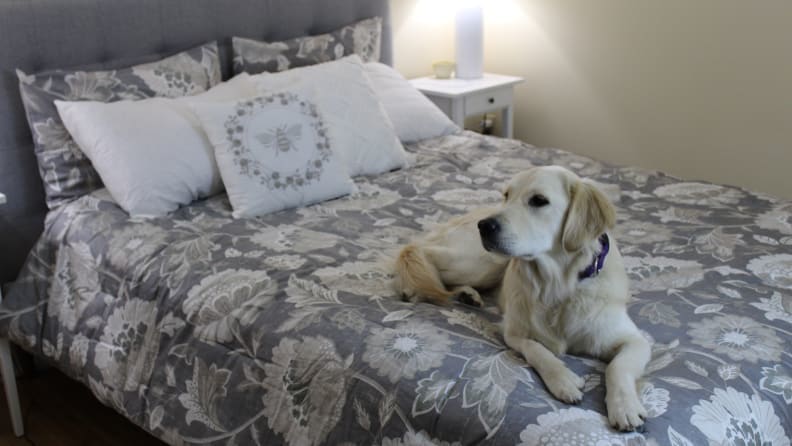 After noticing that this 5-piece comforter set has reviews just as good as our beloved Alberta, we knew we had to try it. Unfortunately, this set was a miss for us. In our tests we found that while the set was attractive, the comforter itself wasn't as soft as competitors. Most importantly, it was definitely not warm enough for a cold winter night. Our tester tried this one in July and reported back that it was perfect for summer. It wins points for its beautiful design and for including cute throw pillows, but there's no reason to spend money on a comforter set that won't keep you warm.
Get the Larkspur from The Home Decorators Collection from Home Depot for $109
Sweeney from StyleWell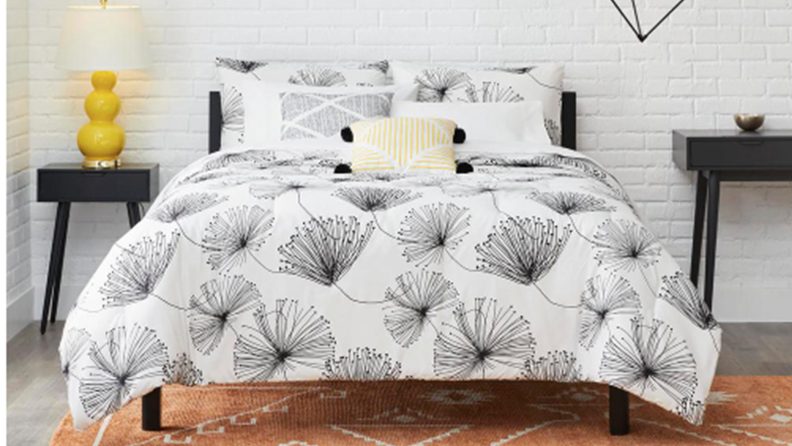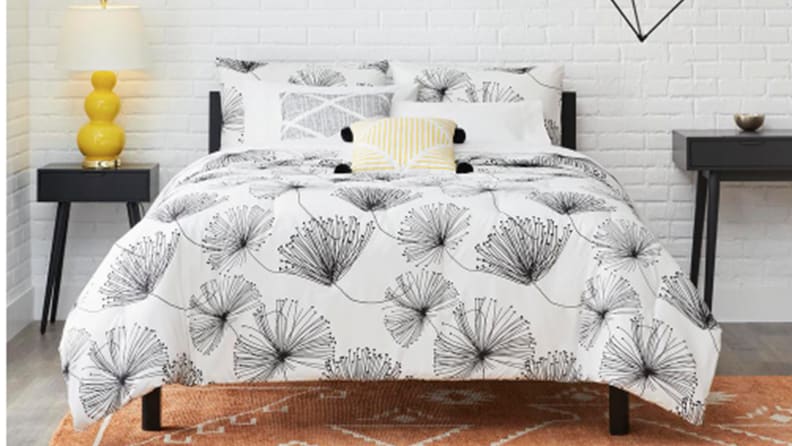 Our shopping editor Courtney Campbell tried out a popular 5-piece comforter set from StyleWell to see if it could live up to the reviews. This set came with two throw pillows, two pillow shams, and the polyester-filled comforter itself, all printed with a coordinated design. Courtney liked this set, reporting that it was soft and lightweight. She liked the diversity of pattern options and the fact that the matching set made it super easy to style a pretty, pulled-together bed. Courtney found that the comforter was "light, yet warm," making it just right for cool nights in summer and fall, but she stopped short of committing to sticking with it all winter. A slightly lightweight comforter can be great for certain buyers and climates, though—Courtney noted that "I never felt overheated or woke up sweating, which is always a plus." She also loved that this set was machine-washable, which is more common with down-alternative comforters.
Get the Sweeney from StyleWell from Home Depot for $89.97
Year Round Warmth from Blue Ridge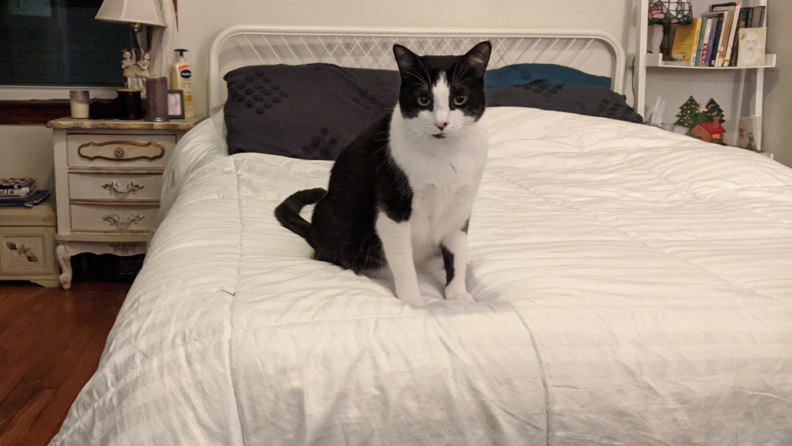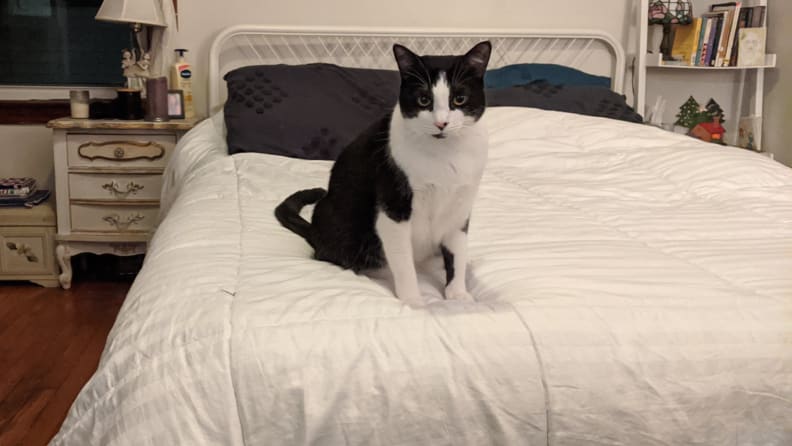 I've spent the past few weeks sleeping with this down alternative comforter from Blue Ridge. Overall, it's been a big win. The filling is polyester fiber, which is designed to stay fluffy for years, and it won't aggravate allergies. Another benefit of synthetic stuffing is that this comforter (unlike the other one in my possession) will never shed feathers. The comforter shell is 350 thread cotton, and it feels fairly nice to the touch—but definitely not as nice as my microfiber bedsheets. I personally prefer to use a duvet cover over my comforters, so I wasn't particularly picky about the feeling of the exterior.
This comforter has been the only blanket on my bed for weeks, and I haven't had any regrets. It's kept me nice and warm, the filling has stayed evenly distributed, and like the StyleWell, it's machine-washable. That being said, I do expect I'll add another blanket now that the snow is here—I am definitely a cold sleeper, and I love the feeling of being crushed under a thousand cozy covers. (You too? Check out our favorite weighted blankets.) I will probably pile my bed with layers this winter, as is my tradition, and I don't think the Black Ridge alone would be quite enough for me on the very coldest nights. For the rest of the year, though, it's just right.
Get the Year Round Warmth from Blue Ridge from Home Depot for $66.96
So, should you buy a comforter from Home Depot?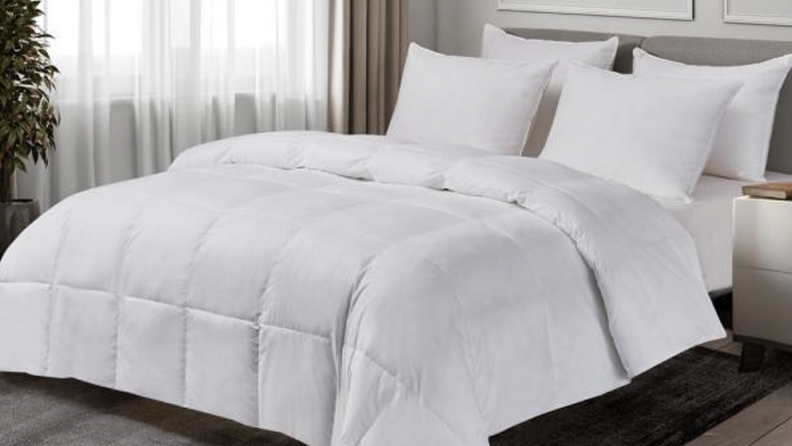 Is a comforter from Home Depot worth it? With so many factors to consider and brands to browse, the only possible answer is maybe. We've barely scratched the surface of comforters that Home Depot offers, and the lesson we took from our tests is that these comforters really need to be judged on their individual merit.
Try thinking through what you want from a comforter, and then carefully reading reviews with those requirements in mind. If you're looking for a heavy-duty comforter to keep you toasty through serious snowstorms, be wary of positive reviews that mostly talk about appearance or softness. Genuine down will almost always outshine alternatives when it comes to warmth, but polyester and other synthetic alternatives are usually easier to wash, more affordable, and less likely to poke through the fabric. Are you prone to frozen toes, or are you more worried about night sweats? Do you want to be able to use your comforter in summer, or is it an item you only take out in December?
Ask yourself some core questions, read reviews, and stick with more popular brands. A good comforter is an investment, and the right one should keep you warm and happy for years to come.
The product experts at Reviewed have all your shopping needs covered. Follow Reviewed on Facebook, Twitter, and Instagram for the latest deals, product reviews, and more.
Prices were accurate at the time this article was published but may change over time.