So, you're finally ready for a new TV. Allow me to be the first to wish you well on this journey—after all, most of us only purchase a handful of these things in our lifetimes.
When it comes to navigating the TV market, it's all too easy to get swept up in a sales pitch. If you're not careful, all of that technical jargon could leave you exasperated. Next thing you know, you're buying the first TV you see—one that might not suit your needs, or one that's left underutilized.
Bottom line? It's important to be prepared. Instead of bumbling your way through Best Buy with barely a notion of what to shop for, take a few moments to read through this nifty cheat sheet. You don't have to be an electronics expert to avoid buying the wrong TV, you just need to keep some basic ideas in mind.
1. Don't throw your old TV in the trash or leave it on the curb.
As fun as it is to say the phrase, "kick it to the curb," it's not fun to dispose of your TV irresponsibly. Have you considered, say, the time-honored tradition of trying to get one of your old roommates to buy it for $50?
Jokes aside, there are better ways to shuttle that old TV out of your life than to leave it on the curb. Local charity organizations in your area might accept TV donations, for instance. You could also arrange to have your TV (and other electronics, while you're at it) recycled by way of local E-cycling centers, depending on where you live.
In fact, there are enough alternatives to ditching your TV in the street that we wrote a guide on how to get rid of old TVs. Once you're done planning your old TV's final farewell, it's time to get serious about a new one.
2. If you're planning on putting your TV on a table, make sure it's wide enough.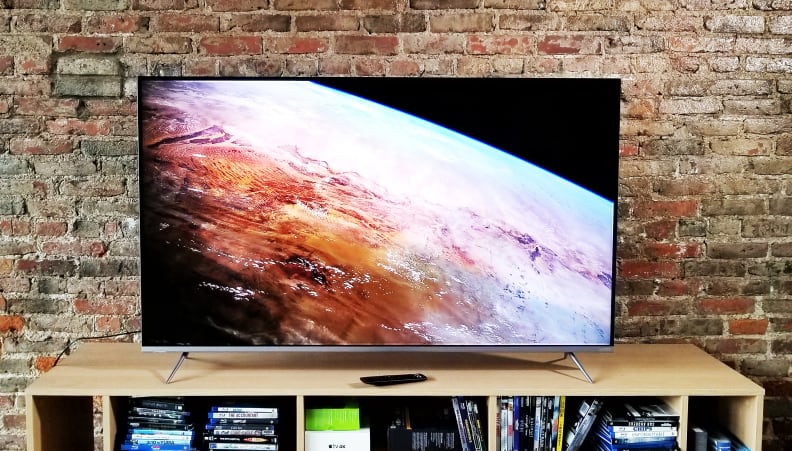 In recent years, a big trend in TV design has been feet. That's right: The TV industry is just crazy about feet.
Not long ago, most TV stands consisted of a flat base piece that lived below the panel. These days, panels are perpetually propped up on pairs of wide-set feet that stretch nearly all the way out to the corners of the screen. The point is, with wide-set feet en vogue, you'll want to make sure that your future TV table is wide enough to accommodate.
Before you head to the store, measure the width of your table. Be sure to leave enough room for any connected devices you might also want on the table. If you're shopping online, pay careful attention to the TV's dimensions.
3. Don't buy a TV that's too big or too small.
I know what you're thinking: "I understand how a TV can be too small, but how can a TV be too big?" It's simple: The difference between an appropriately sized TV for a certain room and a slightly bigger one might not be worth the added cost.
In my colleague Lee's guide to figuring out how to choose the right TV size, he explains a good rule of thumb for deciding if the extra inches are worth it:
An extra 10+ inches makes a TV really feel bigger. In other words, if you're upgrading from a 32-inch set, go for at least 42 inches; from a 40-incher, look for at least a 50-inch TV. Not only will your new TV probably perform better than the old one, but the difference in size will really wow you. But keep in mind that there are diminishing returns when it comes to neighboring sizes. If a 48-inch TV is much more affordable than a 50-inch sibling, save your money and go for the slightly smaller size. You're not going to miss those two inches in everyday use.
It's also worth considering the size and flow of the room you're planning on putting your new TV. For most living rooms or dens, a mid-sized TV (42-55 inches) will be plenty big. If you're planning on mounting the TV on a wall, make sure the wall is big enough to support the TV's size. Which brings me to my next point:
4. If you're planning on wall-mounting your TV, make sure you pick the right spot.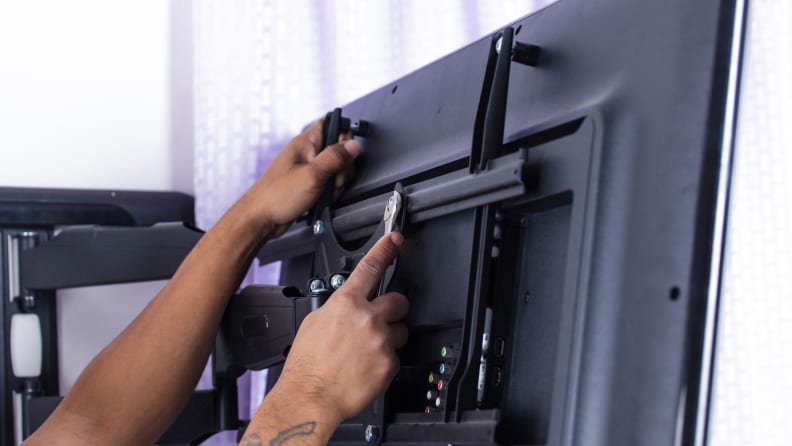 You may think you've picked out the perfect wall upon which to mount your new TV, but have you considered all there is to consider? We've written an extensive guide to wall-mounting TVs that covers the basic nuts and bolts of the procedure, but there's more to process than hardware.
For example, you should try to pick a wall that can still accommodate the seating arrangement of a large group of people, should you find yourself with company. Another important (but oft overlooked) aspect of wall-mounting is accounting for both the sunlight during the day and the artificial lighting in the evening. For obvious reasons, it wouldn't be ideal to mount a TV on a wall that gets splashed with sunbeams for the better part of an afternoon.
So, what do you do if you're dealing with a room that gets a lot of light? Glad you asked!
5. If your room is brightly lit, make sure the TV is bright enough to accommodate.
Not everyone is lucky enough to live in a home with a dedicated home theater. If you're putting a TV in a well-lit room, you're going to want a TV that gets plenty bright to off-set the ambient light.
Unfortunately, low-end TVs typically lack the luminosity to live in well-lit living rooms—if brightness is your prerogative, you might want to save up for a mid-range model that packs a little extra oomph. You can call upon the performance figures reported by the manufacturer or rely on internet reviews, but nothing beats going to the store and sizing up a panel with your own eyes.
At the very least, you should start by shopping for a TV that supports High Dynamic Range (otherwise known as HDR). A mid-range HDR TV will most likely offer a fair amount of brightness, but if you want some serious light, Samsung's QLED TVs and the Vizio P-Series Quantum are among the brightest you can find at the moment.
6. Do get an external streaming device (if you don't already own one).
Have you ever stopped to ask yourself, "Do I need a streaming box if I have a smart TV?" The answer is a resounding "yes" for a number of reasons, but here's the basic gist: Smart TVs don't typically get firmware updates as frequently as dedicated streaming devices do. They're also usually less flexible when it comes to content, with far fewer apps available to pre-installed smart platforms.
If you need some guidance, we've tested most of the major streaming sticks and streaming boxes in our round-up of the best streaming devices you can buy. If you've already got something like a Roku or an Apple TV, you might be tempted to buy a non-smart TV to save a bit of money. Alas, this would be a mistake.
7. Don't bother looking for a non-smart TV.
The truth is, most TVs worth their salt are inevitably going to have some kind of smart platform baked right into the TV's software. In fact, finding a dependable TV from a reputable brand that doesn't feature a smart platform is close to a fool's errand—even low-end TVs are getting the smart treatment these days.
Don't be too clever by half—resign yourself to the fact that your next TV is probably going to come with some built-in smart features. This isn't going to increase the cost of your TV enough to make the search for a non-smart TV worth the effort.
8. Don't assume the sale price is really a sale price.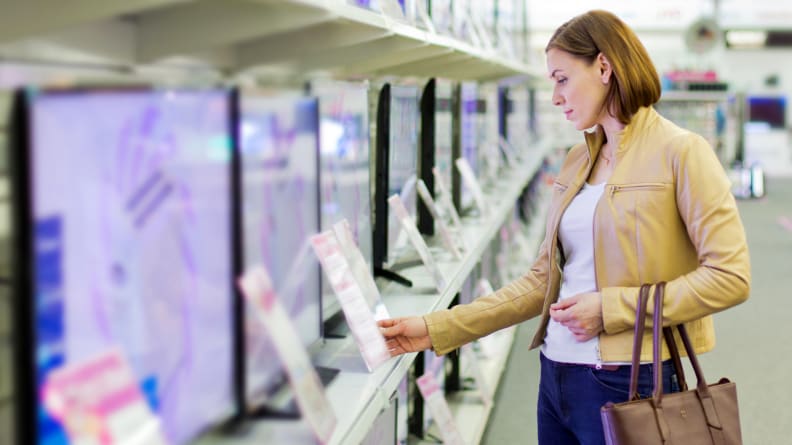 It's not uncommon for TVs to debut at an inflated cost only for the manufacturer to immediately slash $50 to $100 off the MSRP right out of the gate. This practice isn't limited to televisions, of course, but shoppers should be diligent when tracking TV prices.
If you want a substantial discount on a new TV, the best time to buy is usually around the end of the year when retailers begin cutting prices for the holiday season. It's worth keeping an eye out for flash sales, too.
9. Don't pay for high-end features you don't need.
I've already explained why it doesn't make sense to shop for a non-smart TV if your goal is to save some money, but there are corners you can cut comfortably and not miss out on a great experience.
If you don't fancy yourself an Amazon Alexa acolyte, for example, you might not get much out of a TV that offers Alexa integration. I've also found that even the most impressive-sounding internal TV speakers don't sound as good as most soundbars, so consider buying an affordable soundbar to go with your new TV.
Some TV manufacturers are even gearing up to sell 8K TVs, but don't let recent headlines lead you to believe that you need anything more than a 4K TV—it's going to be a while before 8K content is prolific enough to make 8K TVs worth the cost.
10. Don't keep the TV in its out-of-the-box settings without trying out various picture modes.
When you unbox a brand new TV and turn it on for the first time, its picture settings will probably be pre-set to whatever makes it look good on a the showroom floor of an AV store. This means that it might look bright, vivid, and ready to pop underneath fluorescent lights, but it most likely won't offer the most accurate picture that its capable of.
Even if you don't intend to spend money on a professional calibration, there are a handful of steps you can take on your own to experiment with your new TV's picture quality. Try changing the picture setting from "Standard" or "Vivid" to "Cinema," "Movie," or "Expert"—picture settings with names like these tend to provide a more accurate, true-to-life picture.
In addition, if you need help turning off the soap opera effect, we've also got you covered.