Laptops
The Best Laptops of 2019
Our picks for the best laptops available today.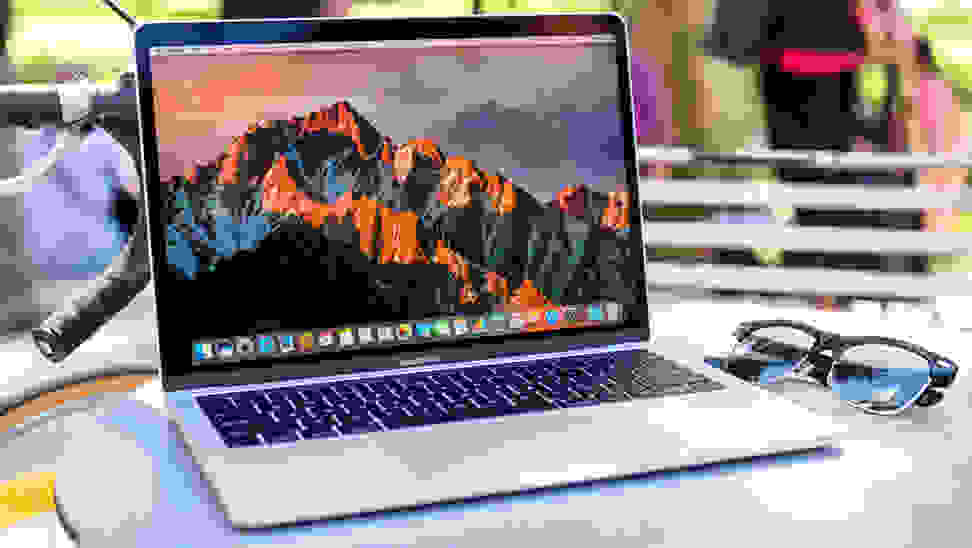 Credit: Reviewed / Jackson Ruckar
In our increasingly mobile-data oriented world, tablets and smartphones have become the computing devices of choice, for most people, despite the fact that they're not well-suited to performing every digital deed under the sun. For jobs that call for complex multi-tasking, raw computational power or the ease-of-use that a trackpad and full-sized keyboard afford, a reliable laptop is still the best option. Choosing which laptop to use, however, is not easy.
Does the way you work or play demand a high-end model sporting Intel's latest processors, high-resolution display, discrete graphics, and super-speedy SSD storage? Then you should check out our top pick, the Dell XPS 13 9380 (available at Amazon for $1,099.00). If your computer needs start and end with the opening of email and a little web browsing, an inexpensive Chromebook like the Asus Chromebook Flip C434 (available at Amazon) might be the computer you've been waiting for.
Whatever your needs, Reviewed has your back: our team of computer hardware experts is constantly on the hunt for the latest laptops across a wide spectrum of prices and capability. We test everything from graphics power to battery life.
These are our best laptops:
Best Laptop: Dell XPS 13 9380
Best for Gaming: Alienware M15
Best for Video Editing: HP Spectre x360 Convertible
Best for Graphic Design: Huawei Matebook X Pro
Best Chromebook: Google Pixelbook
Best Laptop Under $1000: Acer Nitro 7
Best Laptop Under $500: Asus Chromebook Flip C434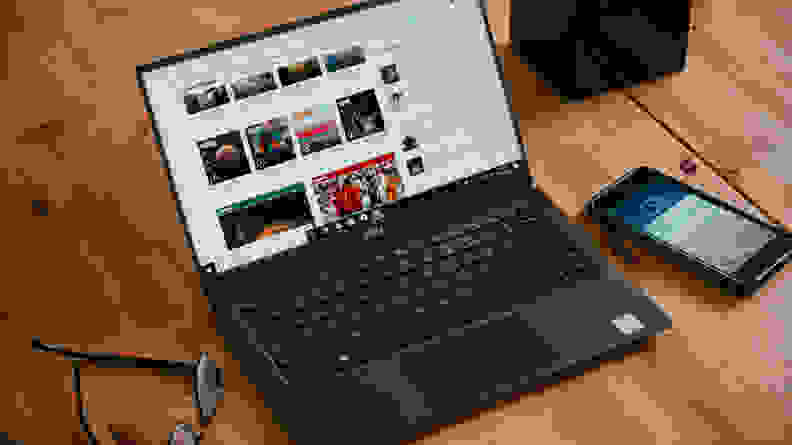 The Best Laptop
Dell XPS 13 9380 (Intel i5-8265U, 8GB RAM)
Dell's XPS 13 is easily the best laptop you can buy right now. Its screen is 13 inches on the diagonal, but it has razor-thin bezels, meaning the whole package is smaller than most other 13-inch laptops—making it super portable. Its trackpad and backlit keyboard are some of the best on the market, and its battery life is enough to get you through a full workday at just over 7 hours, according to our tests. It only comes with USB-C ports (so you'll need adapters for your old USB-A peripherals and flash drives), and the included McAffee junkware is disappointing, but these tiny flaws are easy enough to overlook when everything else is so good.
We tested Dell's config with an i5 processor, 8GB of RAM, and a 256GB SSD, which technically comes in a little over a grand—but the extra cost made it the most powerful laptop we tested, and since none of its parts are upgradeable except the SSD, buying this step-up config will likely save you money in the long run. (Plus, we've seen it go on sale for under a grand if you're willing to wait.) If you're on a tight budget and need a laptop now, consider checking out last year's model with comparable specs, or—if you don't need that much power—drop down to the build with an i3, 4GB of RAM, and a 128GB SSD. Just be careful, because 8GB of RAM is almost a necessity thanks to memory-hungry browsers like Chrome, and you can't upgrade your RAM down the line—though you can swap out the SSD if you find you need more storage later.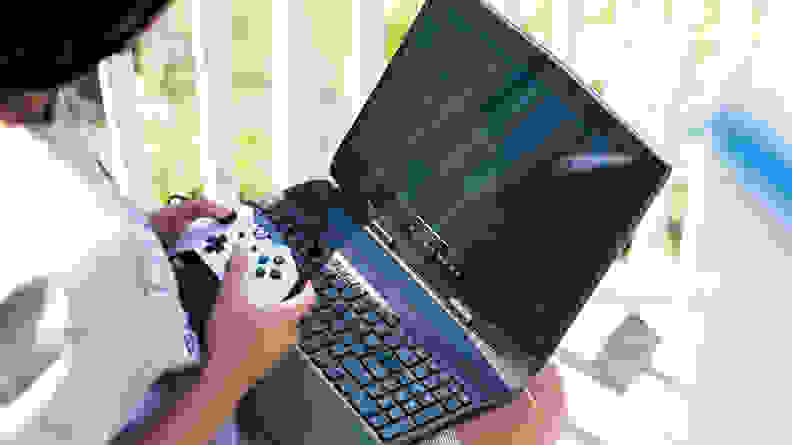 The Best Gaming Laptop
Alienware M15 (i7-8750H, 16GB RAM, 512GB SSD, GeForce 2070)
For the title of the best all-around gaming laptop, we considered benchmark results and overall gaming performance, in addition to how long the machine lasts out in the wild on a single charge. We found the Alienware M15 to fit all the criteria.
The Alienware M15 unit we tested has an Nvidia GTX 2070 graphics card, coupled with last year's Intel Core i7-8750H processor and 16GB of RAM. At under five pounds, the M15 can be used on the road or docked at your desk. It offers a ton of ports, including an HDMI port, a mini-display port, a Thunderbolt port for external hard drives, and what Alienware refers to as a Graphics Amplifier Port. The latter is part of the new trend in gaming laptops that enables you to tether an external enclosure with additional graphics hardware. We did not test that particular feature, but its mere existence helps future-proof the package a bit.
The M15's 15.6-inch full HD display with 144Hz refresh rate and an anti-glare screen is truly a delight. It's enjoyable for both long bouts of travel in your favorite RPG or for binge-watching the content that's collecting dust on your streaming shelf. The M15's keyboard is also the most comfortable of the bunch, though it doesn't offer any fancy backlighting. The relative ease of tapping around the keyboard makes it feel like less of a machine meant for gaming and more like a laptop meant for getting things done. The battery life for this laptop is also impeccable—compared to the status quo—and managed up to four hours of continuous web browsing and playtime.
The Alienware M15 isn't priced too high, either. It starts at $2000 for the configuration mentioned here. Or you can spend $500 more to grab the version with the latest Intel Core i7-9750H processor, which will help future-proof the laptop even further down the line.
The Best Laptop For Video Editing
HP Spectre x360 Convertible (15-inch, 2017)
When I watched an animated scene from Ni No Kuni, a popular video game, the colors really leaped off the screen on the HP Spectre x360. The yellow lantern on the end of Mr. Drippy's nose was especially vibrant. That's because it's outfitted with an NVIDIA GeForce MX150 GPU (NVIDIA GPU's are powerful and can typically be found inside gaming machines). While it may not be the brightest screen, colors really pop and viewing angles are good. When you're not using it to work in Adobe After Effects CC or tinkering with an audio file, the laptop's display makes watching YouTube or Netflix feel like a treat.
Weighing in a just over four pounds, the HP Spectre x360 pretty light for a 15-inch, yet still provides a wide variety of connectivity options. The right side of the laptop features two USB-C ports (one with Thunderbolt support) and one full-sized HDMI. On the left, you'll find a fast-charging USB 3.1 port, an SD card reader, and a headphone jack.
While we like the diverse selection of ports, we had a few nitpicks. First, its steep $1,599.99 price is tough for those on a tight budget. It's a zippy machine, sure, but you're paying through the nose for the guts and wealth of connectivity options.
If you're looking for a less expensive option than the HP Spectre x360, we'd recommend the Dell XPS 15 (9560), the 15-inch MacBook Pro, or the Dell XPS 15 (2018). The Dell XPS 15 (9560) is more configurable while the 15-inch MacBook Pro has four Thunderbolt 3 ports.
The Best Laptop for Graphic Design
Huawei Matebook X Pro (Intel i7, 16GB RAM)
Emitting well over 500 nits (at max brightness), the display on the Huawei MateBook X Pro is one of the brightest and most vibrant we've seen in a Windows laptop, making it an awesome choice for design work.
This thing will also knock your socks off with its snappy performance, and keep them off with its long battery life. With a brilliant display, slim bezels, oversized touchpad, and reasonable starting price, the X Pro has plenty to offer. If aesthetics matter to you and you prefer Windows over macOS, this laptop is a great alternative to the MacBook Pro.
That's not to say it's flawless. Heavy processing tasks heat the MateBook X Pro up in your lap, and the webcam's location in the keyboard (strange, I know) might frustrate some users. And then there's the laptop's chassis: it's a fingerprint magnet. Still, if you're looking for a gorgeous, powerful ultraportable that won't break the bank, the X Pro is an excellent choice.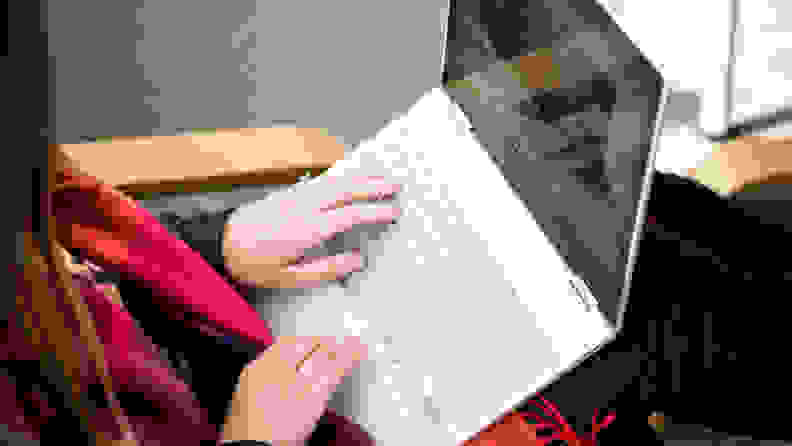 The Best Chromebook
Google Pixelbook (2017, Intel Core i7)
When most people think 'Chromebook,' it's with inexpensive cloud-based computing in mind. This isn't that. The Google Pixelbook is about as powerful and expensive as Chromebooks get. With its 7th Gen Intel Core processor, versatile 2-in-1 design, touchscreen support, and long battery life (it lasted a little over nine hours), this high-end Chromebook has a lot to offer.
The keyboard is an absolute dream to type on, too. The keys are well-spaced and typing is bouncy and pleasant. After spending some time with it, I was clicking my way to 85 words-per-minute. But while we love the full Android support (which gives you a wider selection of apps) and glass touchpad, there were still a couple of nitpicks we had to grapple with.
As we alluded to earlier, the Pixelbook's asking price is very expensive, for a Chromebook. The entry-level model alone will cost you about a grand. That's almost double the price of the Asus Chromebook Flip. What's more, the pen to use with the Pixelbook's touchscreen is sold separately. That stinks, given this laptop's already high cost.
However, if you've got the funds, this is the best Chromebook we've ever tested.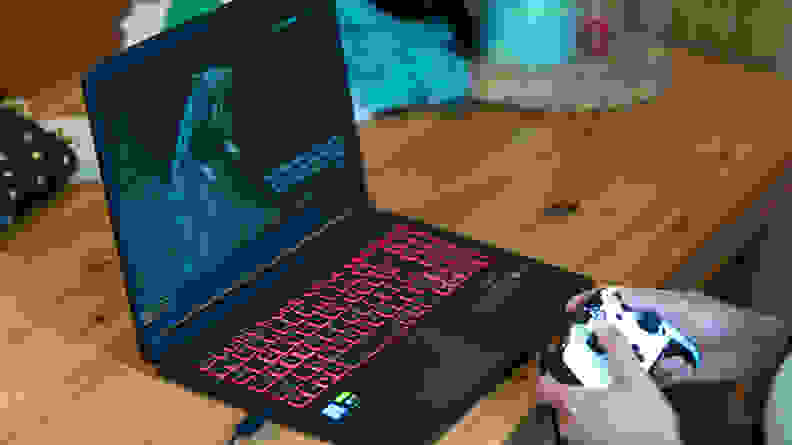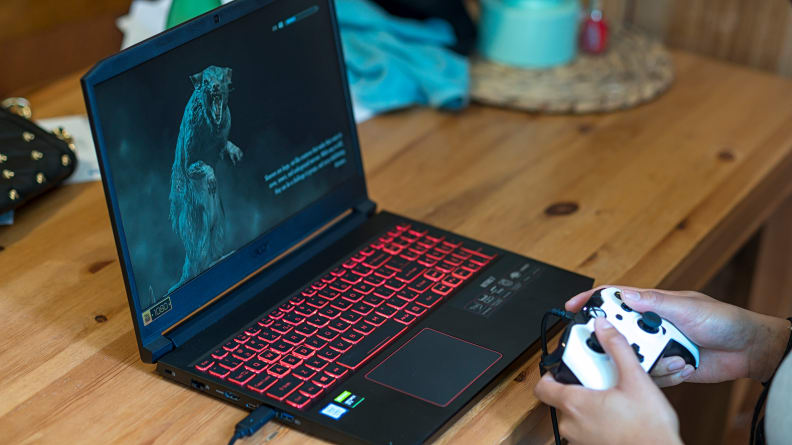 The Best Laptop Under $1,000
Acer Nitro 7 (AN715-51-752B)
Just because you're buying a gaming laptop on a strict budget doesn't mean you have to skimp on the features. The Acer Nitro 7 is an excellent example of how to save money and equip yourself with the kind of hardware that will play your favorite games and help you get things done.
The Nitro 7 has the latest Intel Core i7-9750H processor along with an Nvidia GTX 1650 graphics card and 16GB of RAM. Like its pricier competition, it also offers a 15.6-inch Full HD display with 144Hz refresh rate, which means games run pretty smooth. It even managed to maintain high frame rates in visually-demanding games like Metro 2033 and Rise of the Tomb Raider. It boasts impeccable battery life, too, with up to four hours of continuous use before it requires a charge.
Perhaps the only caveat of the Nitro 7 is the same issue that plagues other gaming laptops. The lack of physical buttons on the trackpad makes it hard to play some games without an additional mouse.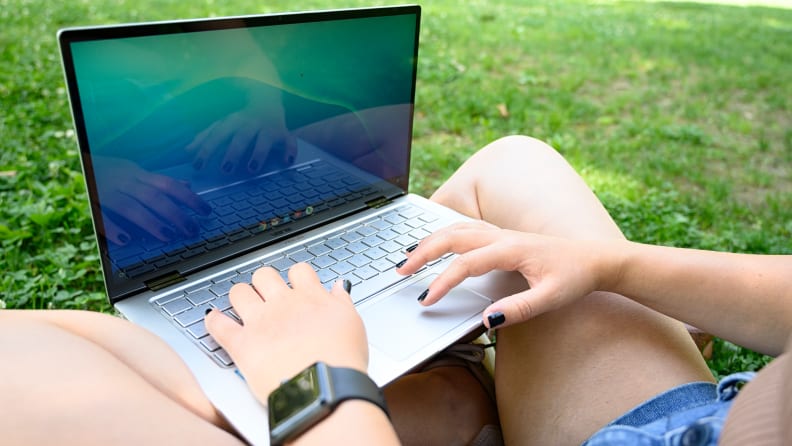 The Best Laptop Under $500
Asus Chromebook Flip C434TA-DSM4T
If you want to save some money and can get by with Chrome OS—which is actually very doable in this day and age—Asus' Chromebook Flip is the best Chromebook you can buy right now. It costs well under a grand but has the build quality of Windows laptops twice that price, and even includes a 14-inch touch screen that folds all the way back so you can use it as a tablet. (And with the ability to run Android apps in Chrome OS, it makes a rather usable tablet.)
Asus is able to price it so well because Chromebooks just don't need the same specs as their Windows counterparts. The Flip C434 only has an Intel Core m3 processor, 4GB of RAM, and 64GB of storage—which is expandable through a microSD card slot—but it runs incredibly smoothly. If you tend to open a lot of tabs, it's worth upgrading to the model with 8GB of RAM for a little extra. The keyboard is comfortable and responsive, the display is sharp, and it boasted the best battery life of all the laptops we tested, coming in at just under 8 hours. Plus, with Chrome OS, you're basically free from viruses and bloatware, which is a nice perk if you're tired of maintaining Windows. I wish the trackpad were a bit more precise (and Chrome OS' sensitivity settings could be better), but in terms of bang for your buck, it doesn't get much better than this.
Pros
Excellent battery life

A beautiful display and keyboard

Affordable price point
Cons
More expensive than most Chromebooks

Doesn't run full Windows or Mac apps
How We Tested
The Tester
Hi, I'm Ashley Barry-Biancuzzo, the former laptop reviewer here at Reviewed and an editor of our Best Right Now buying guides. Though Reviewed has been testing laptops for a couple of years now, I seized control of this beat (cue evil laughter) in 2017. It was the perfect category for me because I've been playing around with laptops ever since I was a kid. I understand the value of protecting your laptop because of my experience with the delicate internal components.
The Tests
Here at Reviewed, we test laptops for their processing capability, graphics, battery life, and screen brightness. To industry-standard mix of industry standard and custom-made tests as well as specialized lab equipment in our Cambridge, MA testing facility. We use popular benchmarks like Geekbench and 3DMark to gauge how well the laptop multitasks, runs games, and more.
For battery testing, we set them up to continuously cycle through various websites at right around 60% brightness (200 nits) until they run out of power, estimating how much work you can get done on a single charge. We also use each laptop for an extended period of time, rating each on factors like build quality, price, portability, and design.
What You Should Know About Laptops
One grand may seem like a lot of money, but when it comes to laptops, it's really the midrange price point, which means you have to make some choices. Usually, this comes down to a few main characteristics:
Performance: The CPU, graphics chip, RAM, and storage inside your PC determine how well your computer can multitask, handle intensive tasks like gaming, and store all your files. The better the specs, the snappier the laptop will feel as you work.

Build Quality: Not only do you want a laptop that can take a beating (since you'll probably be lugging it around with you), but you want one with a well-built keyboard and trackpad since they're your primary form of interaction with the machine. A poor trackpad or finicky keyboard can really kill the experience.

Touch Screens, Portability, and Features: 2-in-1s have gained in popularity, but that touch screen and pen cost money to include. Similarly, cramming all those powerful components into a small, easy-to-carry package can often cost more than a larger laptop with fewer design constraints.
When spending around a grand, it's hard to get everything in one package--you usually have to sacrifice somewhere, especially as you move down the price chain. It's all about finding a balance that fits your needs, even if that means a few sacrifices.
In addition, consider which operating system you need. Windows is still the dominant OS these days, and if you're going to play games, edit photos and videos, or need certain software for work, you'll probably stick with Microsoft's offering. If you spend all your time on the web, though, a Chromebook may serve you better than you'd think—between Netflix, Gmail, Google Docs, and even online photo editors like Pixlr, you can do almost anything in a browser, and many of those web apps even work offline for those rare occasions you don't have Wi-Fi. Chromebooks have the advantage of being cheaper (since they don't need as much processing power) and virtually virus-free (since they run Linux under the hood). My main laptop is actually a Chromebook, and as a companion to my Windows desktop at home, it serves me very well—I can even access my Windows PC from my Chromebook through Chrome Remote Desktop.
From there, you'll need to look a bit deeper at the form factor. You'll usually find laptops in one of three main sizes, measured by the diagonal length of the display:
13 inches and under: These smaller laptops are great for carrying around, and more than suitable for light work like writing papers and browsing the web.

15 inches: Mid-sized laptops are a bit less portable, and won't necessarily work in space-constrained spaces like airplane seats. But the larger display is useful for photo editing and watching videos.

17 inches: This is very large, and only recommended if you are doing video editing or other intensive work that requires a lot of screen real estate—and you don't mind lugging it around.
There can still be varying sizes within those categories—for example, the XPS 13's smaller bezels make it much smaller than most 13-inch laptops—and sizes in between, like the 14-inch Lenovo Yoga C930. But in general, picking a size range you're comfortable with can help narrow down the field.
You'll also want to consider how many USB ports the laptop has, whether you need HDMI and Ethernet, and how comfortable the keyboard and trackpad are to use—this can vary quite a bit from model to model, and it's important to get something responsive and durable.
Finally, you'll need to consider the guts—the processor, graphics chip, RAM, and storage that determine your laptop's capabilities. For browsing the web and using office software, lower-power chips like Intel's i3 and i5 are more than adequate. 4GB of RAM is usable in a Chromebook, though even web browsing can eat up RAM these days, so 8GB is recommended if you tend to open lots of tabs, use lots of browser extensions, and want a laptop that'll last you well into the future—I wouldn't generally advise 4GB for most Windows users these days.
If, on the other hand, you run more intense workloads—whether that means heavy photo and video editing or running the latest PC games—you'll want something with a bit more "oomph." Intel's higher-end i7 processors will make those video encodes run noticeably faster, and a dedicated graphics card will ensure your games run smooth as butter (instead of choppy like a bad flipbook).
No matter who you are, I recommend erring on the side of more storage rather than less—people often underestimate how much space they'll fill up with all their music, photos, and videos over time, and it's a hassle to lug an external drive around. Storage can be expensive, though, so if you can't afford a 256GB solid-state drive, consider buying a laptop with an SD card slot and using a high-capacity card for cheap, expandable storage. Keep in mind internal upgradeability, too—many modern laptops solder their components onto the motherboard, meaning you can't swap in more RAM or a bigger storage drive down the line. So either buy a laptop that keeps its components separate or spend a bit more to buy the specs you'll need in a couple years—not just what you need right now.
More Articles You Might Enjoy
Up next
Get Reviewed email alerts.
Sign up for our newsletter to get real advice from real experts.