Laptops
The Best Laptops Under $200 of 2020
Reliable laptops DO exist in a lower price range
Credit: Reviewed.com / Jackson Ruckar
Editor's Note: April 24, 2019
After weeks of research and testing, we've updated this guide with all new products and named the HP Chromebook 11-v031nr the best laptop under $200.
Not everyone needs or can afford the latest, most powerful laptop out there. For simple tasks, such as running web-based apps such as Google docs, browsing the Internet or sending an email, for example, a low-powered, low-priced laptop fits the bill. Laptops capable of such tasks can be had for $200, or less. Understand, you get what you pay for: laptops come the barebone specs: minimal drive space, memory, and slow processors. So, you won't be able to use them to run the latest computer games, for giving your kids access to the web, sending a teen off to college with a computer for their studies or for you to stay up-to-date with Facebook, a $200 laptop could be an ideal purchase.
Our top pick is the HP Chromebook 11-v031nr (available at Amazon for $229.99). None of the portable laptops profiled in this guide were very fast. However, the Chromebook 11 was among the fastest in our tests and has enough processing power to handle simple tasks like web browsing, writing, and text editing. Google's Chrome OS focuses on these basic tasks and the Chromebook 11 handles them with ease. And, once you're finished with work or reading, Chrome OS allows you to download and run Android apps and games, albeit in a small, smartphone-like portrait screen mode and at low resolution.
These are the best laptops under $200 we tested ranked, in order:
HP Chromebook 11-v031nr
Dell Inspiron 11 3181
Acer Chromebook 11 cb3-132
Samsung Chromebook 3 500C13-K04
HP Stream 11 ah0-12dx
Best Overall
HP 11-v031nr
The HP Chromebook 11-v031nr is adequate in the best sense of the word: it has what you need, and nothing else. It features a reasonably solid build quality, is light and very portable at about 2.5lbs. Its 11.6-inch,1368 by 768-pixel display is clear and fairly bright with decent color. The keyboard is large and comfortable to type on, although it does feel a bit like typing on wet cardboard if you are used to more expensive keyboards on laptops like the Thinkpad X1. The touchpad is large and responsive, recognizing left (one finger) and right (two-finger) mouse clicks without issues. Its battery life is also pretty good: we found that it lasted an impressive nine hours and 34 minutes on our browsing battery test.
The main issue with the Chromebook 11 is its internal storage: the 16GB of storage on the device leaves only about 8GB free, and that will quickly get filled when you start saving photos, music, and videos. You can add more storage space by plugging in a micro SD card, though a 64GB one will cost you about $12.
How We Tested
The Tester
I am Richard Baguley, a veteran technology writer that has been reviewing computers since, well, before laptops existed. My first computer was a BBC Micro way back in the early 1980s, and since then I have been testing and breaking computers and other technology for publications such as Reviewed.com, PC World, Wired and many others.
The Tests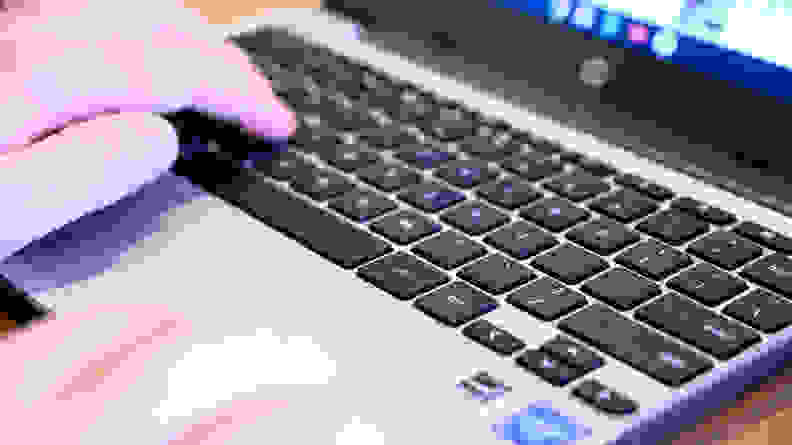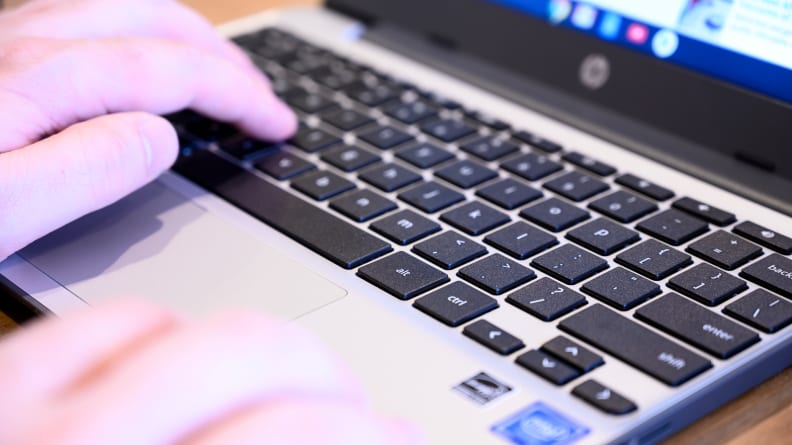 Our tests for these devices aren't based purely on processing power. Instead, we look at the overall usability of the laptop, which also depends on the quality of the screen, the keyboard, what interfaces it offers and many other factors. We test all of these factors and assign a score for each. Then, we rate the overall usability of the laptop as a combination of all of these factors by creating an overall weighted score.
First, we look at how well each laptop performs. Because the laptops in this guide are mostly designed for running web applications like Google Docs, we use two web benchmarks: Basemark and Speedometer. These test the processing power of the laptop in a web browser: for all of them, we used Google Chrome.
Most laptop displays do well in a dark room, but what about outdoors? Is a glossy screen better than a matte one? To figure out this information, we test the brightness on the display. We do this with a CS-200: it's a handheld device that measures luminance. We measure the white levels and black levels at max brightness and then again at 50% brightness.
Next, we tested the battery life of each laptop to see how long you can use them for between charges. With their displays adjusted to a brightness of 200 nits, we set them to continuously cycle through popular websites, simulating the way you would use the laptop when idly browsing the web. We also look at how comfortable the screen is to look at, how easy the keyboard is to type on, and other factors.
What You Should Know About Inexpensive Laptops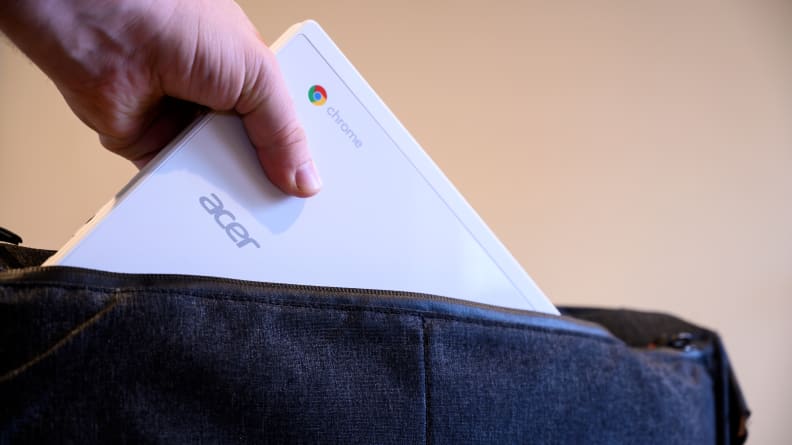 When you purchase a cheap laptop, you're investing in a series of compromises. They are equipped with low-end processors, memory, storage, displays, and keyboards: all in the name of providing consumers with the lowest-priced laptop possible.
That's not to say that these laptops are bad: Laptops that sell in the price range covered by this guide are still more than adequate for completing many tasks. Their processors are fast enough to provide a smooth web browsing, allowing you to use many web apps and browser plugins, run uncomplicated software or play simple games. Using Google Docs or creating simple documents in Microsoft Word or Excel are reasonable tasks to ask of a sub-$200 laptop. Every one of the computers in this guide could handle writing essays for homework, researching schoolwork online or making a presentation to show in class. If you have a bit more space in your budget, all of the laptops we tested offer upgrade models that have faster processors and more drive space, which can make them more flexible for more demanding tasks. Their internal hardware is not, however, up to the challenge of running modern 3D games. We tried running Metro 2033, a game released in 2014, on the HP Stream 11. It ran at an unplayable 5.33 frames per second. In general, the laptops selling for $200, or less, that ran Windows 10 as their operating system had difficulty with all but the most basic of tasks. This isn't because these laptops are junk; far from it. The blame can be placed on Windows 10: it's a computer operating system designed to allow for wonders to be created on high-end work stations and brilliant graphics on well-specced gaming desktops and laptops. It works with older or less powerful hardware as well, allowing a greater number of people to install it on their PCs and enjoy the security and usability benefits that the OS offers. These benefits, on low-end machines, however, are often outstripped by how slowly everything but the most basic of applications operates. Things can get even worse if you're looking to multitask or rock more than one or two browser tabs at once.
If you want to be able to play complex computer games or plan on using your computer to run power-hungry we applications like Photoshop CC, we recommend spending more money on a laptop. You don't need to own the best computer out there for these tasks, but spending $500 or $1000 on a gaming laptop or ultrabook can land you a Windows 10 computer that you'll be happy with for years to come.
The majority of the laptops priced under $200 these days run Google's Chrome OS. These computers are typically called Chromebooks. Chrome OS is an open-source operating system designed to run on low-power laptops without much memory. Chrome OS is based around the Google Chrome web browser. Chrome OS excels at providing access to Google's full-featured online suite of productivity apps, as well as a wide variety of other apps designed to run on Chrome OS. Additionally, many of your favorite Android smartphone applications can also be used on a Chromebook. New Chromebooks come with 100GB of online Google Drive storage space for the first two years that you own your laptop. All of this is wrapped up in a package that provides long hours of battery life and, often, comes with the option to expand the amount of local storage your Chromebook's rocking through the use of a Micro SD card.
---
Other Inexpensive Laptops We Tested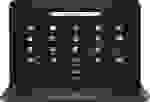 Dell Inspiron Chromebook 11 3181 (32GB)
The Inspiron 11 3181 is a small, light laptop that takes its style cues from larger, more expensive Dell laptops. It has the same clean, grey plastic design as its more fully-featured Inspiron siblings but runs Google's Chrome OS rather than Windows. That's not a bad thing, though: this OS provides access to all of Google's online services, including Google Docs and Gmail. Its 11.6-inch screen is clear and bright, and its keyboard has large keys with a decent amount of travel for responsive typing. The keys are slightly more widely spaced than most laptops, though, which might make for slow typing for those used to smaller laptop keyboards.
Although the Inspiron 11 has a decent screen and keyboard, its 32GB of MMC storage is a little cramped. With only the essentials installed, you end up with only about 21GB of free space available. That's more than the other Chromebooks, but it will still get filled up quickly once you start storing photos, videos, and other notorious space hogs. It's a good job that this laptop comes with 100GB of online storage space for 2 years included because you are going to need it.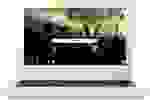 Acer Chromebook 11 CB3-132-C4VV
Acer went with an all-white almost Mac-like look for the Chromebook 11, and it works pretty well, as it looks sleek and svelte. This thin and light (under 2.5lbs) Chromebook was the top performer in our browser performance tests, edging out the Samsung by a slim margin. The Acer handled the web tasks that we tried without strain, chewing through a couple of complex Google Spreadsheets and streaming HD video from Youtube without straining.
This performance comes at a cost, though: we measured the battery life at 6 hours and 52 minutes, about two and a half hours shorter than the HP Chromebook. That might make all the difference on a long school day or weekend trip. The 16GB of storage on this laptop might also prove to be limiting, although it is worth remembering that you can add a 64GB micro SD card for $12, and it comes with 100GB of online storage in Google Drive for 2 years.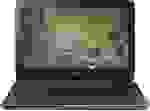 Samsung Chromebook 3
The Samsung Chromebook 3 is a sleek, svelte machine that is the thinnest in this roundup, at 0.7 inches thick. It was a little thin in our tests as well, though, managing 6 hours and 41 minutes in our battery tests, the second shortest time. It was pretty nippy, though, managing scores near the top for performance. The keyboard is comfortable to type on, although we did find that it made a slight (but noticeable) rattling noise when we were typing at speed. The touchpad is large and well-placed for easy use, but the 16GB MMC drive this laptop ships with is rather cramped, leaving just under 8GB of free space with only the essentials installed.
HP Stream 11
The HP Stream 11 has a problem that can be explained in two words: Windows 10.
The other laptops that we looked at in this article run Googles lightweight Chrome OS, while the Stream 11 runs the full version of Windows 10. The result is that it is slow: we found that, despite having a similar processor, memory, and battery than the Chromebooks, it had much slower performance and shorter battery life. Chrome OS can run quite happily in anything over 2GB of memory, while Windows really needs a bare minimum of 4GB, and preferably 8GB.
Quite simply, Windows struggles to run in the 4GB of RAM that this laptop offers. Windows 10 also takes up more space than Chrome OS does: although the Stream 11 has a 64GB MMC drive, you end up with only about 18GB of free space that you can use. That's less than the free space on the Chromebooks with 32GB drives. Additionally, Windows 10 limits the battery life of the Stream 11, managing only 6 hours and 8 minutes of web browsing.
The advantage of running Windows is that you get to run Windows programs. As part of the Stream 11's purchase price, HP bundles a year's subscription to Microsoft Office 365 (a $70 per-year value,) providing you access to Word, Excel, Powerpoint, and others, plus 1TB of OneDrive space. Given that a Microsoft Office 365 subscription costs nearly a third of the price of the laptop, for the right person, this is a great deal: a student armed with a Stream 11 will have access to premium apps for writing essays and making presentations. However, while we found that these programs were usable, creating anything more than basic documents was difficult, as the laptop started slowing down the more complex the documents became.
More Articles You Might Enjoy
The Best Gaming Laptops Under $1,000 of 2019
The Best Chromebooks of 2019
The Best Laptops for Students of 2019
Up next
Get Reviewed email alerts.
Sign up for our newsletter to get real advice from real experts.