Laptops
The Best Gaming Monitors of 2019
The best gaming monitors of 2018.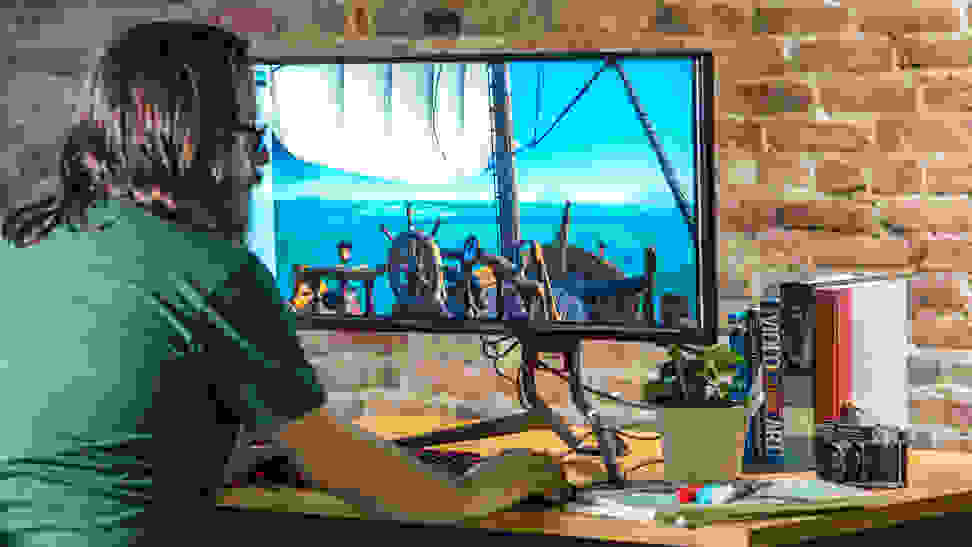 Credit: Reviewed.com / TJ Donegan
If you're serious about gaming—whether it's on PC or console—you've probably considered investing in a gaming monitor, if you haven't already. Gaming monitors are designed specifically with gamers in mind: the simplest options shave down screen response time to keep your reflexes twitchy, while the highest-end models are dressed to complement specific eSports categories, or are stuffed full of features to immerse the player and enhance graphics.
If you just want the best overall/general gaming monitor, we highly recommend the Asus ROG Strix XG32VQ (available at Amazon for $469.99). With a huge 32-inch screen, high resolution, and a 144 Hz refresh rate, it still manages to be much cheaper than similarly sized displays, cutting a welcome middle ground between big and immersive and ultra-fast enough for competitive gaming.
There are tons of gaming monitor options out there, but it can be hard to tell when you're paying for a swiss army knife—when all you really needed was a fork. Well, that's where we come in. We've gathered up gaming monitors for every budget from the biggest names in the gaming display market and put them head-to-head in comparison.
These are the best gaming monitors we tested ranked, in order:
Asus ROG Strix XG32VQ
BenQ Zowie XL2540
BenQ Zowie XL2411P
Dell Alienware AW3418DW
Dell Alienware AW2518H
Dell S2417DG
BenQ Zowie RL2460
Acer Predator X34P
Asus ROG Swift PG348Q
Asus ROG Swift PG27VQ
Asus ROG Swift PG258Q
Asus ROG Strix XG35VQ
Asus VG245H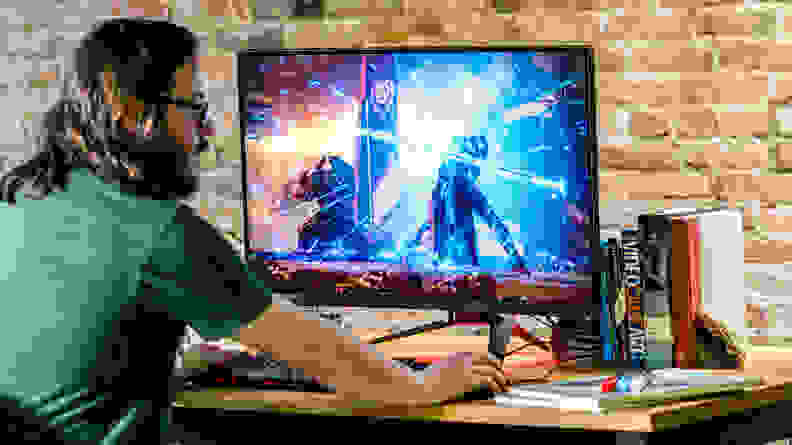 Best Overall
Asus ROG Strix XG32VQ
32-inch sxreen
2,560 x 1,440
144 Hz refresh rate
FreeSync compatible
Curved screen
VA panel
The 32-inch Asus ROG Strix XG32VQ is a study in interesting compromises and box checking. I was initially concerned that combining an ultra wide-screen monitor with a VA panel would lead to some unfortunate head-on viewing angle issues—a major no-no—but as it turns out, Asus' has done some smart engineering here. The curved screen and higher-than-average resolution (2,560 x 1,440) add similar immersive viewing compared to the other 30+ inch monitors, but the VA panel is what makes the XG32VQ really stand out.
Essentially, you're sacrificing the brightness, better viewing angles, and color fidelity you'd get with an IPS panel, but you're shaving a lot off the price. Most IPS-equipped 30+ inch monitors retail for around a grand, but the XG32VQ—while starting at an already much cheaper $699—can be found online for less. Considering that you're still getting a 144 Hz refresh rate, FreeSync compatibility, and perfectly satisfactory picture quality, that's a pretty solid value.
The XG32VQ is the value-hunter's answer to getting a reliable widescreen gaming display equipped with Asus' familiar aesthetics and polish. You won't attain quite the majesty of the IPS-paneled 30+ inch gaming monitors, but it'll get you a heck of a lot closer than a 24- or 27-inch option.
Best 24-inch
BenQ Zowie XL2540
24-inch screen
1,920 x 1,080
240 Hz
No "sync" type
Flat screen
TN panel
A step up from the more affordable XL2411P, the BenQ XL2540 is another of BenQ's Zowie sub-brand, meaning it's frills-free, straightforward, and wholly focused on speed and response time. The XL2540 is available in a few different refresh rate variants (called XL2530, XL2536, etc.), but no matter which one you get, you'll be getting a 24.5-inch screen, full-HD (1,920 x 1,080) resolution, and a flat TN panel.
We tested the XL2540, which is the 240 Hz variant. It's one of the more expensive XL25 models, and it's worth noting that outside of its very slightly larger screen and high refresh rate, the specs here are more or less identical to the other "Zowie" monitors we tested. What you're really paying for is the higher 240 Hz refresh rate—though the XL25 also includes a screen hood, which BenQ claims helps competitive gamers cut down on distractions in their peripheral vision. This wasn't my experience, but then again, I didn't test these monitors side-by-side with competitors at an eSports competition.
The biggest reason to spend more on the XL2540 (compared to the XL2411P, XL2530, XL2536, and so on) is its 240 Hz refresh rate. While you might not need that much refresh fidelity right now, it does mean if you choose to upgrade your gaming tower, video card, or GPU going forward, you'll have room to "grow into" the XL2540's refresh rate.
How We Tested
The Tester
Lee Neikirk is Reviewed's TV and display expert. He's been an ISF Certified display calibrator since 2014, and has loved video games since 1992, so it only made sense to have him deep dive into the expensive, colorful, and sometimes confusing array of gaming monitors available to gamers right now.
The Tests
We tested each monitor on the same PC (a Lenovo tower with an Intel i5-7400 card, 8G of RAM, a 1T HDD, and a 128GB SSD) and played roughly the same broad selection of games (Civilization VI, EVE Online, Overwatch, PUBG, and a few others in special cases). We used refresh rate testing patterns from Blur Busters and our own in-house pattern generation and light measurement equipment to test basic luminance specs and color fidelity where necessary.
A good portion of the testing/rating of the monitors was also based on the ease of their UIs, the effectiveness (or lack thereof) of different manufacturers' proprietary features, and overall design/build attractiveness. However, performance and value winners were primarily selected on a combination of their price and appeal to the widest variety of gamers.
---
Other Gaming Monitors We Tested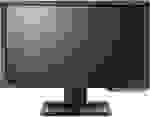 BenQ Zowie XL2411P
24-inch screen
1,920 x 1,080
144 Hz
No "sync" type
Flat screen
TN panel
The BenQ "Zowie" XL2411P is the Display Port-equipped variant of BenQ's popular XL2411. The Zowie designation means it's specifically tricked out for eSports consideration, and like most eSports monitors it trades graphical flash and higher screen resolution for the fastest response time and hyper-specialized features. To that end, this smaller 24-inch display wields the faster "TN" panel type, meaning its off-angle viewing and some degree of color fidelity are not top-of-the-line, but its response time and refresh rate are.
At $250 (or less online), the XL2411P is one of the more budget-friendly 144 Hz monitors around. As usual, BenQ/Zowie eschew the trappings of higher-end gaming selections, sticking to 1080p resolution, side-stepping G- or FreeSync compatibility and including a minimal port selection (though you do get DisplayPort with the "P" variant). Trim bezels and a standard charcoal finish make for a sleek-enough coat, but as gaming monitors go, the XL2411P is quite understated, too.
This is a great choice if you're specifically looking for an eSports monitor that will give you a competitive advantage in twitchier games like Counter-Strike, Overwatch, or PUBG. As long as you aren't looking for high pixel density or next-generation (10-bit) color saturation, the XL2411P is one of the best choices in this price range.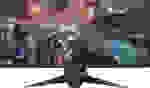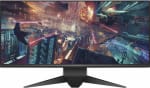 Dell Alienware AW3418DW
34-inch screen
3,440 x 1,440 resolution
100 Hz native/120 Hz OC refresh rates
G-sync compatible
Curved screen
IPS panel
Like with its RGB-inflected, high-end PC towers and laptops, Alienware's monitors are highly polished pieces of hardware, and the AW3418DW is no exception. Starting at well over a grand—though you can find it cheaper online—this massive monitor may not be budget friendly, but it is a huge success where immersion is concerned. Unless you're already using a huge, curved-screen monitor like this one, that's going to be the first thing you notice: the wide, partially encircling screen really draws you into certain games.
Despite being famed more for its in-game corporate espionage and spreadsheet management than its graphics, EVE Online still looked incredible on this monitor. The IPS panel used here is not the most impressive from a contrast (black level and brightness) perspective, but its color range is wider and more accurate than comparable TN paneled monitors. The huge screen's 21:9 aspect ratio (3,440 x 1,440) adds a lot to the immersion factor, though if you're interested in an "ultra-wide" monitor like this one, you may want to make sure your games support the setting (check something like WSGF's list of ultra-wide games).
It should be noted that while this Alienware monitor excels in terms of "cinematic" presentation, hardware aesthetic, and bright, vivid colors, it isn't the hyper-fast, eSports-ready choice some gamers may be looking for. The 100 Hz/120 Hz over-clocked refresh rates here are fine for less twitchy games, but hyper-competitive gamers may want to find something closer to 144 or even 240 Hz. That said, 100 Hz/120 Hz OC refresh rates are still way better than what you'll get from, say, a TV.
Dell Alienware AW2518H
25-inch screen
1,920 x 1,080
240 Hz native refresh rate
G-sync compatible
Flat screen
TN panel
The AW2518H is a smaller version of the high-end, 34-inch AW3418DW. It's a bit bigger than the standard 24-inch gaming monitor (at 25 inches), but doesn't exceed its grasp in terms of screen resolution, offering up a full HD (1,920 x 1,080) palette. Like its big brother, the AW2518H is also G-Sync compatible, features the "AlienFX" RGB lighting system (which is a kind of built-in bias lighting), and a 1ms response time for smooth, delay-free gaming.
While it's usually around $700, you can find the AW2518H for a good deal less money online—under $500 in some cases. That's still not chump change, however, but fear not: you're not simply paying a premium for the Alienware brand, though you are paying for it. This monitor's major draw is its native 240 Hz refresh rate, which puts it on-par with some of the most popular eSports monitors in the biz. If you competitively engage in games like Counter-Strike, PUBG, or Overwatch, a 240 Hz refresh rate—the highest native refresh rate amongst displays in 2018—is going to give you an advantage, plain and simple.
However, keep in mind that you're paying more here for the sleek, angular design; for the AlienFX RGB system; and for built-in G-Sync compatibility, which is proprietary to NVidia and thus requires extra investment on the part of the manufacturer. In short, the AW2518H is your standard 24-inch gaming monitor on steroids. If it has any drawbacks, it's the TN (twisted nematic) LCD panel: you aren't going to get amazing viewing angles or vivid colors like you would with an IPS variant. But if you need a monitor where you'll primarily be using it head-on while playing games that are more focused on twitchy, satisfying gameplay than graphical fidelity, this one is a great choice, especially if you can find it around $350 online.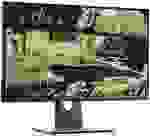 Dell S2417DG
24-inch screen
2,560 x 1,440
165 Hz native refresh rate
G-sync compatible
Flat screen
TN panel
The Dell S2417DG is a bit of an odd beast: on the surface, it's an unassuming-looking (if not sleek and minimal) 24-inch monitor that uses Dell's standard UI and button layout—there are no strips of RGBs, headphone hooks, spiky stand feet, or any of the more explicit trappings of other gaming monitors looking to scream "I was made for gaming."
However, under the hood, this understated Dell has some impressive specifications that help justify its price tag. For one, despite being on the "smaller" side at 24 inches, it utilizes a 2,560 x 1,440 resolution—which is many more pixels-per-inch than the standards 24-inch monitor—as well as built-in G-Sync functionality. However, this monitor's most gaming-forward asset is its overclocked 165 Hz refresh rate. You'll also get groovy features like height/tilt/swivel adjustment and a DisplayPort input.
While the TN panel utilized here won't give games the same crisp viewing angles and color fidelity as an IPS variant, overall the S2417DG doesn't really have any major drawbacks. Thanks to its high resolution and refresh rate, it's one of the best examples of a monitor that's suited for gaming while avoiding the general excesses often found in the gaming monitor sphere.
However, I'm compelled to advise potential buyers that it's somewhere in the middle, between the pure speed of a lower-rez eSports monitor and the cinematic presentation of a larger-screened widescreen monitor. It's plenty fast when overclocked, but you'll need a powerful graphics card to run games that require the higher resolution at higher speeds, especially with G-Sync enabled.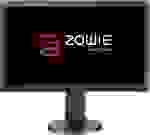 BenQ Zowie RL2460
24-inch screen
1,920 x 1,080
75 Hz/60 Hz
No "sync" type
Flat screen
TN panel
BenQ's "ZOWIE" line of monitors are spec'd specifically for eSports purposes, and this gives them a bit of an advantage in terms of value, but also reduces their overall appeal in some ways. The RL2460 is meant specifically for consoles, meaning the native refresh rates (60 Hz/75 Hz) are lower than many of the monitors on the list. However, at $220, the RL2460 is also quite a bit cheaper than many of the other monitors on the list.
You're essentially paying for resolution that's high enough for the native output of most modern Xbox One and PlayStation 4 games. Xbox One X or PS4 Pro owners won't get 4K resolution with this monitor, but since adding enhancements like 4K textures and High Dynamic Range tend to slow games down to a point anyway, if you're looking for graphical fidelity over competitive speed, this isn't the monitor to go with. The exclusion of G- or FreeSync technology and less-impressive TN panel type mean you can expect satisfactory, but not amazing graphics, too.
The RL2460 is for console gamers who are looking to outpace and outplay other console players in a competitive environment. If you're replacing your TV with a monitor like this, you're giving up screen size and resolution, in a sense, in order to game with as little lag and response delay as possible: think games in the FPS or fighting genre, rather than more cinematic/narrative titles. This specialization keeps the RL2460's cost low, but it also means you're not getting the best of more than one world.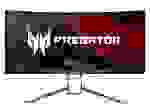 Acer Predator X34P
34-inch screen
3,440 x 1,440
100 Hz native/120 Hz OC refresh rate
G-sync compatible
Curved screen
IPS panel
At a starting price of around a grand, the 34-inch, curved, IPS-equipped Pedator X34P is one of the more affordable ultra wide-screen monitors in our roundup. This is the feather in Acer's gaming display hat, delivering good resolution for this screen size (3,440 x 1,440), a 100 Hz native refresh rate with the option to overclock to 120 Hz, G-sync compatibility, and a curved screen.
Like the Alienware AW3418DW, the curved X34P delivers an immersive and cinematic experience that lends itself well to graphically focused/environmentally massive games like Skyrim, EVE Online, and so on. Like with any 30+ inch monitor—gaming or otherwise—adjusting to the huge screen can take a bit, but the IPS panel used here at least delivers solid off-angle viewing and ample brightness/color saturation.
While the X34P's native 100 Hz refresh rate and OC capabilities give it plenty of punching power, it will feel like a downgrade if you're coming from a more eSports-focused monitor with a 144 or 240 Hz refresh rate. However, if you've never ventured above 60 Hz before or are upgrading from a TV, the X34P's high resolution, immersive screen, and high-end features (like G-Sync, a carrying handle, and height/tilt adjustment) may feel like gaming bliss.
At $400 less than the otherwise almost identical Alienware (and generally more affordable than many 34-inch monitors with similar specs), the Predator X34P does offer notable value if you're hunting for a monitor like this one. It may not have the same laundry list of specs, but it shines in its core categories.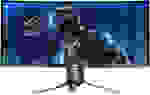 Asus ROG Swift PG348Q
34-inch screen
3,440 x 1,440
60 Hz native/100 Hz OC refresh rate
G-sync compatible
Curved screen
IPS panel
The ROG Swift PG348Q is a big 34-inch option from Asus, a company that makes a huge array of gaming monitors across many sizes and specifications. Like a couple of the other 34-inch monitors I tried, the PG348Q—with its ample 3,440 x 1,440 resolution, 60/100 Hz refresh speeds, G-sync compatibility, and curved IPS screen—is most notable for the sense of immersion it brings on via its huge curved screen.
In terms of features and value, the PG348Q lands between the Acer Predator and Alienware models. You aren't getting quite the same flashy, RGB experience as with Alienware's "AlienFX" programmable effects, but neither is it as (relatively) bare-bones as the Predator. The PG348Q is the top-of-the-line option in Asus' considerable gaming monitor lineup, and this shined through during use. The built-in LEDs and IPS panel made for a rich and eye-strain free experience while I was gaming, and with the option for G-Sync, I felt confident that the graphically impressive screen would also remain responsive and tear-free.
Like the other 30+ inch monitors in the list, the PG348Q is a great choice for sheer immersion and beautiful images, but you'll need a pretty hefty video card to operate it comfortably. Overall, though, the extra features and bits and bobs, like blue light filtering and the monitor's lovely titanium/copper finish, feel like icing on an already well-baked cake.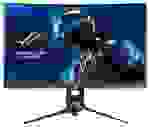 Asus ROG Swift PG27VQ
27-inch screen
2,560 x 1,440
165 Hz refresh rate
G-sync compatible
Curved screen
TN panel
A somewhat deep-pockets option from amongst our huge lineup of monitors, the Asus sits between the smaller 24-inch options and bigger 32/34 inch models. It delivers a decent lineup of specs for what you're paying: while 1080p resolution tends to leave 27-inch monitors with the "screen door effect," the OG27VQ's 2,560 x 1,440 keeps it looking crisp no matter which game you're playing.
Another reason for the bigger price tag? This monitor's overclockable 165 Hz refresh rate, which—while not the "top-tier" of 144 or 240 Hz—is still well above 27-inch monitors that aren't specifically for gaming. The PG27VQ's higher-than-average resolution and refresh rate gave it some beautiful visual fidelity and welcome twitchiness while I was playing games like Civilization VI and Overwatch. And with G-Sync on board, you can fairly easy stymie any tearing issues you experience, especially if you don't have the most powerful video card around.
While the curved screen is a nice touch here, I found during use that it wasn't quite as notable and immersive as the higher radial curve on the 30+ inch monitors I tested alongside this one. While it certainly doesn't detract from the overall experience, don't go in thinking it's a major draw of your purchase here. However, if you've been looking to get an upper-tier, big-screened monitor but didn't want to shell out a grand (or more) for one of the ultra wide-screen sort, keep this Asus on your radar.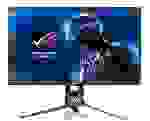 Asus ROG Swift PG258Q
25-inch screen
1,920 x 1,080
240 Hz refresh rate
G-sync compatible
Flat screen
TN panel
A bit of an oddball at 25 inches, the PG258Q is another of Asus' ROG Swift line, which typically deliver G-sync compatibilities and gaming-friendly refresh rates. Here, you're getting "standard" full-HD (1,920 x 1,080) resolution and the usual TN LCD panel, so you can expect average visuals but very quick response times. As usual, contrast wasn't amazing and viewing angles left a bit to be desired.
However, this is standard fare for gaming monitors, where head-on use and game genres more concerned with responsive mechanics than lush, filmic visuals are concerned. If you're primarily looking for a super-fast and fluid gaming experience, the PG258Q's 240 Hz refresh rate is what you want. While it takes some computing power to take full advantage of that impressive spec (as is the case with most gaming monitors), it'll give you a competitive edge in games where a single frame can be the different between victory and defeat.
To further justify its price tag, the features the same LED lighting, frameless design, and fully adjustable tilt/swivel/height options as the pricier ROG Swift monitors. While the price tag might seem a bit high for a "smaller" (25-inch) gaming monitor, I can see the price receiving justification by way of the hyper-fast 240 Hz refresh rate, G-Sync inclusion, and posh Asus extras.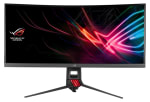 Asus ROG Strix XG35VQ
35-inch screen
3,440 x 1,440
100 Hz refresh rate
FreeSync compatible
Curved screen
VA panel
One of the downright biggest monitors I've ever gone hands-on with, the Asus ROG Strix XG35VQ is almost alarmingly affordable for its size. Many 32/34 inch monitors retail for a grand more, so getting this one (a 35-inch) at its MSRP of $799 (or sometimes less online) is definitely a value proposition if you're looking for a big, curved, TV replacement of a thing.
Transitioning from some of the faster refresh rates during my time with this one, I definitely noticed the shift from 144/240 Hz to 100 Hz at first. Like most 30+ inch monitors, the XG35VQ is better suited for cinematic, immersive gaming experiences than hyper-twitchy ones. Its resolution (3,440 x 1,440) is high enough to keep games on the huge screen looking crisp, but like with the smaller XG32VQ, it also uses a VA-style LCD panel. This more affordable panel type explains, in part, the XG35VQ's lower price. And like with other VA-equipped displays (most TVs use this panel type), viewing angles aren't stellar, and color fidelity/overall brightness won't blow you away. But the image is still reliably good for most games.
While you're also getting FreeSync here—and base-mounted LED lighting—the XG35VQ's major draw is how affordable it is for such an absolutely massive monitor. While you could get better picture quality from an IPS-equipped option, finding a 35-inch variant with the same high resolution and higher-than-average refresh rate would mean spending way, way more money—and we think plenty of gamers will be satisfied by the XG35VQ's performance.
Asus VG245H
24-inch screen
1,920 x 1,080
75 Hz refresh rate
FreeSync compatible
Flat screen
TN panel
The super-affordable Asus VG245H is a great choice if you want to get a multi-purpose gaming monitor. Its 75 Hz refresh rate might not hold a candle to the many 100+ options available, but it's perfect for modern gaming consoles, and the addition of FreeSync means AMD-wielding PC gamers can smooth out tearing issues—it's especially helpful if you don't have the beefiest rig.
This is definitely a console-focused monitor, however, especially now that Xbox One supports FreeSync. At the price, if you're not playing on a TV, this is the most valuable console monitor we've checked out, though you get certain desirable features from something like the BenQ RL2460, which is a bit more expensive.
More Articles You Might Enjoy
Up next
Get Reviewed email alerts.
Sign up for our newsletter to get real advice from real experts.