Laundry
6 top-load washers that you'll love
These top-rated washers mix traditional design with modern conveniences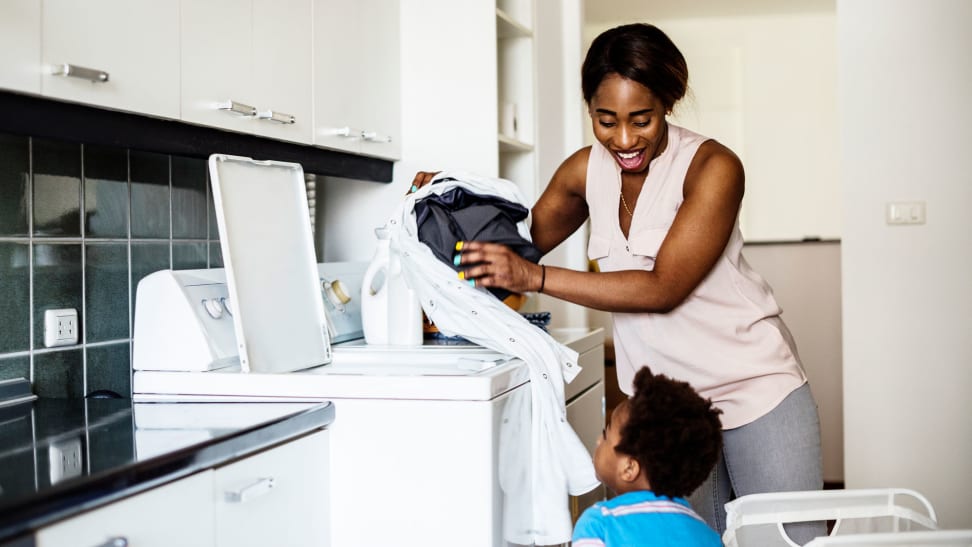 Credit: Getty Images / Rawpixel
Washing our clothes is one of the more consistent chores we need to do. Whether it's once a week or, if you're an average American family, once or twice each day, we spend a lot of time lugging laundry around.
Top-load washing machines are a great option for those who tend to do a lot of laundry. They tend to be simpler to use, don't require bending over to access, and typically cost a lot less than front-loaders.
If you need to buy or replace your old top-load washer, we've got you covered. We spend all year testing washing machines and have curated this list of the best-performing models to have graced our testing labs.
What to know before buying a top-load washing machine
You've probably heard people bragging about their beautiful front-load washing machines—so why would you want to buy a top-loader? Typically it comes down to ease of use, extra water options, and ergonomics.
A lot of us grew up with a top-loading washing machine, and sticking with that tradition means not needing to relearn how to do your laundry. Also in that vein, older washers used a lot more water than modern machines—and that's left a lot of people in the lurch when it comes to their laundry. Top-loaders often have additional options to increase the water usage so it's more in line with what you remember (even if it doesn't mean your clothes will get cleaner). Finally, it's just easier put laundry in a top-loader. You don't have to crouch down to access the door: You can just drop it in the top. It's also easier to add more laundry after a cycle has already started.
How Reviewed tests washers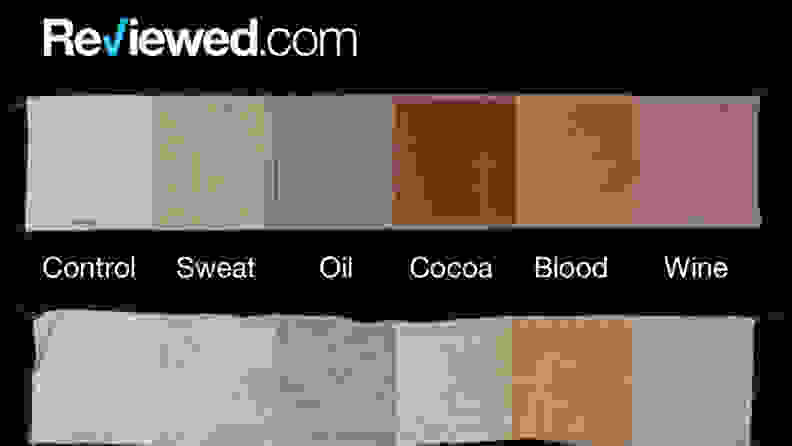 We use these standardized stain strips to determine how much of each stain each washer can remove.
Every washing machine that comes into Reviewed's labs is put through the same testing process, where we evaluate its performance and ease-of-use. Performance tests include:
Stain removal: We wash a strip of standardized, AHAM-approved stains (cocoa, sweat, blood, red wine, and oil), then use a special scanner called a spectrophotometer to determine how much of each stain the washer was able to remove.
Wear and tear: During a given cycle, we evaluate how hard the mechanical action of the washing machine wears on our test laundry.
Water retention: At the end of the cycle, we determine how much water is left in the clothes.
Cycle time: The amount of time it takes to complete a wash cycle varies between cycles and between washers.
The washers that rise to the top in our tests have strong stain removal abilities, are gentle on clothes and linens, remove lots of water, and complete their cycles quickly.
Beyond testing for performance, we also test the usability of each washing machine, based on our experience, during testing and during more casual use. (One perk of working at Reviewed is that we can use the washers and dryers in our labs to do our own laundry.)
In testing, our main goal is to answer one question: How easy is it to use this washing machine? This involves assessing the control panel, the door, the detergent dispenser, and smart features that more washers are including.
By combining the performance data with our own (more subjective) observations, we can make solid recommendations for any type of washing machine at any price point.
1. LG WT7500CW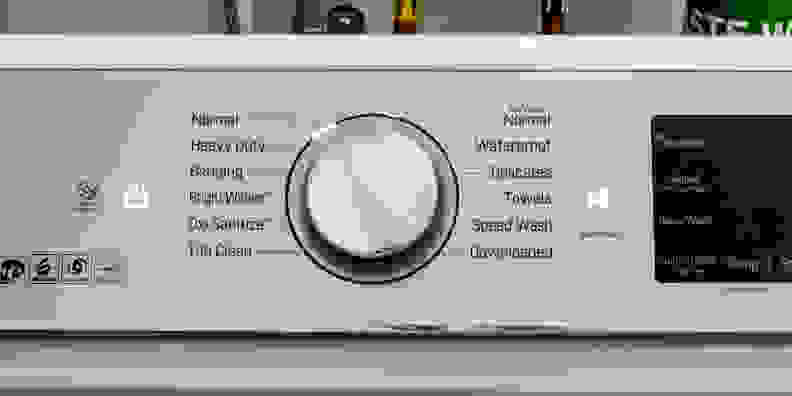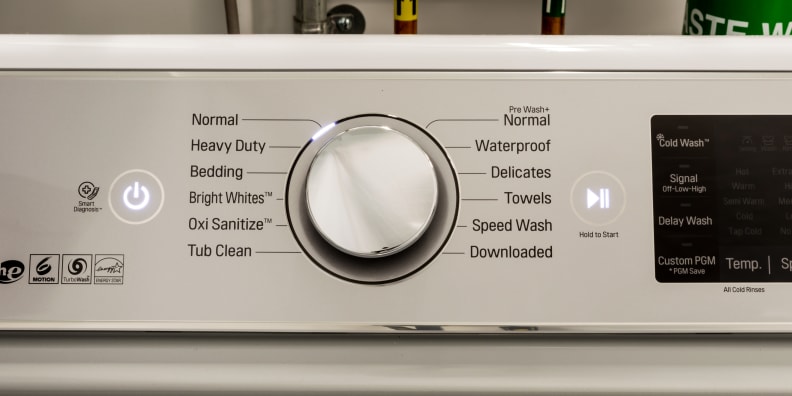 It's hard to not like the LG WT7500CW, which is our highest-rated top-loader. Not only does it look great and feel easy to use, it also has the size, speed, and power to make it stand out from the crowd. It has a huge 5.2-cubic-foot drum, making it one of the highest-capacity top-load washers on the market today—it should accommodate the laundry needs of a family of four. And if you need those clothes cleaned in a hurry, the Normal cycle can deliver clean laundry in as little as 30 minutes.
The WT7500CW is a great package overall, offering powerful cleaning and great features at a competitive price. In fact, one of the only downsides we found was it tends to use more water than average during its wash cycles. As long as you can stomach a slightly-elevated utility bill, the LG WT7500CW is the best there is.
Get the LG WT7500CW at Appliances Connection for $940.10
2. Samsung WA54M8750AW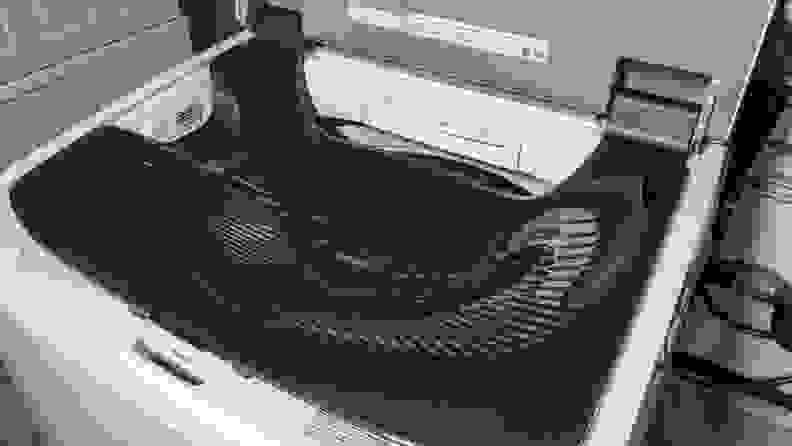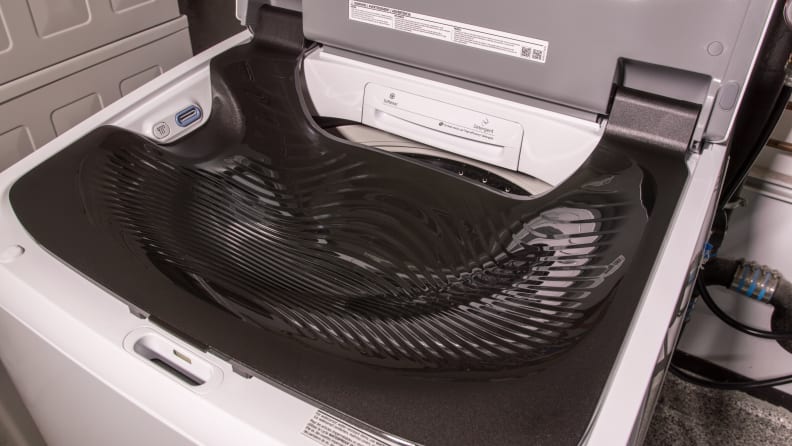 The Samsung WA54M8750AW is competitively-priced, comes with a large 5.4-cubic-foot tub, and, most importantly, is very effective at cleaning clothes.
Of course, all of the washing machines on this list are great—what makes the Samsung WA54M8750AW notable is its ActiveWash feature. ActiveWash is a combination faucet and sink that's built into the top of the washer, so you can clean, soak, and pretreat your clothes, then easily empty everything directly into the main tub for a wash or rinse cycle. It's the kind of feature that everyone might find useful every so often, but for those with small children prone to grass stains, it'll be a laundry day game-changer.
Get the Samsung WA54M8750AW at Appliances Connection for $1,075.10
3. Maytag MVWB865GC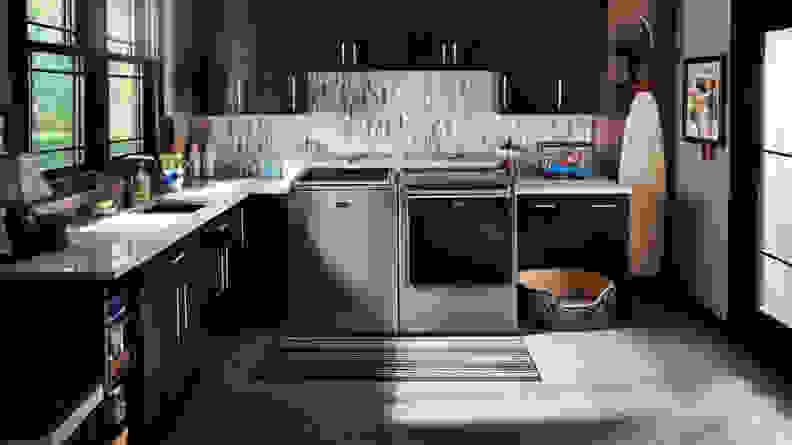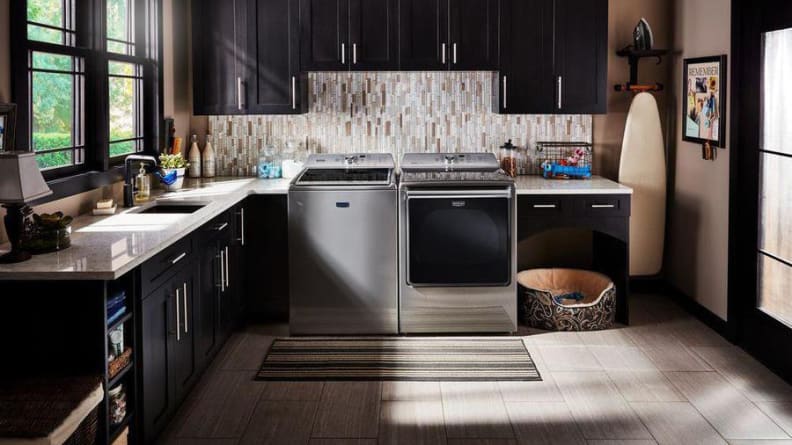 The Maytag MVWB865GC is the best modern take on a top-loading washing machine with a pole agitator that we've seen. For starters, it looks amazing—it has a sleek overall design with a metallic slate finish and a streamlined interface. Further melding designs of new and old, it features a traditional cycle selection dial as well as a touch-sensitive display for customizing your cycle.
The MVWB865GC also impressed us with its ability to clean clothes safely. If you have stubborn stains, the PowerWash cycle is more than capable of erasing them. Perhaps more importantly, however, is even its toughest cleaning cycles will be gentle on your clothes. This is an impressive feat for a pole agitator—historically those have been known to exacerbate wear and tear.
Get the Maytag MVWB865GC on Appliances Connection for $984.10
4. Whirlpool WTW7500GC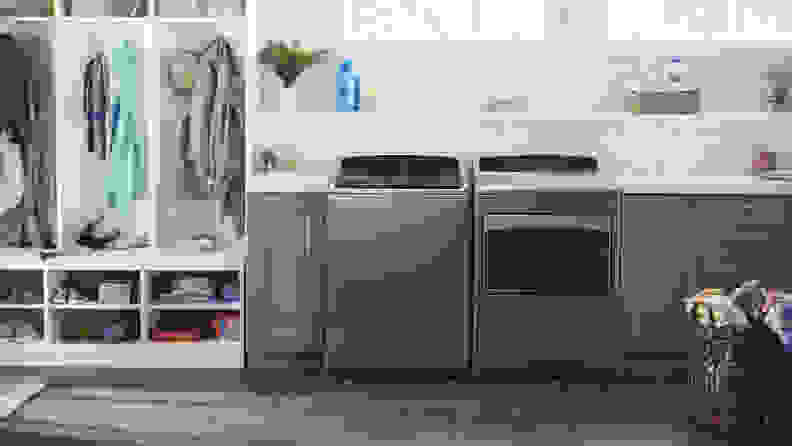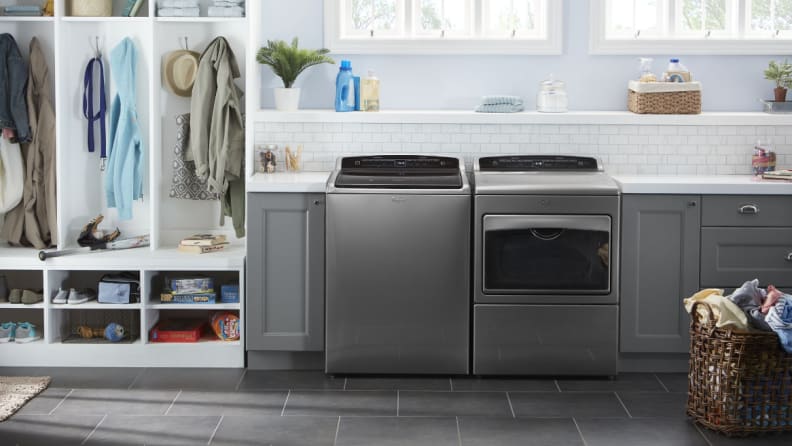 It may be different than what you're used to, but the Whirlpool WTW7500GC separates traditional cycles into "What to Wash" and "How to Wash"—and it might just prevent you from ruining your clothes. Sporting over 20 different combinations, this washer can handle any laundry situation, all while preventing fading and accelerated wear and tear. When it comes to cleaning performance in this price range, it's hard to beat this Whirlpool.
This Whirlpool comes packed with additional features, like a faucet for pretreating stains over the tub, a better water throughput system to ensure clothes get rinsed more evenly, and an option to customize how much water you're using. All in all, it's a great washer at a price that also makes it a great value.
Get the Whirlpool WTW7500GC at Appliances Connection for $894.10
5. Samsung WA45M7050AW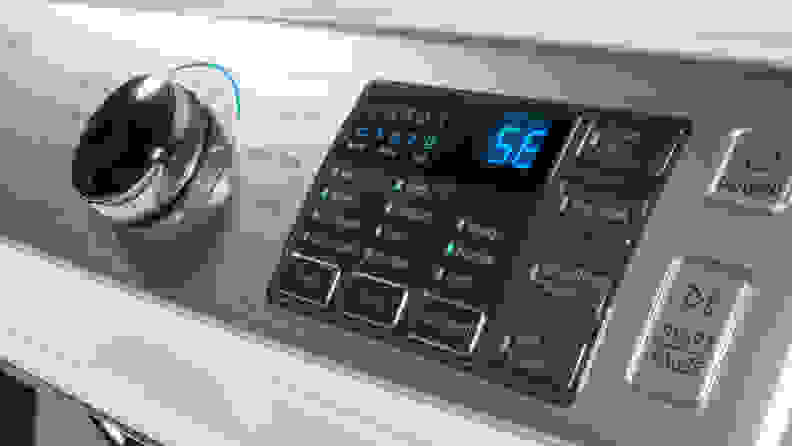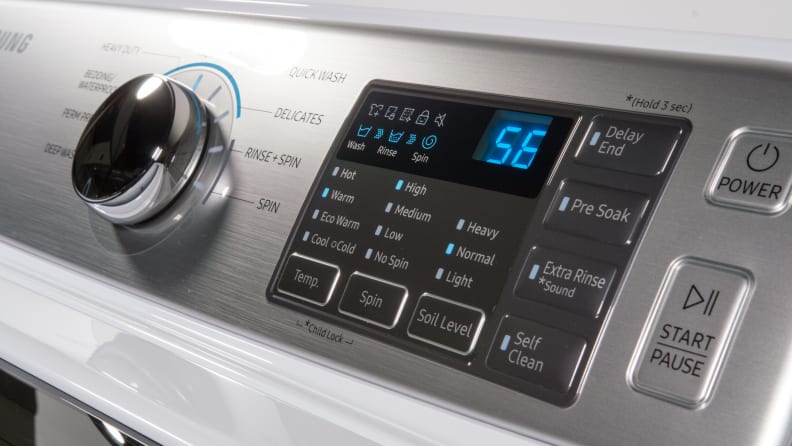 The Samsung WA45M7050AW is another great example of a top-loader that integrates modern design innovations. It features a soft-close lid over its diamond-patterned drum interior, and its Heavy Duty cycle manages some real cleaning power without the traditional agitator.
Like most Samsung washers, the WA45M7050AW has an amazing number of wash cycles and options, but fits it all in a streamlined interface that's easy to use. This Samsung manages to combine great performance, sleek design and premium features with a great price.
Get the Samsung WA45M7050AW at Appliances Connection for $715.10
6. LG WT7100CW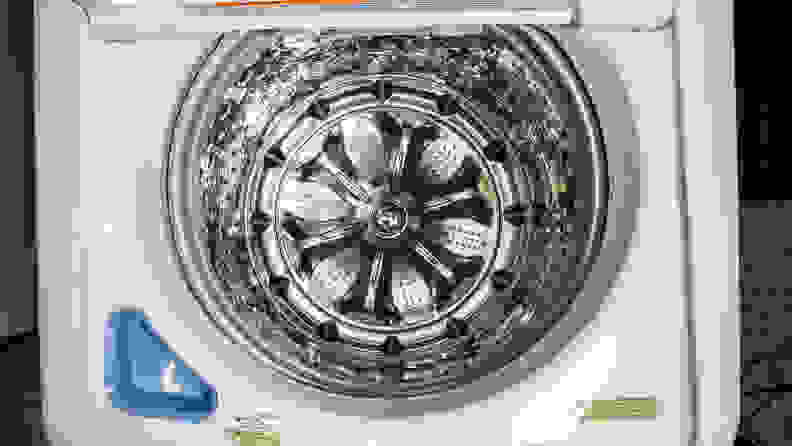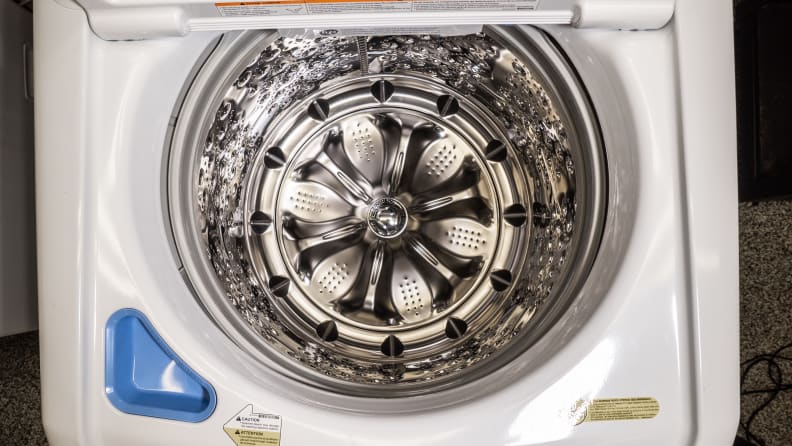 If you're used to old-school washers that fill all the way up with water, then the LG WT7100CW is the top-loader for you. The Deep Wash cycle fills up that washing drum just like old washing machines used to do. If you care about water efficiency, the WT7100CW can also accommodate—it's Normal cycle uses only about a quarter of the water the Deep Wash cycle does.
We think the WT7100CW is the perfect upgrade for someone coming from an old-school washing machine. Not only can you get the high water levels you're used to, the controls manage to be intuitive while still allowing some customizability. The one welcome departure from older washers—it runs very quietly.
Get the LG WT7100CW at Appliances Connection for $715.10
Prices were accurate at the time this article was published but may change over time.