Laundry
Samsung WA52M7750AV Top-Load Washer
This washer has a built-in scrub sink, but cleaning falls short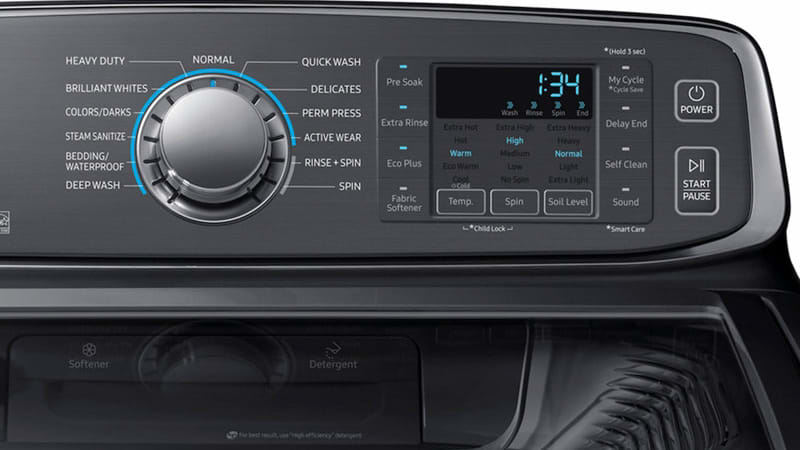 Credit: Samsung
If your biggest worry about buying a new Samsung washer is that it might explode, relax. That happened to some machines a couple of years ago, but the company has dealt with the vibration problem that caused it. Current models don't blow up.
The real issue with the Samsung WA52M7750AV Top-Load Washer (available at AppliancesConnection for $649.40) is that the cleaning performance fell short when we actually tested it in our labs. It's not dangerous, but it is disappointing.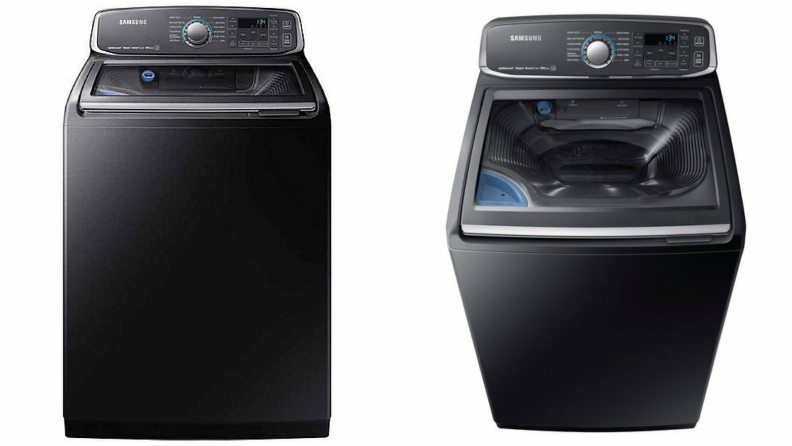 When we first laid eyes on this Samsung in our laundry labs, we were impressed by the washer's black stainless steel finish (also comes in white), deep 5.2 cu.-ft. tub, simple control panel with lots of cycles, and transparent scrub sink. Unfortunately, in several test loads, laundry was left with more than a few stains.
Design and features
The black stainless exterior looks classy, but white is available as well, for about $100 less. The machine's tub is shiny stainless steel, and its attractive diamond design is purposeful, meant to diminish wear and tear on clothes.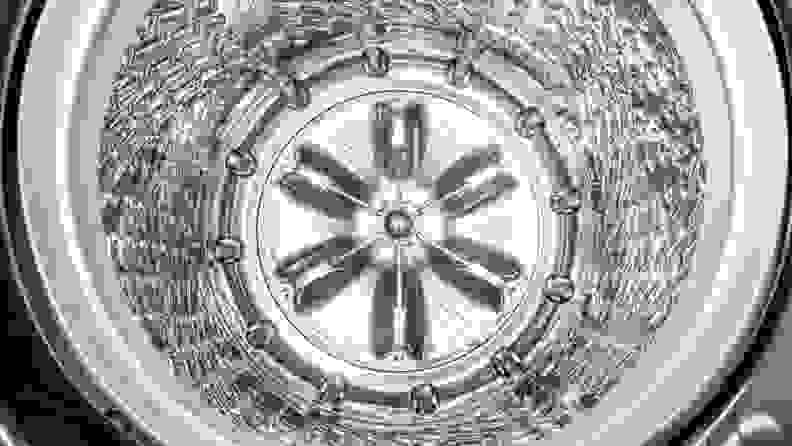 Since there's no pole agitator in this machine, there's plenty of room for clothes, meaning you can get a lot of laundry done at once. If you're petite, you'll need to keep a step stool handy to reach clothes from the bottom of the tub. We've never seen anyone fall in, but don't risk it.
Not every laundry room has a utility sink, so it's a bonus to have a shallow one built into the washing machine for pre-treating and soaking. An interior spout dispenses water when the Water Jet button is pressed. The sink's ridges function like an old fashioned wash board to help scrub stains out. Once the stains are treated, tip the sink back, and the garment drops into the tub. Doing laundry is rarely fun, but there's a certain amount of satisfaction in that process.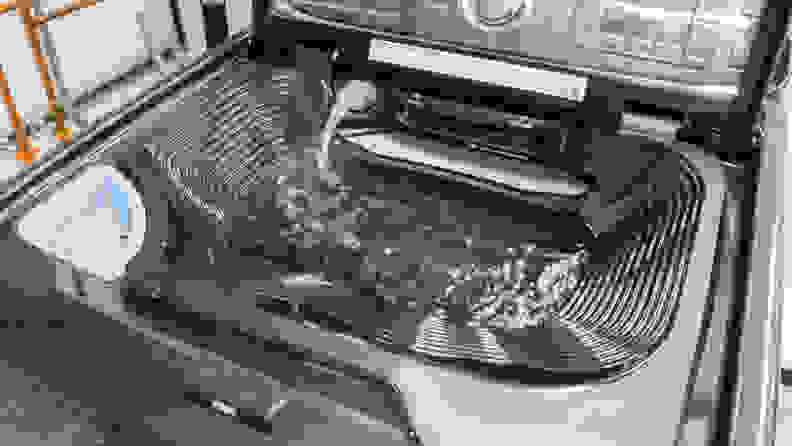 No laundry expertise is required to use the control panel. It's easy to read and offers a reasonable number of choices. Although we always encourage you to read the owner's manual, you won't need it to pick a cycle and set some options. You can customize a cycle with settings you use often, and save it with the My Cycle feature.
Traditionalists can use the Deep Wash feature to add more water to the tub. It's not an effective laundry strategy, and won't get clothes any cleaner, but if you want it, it's there for you.
It's hard to clean the tub manually, but do not count on Samsung's self-clean cycle to get it spotless. You'll need to wipe out the residue, so it doesn't ruin your clothes. You might also back off the amount of detergent and fabric softener you use.
Performance
Don't expect this washer to finish a load quickly. The Normal cycle ran slow—70 minutes—and in our tests, it didn't a stellar job taking out sebum, oil, cocoa, or red wine stains. The machine did a better job taking out blood stains, but only removed three quarters of them. Running the Heavy cycle takes seven minutes longer than the Normal cycle, and it did a better job removing stains.
The Quick cycle takes 38 minutes, but again, leaves stains on clothes. Using this washer's Delicate cycle is great for preserving fragile clothing, but not great removing most stains. Since it did a decent job taking out blood stains, ladies shouldn't hesitate to use it to wash lingerie.
The Steam wash cycle might provide a cleaning boost, but using elbow grease to pre-treat in the sink could produce better results.
We estimate that this washer will cost an average of $81 a year to operate.

What the users think
When we checked online owner reviews on Samsung's site, we found some 5-star reviews praising the features, but an almost equal number of 1-star reviews expressing concerns about the machine's quality and reliability. That's a red flag.
The Bottom Line
When you're investing $1000 on a washing machine, you want reassurance that it's going to produce clean laundry. We can't promise that with this model.
However, if you're looking for good value, the Samsung WA45M7050AW is one of the better top loaders we've tested, and it sells for only $600.
Top-loader fans could also be happy with the GE GTW680JWS, which won our Editors' Choice badge. That washer has no sink, but its large drum, 34-minute Normal cycle, and better cleaning power make it a strong contender for your dollar.