Ovens & Ranges
12 beautiful stainless steel appliances everyone can afford
You don't need to spend a fortune to have a luxury kitchen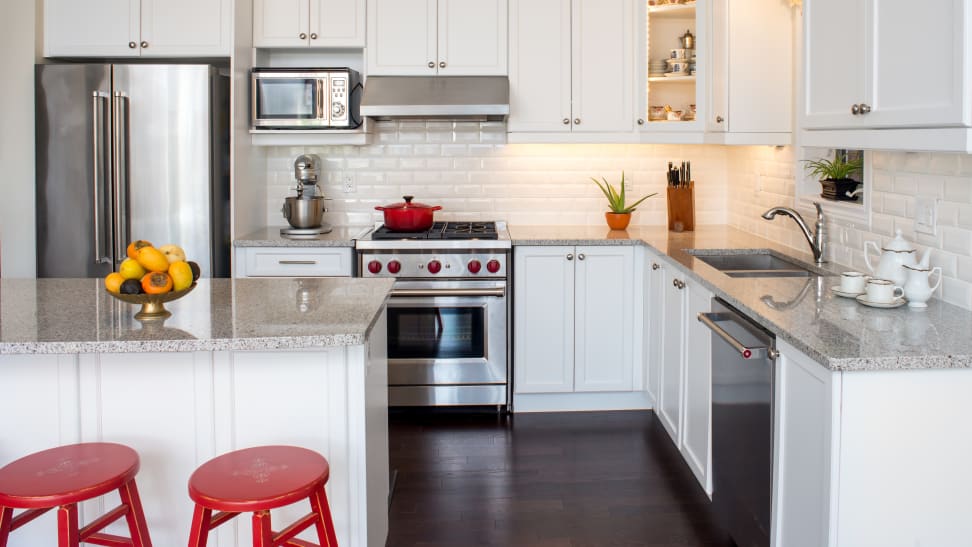 Credit: Getty Images / Chefmd
Like homemade apple pie, wearing all black, and the Beatles, stainless steel is timeless. Having an all-stainless kitchen enhances virtually any design or layout, giving you a modern and clean look. Stainless appliances also draw in consumers because they are easier to clean, don't fade, and in some cases, are more durable. However, the price turns a lot of people away. At Reviewed, we've tested thousands of products and we've got a list of stainless steel appliances that won't put a big dent in your wallet.
1. This stand mixer's retro design adds a homey feel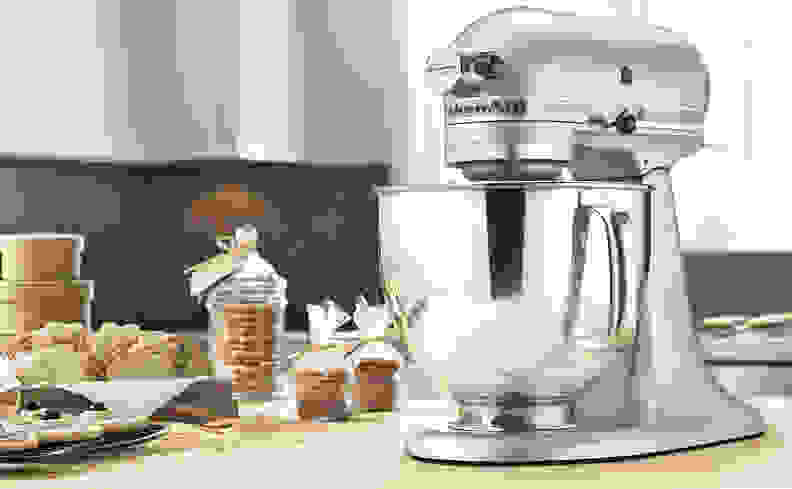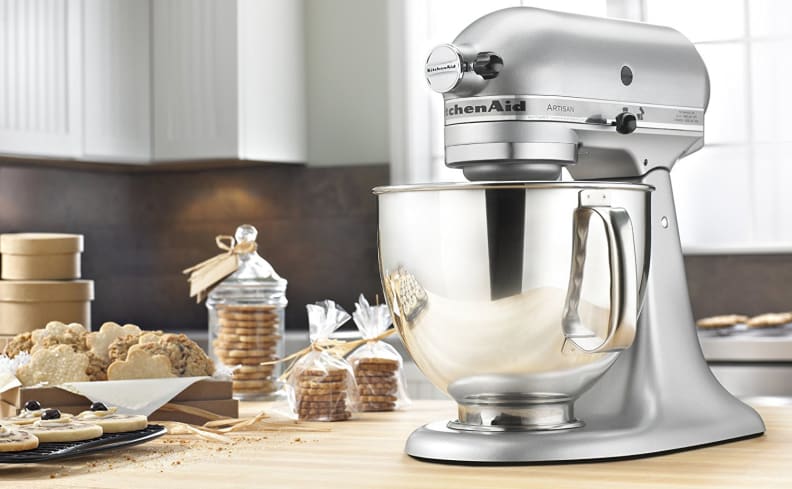 There's a reason why KitchenAid still dominates the stand mixer market 100 years after its introduction. In our roundup, the KitchenAid Artisan stood head and shoulders above the rest. Okay, so the whole thing isn't actually made of stainless steel, but the bowl and many of the internal part are, and you can get it in a stainless steel color. While the Artisan is expensive compared so some cut-rate mixers, it's money well spent because it's easy to use and clean.
Get the KitchenAid Artisan stand mixer from Amazon for $263
2. You need a stainless steel pan too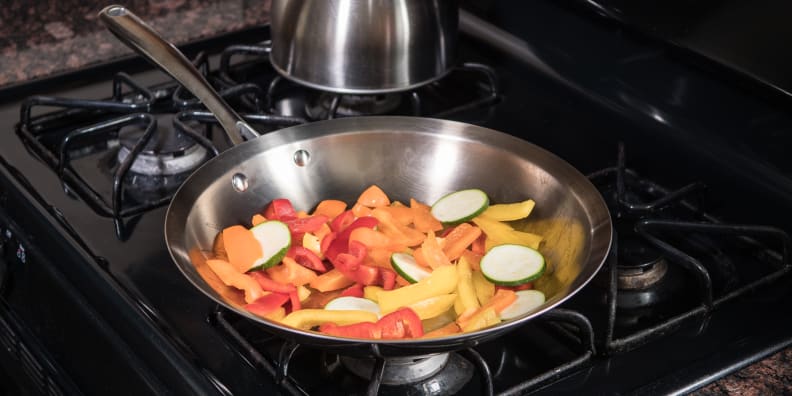 Okay, so a skillet isn't an appliance, but I still think you need one. Hanging pots and pans are a great way to accent a kitchen with a touch of stainless. We hired a trained chef to test a bunch out, and she found that the Tramontina Gourmet Prima 12-inch Fry Pan was the best value. For $50, you can get a pan that retains heat, cleans easily, and light enough to hold in one hand.
Get the Tramontina Gourmet Prima 12-inch fry pan from Amazon for $49
3. Your countertop needs some stainless too!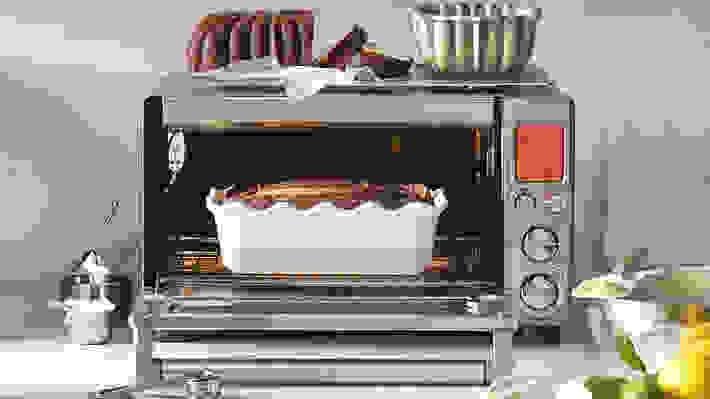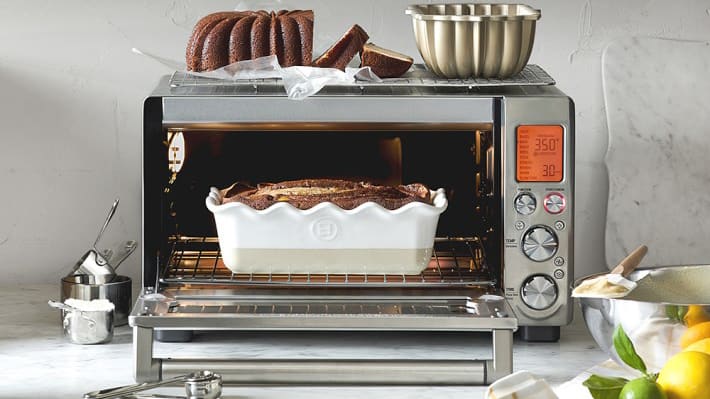 If getting a whole new oven is too daunting, try getting a toaster oven instead. After testing the five best-selling toasters on the market, we think Breville makes the best one. Yeah, it's more expensive than most, but it's way more affordable than its full-sized cousins. And unlike other toaster ovens you can totally bake a loaf of and roast a whole chicken in it!
Get the Breville Smart toaster from Amazon for $220
4. A French door fridge that's literally half the cost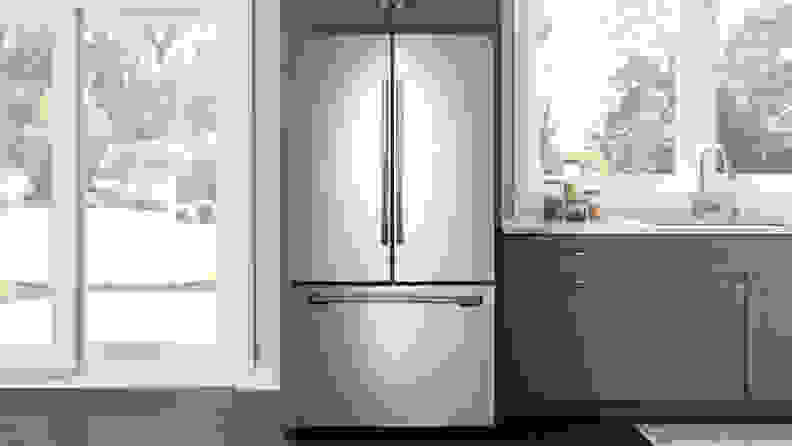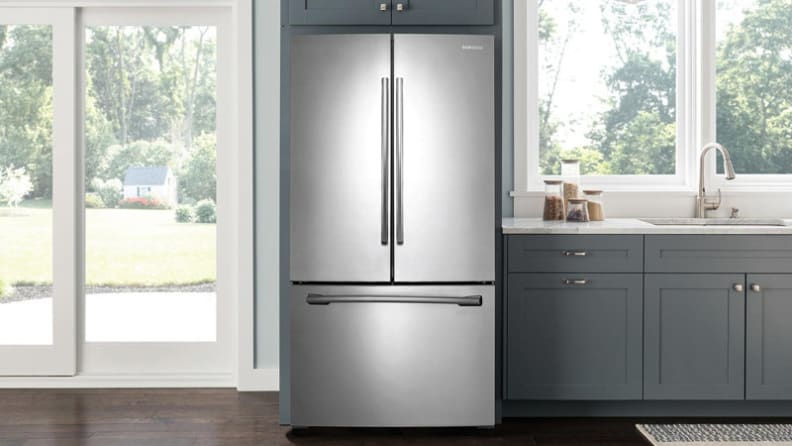 No sane person would tell you that a French door fridge is cheap. They can easily cost more than $3,000, but for that money you're getting a design that keeps food better, is easier on your back, and fit specialty items like a deli platter or an entire pizza. For those of us who are more cost conscious, Samsung makes the remarkably affordable RF260BEAESR for around $1,200. It has the same massive 25-cu.-ft. interior, performance on par with its rivals, and a stainless exterior.
Get the Samsung RF260BEAESR fridge from Best Buy for $1,199
5. The stainless steel top freezer that can fit anywhere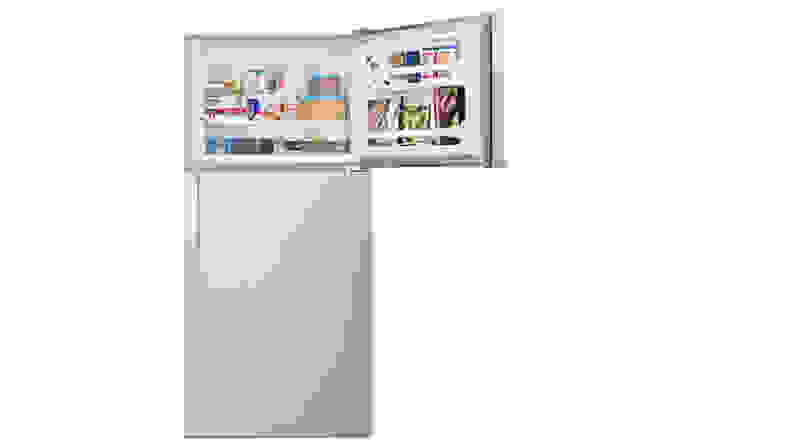 After weeks of testings, we crowned the Whirlpool WRT318FZDM as the best fridge under $1,000. Indeed, you can get this 18-cubic-foot fridge for around $630. Not only does it look good, but our temperature sensors showed that it performed well–keeping the fridge interior a steady 35°F. While it doesn't have an ice maker or water dispenser, it does stand out against all the plain-white fridges at this price point.
Get the Whirlpool WRT318FZDM fridge from Home Depot for $627
6. Class up your man cave for under $150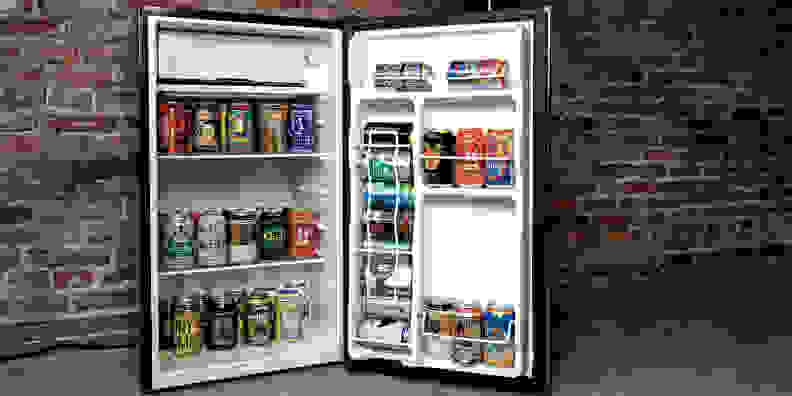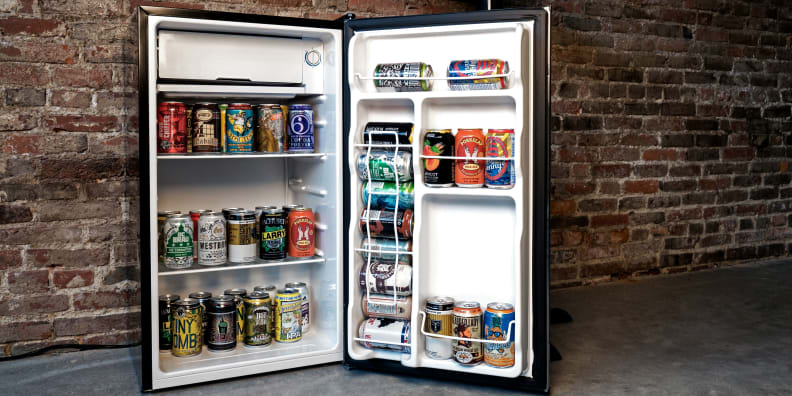 In recent years, beer has gained the same cultural cache as wine. You can keep it cool in style with the Igloo RF332. Amongst the beer fridges we've tested, we found it's a hat trick with good performance, at a reasonable price, and has a stainless accented exterior.
Get the Igloo RF332 fridge from Amazon for $137
7. GE leads the way with this electric range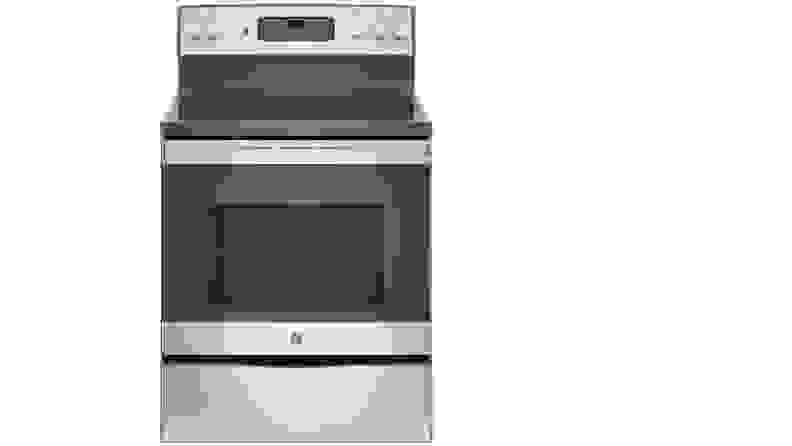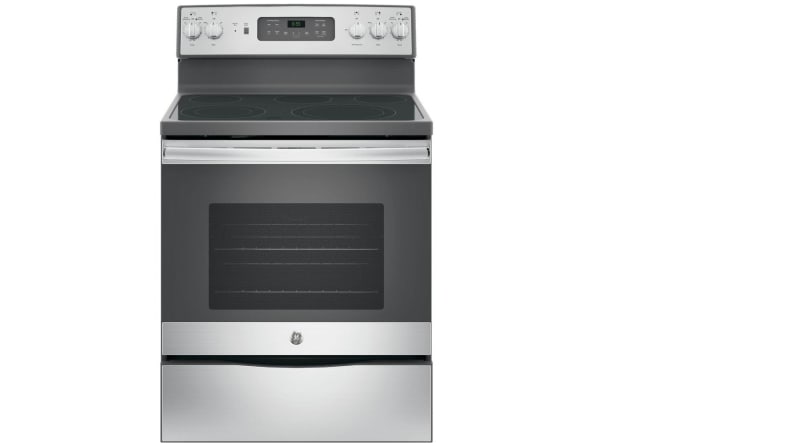 The GE JB655SKSS has a sleek stainless steel finish to accent is black-ceramic body. With a four-burner cook top and a 5.3-cu.-ft. convection oven, this GE is average-sized, which is good, because it means it can probably fit right where your current oven is now. Performance-wise, our reviewers liked the 655 for its power and evenness. For example, the stove top could boil six cups of water in a little over nine minutes and the broiled a pan of bread without a single burned spot.
Get the GE JB655SKSS oven from Home Depot for $597
8. Good gas stove + Stainless Steel = This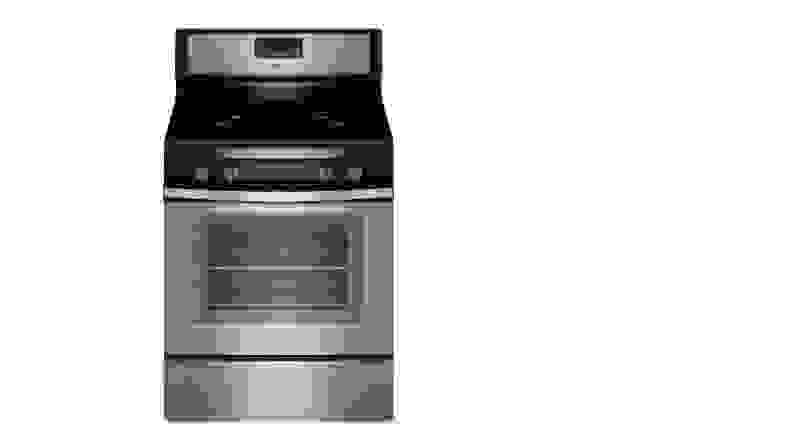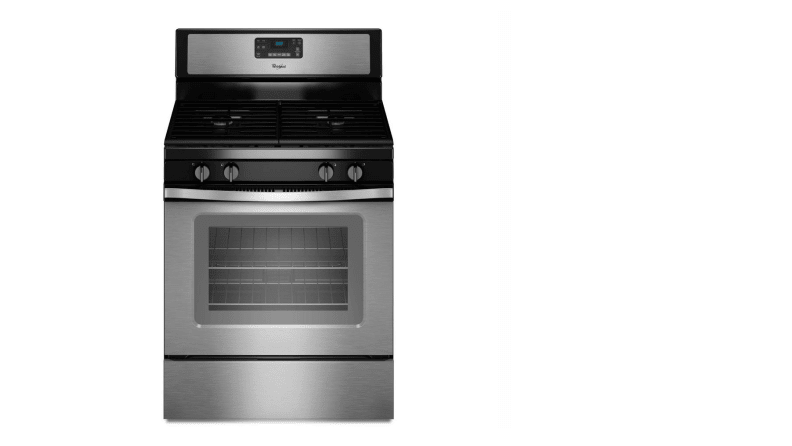 If cooking on an electric cooktop is not your jam, the gas-powered Whirlpool WFG515S0ES might be more your speed. The stainless steel trim keeps it from being a plain Jane, and the sub-$700 price tag keeps this oven from becoming a money pit.
Our reviewers found that the front two burners could boil six cups of water in just five-and-a-half minutes. As good as the burners were, the oven is where the 515 shines. During our real-world tests. We baked two cakes side by side and found little variance in their doneness. These test results tell us that this Whirlpool excels at regulating temperature and airflow.
Get the Whirlpool WFG515S0ES oven from Home Depot for $675
9. If you want more than just accents, this the oven to get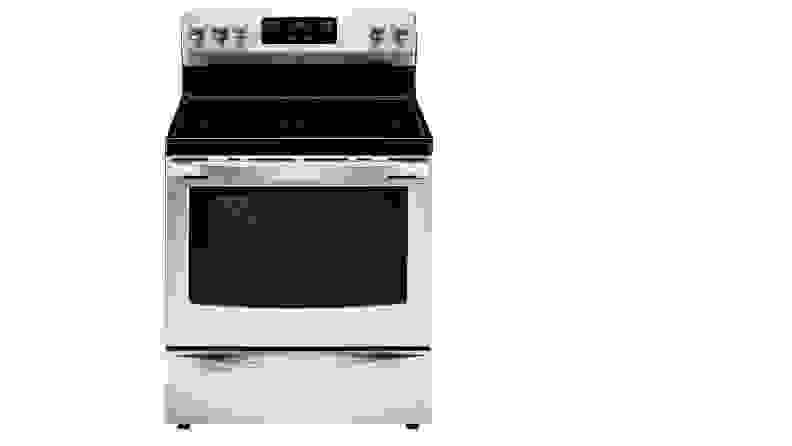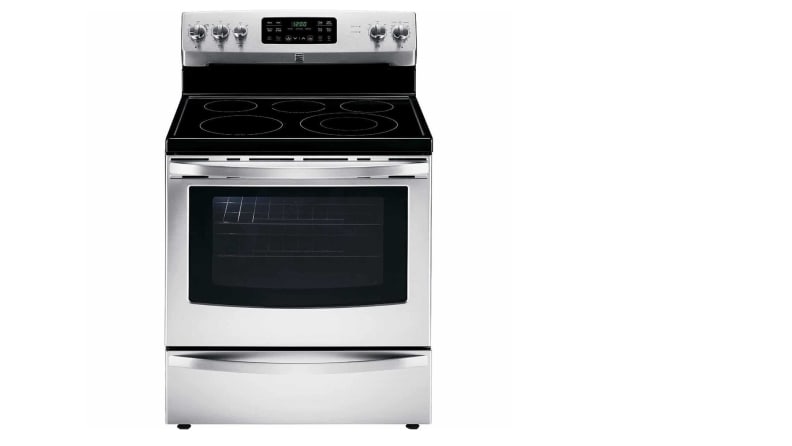 A lot of consumers buy stainless steel appliances when they are renovating to sell. If you're in this situation, we'd suggest taking a look at the Kenmore 94193. It's a real looker, with a front almost entirely clad in stainless steel. Our tests show that it isn't the greatest performer, but in the sub-$600, it does just fine. Fresh out of the box, the 94193 will be the shinning knight in your kitchen.
Get the Kenmore 94193 oven from Amazon for $550
10. The Bosch brand name doesn't have to be super expensive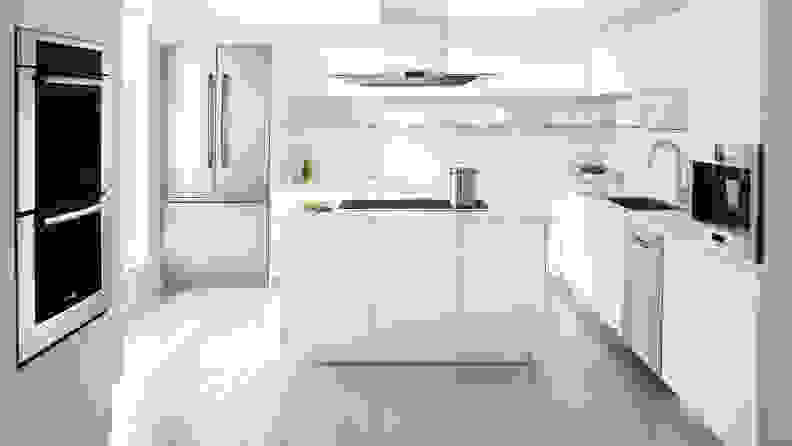 When it comes to dishwashers, Bosch has a cultural cache that no other manufacturer can match. They do tend to be expensive, but models like the SHPM65W55N can be had for as little as $800. The 500 series has innovated features, like a deep third rack that has space for ladles and other cooking utensils. When you combine features like this with stellar cleaning ability, you understand why Bosch dominates the market.
Get the Bosch 500 Series dishwasher from Best Buy for $809
11. This dishwasher is flexible inside and hard steel on the outside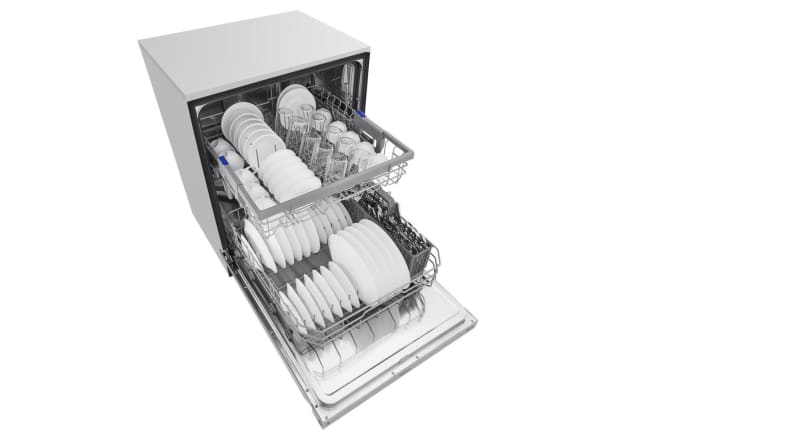 The LG LDF5545ST will bring class and performance into your kitchen. In terms of price to performance, the LG tops our list–removing stains at a rate to match even $1,000 Bosch dishwashers. Retailing for around $550, you'll also be hard pressed to find any other dishwasher that looks as good. The interior is highly customizable with folding tines and adjustable racks.
Get the LG LDF5545ST dishwasher from Best Buy for $549
12. Whirlpool makes a heavy-duty dishwasher for under $500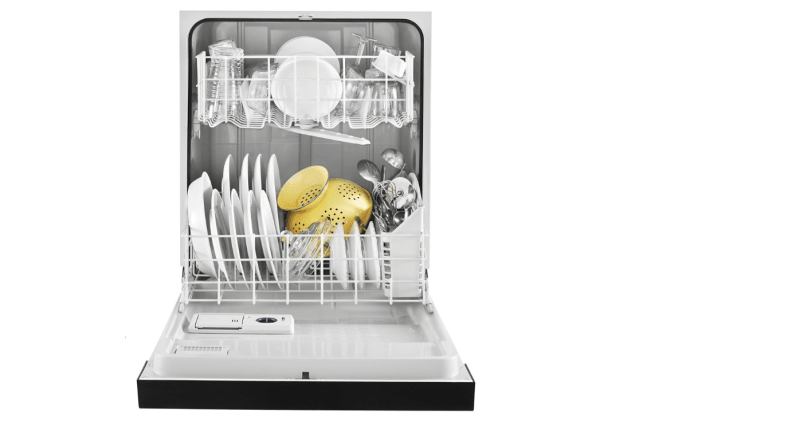 If you're looking for a dishwasher that doesn't focus on features, then the Whirlpool WDF330PAHS might be more your speed. This dishwasher performs way above its price point. It aced our tests, getting dishes 100 percent clean. While the 330 isn't as pretty other stainless steel dishwashers, it is one of the most affordable. If you're renovating a rental property, this dishwasher should be on your short list.