Most supermarket openings get little more than a blurb in the local paper, but when Daily Table opened in Dorchester, Massachusetts earlier this year, it was covered by the national outlets like USA Today, Time, and NPR.
Why? Simple: It's being billed as the country's healthiest nonprofit grocery.
The store sells food that other supermarkets would normally toss out—usually donated by distributors and farms that can't find any takers—and offers it at incredibly low prices. A dozen eggs are right around $1. Frozen corn? A mere $0.39 per bag. Apples of all kinds cost $0.49 per pound.
Walking into Daily Table several months after its grand opening, at 2pm on a Monday afternoon, I was immediately struck by the corner market vibe. The store feels more like a family-owned shop than a traditional grocery: It's quiet, the selection is limited, and there aren't a whole lot of people around.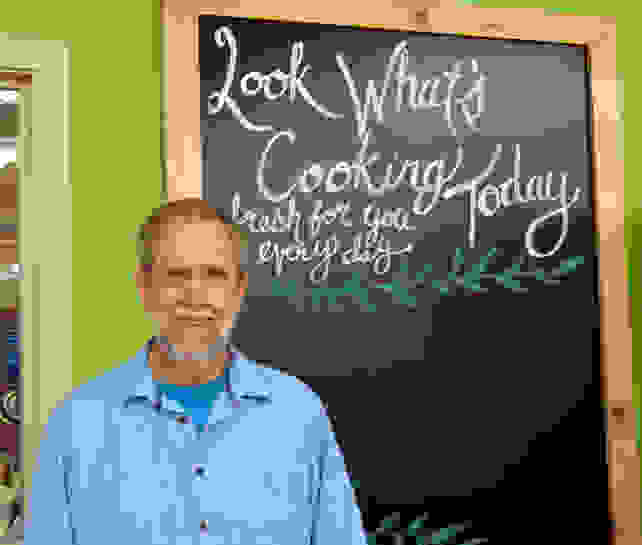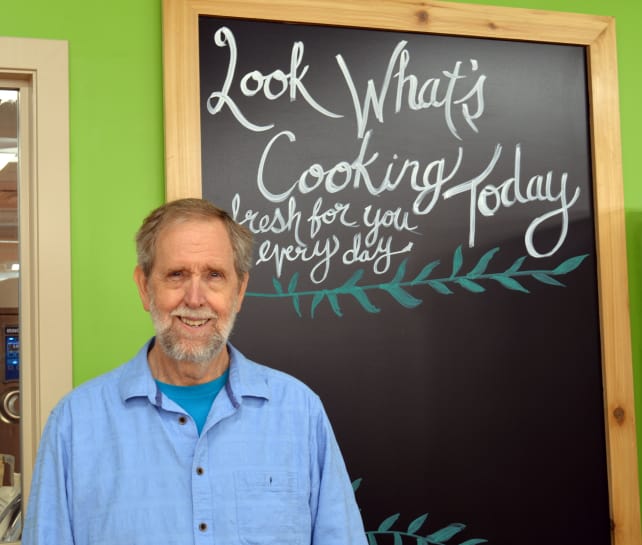 That last part probably has a lot to do with timing. Daily Table is open from 10am to 8pm (or 11 to 6 on Sundays), and it's busiest when people are headed home after work. You do have to sign up to shop here, but unlike Costco or Sam's Club, there's no fee. Instead, registration lets Doug and the rest of his support team keep track of who's showing up. To date, they have over 7,000 members.
"Anybody can come here to shop, but that's not the point," says store founder Doug Rauch. "We want to make sure we're serving the community that we're in."
The former Trader Joe's president and CEO of Conscious Capitalism is clear about his goal: to give struggling neighborhoods access to the kind of nutrition that leads to better lives, at a fraction of the prices you'd find at other grocery stores. "I joke that we're a healthcare initiative masquerading as a retail store," he adds.
"I joke that we're a healthcare initiative masquerading as a retail store."
In the middle of our conversation, a shopper comes up to Doug and asks if there are any eggs left. "Sorry, our supplier ran out," he replies. "We're hoping to get some more in over the next few days." Expectations are clearly different at Daily Table, mostly because inventory is highly seasonal—more so than at larger chains, which can ship food in from across the country and around the globe.
As peak growing seasons come and go, the surplus that makes up most of Daily Table's stock fluctuates. Rauch says that simply getting the store going was challenging due to the unpredictable nature of the food intake.
To illustrate the point, he brings me over to a wooden crate stacked with about 20 ears of corn. "Last week we had three of these displays overflowing, but now the numbers are winding down." Nearby is a pallet of organic, locally grown apples–available for just 49 cents per pound–that took the place of berries that were there in abundance just a few weeks before.
Much of the produce on display looks delicious, but there are some noticeable flaws: the ends of some corn cobs look underdeveloped, and the organic apples have more than a few bruises. A batch of eggplants on display are riddled with pockmarks. "We got these from a local farm that experienced some hail storms," Rauch tells me. "The vegetables are fine, they're just not as pristine as what consumers expect to see."
When it comes to produce, Rauch says, "We've allowed the perfect to become the enemy of the good."
Indeed, much of what's sold at Daily Table is leftover produce that farmers couldn't unload for cosmetic reasons. When it comes to produce, Rauch says, "We've allowed the perfect to become the enemy of the good." In his experience, people expect certain things when they go grocery shopping–shiny red apples, straight carrots, perfectly flowering heads of lettuce.
"But nature didn't get the memo," Doug quips. "Did you know Romaine lettuce is grown now to fit the bags? So any heads that are too short or too tall to fit the packaging get plowed under or just thrown out. We'll take that lettuce–which is otherwise in perfect shape–and sell it here at a much lower cost than what you'd find in other stores."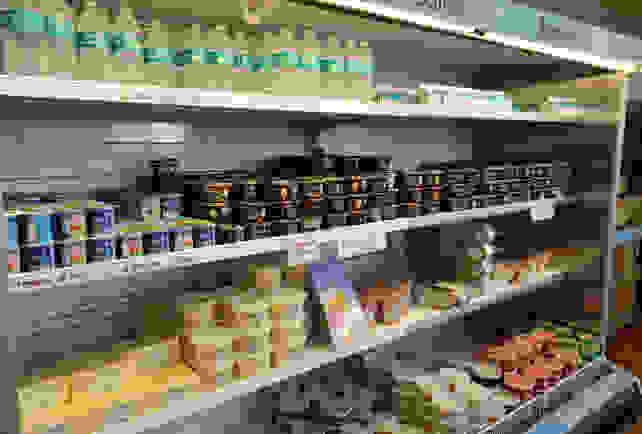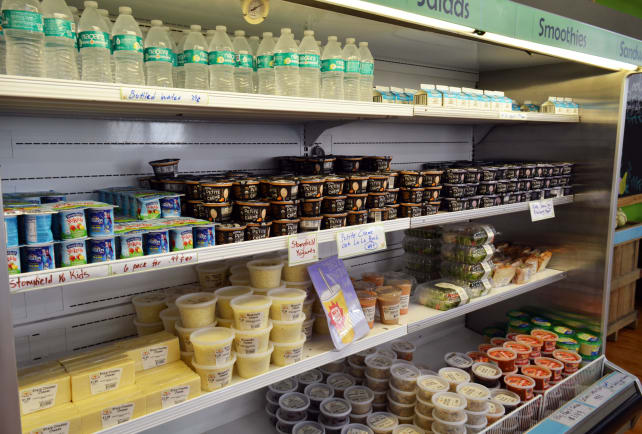 Therein lies the key to Rauch's vision: "We need to change how this food is described. It's usually referred to as food waste, which doesn't sound appetizing. You hear food waste, you think chicken bones or vegetable peelings. I'm not interested in food waste–I'm interested in wasted food."
Nearby is a cooler filled with yogurt, milk, and other dairy items. "Another big reason food gets wasted is because the manufacturer will change the label," he observes. "We've got yogurt here that's still good, but the brand has changed, so the manufacturer doesn't want it on store shelves."
Rauch also sells packaged goods like milk and string cheese that are too close to their sell-by date for the comfort of larger chains. For now, though, Daily Table isn't crossing the line into food that's past its sell-by date.
"The Boston Health Department was concerned about selling food that wasn't good, or was of a compromised quality," Doug explains. "That's obviously not the case for most sell-by dates–which usually refers to peak flavor, not nutrition or food safety–but we thought it would be best to save that fight for another day."

Amidst the loaves of bread, boxes of cereal, and crates upon crates of produce, I notice there's something missing: prepackaged snacks. There are no cakes or potato chips, no ice cream or candy on display.
"Empty calories are already cheap," Rauch says. "I want to provide access to food that moves you forward, not stuff that holds you back. We have very rigorous, high nutrition standards that dictate what we're going to be putting into the community."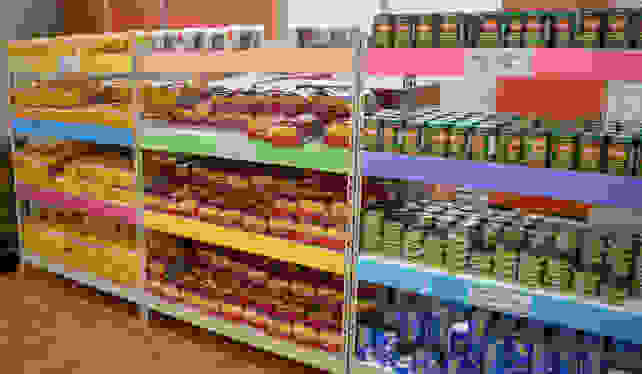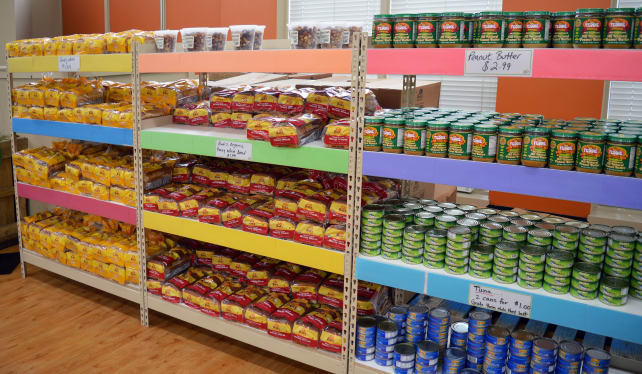 Doug takes me over to his prepared food section, noting that, "Fifty percent of our sales come through the kitchen—entrees, soups, sides." Despite the vagaries of the store's supply chain, Doug's kitchen staff—headed by professionally trained chef Ismail Samad—is clearly making the most of it.
"We've got baked pollock for $1.20, beef brisket for $2.35... curried chickpeas with rice, cream of mushroom soup. All our vegetable soups are $1.29."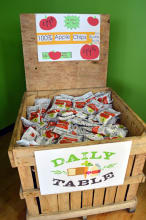 "We've got baked pollock–seasoned or unseasoned–for $1.20, beef brisket for $2.35," Doug says. "For vegetarians, we've got curried chickpeas with rice, cream of mushroom soup. All our vegetable soups are $1.29. I've eaten these myself; they're filling, and have been designed to provide the correct amount of protein, fiber, and other nutrients."
As Doug guides me through the offerings on display, I can hear the excitement bubbling up inside him. The reason for his enthusiasm is pretty obvious.
Consider the debate swirling around minimum wage laws right now, and the stories we hear about people working multiple jobs to make ends meet. Rauch's argument is that shopping for good food and cooking a healthy meal takes time; if you've spent all day working one or two jobs, then have to clean or pick up the kids from school, you might not have the energy.
On the other hand, people who are unemployed or underemployed may have more time, but less means. High-quality produce or meat can be expensive, and government assistance doesn't usually allow for more discerning shopping habits. According to the USDA's website, a three-person household can get up to $511 per month in SNAP aid. That's about $1.90 per person, per meal for a standard 30-day month—less than I spend on lettuce, let alone something more nutrient-rich, like chicken.
According to the USDA's website, a three-person household can get up to $511 per month in SNAP aid. That's about $1.90 per person, per meal.
Daily Table's premade meals are designed to make it easier for busy shoppers to serve a nice dinner for themselves and their family, and to provide people on a fixed or low income with high-quality nutrition at a price that doesn't force them to make other sacrifices.
Doug's plan is an ambitious one, but with his résumé, it's safe to say he knows how the grocery business works. "Over the next few months, we want to add a few more rows of shelves, continue developing our relationships with suppliers, and just keep getting the word out into the community," he explains.
Rauch is routinely seen at local church events and neighborhood meetings spreading the word. It's a particular set of words, too. "Words like 'health' and 'nutrition' turn people off," he says. "We want to stress the great flavors and affordability that you can get while still eating well, and if more people are able to do that, then we'll achieve what we've set out to do."
Related Video
Our editors review and recommend products to help you buy the stuff you need. If you make a purchase by clicking one of our links, we may earn a small share of the revenue. Our picks and opinions are independent from any business incentives.