While you may have been anxiously waiting for your baby's first steps and hoped it would make parenting a bit easier, you probably didn't think about what comes next. This is where baby gates can help. It won't replace being an attentive parent, but baby gates can provide a solid line of defense against serious injuries, especially in-and-around stairs.
We tested six different baby gates and considered 13 different options when choosing the best baby gates to childproof your home. Early in our research, we discovered that hardware-mounted gates are generally preferred. They're more secure and cause less damage than their pressure-mounted counterparts, especially when the gates inevitably fall over. In addition, we wanted to find a gate that suited nearly every possible scenario, which includes at the top of the stairs, a feature you won't see on a pressure-mounted gate.
After reading instructions (again and again), installing and testing each candidate, we found the Cardinal Gates Stairway Special (available at Amazon for $76.99) is the best baby gate on the market. For those who want to spend less, the Regalo Easy Step (available at Amazon) is another good choice with only a few compromises.
These are the best baby gates we tested, ranked in order:
Cardinal Gates Stairway Special
North States Easy Close Gate
Regalo Easy Step Gate

Summer Infant Multi-Use Extra Tall Walk Thru Gate
Retract-a-Gate
EvenFlo Top of the Stairs Gate
Updated March 13, 2019
Advertisement - Continue Reading Below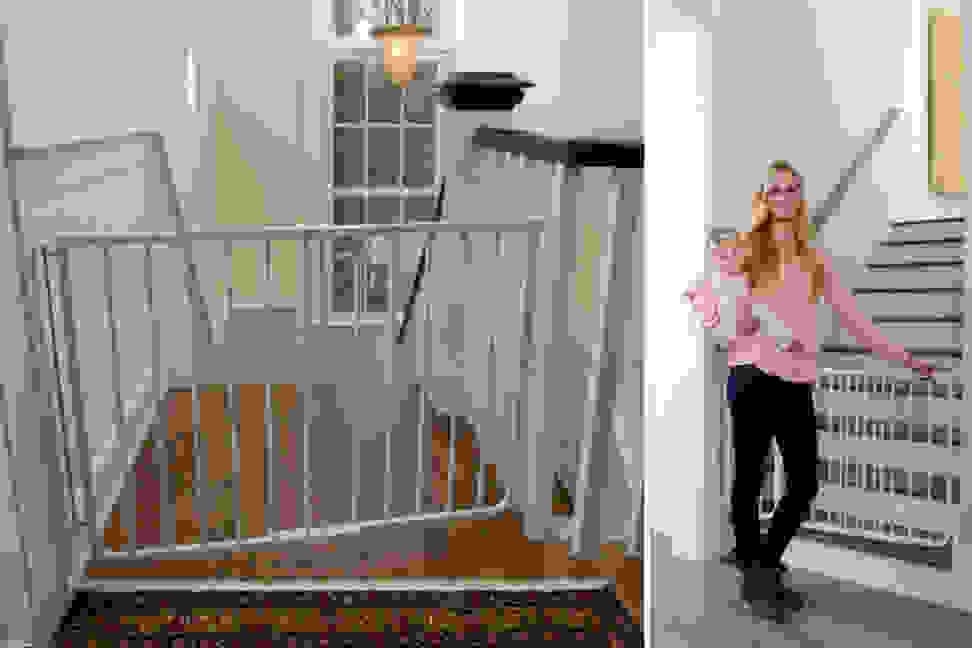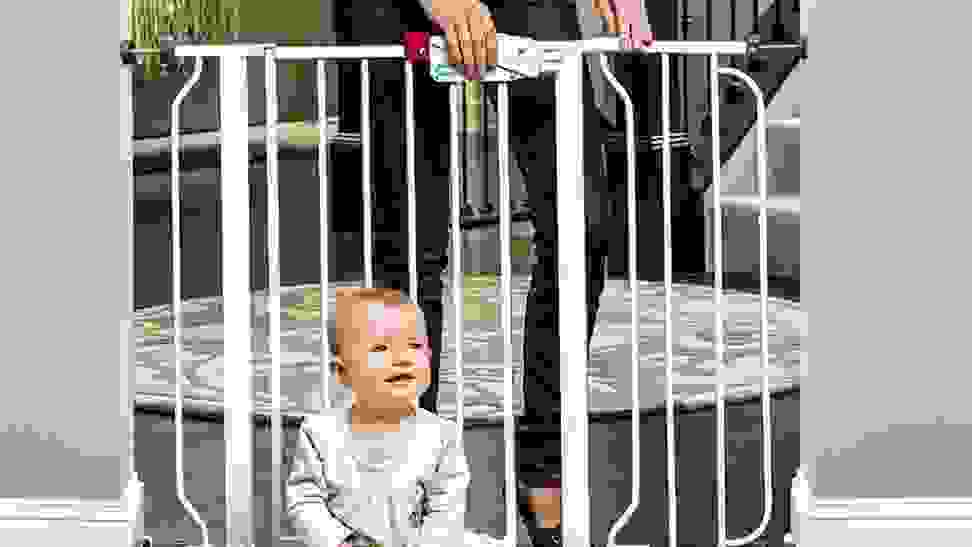 How We Tested
The Tester
I'm Matthew DeLauder, and I've spent almost 10 years working in the juvenile product industry in a retail setting, where I was able to see new products and learn about how they differentiated themselves so I could provide parents with advice and answer questions they had about which ones to buy.
The Tests
Most parents are focused on the security and installation of the gates, and how easily they can open and close them while ensuring that the little ones stay behind safe. We added a few more criteria to our tests, including how easy it was to understand the manual and how much damage was left behind after we were done testing.
In researching the category, we started by selecting best-selling and highly-rated gates that had been on the market long enough to have an ample track record. Once we had an initial set of candidates, we eliminated gates that had the lowest ratings, and many that had much higher than average price tags. We tested each product with parents and their kids, and asked for each parent to fill out a questionnaire about their experiences. We then calculated the scores and found our favorites.
All of these models we tested were adequate and would ultimately prevent a child from accessing a set of stairs. The features that define the winners and the losers are largely related to the ease of installation, and how quickly you can get through the gate. Gates that open fully, and that also do not have a threshold are the best options, and our scores reflect that. It's much easier to walk through a gate straight on versus having to turn your body at the top of the stairs to step through.
What to Know About Installing Baby Gates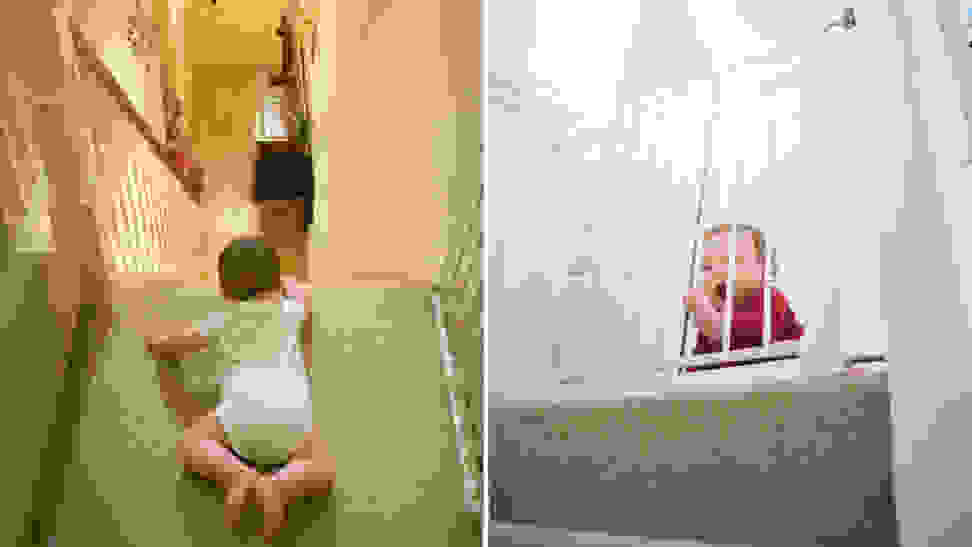 Most gates are made of metal with plastic hardware. It's important to make sure that when you purchase your gate that you hold on to every part that is required for installation (even if you don't use all it), both now and in the future. As your child grows, so may your home. What works in one space may require special hardware or those extra pieces you thought you would never use in another. One main challenge for a gate is the banister. Be sure to check the guidance on each product for how to work around them, or even try to use your gate at a safe angle, like the Cardinal Gates Stairway Special. There are also kits, like the Qdos Universal Stair Mounting Kit, designed to help you mount the gate against an irregular surface.
For those who are afraid of wall damage, there are products out there that can help. The Wall Nanny works great for pressure-mounted gates. It works on almost all gates, and it's simple to install. If you have a hardware-mounted gate, you'll most likely have some sort of wall cup design, which will help to minimize any damage. The best way to prevent damage is to install the gate correctly in the first place. This means measuring twice, and drilling in the place you are supposed to once (and not testing out four other spots). A final note: If you're not handy, don't sweat it, many people have installed a gate with no prior experience.
---
Other Baby Gates We Tested
More Articles You Might Enjoy
Advertisement - Continue Reading Below