Refrigerators
Your refrigerator could be making you sick
The temperature could be ruining your food
To keep our food safe, a refrigerator has to be cold. Everyone understands that but what you may not know is that your refrigerator might not be cold enough. Refrigerator temperatures are inconsistent in two ways. First, all refrigerators idle at times, which is when their temperatures increase. If temperatures get too high, your food could spoil, potentially making you and your family sick. Second, different parts of your refrigerator have different temperatures. You need to make sure that every section of your fridge has a safe temperature.
Bacteria proliferate at temperatures over 40°F. According to the CDC and FDA, your refrigerator should never go higher than that to reduce the chance of spoilage and food-borne illness. But how do you measure that? Even with a newer refrigerator, you can't trust the temperature reading on the digital display. Luckily, once you know what the ideal temperature should be, you can check to ensure your fridge is cool enough to keep bacteria at bay.
What is the ideal refrigerator temperature?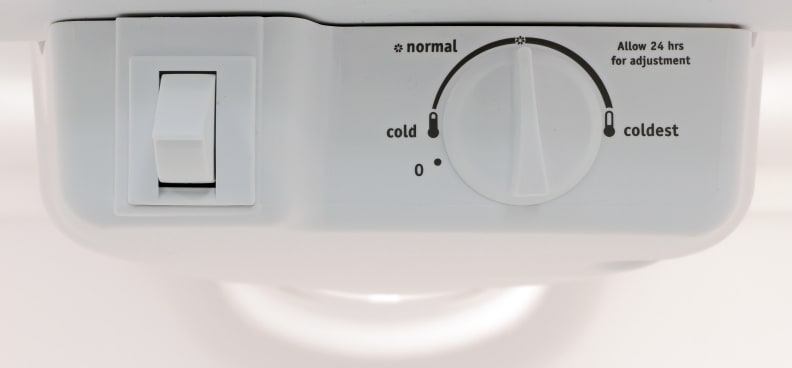 To keep food out of what the USDA calls "the danger zone," it needs to remain below 40°F. The freezer should be 0°F to keep freezer burn at bay. If your fridge and freezer are regularly warmer than those temperatures, you're risking faster spoilage.
Here at Reviewed, we've tested more than 200 refrigerators to find out which ones do the best job keeping your food safe. When we run our tests, we're not only looking for a refrigerator to reach an appropriate temperature—which will take 24 hours or more—we're also looking for its ability to remain at the right temperature.
Temperatures always vary somewhat, because of the way a refrigerator works. The motor is not always running, and defrost cycles bring the temperature up. But if the temperature extremes are excessive, food in the fridge may not always be cold enough to stay fresh, and food in the freezer may be vulnerable to freezer burn. Freezer burn isn't dangerous but it's unappealing and can cause food waste.
How you can test your fridge's temperature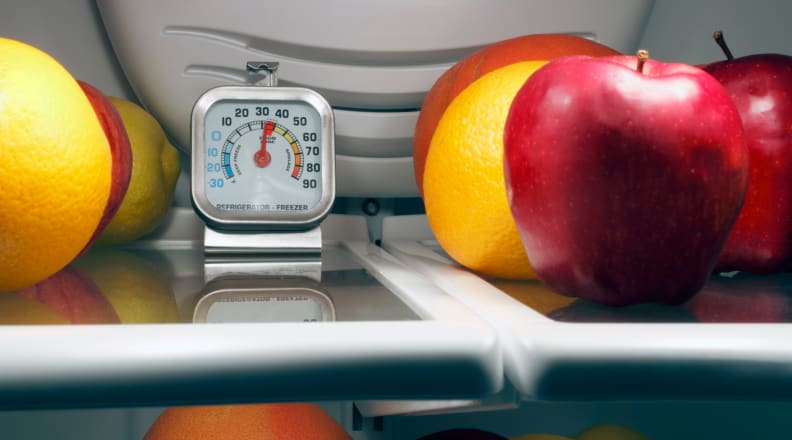 To ensure that your refrigerator is running at the right temperature, we recommend that you purchase a refrigerator thermometer. It's a small investment, and although it's not quite as accurate as the thermocouples we use in our labs, it's close enough and can save you from a nasty stomach bug.
To use, place the thermometer in a cup of water. Why? Your refrigerator measures the temperature of the air around your food, but you want to simulate the temperature inside your foods. Check the thermometer after 24 hours in both the fridge and the freezer. Then, adjust the temperature of each appliance, based on the results.
Next, use the thermometer to find out where the cold spots are in the refrigerator and freezer by repeating the test in separate corners and the door. Although there may be dedicated space in the door for a gallon of milk, the door is the warmest spot in your fridge, and milk won't stay as fresh as long there as it would on a shelf toward the back.
Which part of the fridge is coldest?
Test your refrigerator for yourself, but ScienceFocus, corroborates that the coldest part of the fridge is usually the back of the bottom shelf. That may not apply in every case: The site says that if your icemaker is located in a top freezer, the top of the refrigerator could be the coldest part.
Which fridges keep a consistent temperature?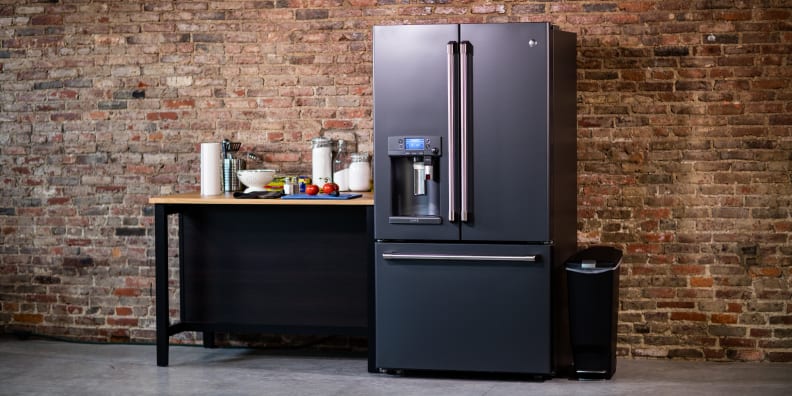 At Reviewed, literal tons of fridges have passed through our testing labs. We place temperature sensors inside each fridge we test that record over the course of a week. Models like the GE Café CFE28TSHSS and the Samsung RH29H9000SR do really well at holding the correct temperature. That's why both models sit at the top of our Best Refrigerators of 2021 guide. Most of the fridges on that list are high-end models that cost a pretty penny because they tend to have multiple compressors and have nice features.
However, if you're looking for a bare-bones fridge that won't break the bank, we also have a roundup of the Best Refrigerators Under $1,000. The fridges on that list are smaller and have fewer features but our testing shows that they'll keep their cool when put on the correct setting.
How to keep your refrigerator cold
Once you've set your refrigerator to the right temperature, here are a few tips for keeping it there.
Don't open the door more often than necessary. As a parent, I know this is a losing battle but if you have a French door refrigerator, keep things organized and teach kids to open only the door they need to retrieve a snack.

Don't keep perishables in the door because it is the warmest part of your fridge.

Don't open the fridge during a power failure if you can help it. Every freezer we've ever tested will hold a safe temperature for 36 hours as long as you don't open the door.

Check to make sure the gasket is in good shape, and seals tightly. If you can open the door with one finger, your seal isn't tight enough. A leaky seal is an energy waster and may be a risk to your food.

Don't block the air vents to avoid inconsistent temperatures, frozen foods in the refrigerator, and humidity issues. If you want to find out more, check Whirlpool's explanation.

Dust your refrigerator's cooling coils if they're visible. You can use a long, skinny brush or your vacuum cleaner's long, narrow tool for this.

Cover your food. For example, leave eggs in their carton, not in the door.

Keep a full fridge to retain the cold, but leave enough room for air to circulate.
For more details, read about how to make your refrigerator run more efficiently. And to find out more about storing food safely, check out the U.S. Food and Drug Administration website.
The product experts at Reviewed have all your shopping needs covered. Follow Reviewed on Facebook, Twitter, and Instagram for the latest deals, product reviews, and more.
Prices were accurate at the time this article was published but may change over time.