UPDATE: June 4, 2019
Our new favorite counter-depth fridge is the Frigidaire FG4H2272UF, which has great temperature control and flexible storage options.
There's a reason why the word seamless is used to describe something that is well designed. A seamless kitchen is one that looks like it was made just right, and just for you. However, that's a hard feat when your fridge is jutting out several inches beyond your cabinets.
If you want that seamless look, you're going to have to get a counter-depth fridge. Unlike regular refrigerators, these refrigerators typically have a depth of 30 inches. Because of their smaller size, counter-depth refrigerators give up storage space to give you more floor space, which is important in small apartments or galley kitchens.
While these fridges may be smaller than their standard-depth fridge, we hold them to the same standards. Hundreds of fridges have passed through our testing labs. We judge each one by its temperature consistency, storage space, energy efficiency, and ability to retain humidity. By these metrics, we found that the Frigidaire FG4H2272UF (available at AppliancesConnection for $2,493.00) is our top-performing counter-depth fridge. It's a French door with great temperature control and flexible storage.
Here are our picks for the best counter-depth fridges on the market today, in order.
Frigidaire FG4H2272UF
Haier HRF15N3AGS
Samsung RF23J9011SR
Kenmore Pro 79993
Samsung RF23HTEDBSR
KitchenAid KRFC704FBS
Bosch B21CL81SNS
Electrolux EI23BC82SS
Haier HRQ16N3BGS
Frigidaire Gallery FGSC2335TF
Frigidaire Professional FPBC2277RF
Advertisement - Continue Reading Below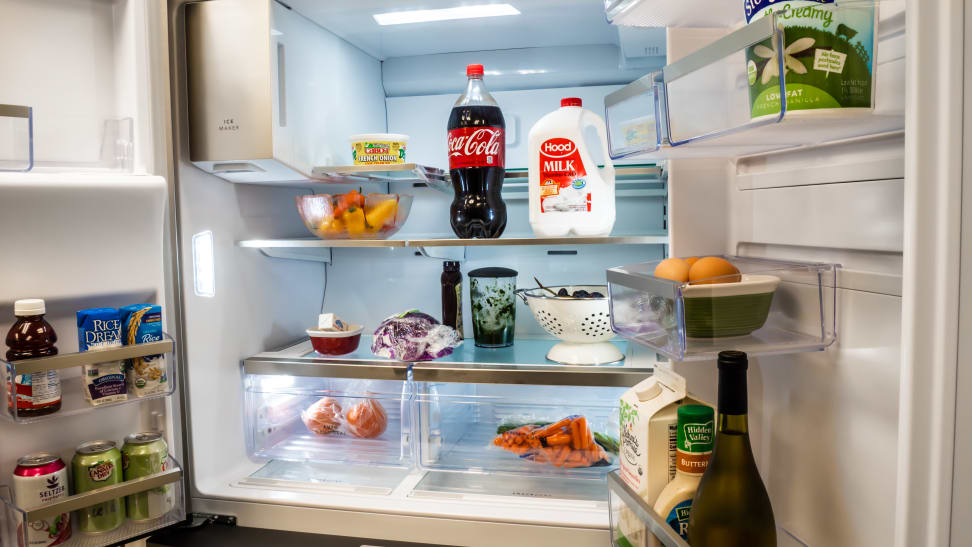 How We Test
At first glance, most refrigerators don't look like anything special. All they have to do is keep your food and beverages from going bad, right? It turns out that there's a lot more to these big, heavy, cold boxes than meets the eye, and between our specially-calibrated refrigerator lab and our rigorous testing standards, the testers and writers at Reviewed can recommend specific fridge models, and back up those recommendations with hard data and personal experience.
The Refrigerator Test Lab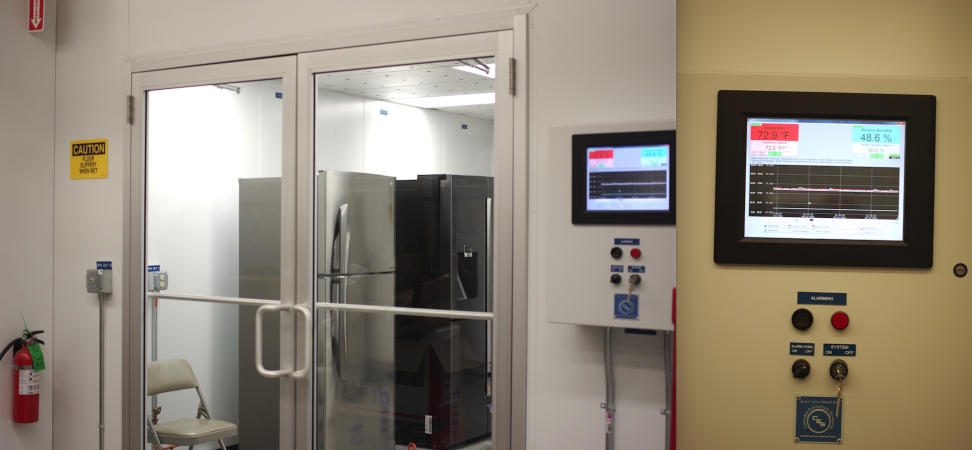 Just by living in the real world, you've probably noticed that appliances operate best in certain temperature conditions. Because an appliance involves a number of electronic and mechanical parts working together in harmony, the air in your home can inhibit certain parts from working at their best, especially in extremely hot or cold climates.
Refrigerators in particular can be very sensitive to the ambient air conditions. To make a long story short, refrigerators pull in air and cool it down to temperatures cold enough (usually around 37°F) to preserve food and inhibit bacteria growth. In hot weather, the condenser and cooling coils have to work harder to cool the warmer air. In cold weather, the fridge struggles to operate in general. This is why, if you happen to have a second fridge in your burning hot or freezing cold garage, you may have noticed that the air inside that fridge is not as cold as the air inside your kitchen fridge.
To mitigate these possible temperature effects, we test each refrigerator in a special lab that conditions the air to a temperature of 72°F +/- 5°F, and a relative humidity of 50% RH +/- 15% RH (basically, room temperature). This way, each fridge can get the chance to perform at its best, and doesn't get inadvertently penalized for having to deal with warmer or colder air than its competitors experienced.
The Tests
Over the course of a week (including a day for calibration), we put each refrigerator through its paces. After filling the fridge up with water ballast (since fridges operate better when there's less empty space, we measure the fridge's temperature, humidity loss, freezing time, usable space, and energy use.
• Temperature — Our ideal temperature settings for the fridge and the freezer are 37°F and 0°F, respectively. With fridge temperatures higher than 37°F, you might have to start worrying about bacteria growth, as 40°F is the start of the bacteria "danger zone". Freezer temperatures warmer than 0°F mean that the food isn't being truly frozen. Once we set each fridge to those temperatures, we collect temperature data throughout the week's testing that tells us not only how close the temperature in the fridge and freezer are to 37°F and 0°F, respectively, but how close the air temperature stayed to those ideal values.
• Humidity Loss — For this test, we focus on the refrigerator's veggie crisper. We add water to a floral foam ball, and then record how much of the water is evaporated away each day. Humidity loss rates are important because if the crisper is too dry, your leafy greens will dry out very quickly. If the crisper is too humid, then your fruits will rot. Fridges that can strike a balance between these two extremes will help you to preserve your fruits and veggies for as long as possible.
• Freezing Time — Once the fridge is plugged in, we measure the time it takes for the freezer to cool down from room temperature to 32°F (the freezing temperature of water). This is a good measure of how quickly your fridge and freezer can cool down food or beverages that have just been placed inside the refrigerator.
• Usable Space — One of the most common refrigerator specs is the storage capacity, or the volume of the inside of the fridge, in cubic feet. You'd think that a higher capacity means that you can fit more in that fridge, but that's not always the case. We measure the usable space, which is how much empty space is actually available in the fridge's interior. Any number of things can reduce the usable space in a fridge—the ice bucket and/or ice maker, a water filter, air filters, shelf arrangement, etc. The closer the usable space value is to the fridge's stated storage capacity, the more food you can fit in your refrigerator.
• Energy Use — Using an electric meter, we measure the fridge's energy usage (in Watt hours) over the week of testing. The less energy used, the more efficient that fridge is, and the more money it'll safe you on utility bills in the future.
We also use each fridge in a more casual sense so that we can answer usability questions about the fridge's specs and features, like the doors, shelves, controls, water/ice dispenser, and extras like smart connectivity, door-in-door or flexible storage options, etc. If a refrigerator keeps the the temperature at a perfect 37°F, but it's very difficult to open the doors and the control panel makes no sense, we're going to penalize that fridge with respect to its ease of use.
We test each fridge from two perspectives—first, from a data-driven objective point of view, and second, as a regular person trying to get at the leftover Chinese food. The combination of these two types of experiences allows us to recommend the best fridge for you at any price point.
---
Other Counter-Depth Fridges We Tested
More Articles You Might Enjoy
• The Best French-Door Refrigerators
Advertisement - Continue Reading Below