Small Appliances
We tried GE's air fryer toaster oven—here's what happened
This new appliance can multi-task, but does it work?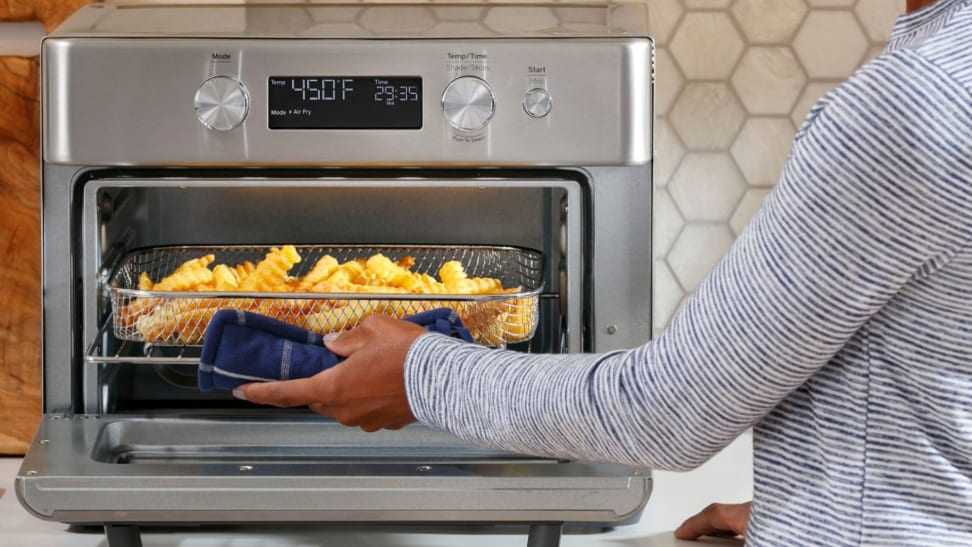 Credit: GE Appliances
A good toaster (or toaster oven) is essential to every kitchen, and lately another appliance has been fighting for some of your precious counter space: the air fryer.
Thankfully, companies like GE have created a solution to our countertop woes—air fryer toaster ovens that offer air frying, toasting, baking and more. And when it comes to GE, a company with a reputation for great appliances from refrigerators to coffee makers, you know we had to try GE's Digital Air Fry 8-in-1 Toaster Oven out for ourselves. Here's what happened.
How does the GE Digital Air Fry 8-in-1 Toaster Oven look and feel?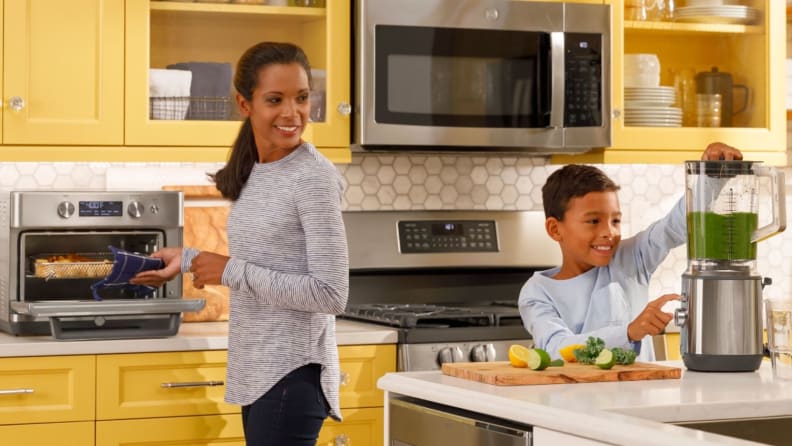 Made of brushed stainless steel with curved corners, this is one good-looking appliance. On the front, it has a large handle, a small LCD screen, a pair of dials, and a button. It's sleek and simple to use.
Unlike most toaster ovens, it's square-shaped rather than rectangular, and although it's taller than similar products we've tested, it's still short enough to fit under a standard cabinet. The backside of the handle and the edge of the crumb tray have a matte gray plastic finish that doesn't detract much from the overall appearance.
With the GE you get an oven rack, baking pan, baking rack, and crumb tray.
What can the GE Digital Air Fry 8-in-1 Toaster Oven do?
The GE is a toaster oven that has eight settings including one for air frying. The settings include Air Fry, Bake, Toast, Broil, Roast, Warm, Proof, and Convection.
What we like
Attractive design

Good to excellent at all cooking functions
What we don't like
Difficult to program, especially during operation 

Long preheat times
No interior light
Control dials get very hot
How does it perform?
The GE rivals the best air fryers we've tested when turning out browned and crispy French fries and chicken nuggets. Batter-fried chicken comes out just as crusty as traditional fried chicken.
Like all air fryer toaster ovens, in the GE you spread food out in a wide basket and because food isn't crowded there's lots of room for air to circulate around it, crisping it on all sides. It's also very easy to open the door to check on food. Although air frying times are a little long, you don't have to preheat on this setting, which reduces time on the front end.
With this toaster oven, you get toast at distinct light, medium, and dark shades when toasting bread. Each slice is fairly evenly toasted but not perfectly so. The rack is huge so you can toast nine slices of bread at once if you are so inclined.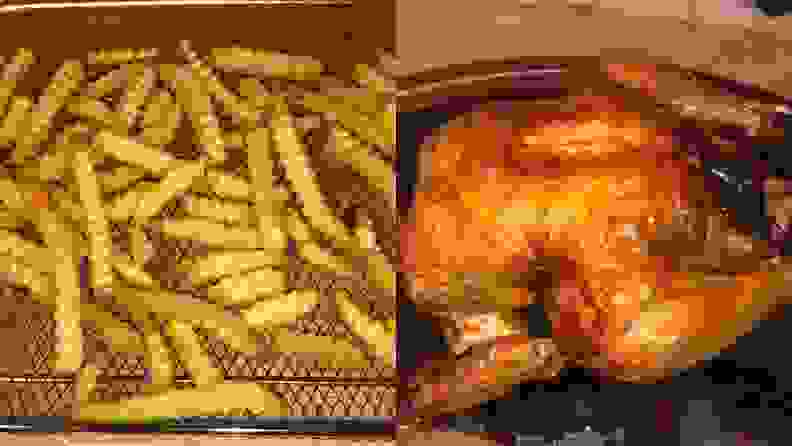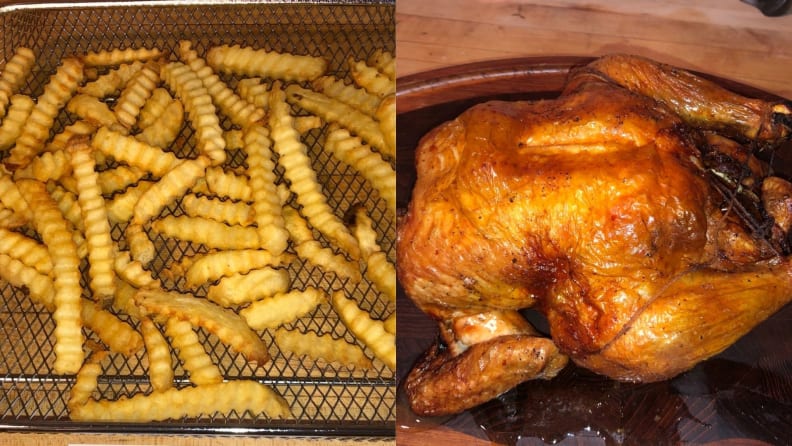 On the bake mode, there seems to be less heat coming from the top than the bottom. Cookies came out nicely baked, if darker on the bottom, but there was barely any coloring on the top of a yellow cake layer. Biscuits came out perfect but took much longer than usual to be done.
A turkey roast emerged appetizingly golden-brown outside and moist and tender inside. Using convection, a 5-pound chicken came with a crackling skin all over without the hassle of setting up a rotisserie. On broil, the GE only goes up to 400°F, whereas on a full-size oven, broil temperatures range from 500°F to 550°F. Therefore, we weren't surprised to get minimal browning on chicken breasts.
The warm function successfully kept a macaroni and cheese casserole at a safe serving temperature for a full hour without drying it out at all.
What's it like to use the GE Digital Air Fry 8-in-1 Toaster Oven?
Like many upscale products, the GE is programmed by selecting a mode with one dial and the temperature and time with another and then pressing start. However, once you press start on this oven—for all functions except air fry, toast, and keep warm—the oven goes into a preheat cycle.
As it preheats, it also begins to count down the cooking time. That means when the oven beeps that it's preheated, you have to reset the cooking time. However, the oven continues to countdown as you're setting the oven so it's hard to set to the precise time you want.
At this point you have to remember not to push start again. If you do, you'll cancel out your program and will have to reset the oven and wait for another preheat time to expire. Then, at the end of cooking, if your food needs another minute or two, you need to reselect your mode, temp, and time and again wait for the oven to preheat. Sounds confusing right? It is. And since the preheat times are long and take up quite a bit of the cooking time, you can't just ignore the time they use up.
Further compounding the difficulty of setting this oven, the temperature can only be adjusted in increments of 10 degrees. So, if your lasagna recipe calls for 375°F, you'll have to opt for five degrees higher or lower.
Perhaps the worst thing about the GE is that as it cooks the dials get extremely hot and depending on your tolerance for heat, too hot to touch and turn. That's a major problem when you have to turn the dial to add time or change the temperature during or after cooking.
Surprisingly for such an upscale looking product at a fairly high price tag, there's no interior light to let you check on your food as it cooks.
Is the GE Digital Air Fry 8-in-1 Toaster Oven easy to clean?
The manufacturer recommends hand washing all of the parts and it takes a little elbow grease to get them pristine. The aluminum baking tray in particular was difficult to clean and after testing, some permanent stains remained. You need to periodically wipe down the interior of the oven which is a chore but not a difficult one.
With the GE you get a large easy to read manual. It contains a cooking chart for air frying but no food, time, or temperature recommendations for the other functions. Unlike in most air fryer manuals, there are no recipes for air frying.
Warranty
GE offers a two-year limited warranty on the GE Digital Air Fry 8-in-1 Toaster Oven if purchased from GE directly. When sold by other retailers, it comes with a one-year limited warranty.
What owners say
On GE's website, the GE Digital Air Fry 8-in-1 Toaster Oven has 30 reviews and a star rating of 4.7 out of 5. It's also available at Best Buy, where it has 25 reviews and 4.4 stars. In their reviews, people rave about the appearance, versatility and cooking performance. However even users that love it are surprised that it doesn't have a light and note that the knobs get hot. There are also comments that it is "cumbersome to use" the controls and the preheat times are long.
Is the GE Digital Air Fry 8-in-1 Toaster Oven worth it?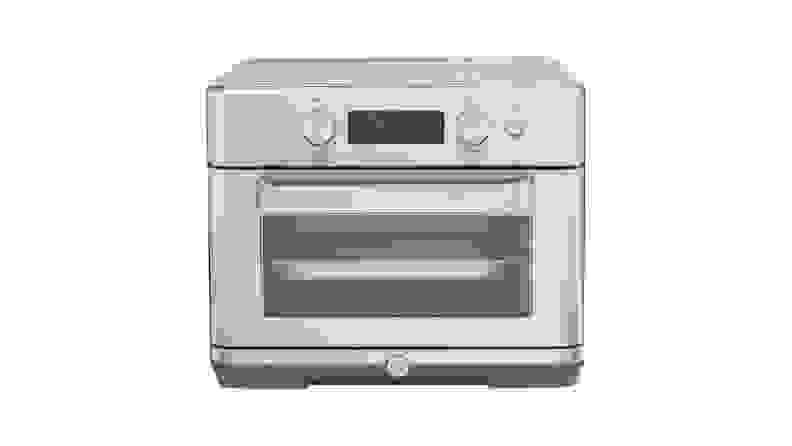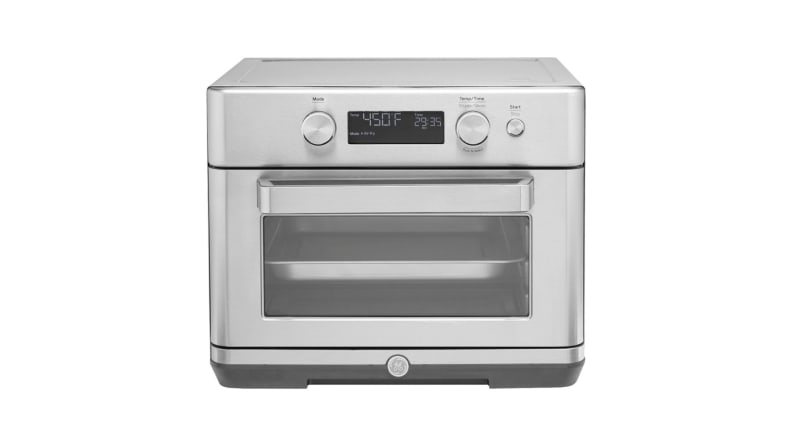 When it comes to cooking, this oven delivers great results and really excels at air frying, which is one of its unique selling points. However, operating the GE Digital Air Fry 8-in-1 Toaster Oven is so confusing that it's hard for us to recommend it.
Often, when a product is quirky to program, you get used to it and after a while it ceases to seem complicated. But the way this oven counts down the cooking time during the preheat and makes it difficult to add additional minutes is something you have to deal with often. The fact that the dials get too hot to touch is also a major drawback.
If you're interested in other air fryer toaster ovens, check out the best we've tested.
The product experts at Reviewed have all your shopping needs covered. Follow Reviewed on Facebook, Twitter, and Instagram for the latest deals, product reviews, and more.
Prices were accurate at the time this article was published but may change over time.