The Best Baby Audio Monitors of 2019
By TJ Donegan, December 12, 2018, Updated March 25, 2019
If you're in the market for a baby monitor, an audio-only solution is an affordable, simple way to get the job done. After testing all the top models on the market, we highly recommend the VTech Safe & Sound DM221 (available at Amazon for $38.99). It's available with either one or two parent units, the parent unit runs off either a wall outlet or rechargeable batteries, and it has the best combination of build quality, features, and range that we tested.
As a parent myself, I know just how crucial having some kind of baby monitor can be. Even with all of us on the same floor, it can be difficult to hear from room to room—especially at night with things like fans or air conditioners going. While I personally use and recommend a video monitor like the Samsung BrightView, even a half-decent one will run you at least $100.
These are the best baby audio monitors we tested ranked, in order:
VTech Safe & Sound DM221
VTech Safe & Sound DM111
Motorola Comfort 10
VTech Safe & Sound DM221-2
Summer Infant Babble Band
Safety 1st Sure Glow
Updated March 25, 2019
Advertisement - Continue Reading Below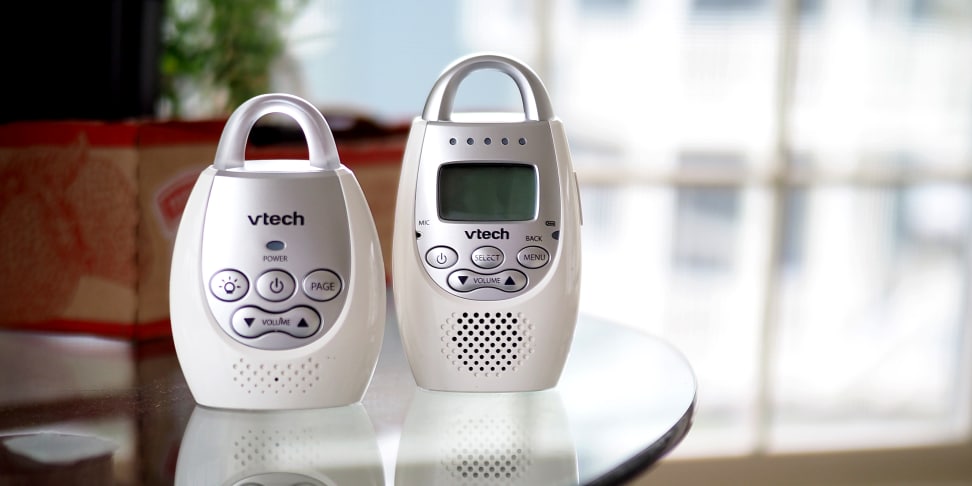 Helpful Things To Know About Baby Monitors
All baby monitors work in (more or less) the same way: a stationary "baby unit" in your child's room sends audio or video to a "parent unit" that you keep by your bed or with you. When your baby moves or makes noise, you are alerted via the parent unit so you can deal with it.
Most baby units plug into a wall outlet, while most parent units can plug into a wall or run off a rechargeable battery.
Though there are tons of other features to consider, the core function of a baby monitor is to help you—wait for it—monitor your baby. When we pick our favorites, we focused on that first and foremost.
Audio monitors are affordable and effective at letting you know if your kid is awake and making lots of noise, but having video can have huge benefits.
Modern baby monitors go far beyond just streaming audio or video, and many can do all sorts of neat tricks. Some feature ambient temperature sensors, some feature air quality sensors, and many offer things like included lullabies that you can activate remotely. Many of these also have two-way talk functionality so you can talk to your baby through the baby unit.
---
Other Audio Baby Monitors We Tested
More articles you may like
Advertisement - Continue Reading Below